Alice and Spencer first met through a mutual friend; their first date was at the Five Guys in Georgetown. Three years later, they married at the Georgetown Presbyterian Church, located just a block away from the site of their first date. The wedding continued at the House of the Sweden.
The couple, who now live in St. Louis, wanted their wedding to be elegant but whimsical, with a touch of 1940s inspiration.
"I love the ceremony of formal events, but I also wanted a wedding that didn't take itself too seriously, because I wanted people to feel comfortable. So we tried to strike a balance," says Alice. "For example, we had a black-tie wedding with a formal invitation, but passed out pineapple vodka shooters—my mother's favorite—and fake mustaches on the dance floor."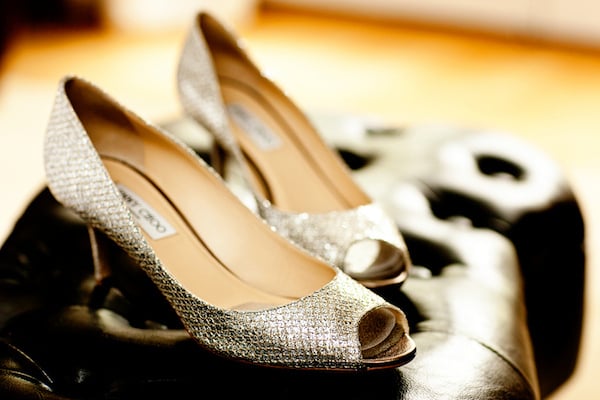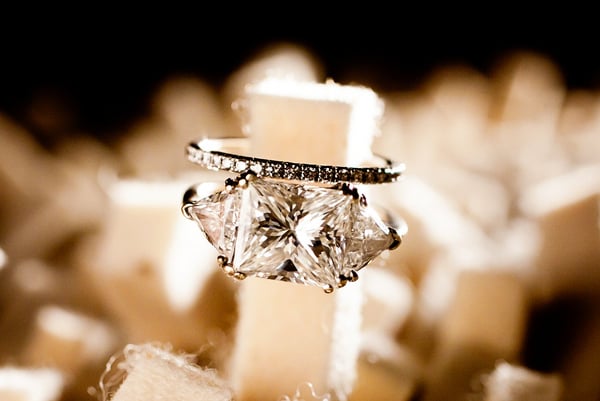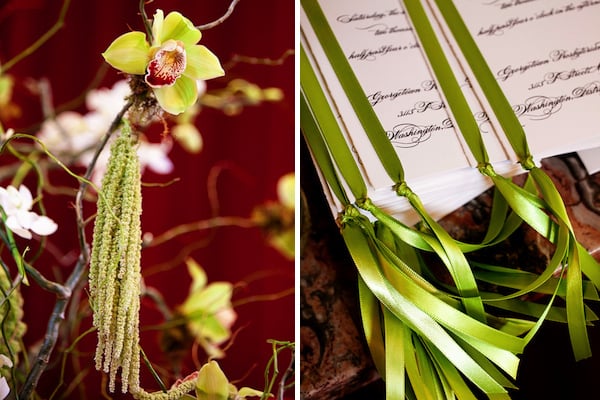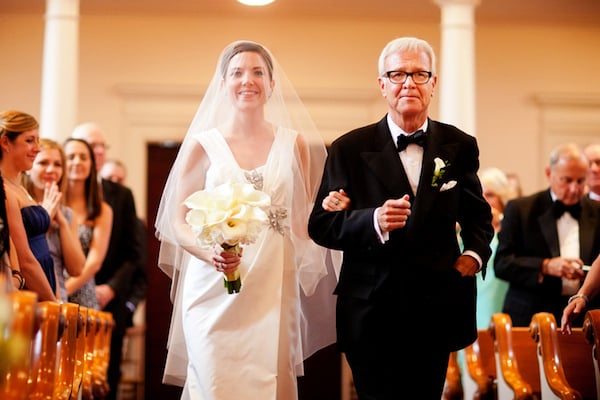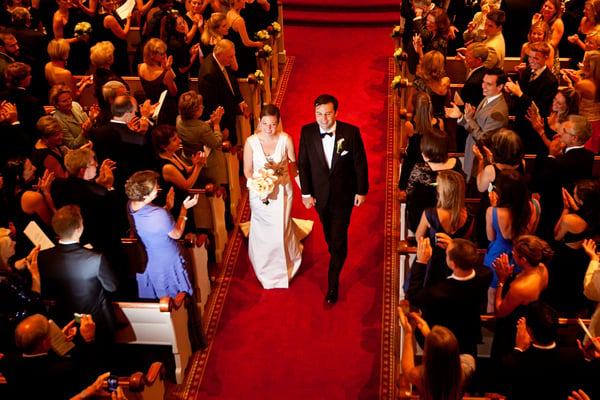 During the 4:30 PM ceremony, the bride walked down the aisle to "Trumpet Tune" by Purcell, the same processional her mother used at her own wedding.
After a cocktail hour at the House of Sweden, the couple's 200 guests celebrated at a vintage-meets-modern reception. Tables were decorated with green linens, black-and-white striped chargers, votive candles, and a mix of white and green blooms, such as carnations, calla lilies, dendrobium orchids, and coxscomb in gold cube vessels.
"We tried to achieve a mix of textures, but we wanted the tables to look modern and not too fussy," says Alice. "Our greatest concern was the height of the centerpieces—we wanted low flowers so people could talk and see each other from across the table."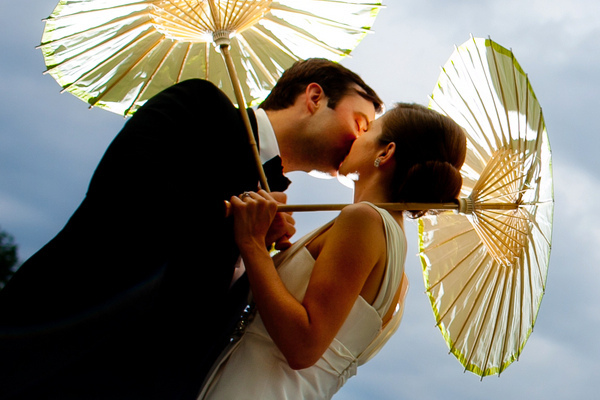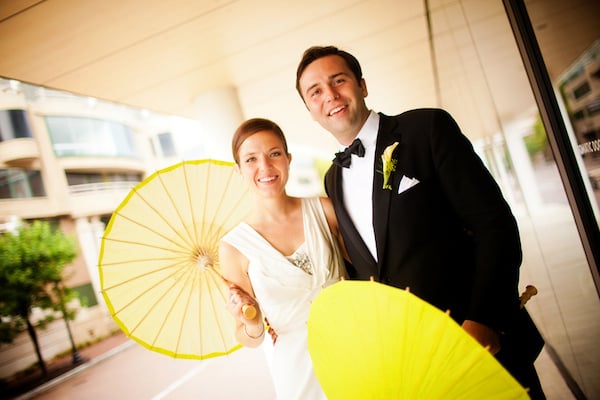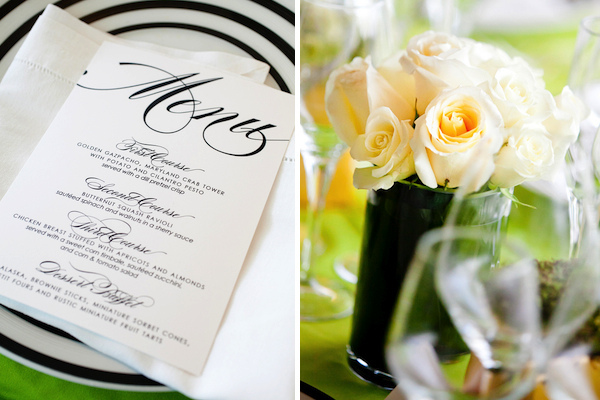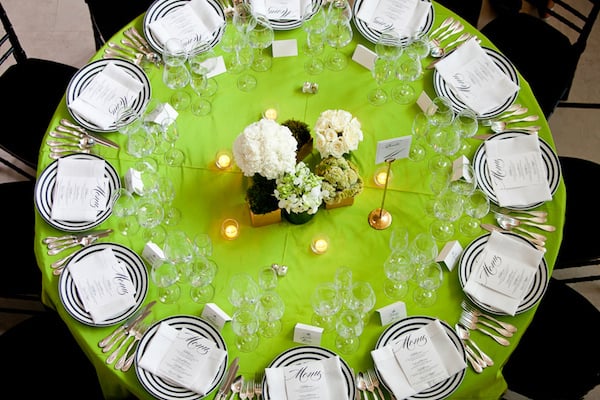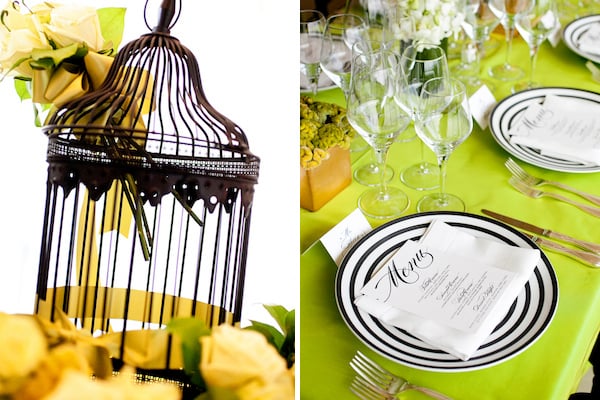 Guests dined on gazpacho, butternut squash ravioli, and chicken stuffed with apricots and almonds. In lieu of wedding cake, an assortment of desserts were served, including baked Alaska on a stick, mini sorbet cones, and mini fruit tarts. Mini cookies and milk were served later in the evening, and bags of popcorn (Alice's mother's trick for "hangover prevention") were given as favors.
The newlyweds performed their first dance to "Baby (You've Got What It Takes)" by Dinah Washington and Brook Benton. Later, guests danced to a mix of tunes (even a little Justin Bieber) and enjoyed taking snapshots in a photo booth.
"I was quite surprised to see just how many people, young and old, were enthusiastically donning boas and hats to jump in the photo booth, downing vodka shooters, and dancing till the end," says Alice. "As I look back, I'm constantly reminded that in the end, it was good friends­—and committed dancers—that made the night wonderful."