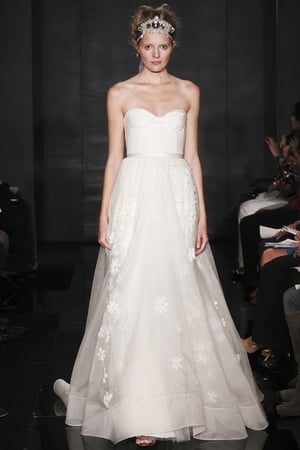 If you got a little something extra with your turkey over Thanksgiving weekend (we're talking about an engagement ring, not a third helping of sweet potatoes), congrats! We totally understand that you probably want to just enjoy being engaged for a while and not start your wedding planning until after the holidays—so that's why we've scheduled our Washingtonian Bride & Groom Unveiled wedding showcase for January 22, 2012, from 11:30 AM to 3:30 PM. And we really hope you'll be there.
We're so excited about this year's event. First of all, it's being held at the Mandarin Oriental in DC, a great wedding venue in its own right. You'll be able to meet with the area's best wedding florists, caterers, planners, makeup artists, hair stylists, photographers, and other super-talented vendors (we'll have a full list for you soon!)—it's truly a one-stop shop for wedding planning (check out these videos from last year's showcase to see what we're talking about).
You can catch a runway show featuring the latest gowns from Reem Acra (yup, the Reem Acra who has created wedding gowns for the likes of LeAnn Rimes, Marcia Cross, and Jennie Garth)—and the designer herself will be making an appearance.
And (bonus!), there will also be Champagne, cocktails, cake tastings, and giveaways.
Sounds pretty amazing, right? Here's where it gets even better: The first 75 people to buy tickets will be entered to win an invitation for two to the exclusive Rehearsal Dinner party. So click here to buy your tickets, and we'll see you at Unveiled!