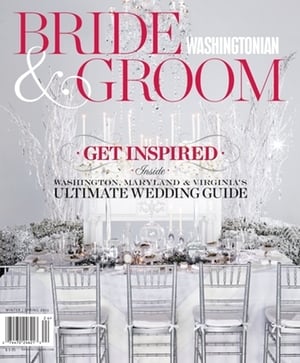 At Washingtonian Bride & Groom, we always look forward to the day a new issue hits the newsstand. After so many months of dreaming, brainstorming, and tweaking (sounds a little like wedding planning!), it's such a treat to release our creative baby into the wild and watch it flourish.
First up on my love list is "Calendar Girl," the fantastic bridal gown story we shot over two long days in November. Although summer seems to be the most popular season for weddings, we know brides need a beautiful, memorable gown for every season. It's called having options, people, and it was so much fun to think of creative ways to saunter down the aisle.
I'm also loving the "From Paris with Love" feature in this current issue. A few months ago, I hatched a plan. I'd call several of our area's best wedding vendors and give them a project: to design a wedding reception table around an international city. In other words, give our readers an idea of what Paris, Moscow, Havana, or Beijing would "feel" like if a just-married couple took that busy metropolis as the inspiration for their reception. Super-planners Andre Wells, Pam Barefoot, Maria Cooke, Jodi Moraru, and their respective teams more than rose to the occasion on that shoot. Stunning all around!
And as always, this issue has real weddings, our now-famous list of Washingtonian Bride & Groom–approved wedding vendors, and much more. Let us know what you like about our magazine, your big day, and your new life as a married couple!
Jill Hudson
Editor-in-Chief, Washingtonian Bride & Groom