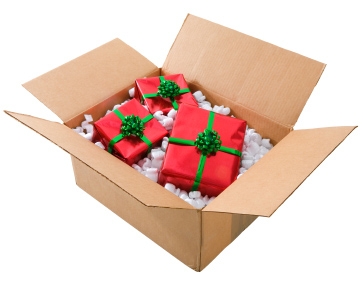 You've made your list, you've checked it twice. You battled the crowds and hunted down the perfect gifts for everyone on your nice list. It may be tempting to sit back and rest on your well-prepared laurels, but there's still one more hurdle to leap: getting your packages to their final destination on time and in one piece. Here's a few helpful pointers from FedEx office managers Samantha Boyd and Gino Scarpa for ensuring the shipping process goes as smoothly as possible.
Deadlines for Christmas Delivery
The last day to ship FedEx Ground and have packages arrive before Christmas is this Friday, December 16. The cutoff to ship FedEx Express is next Friday, December 23. Sending something overseas? International packages must be in the mail by December 21 (Click here for a helpful video on international shipping.)
General Packaging Guidelines
Use sturdy corrugated boxes with the flaps intact to keep your package in one piece. Boyd cautions against reusing old boxes and shipping in thin boxes (like shoe boxes) that items may have been packaged in when you bought them.
Have plenty of fillers on hand to protect your gifts from excess movement during shipping—bubble wrap, packing peanuts, and shredded newspaper all work. For maximum protection, two inches of padding on each side of your item is a good rule of thumb. Extremely fragile items should be packaged with six inches of padding on each side. If you're packing multiple items in a box, wrap each one individually following the two-inch rule, then fill the rest of the box with packing peanuts.
Use packing tape, not duct or masking tape, to seal your box. Apply at least three strips of packing tape to the top and bottom of the container. Avoid the temptation to decorate your shipping containers with ribbon, as it can get caught on conveyor belts and delay the shipping process. Wrap those gifts in smaller boxes and then place the wrapped gifts inside a sturdy cardboard box meant for shipping. If you do decide to pack your items in a previously used box, make sure all former address labels have been covered up or removed. Position your new address label squarely on the largest surface, and provide complete information for both the sender and recipient, including phone number and Zip code. FedEx also recommends putting this information inside the box. For a video tutorial of this process, click here.
Tips For Packing Commonly Shipped Oddly Shaped Items
Framed artwork: Apply masking tape in a crisscross pattern on the glass to prevent the glass from shattering.
Posters: If you're shipping rolled items, tightly wrap them in several layers of plastic film or Kraft paper and bind with packing tape. Then wrap the address label completely around the gift, or use a labeling pouch. Do not bend or tightly rubber-band posters to avoid creases. Scarpa recommends shipping posters in long tube containers specifically designed for rolled items.
Laptops: FedEx provides boxes specifically designed for shipping computers. They cost $15—save yourself the hassle and use one of those.
Vases and Glass Containers: Follow the six-inch padding rule when wrapping vases or breakable glass containers, and stuff the inside of the vase with a filler to provide extra padding.
Stringed Instruments: Loosen the strings to remove stress on the neck. Place the instrument in its hard case, then place the hard case inside a sturdy box with four to six inches of padding on all sides.
Sending Cookies and Other Baked Goods
Baked goods are always a popular holiday present, but they can pose difficulties when shipping. Scarpa suggests sending sturdy treats, such as brownies, biscotti, shortbread, sugar cookies, chocolate chip cookies, and bar cookies. If you want to send frosted cookies, make sure you use an icing that will harden, such as royal icing. Cupcakes and anything with a moist filling do not fare well in the mail. Try to send sweets as soon after baking as possible to maximize freshness.
For crumble-free packing, place your baked goods in a sturdy container and use waxed paper or bubble wrap to separate each layer. For maximum protection, wrap each sweet individually. Use crumpled wax paper to fill the spaces in your container, and secure the lid with heavy tape. If you are sending a variety of treats all together, package each type separately to prevent the different items from absorbing other flavors. Pack your container inside a sturdy corrugated cardboard box that is slightly bigger than your container, and use a filler to cushion the container in place. Test your packing skills by gently shaking the box. If you hear or feel movement, you should add more cushioning. Seal your box with packing tape.
Can I Ship a Bottle of Wine?
The short answer is no. All alcohol must be sent from an approved vendor, so you cannot pick up a bottle from your local liquor store and send it through the mail. Most wineries will offer to handle shipping for you, and will have the proper license to ship to individuals. You can also order alcohol online from approved alcohol vendors with the proper licensing, and they will handle the shipping.
Insurance on Valuable Items
While FedEx does not offer insured shipping, you can declare a value on your package and be reimbursed for this value should any damage occur. Boyd recommends declaring a value on any package worth more than $100 or on any item you consider irreplaceable.