This page describes the contents of an issue of Washingtonian magazine. Subscribers get exclusive early access through our print and digital editions. Most of our feature stories are later published online and linked below.
Buy a Single Issue
Subscribe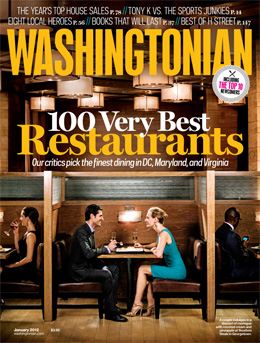 Volume 47, Number 4
Cover Story
100 Very Best Restaurants
Fine dining is far from dead—and the area also is full of ambitious restaurants in more moderate price ranges. Here are the top ten, ten more that are better than ever, the ten arrivals we're most excited about, ten tried-and-true favorites—and 60 more first-rate dining spots. Plus—the year's top dishes and desserts, ten hot restaurants on the horizon, and our Restaurateur of the Year. By Todd Kliman, Ann Limpert, Cynthia Hacinli, and Rina Rapuano.
Cover photograph by Cade Martin. Shot at Bourbon Steak
Features
For 40 years, The Washingtonian has honored people whose good works and generous spirits have made the region a better place to live and work. Here are the 2012 Washingtonians of the Year. By Leslie Milk.
FotoWeek DC is Washington's annual celebration of photography. This year, local photographers used techniques and equipment ranging from antique to up-to-the-minute. Here are some of the pictures that shone.
Ray Mahmood came here from Pakistan with almost nothing and built a fortune. Now he and his wife are using their wealth and connections to get what they really want: a chance to help mend the ties between their native country and their new one. By Miranda Kennedy.
There are still big spenders out there. Despite the down market, a lot of big houses—from Georgetown to Potomac—went for big money in 2012. It was a very good year for historic properties, swimming pools, and Ted Leonsis.
Departments
Editor's Notes
Two big events: The Washington Business Hall of Fame honors five new laureates, and almost 300 people gather at the Mayflower to recognize The Washingtonian's 50 Great Places to Work.
Capital Comment
Tony K vs. the Sports Junkies . . . Failed candidates and facial hair . . . Deep Throat's secret source? . . . What's that ambassador's residence worth? . . . Snow day—who decides? . . . More Washington reporters, fewer bureaus . . . Backstage at the 9:30 Club.
Where & When
Russia's Mariinsky Ballet at the KenCen . . . Annie Leibovitz's "Pilgrimage" at American Art . . . Two Gentlemen of Verona—twice!—at the Shakespeare . . . Joshua Bell plays the KenCen . . . Itzhak Perlman at Strathmore . . . Aimee Mann at the Birchmere . . . Antiques and fine art at AU.
Michael Dirda talks about literary classics, under-the-radar gems, the adventure of going to a bookstore, the future of reading, and more. Interview by Todd Kliman.
When an Air Florida flight crashed into the 14th Street Bridge 30 years ago, Dave Statter made his way to the scene, called WTOP radio, and began a new career. As told to Cindy Rich.
She thought adopting an older child would be easier than bringing home an infant. It was harder than she imagined—but she never doubted she was doing the right thing. By Christie Findlay.
Congressional pages have brought a youthful idealism to the Capitol for two centuries. Now they're gone from the House—and some people think it's a mistake. By Linda Killian.
Smarter Workouts
These fitness devices can keep you on track, improve your performance, or just make your workout more fun. By Kelly DiNardo.
Exclusive discounts on massages, facials, wardrobe advice, beauty makeovers, fitness classes, and more. By McLean Robbins.
Her symptoms included rashes, discomfort, and anxiety. She was surprised to discover the culprit: the gluten in her food. By Dana Scarton.
Benefits
Good times for good causes in January.
In 2006, the historic Atlas Theater reopened, sparking a renaissance in Northeast DC's H Street area. Here are the places along this lively corridor to eat, drink, and see cutting-edge art.
Four-legged companions offer a lot of motivation for pet lovers who want to get in better shape. By Gwendolyn Purdom.
Ask Harry and Louise
Washingtonian.com's new husband-and-wife advice team counsel a man wondering whether the house rules still apply to his grown child.
Her boyfriend brought takeout. Then he said they needed to talk. By Kate Oczypok.