This page describes the contents of an issue of Washingtonian magazine. Subscribers get exclusive early access through our print and digital editions. Most of our feature stories are later published online and linked below.
Buy a Single Issue
Subscribe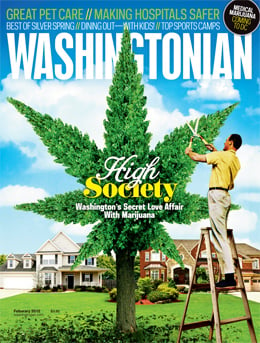 Volume 47, Number 5
Cover Story
Medical marijuana is coming to DC. But the drug is already a much bigger part of life for people here than you might think—soccer moms and power players included. By Alexandra Robbins.
Cover photo-illustration by Jesse Lenz for The Washingtonian
Features
My wife and I had it all figured out. We wouldn't build our life around our child's world; he would enter ours. But being a restaurant critic and a father brought challenges—and adventures—I never could have foreseen. By Todd Kliman.
Last year, 108 people were murdered in DC. Laura Amico wants you to know their stories—all of them. By Harry Jaffe.
Palantir Technologies, a little-known software company that started in Silicon Valley, has quietly become one of the most important companies in Washing­ton. Why? Its founders may have figured out how to stop the next terrorist attack. By Shane Harris.
Love Your Pets
Here are tales of four-legged heroes and stories about Washingtonians who are crazy for cats or who met the loves of their lives in dog parks. Plus—the latest training tips and the pros and cons of buying pet health insurance. By Marisa M. Kashino, Gwendolyn Purdom, Ali Eaves, and Carrie Schedler.
Departments
Exclusive savings on spa treatments, jewelry, cupcakes, cocktails, dinner for two, and other romantic treats. By McLean Robbins.
It's gone from an aging suburb to a lively hub of nightlife, dining, and entertainment—with great ethnic spots, a new concert venue, and a terrific seafood joint that hasn't changed in 50 years.
Liven up your winter wardrobe with a pop of color. By Kim Forrest and Sarah Zlotnick.
Benefits
Good times for good causes in February.
Passport to Beauty
Five women, with roots in a different cultures, share beauty secrets passed down from their mothers and grandmothers. By Karina Giglio.
At these camps, kids can meet their sports heroes, get help from top coaches, and step onto the big-
league field, court, or rink. By Laura Wainman.
Living a Dream
Thanks to low interest rates and good prices, they took the plunge and bought the vacation homes they'd always wanted. By Kathleen Bridges.
Channel 7's Gordon Peterson sells for nearly $2 million; ex–DC schools chief Michelle Rhee and Under Armour CEO Kevin Plank make deals.
Goodbye, Neighbors
A longtime New Yorker on the highs and lows
of living in Washington, why he's moving on, and what might bring him back. By Carey Winfrey.