If you've been on the emotional roller coaster that is wedding gown shopping, we understand where you're coming from. While there are plenty of happy, fun, and straight-up "I feel like a princess" moments in the process, there can also be a good deal of sticker shock. A gorgeous designer gown will likely be one of the most (if not the most) expensive clothing purchases of your life, which is why striking a deal on a dress is so important. Georgetown's Carine's Bridal Atelier is holding its annual sample sale on Thursday, and to help you maximize your success, we asked owner Carine Krawiec for tips.
For the uninitiated, what is a sample sale?
A sample sale allows brides to buy the actual gown samples that were on display in the store. A bride can purchase the dress off the rack and take it home, as opposed to placing a custom order. Sample sales are great for the brides who want a couture gown but not the price tag that usually comes with it.
Are the dresses in good shape? Or will they be damaged in any way?
The dresses are in great condition. It's just that with our new stock pieces arriving, our boutique doesn't have enough room to house them all!
We would imagine the demand for these dresses is pretty intense–what are your tips for approaching a sample sale? Any particular strategy?
Yes, the sample sales can get pretty chaotic–but the energy from the brides definitely fills the air with a sense of excitement. The most important tip in approaching a sample sale is knowing ahead of time what styles you like. This way you'll be ready to purchase. Ultimately, the brides who get the most out of a sample sale are the ones who know what they want and are ready to buy. It's not the time to shop around–these ladies mean business!
Some brides like to bring an entourage when they try on dresses–but we're guessing this isn't quite the right scenario to have lots of friends tagging along.
Of course, every bride wants a second opinion, whether it's from her mother, sister, best friend, etc. Just make sure the people you bring are the ones whose opinion really matters to you. Bringing all eight bridesmaids may sound like fun, but it can get a little overwhelming with everyone voicing opinions.
What are some of the dress trends you're seeing this season?
Blush is definitely making a lasting impression in the bridal world. It's a soft alternative to ivory, a great option for a fashion-forward bride. Dresses with straps are also making a comeback, often with keyhole and lace detailing. Beautiful tulle skirts and textured fabrics are also big with some of our designers, such as Monique Lhuillier and Liancarlo.
Which dresses do you think are particularly fabulous deals at the sample sale on Thursday?
We have so many gorgeous gowns this time around! Some of our favorites include Oscar de la Renta's "Pink Bow," Carolina Herrera's "Evelyn" and "Helena," Liancarlo's "5805," Junko Yoshioka's "Tulip," Monique Lhuillier's "Shelby," and Kenneth Pool's "Joyous" and "Amour" gowns. The dresses are in excellent condition; some have only been tried on a couple of times. We recommend that any bride in need of a dress visit our sample sale–we're ready to help you find your gown!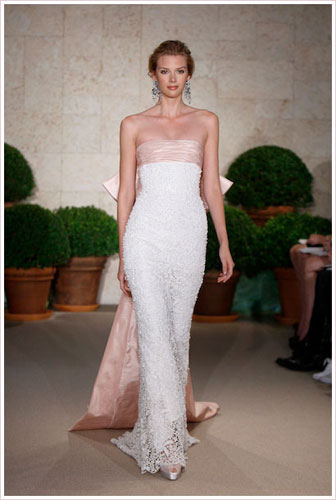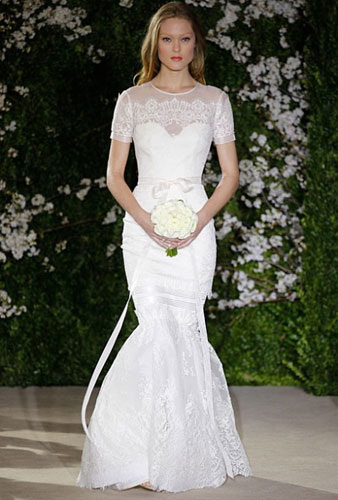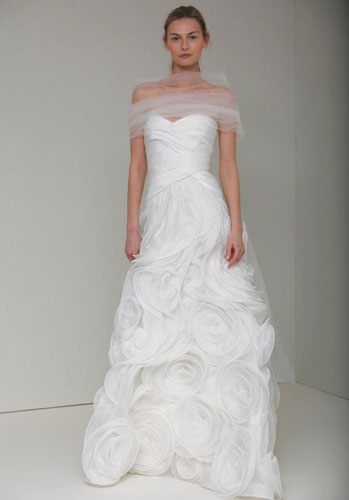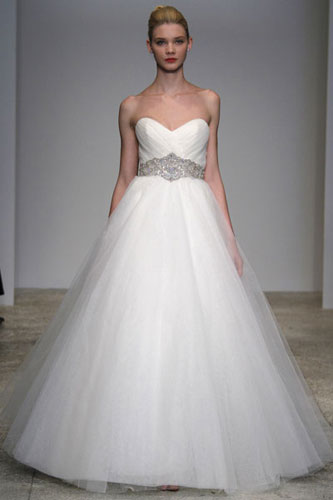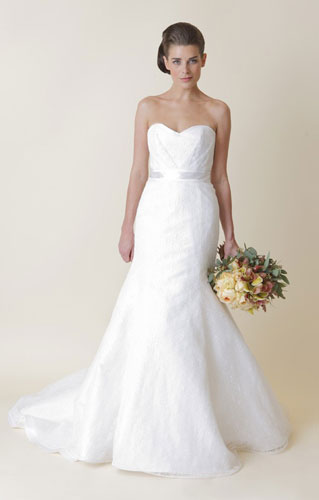 Carine's annual sample sale will take place on Thursday, March 29, from 5 to 8 PM. We advise you get there on time, as the sale is first come, first served. Dresses will be discounted by as much as 75 percent off the original price. For more information, visit carinesbridal.com.