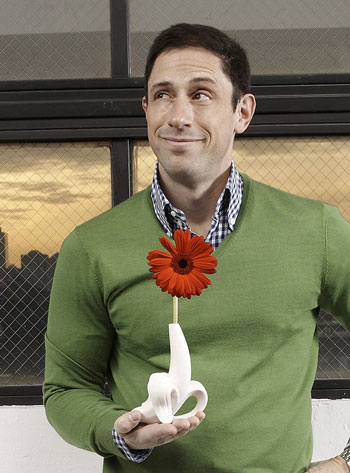 Later this summer decorator, author and bon vivant Jonathan Adler will open one of his divinely delightful shops here in Washington–finally! Located in the former Gap Kids store on Wisconsin Avenue in Georgetown, Adler's new digs will carry furniture, home accessories, bedding, and the kind of kitschy-chic products for which he's become known the world over. His spin on mod classics should be in every household, which is why we think registering at Jonathan Adler is a fabulous option; who wouldn't want an orange lacquer side table or Mr. & Mrs. salt and pepper shakers? We had a chance to chat with Adler, who is in the midst of putting the finishing touches on plans for his store, about Washington, surviving as a new couple, and how he missed the wedding gift boat.
First of all, we're thrilled you're coming to DC. Welcome! Can you tell us what made you want to open here?
Washington is groovy. I've always loved Georgetown–the architecture, the vibe, all the glamorous politicos, students, and creative types. I've been looking for the perfect spot in Georgetown for years, and I finally found it.
Your household items are such a great expression of personal taste and style–and bridal registries can sometimes be a bit predictable–how can a couple balance the "traditional" needs of a registry with a bit more flair?
Traditional registry needs are a drag. I think you should register for the stuff you love, stuff that is impractical or silly, but that you secretly want and would never treat yourself to. Never take the sensible option.
Are there any "must" items you think every couple should have in their new home?
Obviously an enormous brass banana from moi! Seriously, I would say fab glassware, a nice set of china, and some groovy candleholders are musts.
Matchy-matchy versus mix-and-match–which do you advise?
This is like Sophie's Choice for me. I love the traditional vibe of matchy-matchy. I have Greek key plates and napkins and drinking glasses that match the color perfectly, and when I set my table it looks pulled together and sharp. But I also love an eclectic vibe–mix-and-match plates, glasses, and napkins can create a great feeling of organized chaos. I suppose the answer is that you should be armed for both options.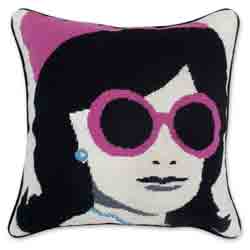 Although you've been with your husband [Simon Doonan, creative ambassador at large for Barneys New York and a true fashion icon] for many years, you got hitched in 2008. Did you have anything on your registry that was special to you? Any wish list items?
We were the lousiest grooms in history. We didn't have a proper wedding, just a low-key private ceremony, and we didn't receive a single gift! That's right, not a single gift. Note to my family and friends: I hope you're reading this and feel suitably embarrassed.
Well, at least you can offer some words of wisdom–any advice for starting married life in a new home together?
I recommend that you relentlessly tease each other so you will appreciate the nice moments so much more. And get a ping-pong table–it'll make you happy.