This page describes the contents of an issue of Washingtonian magazine. Subscribers get exclusive early access through our print and digital editions. Most of our feature stories are later published online and linked below.
Buy a Single Issue
Subscribe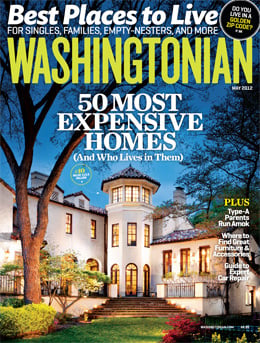 Volume 47, Number 8
Cover Story
Best Places to Live
Whether you're buying a first home, trading up, or downsizing, here are a dozen great neighborhoods–from small-town charm to city cool, waterfront living to arts hub. Plus–Washington's 50 most expensive homes.
Photograph of the Qureshi residence near DC's Observatory Circle by Attic Fire Photography
Features
The Washingtonian Green Awards honor people who help our environment by preserving historic green spaces, increasing our access to eco-friendly food and drink, and educating us about the natural world. By Leslie Milk
She made millions from her companies Cisco Systems and Urban Decay. Now, on her Virginia farm, Sandy Lerner is hoping to change the way Americans get their meat. But is it a battle she can win? By Lydia Strohl
Washington's parks and playgrounds are filled with high-achieving moms and dads who want to do everything by the book. But trying to be a perfect parent is not only exhausting–it's also bad for kids. By Brooke Lea Foster
How Joan Miró's iconic painting "The Farm," starring in a retrospective at the National Gallery of Art, made its way via Ernest Hemingway–and his wives–from Paris to Cuba to New York to Washington. By James Conaway
Shopping for a month at an Asian supermarket can open your eyes to wonderful foods, cause a lot of confusion, and yield some interesting discoveries about how we choose what to put on the table. By Tyler Cowen
Taste
On the Road Favorite food trucks in MontCo.
Dining Out

Mintwood Place in Adams Morgan, 2941 in Falls Church, Caphe Bánh MÌ in Alexandria, Bethesda's Haven Pizzeria Napoletana.
Best Bites Hushpuppies! . . . Smoke your own . . . A better gin-and-tonic . . . Terrific French toast . . . Adding to 100 Best . . . Ask the critic.
Home
Sitting Pretty In the market for a new sofa, a beautiful rug, an interesting lamp, or other home decor? Here are expert tips on buying furniture–plus a guide to area stores.
Best of Frederick Where to eat, shop, stay, and see a show in this charming historic city.
Pets When lawmakers take their dogs to work, are humans on Capitol Hill better behaved?
First Person The Royal typewriter used by The Washingtonian's longtime editor finally leaves the office.