This page describes the contents of an issue of Washingtonian magazine. Subscribers get exclusive early access through our print and digital editions. Most of our feature stories are later published online and linked below.
Buy a Single Issue
Subscribe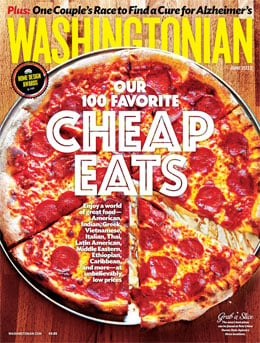 Volume 47, Number 9
Cover Story
Washington is full of culinary riches, and you don't have to spend a fortune to enjoy them. In fact, you can eat fabulously well for $25 a person or less, tax and tip included. On this year's list of the area's best bargain restaurants, you'll find foods from more than 30 countries—everything from top-notch pizza to Laotian lemongrass pork.
Photograph of pepperoni pizza from Pete's New Haven Style Apizza by Scott Suchman
Features
Charles Koch and Ed Crane were once allies in the libertarian movement. Now the former friends are facing off in a fight for control of the Cato Institute, the think tank they founded together 35 years ago. By Luke Mullins
The Nationals are enjoying their best season since baseball returned to Washington seven years ago. Photographer David Deal attended the first days of the Nats' spring training, where the excitement began. By Harry Jaffe
George and Trish Vradenberg are using their powerful connections and personal fortune in a race against Alzheimer's disease. Their goal is to find a treatment within their lifetime. The odds aren't good. By Shane Harris
Hurricane Agnes was no longer a hurricane by the time it devastated the region 40 years ago this month. Even so, the massive storm flooded millions of acres, destroyed homes, took lives—and forever changed the Chesapeake Bay. By Tom Horton
Life
Great Finds Classic nautical styles for men.
Fitness Getting in gear for cycling.
Reader deals Treats for Dad.
Health Tips for keeping your feet and ankles strong—plus Washington's top podiatrists.
Home
Stunning Spaces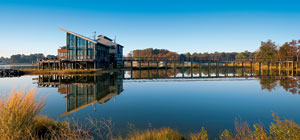 The winners of this year's Washingtonian Residential Design Awards include secluded waterfront retreats, light-filled renovations, and a meticulous restoration.
Best of Rehoboth Where to eat, stay, shop, and have fun in Delaware's popular beach town.
Luxury Homes Virginia senator Jim Webb sells in Arlington. Plus—bigwigs from Long & Foster and Bank of America make deals.
Pets Owners navigating trends in healthy pet diets face confusing terms—and conflicting advice from vets.
First Person In search of couples? Finding other twosomes to hang out with isn't as easy as you might think.