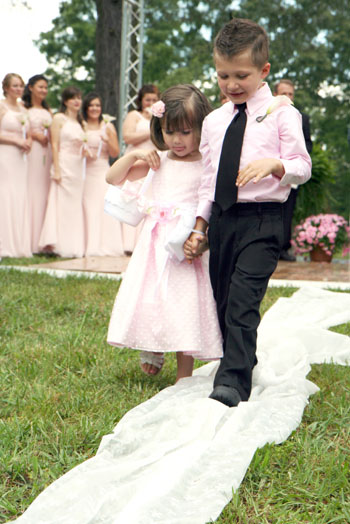 Planning the perfect wedding is no easy feat. Between coordinating the endless details, wrangling your eccentric relatives, and making sure you've got something old, new, borrowed, and blue to wear on the big day, it's quite the undertaking. So it's perfectly understandable that you wouldn't want the day you coordinated so carefully to be ruined by your cousin's little rugrats running amok and wreaking havoc during the ceremony.
Children, no matter how adorable they are, can be a bit of a wild card when it comes to big events. So as you journey toward your wedding day, you have to decide: Do you include them in the festivities? And if so, how do you keep them happy through hour after hour of scheduled events?
Wedding planner Jennifer Stiebel of SoCo Events has used several tricks over the years to avoid near-disasters when it comes to kids and weddings. Below, she shares a few tips for how to incorporate pint-size attendants into your big day and still pull off the glamorous adult affair you've been dreaming of for so long.
Kids in the Wedding Party
We understand you'd love for your bestie's adorable two-year-old to totter down the aisle amid hundreds of "awws" from your smiling guests. But the more likely scenario is that he or she will end up a) crying, b) falling, c) coming down with a paralyzing case of stage fright, or d) all of the above. Stiebel recommends choosing attendants between the ages of four and nine if you want to be able to "breathe a sigh of relief."
"Unless your flower girl and ring bearer are older or are exceptionally behaved children, get the job done and then get them out in order to avoid having a screaming child as your background music," says Stiebel of her ceremony "must do."
She encourages couples to include child attendants in the rehearsal, in order to make them as comfortable as possible with their role in the wedding. But once they have performed that role on the wedding day, allow them to sit with their parents in the audience; don't keep them up at the altar with you and the rest of the adult attendants. This will ensure an attack of "restless child syndrome" won't be on display for all to see.
Stiebel also recommends harnessing the power of sugar. "Have an arsenal of sweets on hand in case bribes are necessary to make it down the aisle and to sit still afterward," she says. "Just remember not to choose anything messy, like chocolate." Her kid-approved faves include Twizzlers and Smarties.
Stiebel has found that preteens are not as inclined to partake in what they see as "children's roles." Kids in the double digits can still be included in your party, either as junior attendants or by handing programs to guests as they are seated before the ceremony.
Kids as Guests
While the majority of your guests will no doubt love the fennel-crusted salmon with citrus glaze you so painstakingly chose, wee ones often have picky palates and might even throw a fit if the food's not to their liking. Rectify the situation by pre-planning a children's menu for any guest under the age of 12. "Chicken fingers and fries or pizza are always crowd pleasers," says Stiebel.
Try to have some sort of entertainment for the kids, if possible, so they can eat their dinner, do a little dancing, and then head off to the pre-arranged babysitter, maybe to watch a DVD or play board games, letting Mom and Dad enjoy a few kid-free hours.
"If a babysitter isn't in the cards, put out some small-scale activities at the designated kids' table. Just a simple paper tablecloth and crayons does the trick by allowing for hours of coloring fun," says Stiebel.
Most important, if you choose to have kids at your wedding, in any capacity, be prepared to roll with the punches, says Stiebel.
"In the end, the hiccups are what make the day funny and memorable."