Regular viewers of the bevy of wedding-related reality shows on TV these days may be familiar with the varying shades of gowns available—a veritable sea of muted hues. You've got diamond, ivory, candlelight, cream, ecru, off-white, and white-white.
But now, thanks to top bridal designers, blue, crimson, and oatmeal have joined the fray. Vera Wang, Oscar de la Renta, Ramona Keveza, and Watters are just a handful of the designers who opted to send color down the runway at the Spring 2013 bridal market fashion shows. Wang's collection featured her signature frothy layers of tulle and organza in varying shades of scarlet (the previous season, she designed in black and nude hues), while de la Renta presented a girlier take with periwinkle tulle covered in white eyelet. Watters's Palm Springs gown, a confection of blush tulle, has been making the editorial circuit since last year, as the soft pink turned out to be a hit with brides.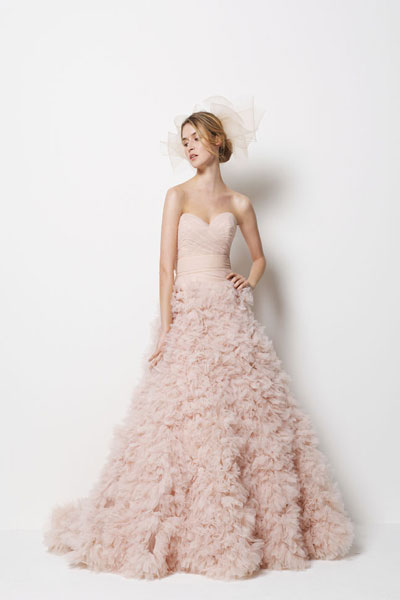 We talked with local gown buyers about decidedly non-white wedding dresses and whether the Washington bride will follow this trend.
Carine Krawiec, owner of Georgetown designer bridal shop, Carine's Bridal Atelier, says she's glad to see color infusing standard bridal style.
"Wedding dresses are becoming more of a fashion statement," she says, explaining the recent trend toward color comes out of the wedding industry's ambition to use a more haute couture approach to wedding-day apparel. She says she saw many bridal designers taking inspiration from couturiers like Christian Dior for spring 2013.
Jennifer Johnston, manager of The Bridal Salon at Saks Jandel, and the exclusive retailer of Vera Wang Bride in Washington, says she finds it refreshing to see gowns in color. But whether local brides will want to take part in the trend in a big way has yet to be determined.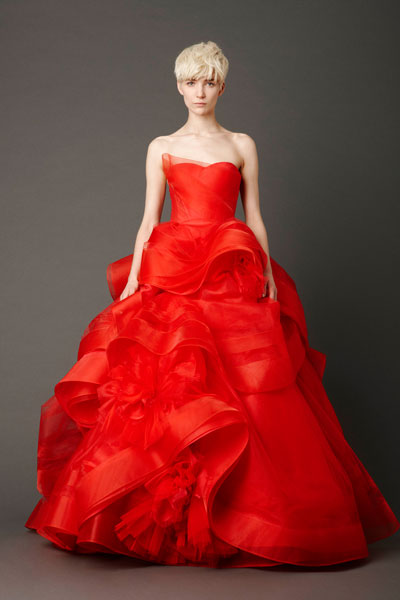 Johnston says Washington brides tend to be more conservative, so she doesn't expect many orders of Wang's red creation (let's face it: it's tough to pull off a scarlet wedding gown). However, the woman who dreams of wearing one of the popular designer's pricey creations down the aisle is not relegated to red. Even if the dress went down the runway in crimson, it can be ordered in ivory.
"I will expect to see clients from other countries such as China or India requesting red. The color represents good luck in some cultures," explains Johnston.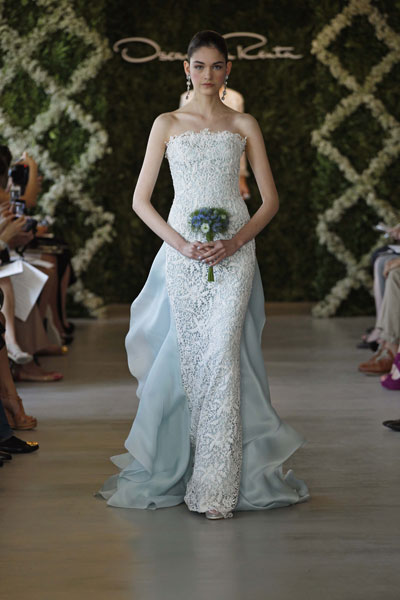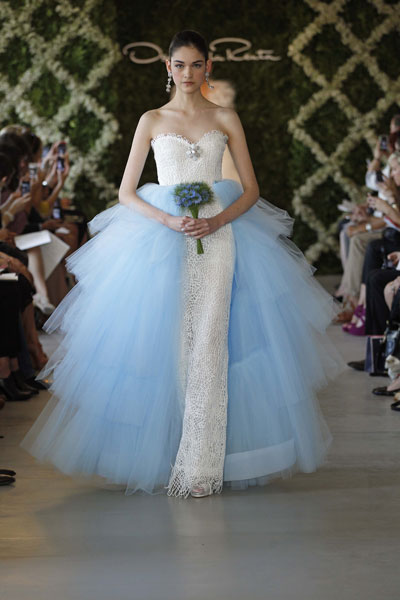 We polled several local brides-to-be, all of whom said they were too conservative or traditional to go for a wedding gown with shades of pink, blue, or red.
But Krawiec reminds that it's rare when for a bride to know she wants before she starts actually trying on gowns. Seeing herself in the styles has a huge impact on dress selection. "There is always that traditional bride who tries on a colored gown as her wild card and falls in love with it," she says.