Two years ago, Heather Noss left her gig as a foreign-service officer at the State Department in order to tap into her artsy side. She was looking for a less bureaucratic career, and when she learned how to letterpress, she knew she'd found her niche. Shortly thereafter, she and her husband opened their Cleveland Park stationery shop, Digby & Rose, which sells whimsical yet elegant custom paper goods. We asked Noss to give us her top tips for ordering wedding stationery and getting in touch with your inner Emily Post.
What etiquette mistakes do you see people make most often, and how would you suggest avoiding them?
Most people have questions about what they should be doing—and that's part of what you're paying for by working with a stationer. You should ask your stationer how to word and address invitations in a way that is clear and courteous to guests such that they know who is invited and feel their stature has been acknowledged.
Considering that families and relationships are a lot more complicated these days than in decades past, how tricky is wording an invitation or other wedding-related materials?
It will vary from person to person. In a traditional wording, you would have both sets of parents, making clear which set is hosting the party. However, if there are divorces, or if other family members are contributing to the celebration, it's best to word the invitation using the line: "Together with their families." There are various ways to convey to guests who's hosting while including the people you love who are helping you out. I ask couples to send me [the names] they would like on the invitation, and I can often recommend some appropriate wording options.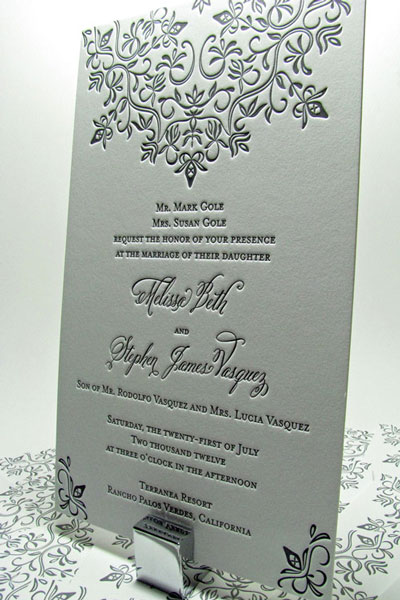 When do you suggest a couple meet with a stationer for the first time?
As soon as they've set a date.
Speaking of dates, has sending save-the-date notices become standard etiquette?
Save-the-dates have come into popularity because they save couples stress later in the process. It takes the pressure off getting the invites out early and also helps disseminate information via the couple's wedding website. While [the cards] have no connection to established etiquette, I would call them a modern courtesy because people are so busy.
When should couples send save-the dates? How about the actual invitation?
For save-the-dates, the lead time depends on the event. For an overseas celebration, I would recommend a year in advance; if you're staying stateside, eight to nine months ahead of the wedding is fine.
For invitations, I would recommend three months ahead of the event; however, if you're not sending save-the-dates, I would send them even earlier.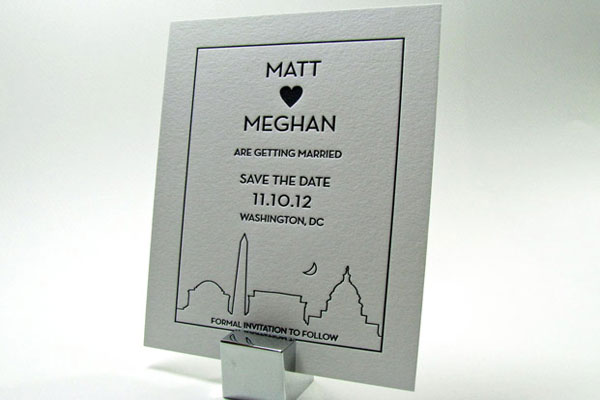 What is the correct protocol for managing a guest who RSVPs for more people than were invited?
If this happens, it's up to you to evaluate whether you have room for someone extra. If you're limited on space, you'll have to call that guest and have a conversation. There are also ways you can reinforce who is invited on the reply card and reply envelope.
How do you feel about the trend of creating guest lists with an A-group and B-group? Is it gauche or acceptable?
I think it's fine as long as the invitations are printed in a way that protects the B-list's feelings. If you're going to work with two lists, you need to plan to do everything a little earlier, and it may potentially add to the cost if you want to print reply cards with two different dates.
You're a newlywed yourself—any good marriage advice for our brides?
I would say to keep those communication lines open and remember life is your game and you're in it together.
Digby & Rose. 3711 Macomb St., NW; 202-652-1556; digbyrose.com.