Who: Arienne Thompson, 30
Fashion and celebrity reporter/producer, USA Today
What she does: I'm a jane-of-all-trades, actually! I conduct celebrity interviews, report on style and trend stories for print and online, create digital elements for our online coverage, and cover red carpets and runway shows. Every other week, I go on camera to film USA Today's video feature "StyleFile." A typical week for me could literally be interviewing Jada Pinkett-Smith at the State Department one day, chatting with Victoria Beckham on the phone the next day, and live-tweeting a store opening the day after that. Tough job, right?
Describe your work style: Definitely trendy with an edge. Part of my job is keeping up with the next big thing, but I wouldn't say I'm a slave to trends by any means. My go-to pieces when I'm in the office are a nice pair of jeans (newsrooms are notoriously casual) spiffed up with jackets, eye-catching jewelry, and great shoes.
In the Office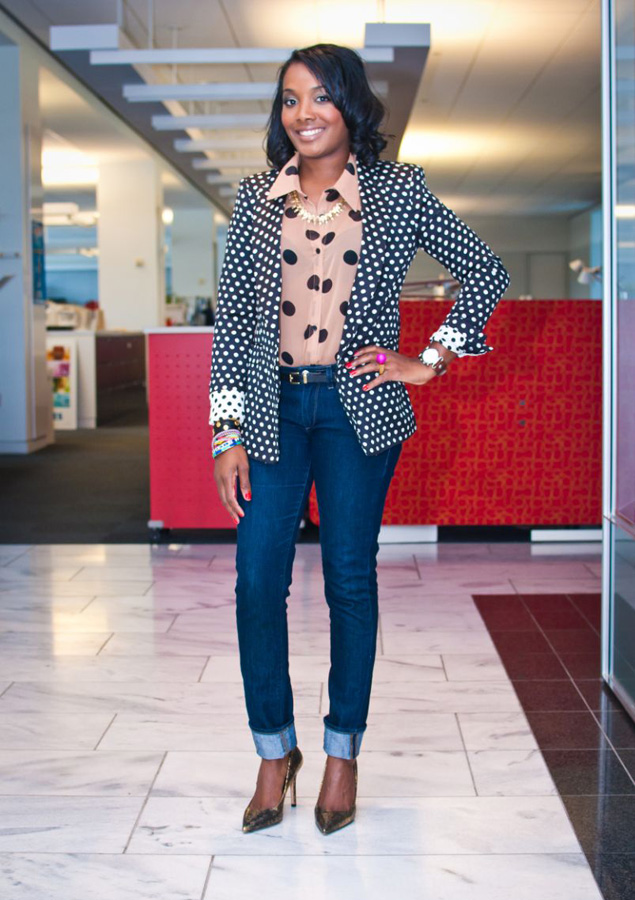 I rely on comfortable but chic pieces such as blazers, button-downs, and quality jeans. Pattern-mixing is big right now, and I love taking it to the next level by pairing different scales of similar patterns.
Zara blazer, Forever 21 button-down, Marc Jacobs jeans, and Sam Edelman pumps. Marc by Marc Jacobs watch and zipper necklace, Trina Turk ring, Giles & Brother railroad spike cuff, Marc Jacobs and J.Crew bracelets.
Red Carpet/Celebrity Interview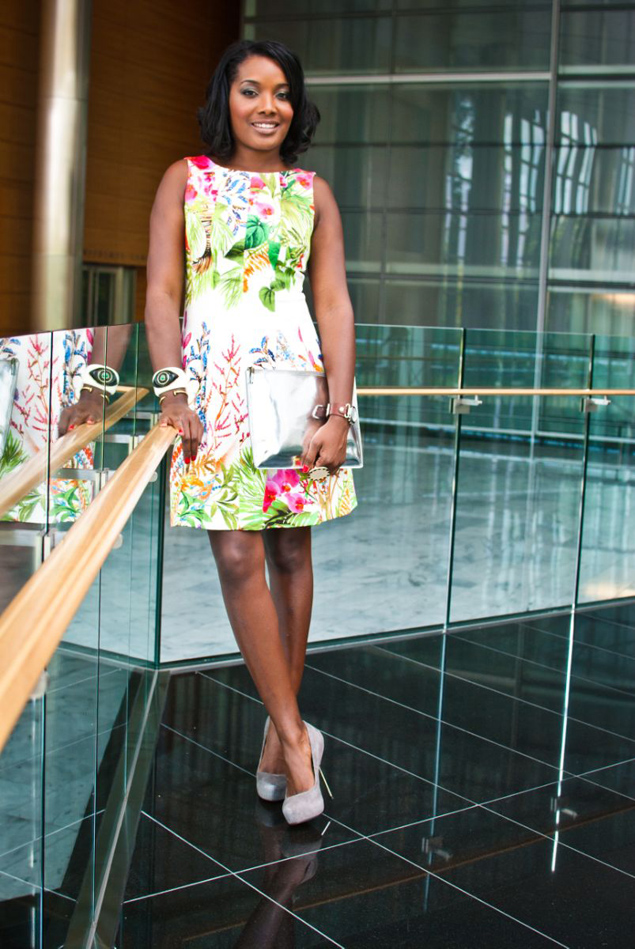 I cover celebrities in DC, LA, and New York, and I dress a little differently depending on the locale. In DC, I keep things simple but interesting. In my years on the fashion and celebrity beat, I've found that things like a unique piece of jewelry, a bold slash of lipstick, or a great pair of glasses can often be the icebreaker or attention grabber you need on a chaotic red carpet. I've had everyone from Sarah Jessica Parker to Sandra Bullock to Tory Burch comment on something I've worn.
Zara dress and stilettos, Madewell envelope clutch, Kara Ross for Tory Burch cuff, and House of Harlow ring.
Fashion Shows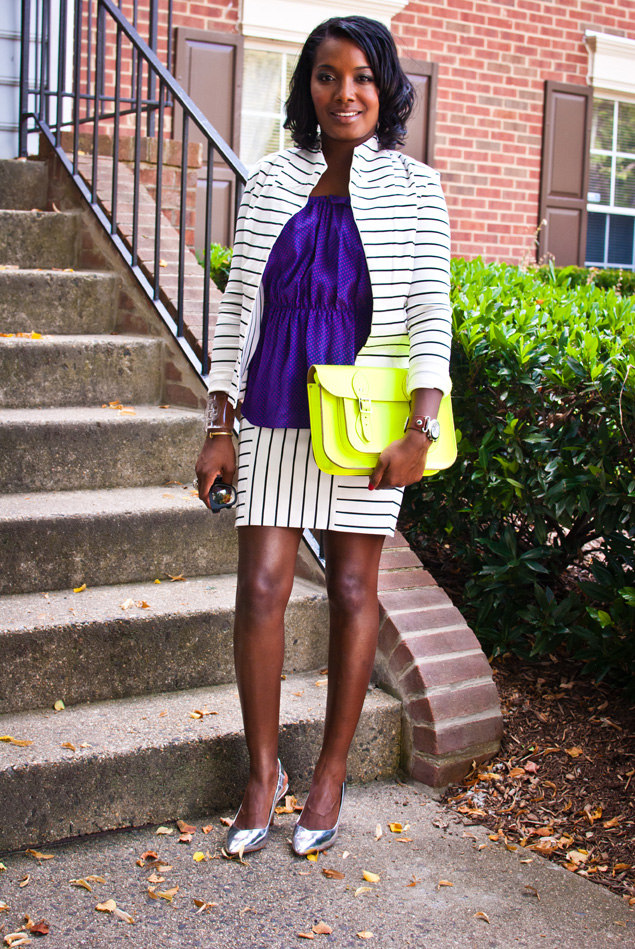 I've covered New York Fashion Week seven times, which translates to about 150 runway shows. Dressing for NYFW means attempting, on a civilian budget, to mimic or at least honor the aesthetic of the designer whose show you're going to see. For Marc Jacobs, Alexander Wang, and Christian Siriano, for example, I opt for edgier, downtown looks; for girlier designers like Tracy Reese, Tory Burch, and Jill Stuart, I flex my ladylike muscles. This striped suit and polka-dot peplum top are perfect for those more feminine shows, but I dilute the sweetness with a highlighter-yellow satchel, big geek glasses, and metallic heels.
Tart Collections striped skirt suit, Rebecca Taylor silk peplum top, Zara slingback heels, Urban Outfitters glasses (held in hand) Cambridge Satchel Company bag, and Lucite cuff by Tory Burch.
Special Events/Galas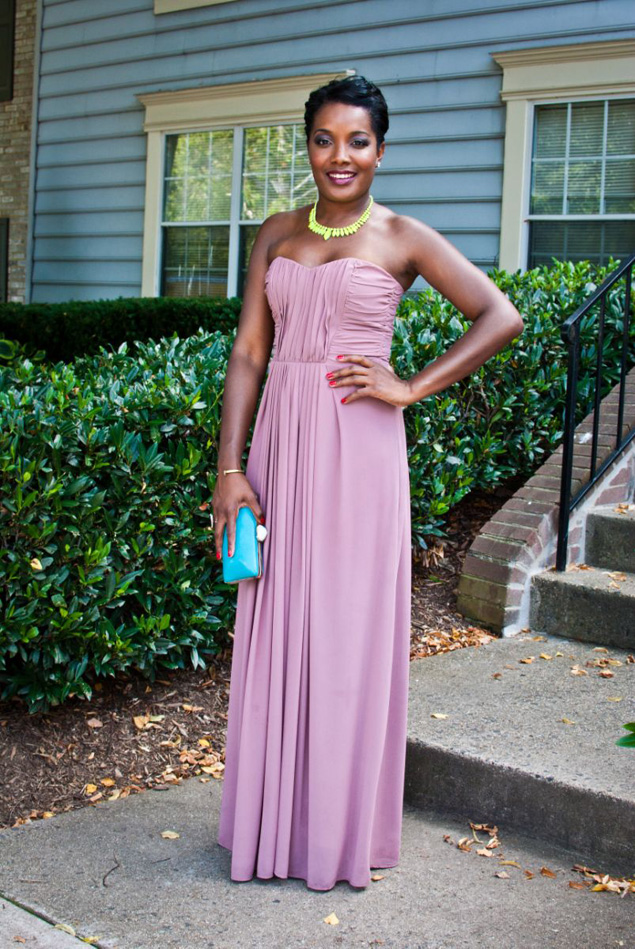 Events like the Oscars, the Emmys, the White House Correspondents' Dinner, etc. come with built-in dress codes. Reporters are given detailed instructions about what is and isn't acceptable to wear on the red carpet and inside the venue for such special events. So you have to keep your closet stocked with a few black-tie-ready gowns. I picked up this rose-colored gown at H&M last spring for the White House Correspondents' Dinner, where I made fast friends with our guest David Arquette, who told me he got his tuxedo jacket at a vintage store in DC. Proof that bargain shopping is universal.
H&M gown, Ann Taylor necklace, and Banana Republic clutch.
Makeup by Mitch Leyba and hair by Tabitha Walker. All photographs by Kate Warren.
Think you or someone you know deserves a chance in the What I Wear to Work Spotlight? E-mail szlotnick@washingtonian.com with photos and a job description for consideration.