This page describes the contents of an issue of Washingtonian magazine. Subscribers get exclusive early access through our print and digital editions. Most of our feature stories are later published online and linked below.
Buy a Single Issue
Subscribe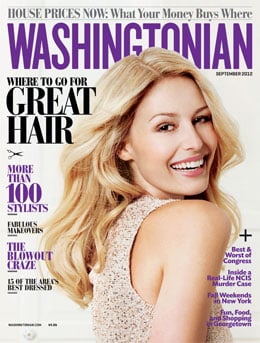 Volume 47, Number 12
Cover Story
Who does your hair? It's the ultimate compliment when someone asks—it means your hair turns heads. So we asked dozens of people with lovely locks that question. Here are more than 100 recommended stylists and barbers at 60 good salons—plus the latest on color, blowouts, and more.
Photograph by Ada Summer/Corbis.
Features
What happens when you gather 15 of the area's most fashionable people, ask them to dress to impress, and photograph them at DC's historic Howard Theatre? It's a perfect fit. By Kate Bennett
Johnny Monis was just 24 when he opened Komi, the top-ranked restaurant in the area. Yet in an age of cookbook-hawking TV-star chefs, Monis has studiously avoided becoming a celebrity. By Shane Harris
Who are the wisest members of the 112th Congress? The most partisan? The best tweeters—and the worst? Who are the hotties, the gym rats, the rising stars? Once again, the people who know them best—top aides on Capitol Hill—tell all.
In the late-night quiet following the "Snowmageddon" storm of 2010, a man in a silver Dodge Durango stalked women in Virginia. The evidence led to a local military base. Did Arlington cops find a serial rapist and killer NCIS had missed? By Harry Jaffe
Taste
Dining Out Two new designer Mexican restaurants in DC, Bandolero and El Chucho . . . A snug, sharing-friendly place in Georgetown . . . A seafood-focused tavern in Potomac . . . Healthy, flavorful Indian in Vienna.
Best Bites Easy as pie—a guide to regional pizza styles . . . Chefs' updates on pimiento cheese . . . What's hot and what's not.
Home
Best of Georgetown With its cobblestone sidewalks and historic homes, it's a favorite of locals and tourists alike. Here are our picks for the best places to eat, shop, and have fun.
Real Estate What $500,000, $1 million, and $2 million buy now—and where.
Luxury Homes The late Kara Kennedy's home goes for $1.2 million; lawyers sell for big money.
Pets Kittens and puppies are hard to resist, but older animals often make the best companions.
First Person As he drives his teenage daughter to soccer practice, the rush-hour traffic on I-66 is enough to make him scream. But then something happens: She begins to talk.