This page describes the contents of an issue of Washingtonian magazine. Subscribers get exclusive early access through our print and digital editions. Most of our feature stories are later published online and linked below.
Buy a Single Issue
Subscribe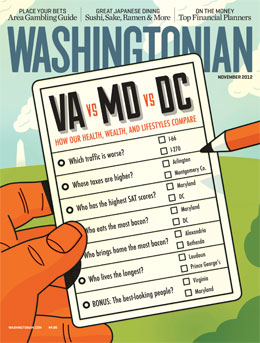 Volume 48, Number 2
Cover Story
Virginia vs. Maryland vs. DC
The Potomac River has long been the region's great divide, not just geographically but also in matters of politics, culture, taste, and more. But changes over the past three decades have blurred the differences among jurisdictions. Here are facts and figures that reveal how our health, wealth, and lifestyles compare.
Illustration for The Washingtonian by Harry Campbell.
Features
Inside the world's largest fire-science laboratory, researchers recreate infernos to find clues hidden in the ashes that can bring the guilty to justice and set the innocent free. By Michael Gaynor
When the Vietnam Veterans Memorial opened 30 years ago this month, something unexpected happened: People started leaving things at the wall. One veteran has spent decades cataloging the letters, mementos, and other artifacts of loss—all 400,000 of them. By Rachel Manteuffel
As scandals sap his power, Marion Barry is trying to cast himself as DC's savior. Here, the political obituary of the city's "mayor for life." By Harry Jaffe
The recession changed the way many of us think about money. Here's what you need to know about investing and managing your finances today. Plus—220 experts who can help you make smart choices. Edited by Mary Clare Glover
Taste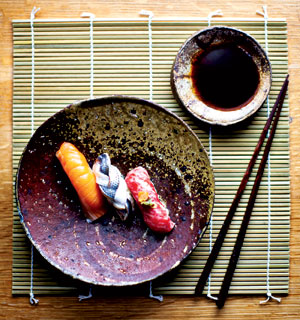 Great Japanese Dining A special section on where to find—and how to enjoy—Washington's best sushi, sake, ramen, and more.
Home
Fitting Fido in Dogs bring love—and work—into a home. Here's what to know before adding a four-legged family member. Plus: reader deals.
Best of Cleveland Park and Woodley Park Two Northwest DC neighborhoods offer a nice mix of reliable standbys and exciting newcomers.
Caregiving Hospice enables the sick to spend their final months with the people they love.
Luxury Homes Thomas and Kathy Raffa snag a Kalorama bargain—for $5.7 million.
First Person A broken watch, talking like Cookie Monster, and other lessons of fatherhood.