For a newly engaged couple, setting up a wedding registry for table settings may seem like a daunting experience. There's the patterns, the styles, the number, the pieces—the list goes on and on. This is where John Flynn, director of stewarding at Four Seasons Hotel Baltimore, comes in. Flynn, dubbed the "china specialist" by the Four Seasons, holds a complimentary consultation with every couple planning a wedding at the hotel in order to help them register for china, silver, crystal, and glassware pieces.
"Whether it's ornate and vibrant or simple and understated, our priority is helping busy couples find a pattern for life," says Flynn. We caught up with the hotel's resident china whisperer, who shares his top tips for bridal registries, the season's hottest china patterns, and the best ways to care for your tableware in the years to come.
What advice would you give to a couple picking out their first china set?
Couples should definitely decide their preferences before creating the registry. What style of entertaining will they do? Will they host formal dinners often, or do they prefer to be more casual? As a couple, do their tastes run to modern designs, country casual, or Asian? Once a couple can agree on their taste, they are ready to start creating a registry.
Are there certain items or a certain number of pieces they "must" register for?
If they're spending a lot of money on china, crystal, and silver, it's a good idea to buy service for 12 in the event of future breakage or loss. When registering for china, don't forget to include extra service pieces, such as bowls and serving utensils. And finally, remember to include items from a broad range of prices to accommodate every wedding guest's gift budget.
Should a couple register for classic patterns or certain shapes?
Not necessarily. It really depends on taste and personal preference. Some couples prefer a more traditional look, while others favor something a little more bold and eclectic. It's okay to mix and match and make your china service your own. Gone are the days when everyone needed the same pieces for formal entertaining. While it's fine to be creative, remember that you have to live with your decision for a while.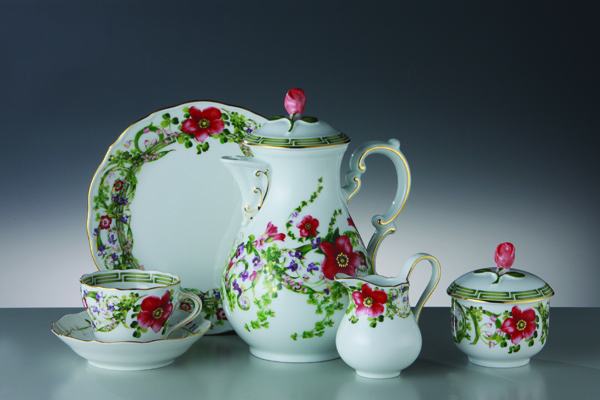 Is there a pattern or color palette that is especially popular this wedding season?
It's not about what's popular this season, it's about finding something that reflects your style and taste—trends come and go. That being said, for classic, formal china, Wedgewood's English Lace pattern is very popular. The bold, opulent colors of the Versace line from Rosenthal are also in style, while the clean, modern lines of manufacturers from France, including Guy DeGreene, are a hit with couples who prefer a more contemporary look.
What's the best way to store and take care of tableware?
Couples buying expensive porcelain or fancy bone china need to make sure they have a place to store it. A special china cabinet or a hutch can help ensure delicate pieces aren't destroyed. They should also make sure any china selected is dishwasher- and microwave-safe. Expensive crystal glasses need to be properly stored face up in a clean, dust-free environment. Real silver or silver plate looks great on a table but requires extra washing and polishing. Silver should be stored in a dry, closed environment to prevent tarnish and oxidation.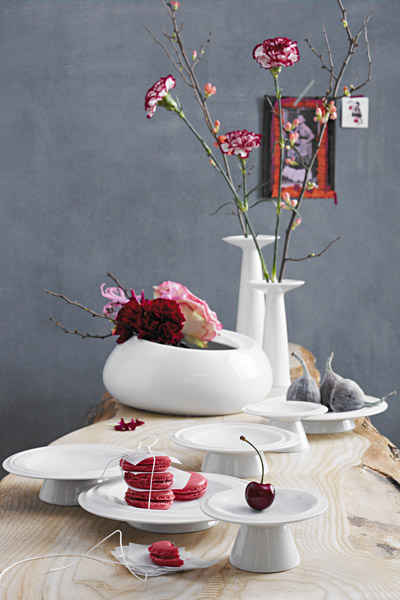 What are the top three tabletop essentials every couple should register for?
Fine and casual dinnerware—it doesn't have to be fine bone china if that's not your style, but you'll want a nice set of plateware for special occasions and something for everyday dining.
Flatware—everyday flatware, and if you have a set of fine china, you'll also want some fine silverware to match. If you're going to add some silver or silver-plated flatware to your registry, remember that you'll have to store it and maintain it.
Wine service and barware—you don't need to buy very expensive cut crystal, but if you serve wine with dinner, you'll want a complete set of wine glasses. A registry is also a good opportunity to make sure you have sufficient bar glasses.
At the end of the day, what are your top tips for every couple to consider?
To thine own self be true! Decide who you are as a couple and choose things that will reflect your lifestyle together. Don't register for a silver coffee and tea service just because your mom did.
The "don't shop on an empty stomach" rule applies to the registry plan, too. Don't make of-the-moment decisions about things you're going to be living with for a long time. Maybe you enjoyed a Lady Gaga concert together, but that Lady Gaga teapot is a bad idea.
These days many couples come into the relationship already owning some essential pieces. Take an audit of what you have, what you need, and what you want to upgrade.