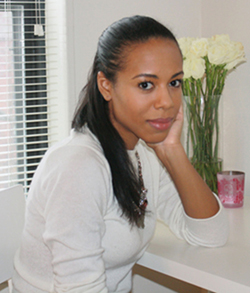 When we get word that there's a hometown contender in a competition, we can't help but want to cheer her on, no matter what. And in this case, it's well deserved: A health nonprofit worker by day and beauty blogger by night, Chevy Chase's own Ashley Weatherford is sitting pretty as a finalist in Allure's beauty blogging competition, which is being judged by the likes of Lauren Conrad, model Coco Rocha, and Revlon's Gucci Westman. Now that three of the five challenges are complete, Ashley stands against seven other national beauty bloggers in the race for top ranking. Voting for this week's challenge, which focused on lazy-day beauty, ends on Friday, and two more contestants will be eliminated on Monday.
We caught up with Ashley recently to get her top five favorite products. Read on to see her picks, then head over to Allure's website to cast your vote!
1) Make Up For Ever Pro-Finish Multi-Use Foundation
Ashley says:
"This can be applied wet (with a damp sponge) or dry. Either way, it
makes my skin look like it's been Photoshopped." $36 at Sephora.
2) Clinique Even Better Eyes Dark Circle Corrector
Ashley
says: "Part treatment and part concealer, Even Better Eyes Dark Circle
Corrector is one of those rare eye creams that live up to their name. I
noticed results in about two months." $39.50 at Clinique.
3) GlamGlow Super-Mud Clearing Treatment
Ashley says:
"Super-Mud is the Meryl Streep of masks—versatile, accomplished, and a
Tinseltown favorite. I use the mask every few weeks or so to clear my
pores and restore radiance to my complexion." $69 at Sephora.
4) La Roche-Posay Anthelios 45 Ultra Light Fluid for Face
Ashley
says: "Finding a facial sunscreen that isn't chalky, greasy, or
pore-clogging is a tall order. Anthelios 45 dries matte and never leaves
a grayish cast on my skin." $30 at Skinstore.
5) Mario Badescu Drying Cream
Ashley
says: "I use this for small blemishes on my face during the day. The
drying elements—alcohol and sulfur—are buffered by aloe, which soothes
my skin while it heals." $14 at Nordstrom.