This page describes the contents of an issue of Washingtonian magazine. Subscribers get exclusive early access through our print and digital editions. Most of our feature stories are later published online and linked below.
Buy a Single Issue
Subscribe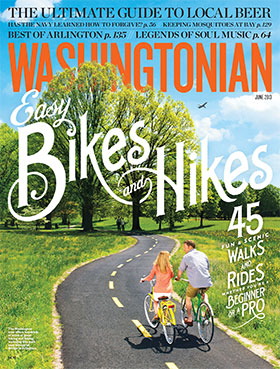 Volume 48, Number 9
Cover Story
Fun, scenic walks and rides—whether you're a beginner, an intermediate, or a pro. Edited by Sherri Dalphonse.
Photograph for The Washingtonian by Jeff Elkins. Handwritten text by Luke Lucas. Bikes courtesy of The Daily Rider. Models: Jill Holland and Eric Butts. Clothing provided by Bloomingdale's (Chevy Chase). Makeup and hair by Susan Heydt of Suze Makeup Studio for Smashbox Cosmetics.
(When you're biking, wear a helmet. We know the models here aren't, but they weren't really going anywhere.)
Features
In the 1960s and '70s, Washington's soul and funk scene flourished. Here's a look at the musicians who made it their own—and are still performing all these years later. Photographs by Eli Meir Kaplan
The Navy has a tradition of not forgiving mistakes. So how is it that a pilot who knowingly fired on a US plane was able to rise through the ranks to the service's highest levels? By Shane Harris
In the affluent Northern Virginia suburbs, police and federal investigators have taken down dozens of juvenile sex traffickers. Here's how one gang recruited teens—some in the halls of Fairfax County schools. By Marisa M. Kashino
Taste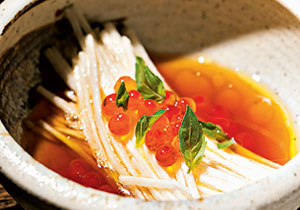 New Attitude At DC's Daikaya, ramen, pork fat, and plenty of tattoos. Plus—comfort food in Sterling and good vegan in College Park. Beer, Glorious Beer! A guide to local craft brews, bars, beer myths, and more. Winner Winner, Chicken Dinner We dug into 14 kinds of fried chicken to find the best.
Home
Buzz Off Porch fans, tiki torches, and other proven ways to keep mosquitoes at bay. Best of Arlington It's got Metro-accessible neighborhoods, top restaurants, stylish boutiques, and an urban park with views. Luxury Homes After separating, Tony and Heather Podesta spend $3.8 million in Kalorama. Pets How social media and pet detectives have made finding lost pets easier. First Person How a bit of dialogue from a great old movie can save your life.