As 2013 draws to a close, there is nothing quite like looking back at everything Washingtonian Bride & Groom has achieved this year. From last year's Unveiled event (mark your calendars, Unveiled 2014 is January 26!) to some major photo shoots (seemingly all accompanied by pouring rain), to gorgeous jewels from the likes of Graff, Bulgari, and Tiffany & Co., the year was filled with Instagram-worthy moments—all fun and fashionably fabulous. Scroll down for a behind-the-scenes look at our day-to-day lives and see why we love that our job is getting to make this magazine for you.
(Captions run left to right, top to bottom.)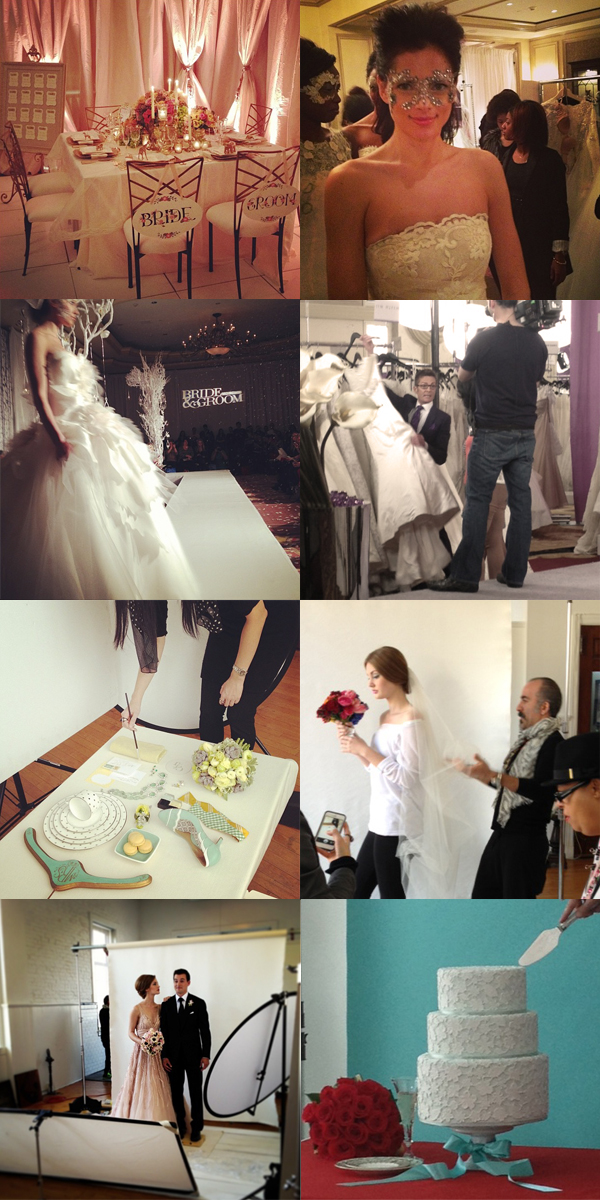 1. Atrendy Wedding booth at Washingtonian Bride & Groom's annual Unveiled event.
2. A backstage look at one of the models before the Unveiled fashion show.
3. Final look at the Unveiled runway.
4. Catching up with Randy to the Rescue's star Randy Fenoli during the filming of a DC episode.
5. Design Army's Pum Lefebure straightens the clutch for our Color Theory shoot.
6. Hair guru Ismail Tekin fluffing a model's veil before the beauty shot.
7. Models playing happy couple on set. The bride is wearing a blush gown by Watters.
8. Even though this pretty mint cake from Charm City Cakes was mostly cardboard for photo shoot purposes, we still had to resist the temptation to eat it.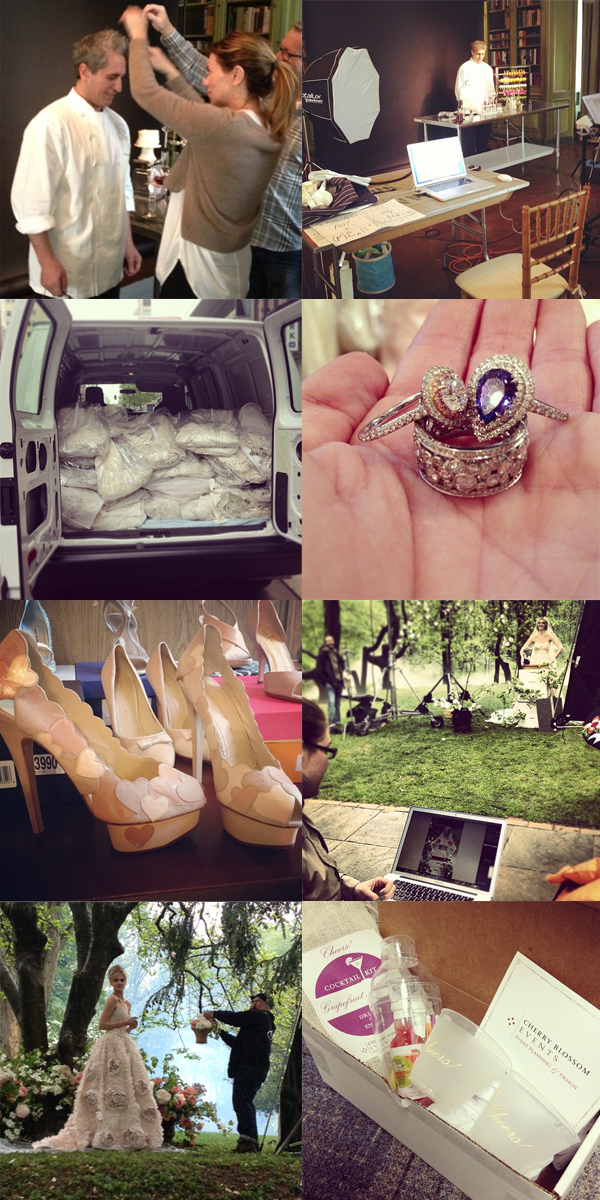 9. Washingtonian Bride & Groom editor-in-chief Kate Bennett double-duties as a hair stylist on set.
10. Occasions Caterers executive chef Sina Molavi playing mad food scientist for our Formula for a Feast shoot. He also whipped up chocolate truffles on-demand.
11. A cargo van full of wedding gowns for our main bridal fashion photoshoot—this is literally how we roll.
12. These Tiffany & Co. rings made the story happen; so stunning!
13. What's more romantic than a pair of Charlotte Olympia heart-appliqued pumps? $1,450 at Net-a-Porter.
14. Our model Kristine, in a Christos gown, on the set of the Bride to Bee shoot. It was pouring rain the entire two days that we were on set at Woodend Sancuatry in Chevy Chase.
15. Another pretty behind-the-scenes shot. This time the bride is in a rose garden blush gown by Sareh Nouri.
16. Cherry Blossom Events getting us ready and excted for the wedding season.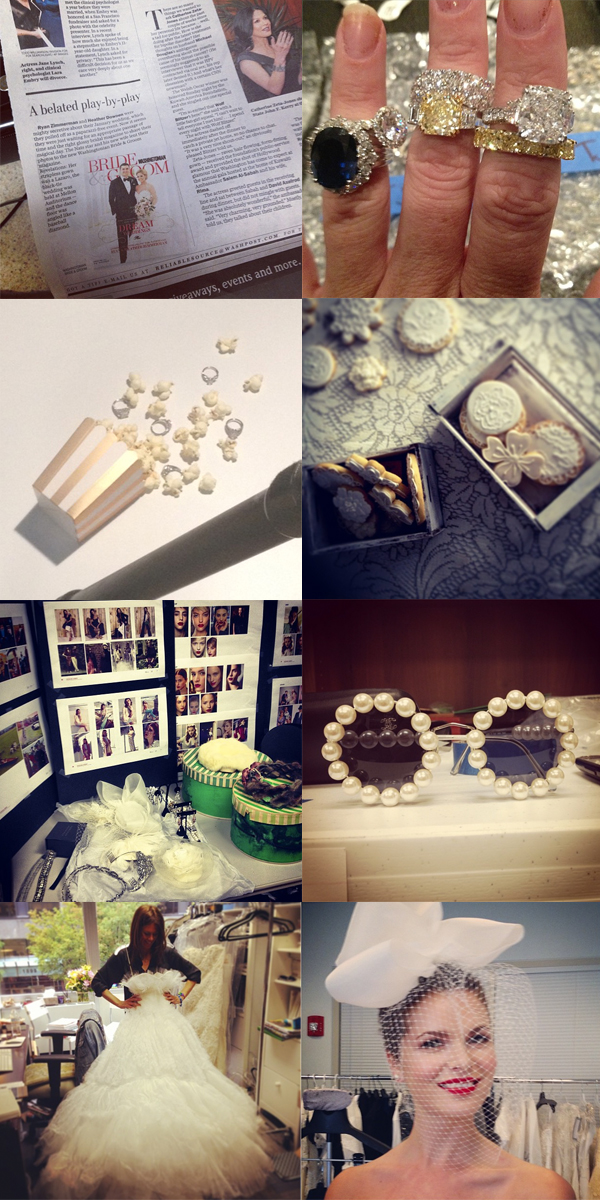 17. A write up from the Washington Post on our summer/fall 2013 issue with Ryan and Heather Zimmerman's wedding on the cover.
18. Trying on gorgeous rings is one of the perks of the job. For this jewelry shoot, we had five security guards on set.
19. Only on set of a Bride & Groom shoot will you find diamond rings popping out of a popcorn box. "Pop the Question!"
20. A selection of Kalorama Cookie Company hand-decorated cookies that we shot for a white-themed story. We went into a sugar coma after indulging in too many after the shoot.
21. Old-school inspiration boards for a fashion bridal feature for the winter/spring 2014 issue.
22. Spotted on set! These vintage Chanel pearl-rimmed sunglasses.
23. Kate playing model in her office, trying on one of the Marchesa gowns. The dress would eventually make it into the magazine.
24. Our stunning Romanian model Diana with a major headpiece that we had on-set.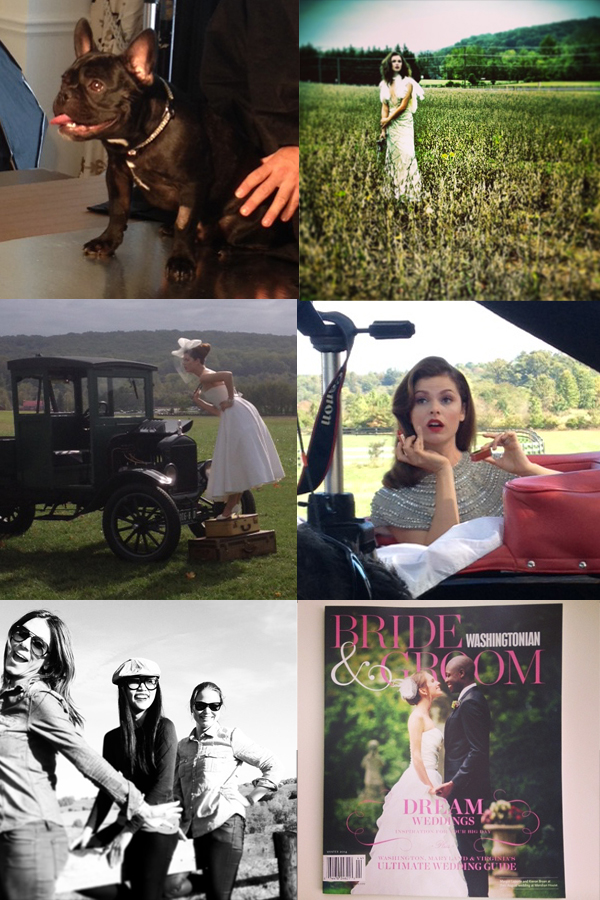 25. For one of the photo shoots, we had an online French Bulldog casting. This pup made the final cut and got to wear a seven-carat center diamond ring from Tiny Jewel Box on his sparkly collar.
26. Per usual, it was pouring rain on the first day of the fashion shoot—that's our luck! The model made it work in a dress by Maggie Sottero.
27. A whimsical shot of our model, in a pearl beaded Romona Keveza dress, inspecting one of the many beautiful antique cars that were loaned to us that day.
28. Another behind-the-scenes shot. This Johanna Johnson beaded cape was everything.
29. After two days of shooting in Cockeysville, Maryland, we are overjoyed that it's a wrap. Go, team!
30. A look at the cover of our winter/spring 2014 issue featuring the wedding of Margot Laporte and Kieron Bryan. Pick up the magazine on newsstands this week.