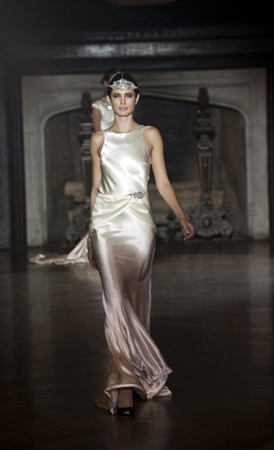 For brides looking to channel old Hollywood glam on their big day, Johanna Johnson is a go-to for her minimalist silhouettes, ultra-luxe fabrics, and stunning embellishments. The Australian couture and bridal designer has quickly made a splash stateside with celebrities on the red carpet (Pink, Chrissy Teigen, and Maria Menounos are just some of the celebs who wore the designer this award season) and fashion-forward brides alike since opening a studio in New York last year.
Before the brand's trunk show at Georgetown's Hitched on March 21 and 22, we caught up with Johnson, who shared the inspiration behind her latest collection and revealed this season's hottest bridal trends.
How would you describe a Johanna Johnson bride?
Individual, independent, lover of luxury, fashion, and fine dressing.
How are your bridal designs different from other wedding designers' work?
The quality and make of our gowns stands alone. The fabrics, weight, stone work, hand-beading, and hand-finishing, along with my 'old world' approach to the DNA of our design, are what set us aside.
What's your favorite part about designing wedding gowns?
The pure joy, excitement, and emotion our clients experience with choosing their gown.
What was the inspiration behind your latest collection?
The architecture of Art Deco, specifically my "muse"—New York City.
Do you have a favorite gown of the ones that will be on display at the Hitched trunk show this weekend?
The Garbo gown [photo above] embodies everything modern-day bridal should be—"less is more," elegant, embellished, and old Hollywood glamour.
What are some of the bridal trends that you are seeing this wedding season?
For our clientele, no matter the style of gown, it's all about "adornments" that can be worn again and cherished as heirloom pieces. Our wide range of accessories allows our brides to style their look individual to their personality.
And now, the quick-fire round:
Veil or statement headpiece?
Wear the headpiece over the veil, then remove the veil and rock the headpiece on its own.
Floor-length or short gown?
Floor-length.
Feathers or embroidery?
Embroidery.
White, cream/ivory, or color for gown?
"Vintage" ivory.
Statement neckline or statement necklace?
Statement neckline.
V-neck or cap sleeves?
Both!
To attend the Johanna Johnson trunk show on March 21 and 22, make an appointment by calling Hitched Salon at 202-333-6162 or e-mailing info@hitchedsalon.com.