This page describes the contents of an issue of Washingtonian magazine. Subscribers get exclusive early access through our print and digital editions. Most of our feature stories are later published online and linked below.
Buy a Single Issue
Subscribe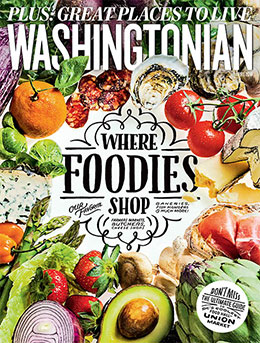 Volume 49, Number 7
Cover Story
Want to make a four-star meal at home? You'll find great ingredients in our guide to the area's best butchers, bakeries, cheese shops, farmers markets, and more.
By Todd Kliman, Ann Limpert, and Anna Spiegel
Features
In the 1940s, the world's population of whooping cranes was about 20. To combat the birds' decline, a program at Patuxent Wildlife Research Center is breeding and raising the birds, then introducing them to life in the wild. Photographs by Christopher Lane
The DC Public Schools lottery determines a pre-kindergartner's fate through a maddening game of chance. By Laura Moser
Notes on Fearless Freddie and the magnificent life at 12,000 feet. By Michael Graff
Bill Dean Would Like to Explain Himself
The mega-millionaire excels at more than just throwing the buzziest bashes in Washington. By Joseph Guinto
"Even When She Was Drinking, Nothing Changed"
In so many ways, Julie Kroll was a typical Washington mom. Until she wasn't. By Patrick Hruby
Capital Comment
Where & When
I.Q.