This page describes the contents of an issue of Washingtonian magazine. Subscribers get exclusive early access through our print and digital editions. Most of our feature stories are later published online and linked below.
Buy a Single Issue
Subscribe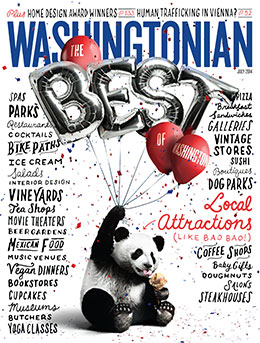 Volume 49, Number 10
Cover Story
The Best of Washington
Our 101 favorite things about the place we call home, from great cocktails to hikes to doughnuts. Plus—readers' best (and worst).
Edited by Garrett M. Graff, Sophie Gilbert, and Mary Clare Glover
Features
Elite Retreats
The winners of this year's Washingtonian Residential Design Awards include a modern oasis with mountain views, slick city condos, and a "cabin" like nothing you've seen. By Vicky Gan and Marisa M. Kashino
The Slave Down the Street
Did a prominent political activist illegally traffic a woman to be her personal servant? By Chris Vogel
Capital Comment
Where & When
I.Q.
Life
Taste
Home
In Every Issue