This page describes the contents of an issue of Washingtonian magazine. Subscribers get exclusive early access through our print and digital editions. Most of our feature stories are later published online and linked below.
Buy a Single Issue
Subscribe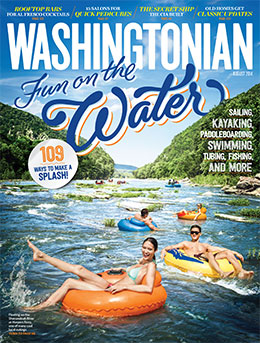 Volume 49, Number 11
Cover Story
Fun on the Water
From kayaking on our rivers and sailing on the bay to splashing in pools and cracking crabs on the Chesapeake, here's how to make the most of Washington's liquid assets.
Edited by Sherri Dalphonse
Features
Will the luxury mega-development on the Southwest waterfront unmoor the low-key way of life on DC's houseboats? A look inside the "live-aboard" community, just as the cranes rise. By Carol Ross Joynt, Photographs by Andrew Propp
Great espionage stories are hiding in neighborhoods all over Washington. Here's how one writer tracked down the story of the Glomar Explorer, the most ambitious operation in CIA history. By Matt Mendelsohn
The Making and Unmaking of a Power Marriage
When superlobbyists Tony and Heather Podesta landed in divorce court, they had to try to outlobby each other for control of their powerful brand. By Luke Mullins
Capital Comment
Where & When
I.Q.
Life
Taste
Home
In Every Issue