This page describes the contents of an issue of Washingtonian magazine. Subscribers get exclusive early access through our print and digital editions. Most of our feature stories are later published online and linked below.
Buy a Single Issue
Subscribe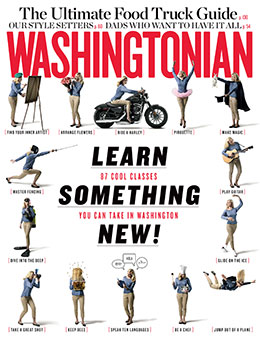 Volume 49, Number 12
Cover Story
Learn Something New
Washington is full of smart people who love to learn new things. Fortunately, it's also full of cool classes. Here are 87 of our favorites.
Edited by Sherri Dalphonse
Features
In Full Bloom
Secrets to great style from ten Washingtonians—such as hairstylist and makeup artist Leigh Daily—who dare to break the rules. By Kate Bennett
Man Up. Lean Out.
Women aren't the only ones desperately seeking better work/life balance. Working dads allover Washington want to see more of their kids. By Brooke Lea Foster
Nipples by Vinnie
Breast tattoos sound like a hipster trend. They're not. They're part of the reconstruction process for cancer survivors. But you wouldn't know it from looking at the Michelangelo of the craft. By Michelle Cottle
Capital Comment
Reading between the lines of DC's mayoral candidates . . . Spin doctors' advice for Dan Snyder . . . Politics and Prose turns 30 . . . Georgetown University as a comedy incubator? . . . With David Gregory out, some nominees to shake up Meet the Press.
Behind the Scenes A glimpse at a typical summer day for Harris Seafood as workers process 400 bushels of Chesapeake Bay blue crabs.
Where & When
The Black Keys at Verizon . . . Aerosmith plays Jiffy Lube . . . Chromeo at the 9:30 Club . . . Dance Place gets a facelift . . . Neoimpressionists at the Phillips . . . Bill Maher tapes an HBO show at the Warner . . . Driving Miss Daisy at Ford's . . . Evita at the Kennedy Center.
I.Q.
Herd Historian Lisa Pregent is restocking Mount Vernon's barnyard with rare breeds George Washington might recognize. Washington Read A portrait of female secret operatives in the Civil War. Plus—a pornographer's daughter speaks. Unhappy Medium As Hollywood goes digital, the Library of Congress and other local repositories are scrambling to find byte-based alternatives to film.What Made Me CIA deputy director Avril Haines on how owning a bookstore prepared her for public service.
Life
Good Grooming New barbershops, secrets to a proper shave, how to grow a great beard, tips for curbing hair loss, and more for men who want to look their best.Grape Adventures Fall fun at Virginia wineries, including camping, yoga, and an Indian festival of lights.
Taste
Bigger but Not Better At America Eats Tavern, José Andrés ditches the small plates. Plus—Tico serves a mix tape of Latin American fare, Bistro 7107 showcases hearty Filipino cuisine, lobster rolls in Annapolis, and more. Meals on Wheels A guide to 25 local food trucks you don't want to miss.
Home
Pretty Portals Let these homes inspire you to liven up your entryway. Best of Bethesda Happy-hour deals, quaint boutiques, great pizza, and more—here's where locals hang out.Luxury Homes A former NFL commissioner and player strike big deals in the suburbs.Pets Since she rescued her beagle from an animal testing lab, the author and her dog have been transformed.
In Every Issue
First Person How a loaf of bread can contain a world.Crossword