There's a reason Anne Mahlum has dubbed herself chief motivational officer of Solidcore, the fitness studio she founded less than a year ago in Adams Morgan. Mahlum has made it her mission to get people in top shape using a patented machine called the Megaformer—and guests who sweat through the 50-minute sessions are seeing results. The in-demand fitness center now has two other locations in addition to the original, which the First Lady is known to frequent.
We asked Mahlum how a bride-to-be can get in shape for her big day if she only has a few months to spare before she heads down the aisle. Like any mindful fitness guru, Mahlum offers ways to tighten up without over-exerting your body in harmful ways. Read on for her tips.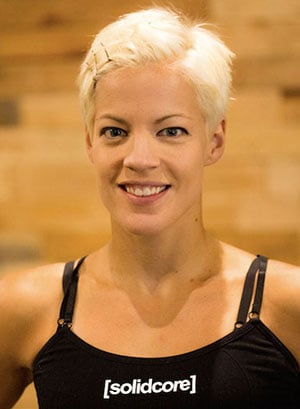 Design a routine for a bride-to-be with only, say three months, to tone up before she walks down the aisle.
1) Solidcore three times a week. We will give you a safe, total-body workout where it is impossible to be bored or to plateau.
2) Interval training (running/biking/rowing) three days a week (pick a day to double).
3) Rest two days a week—walking is fine, but if you don't let those muscles rest and rebuild, they won't change.
4) Drink lots of water—10 to 12 glasses a day.
5) Live actively—walk to work, go for bike rides. If we work out for an hour a day, but then just sit and sleep the other 23 hours, the math doesn't work out. Move your body as much as you can.
6) Cut out the processed food, especially sugar, and any liquid calories. Eat real food, and eat consistently. I'm not a big calorie counter, and my days vary between 1,800 and 2,400 depending on my level of activity. I very much believe that the food you put in your body is more important. However, if you are committed to the workout regimen above, don't eat fewer than 1,800 calories a day—your body will go into starvation mode and you will not lose weight or see your body change.
What mistakes do you see people making with their workouts?
I have been extremely active as long as I can remember, and have had many ups and down with my weight and the shape of my body. What I have learned is that you can make substantial changes in your body in 9 to 12 weeks by eating right and by not just exercising, but doing the right type of exercise.The biggest mistake I see people make when they are trying to change their body is they do cardio and that's it—and to make matters worse, the cardio is not intense, it's 30 or 45 minutes on the elliptical machine. The fastest and most efficient way to change your body is through resistance training. Your body needs to build muscle to burn fat.
What was the turning point for you to launch your own fitness center?

I have been working out since I was 16 and never came close to results I've seen since starting the Lagree Method. Pre-Solidcore, I was lifting at the gym on my own, running, and doing boot camps. I was in shape, but not the type of shape where you work out without a shirt on. I had never heard of using slow, controlled, resistance-based movement as a workout option before, and frankly, it sounded easy and something "fun" to do—after all, I'm a marathoner. The only impact is your bodyweight—no jumping, no pounding. I thought, "Okay, really, how hard or effective could this be?" It was SO intense. My muscles were burning and shaking all through class, and the next two days, I was sore in all the right places—my abs, oblique muscles and inner thighs. I realized how much of my body I wasn't challenging and how this method was everything I never knew existed. I was just hoping the results were going to be as good as the burn, and they are.

Find Valeria Boucas on Twitter at @valeriaboucas.