This page describes the contents of an issue of Washingtonian magazine. Subscribers get exclusive early access through our print and digital editions. Most of our feature stories are later published online and linked below.
Buy a Single Issue
Subscribe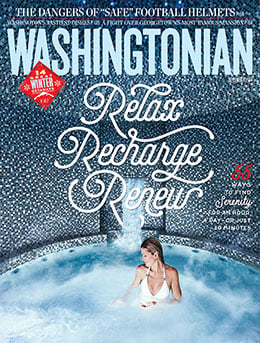 Volume 50, Number 3
Cover Story
Relax, Recharge, Renew
55 ways to rise above it all and find serenity for an hour, a day, or just ten minutes—without leaving town.
Edited by Sherri Dalphonse
Features
Three years ago, researchers at Virginia Tech developed a novel rating system for football helmets. Since then, NCAA squads, NFL teams, and parents have demanded the top-rated equipment, and helmet makers changed designs to meet the new standards. There's only one problem: the scientists who say the safety data is fatally flawed. By Patrick Hruby
Washington Kastles owner Mark Ein wanted to build a garage. At Katharine Graham's old house. In Georgetown. Is it any wonder things got complicated? By Luke Mullins
Personal-injury lawyers netted some big paydays for plaintiffs across the area this year. Here's a look at the 25 biggest jury awards and public settlements. Compiled by Marisa M. Kashino, Caroline Cunningham, and Emma Foehringer Merchant
One-of-a-kind jewelry, cool gadgets, lush leather, tasty treats, and other perfect presents. By Michelle Thomas