North Arlington
Cassatt's: A Kiwi Café
There's always a reason to visit this New Zealand-centric spot: Go in the morning for pastries, lattes, or eggs with "bubble and squeak" potatoes. Kiwi-specialty mussel fritters and salmon cakes are popular at lunch. Dinner features a broad selection of meats, seafood, and salads, with wines including vintages from—where else?—New Zealand and Australia. For those who like the art on the walls, it's for sale through the Arlington Artists Alliance. 4536 Lee Hwy.; 703-527-3330.
Casual Adventure
Tell any staff member what kind of outdoor trip you're headed on and he or she will find you the best gear, clothing, and shoes. This independent outfitter carries major brands such as Eureka tents and sleeping bags and North Face packs and outerwear. Plus it's an official dealer for all scouting supplies, where parents of Scouts receive 10 percent off some merchandise. 3451 Washington Blvd.; 703-527-0600.
Covet and No Place Like Home
Two distinctly different shops occupy a single house: Upstairs at Covet, Autumn Clayton focuses on local and handmade jewelry, candles, and crafts, along with paintings and prints by local artist Sabrina Cabada. Downstairs, at No Place Like Home, antique and vintage collector Renee Henninger displays a good collection of flea-market and auction finds that look as if June Cleaver curated them. 5140 Wilson Blvd.; 703-247-9797 (Covet), 703-243-4424 (No Place Like Home).
Facets Fine Jewelry
If you don't see what you had in mind, owner Tom Arnold is happy to make it for you. First, he'll draw several detailed options with colored pencils and watercolors. Then he'll build a wax model to ensure a perfect fit. The shop carries no costume jewelry, though Arnold creates plenty of pieces that can be worn every day. And he never makes the same piece twice. "Once it's gone, it's gone," he says. 4530 Lee Hwy.; 703-527-4247.
La Maison Home & Gifts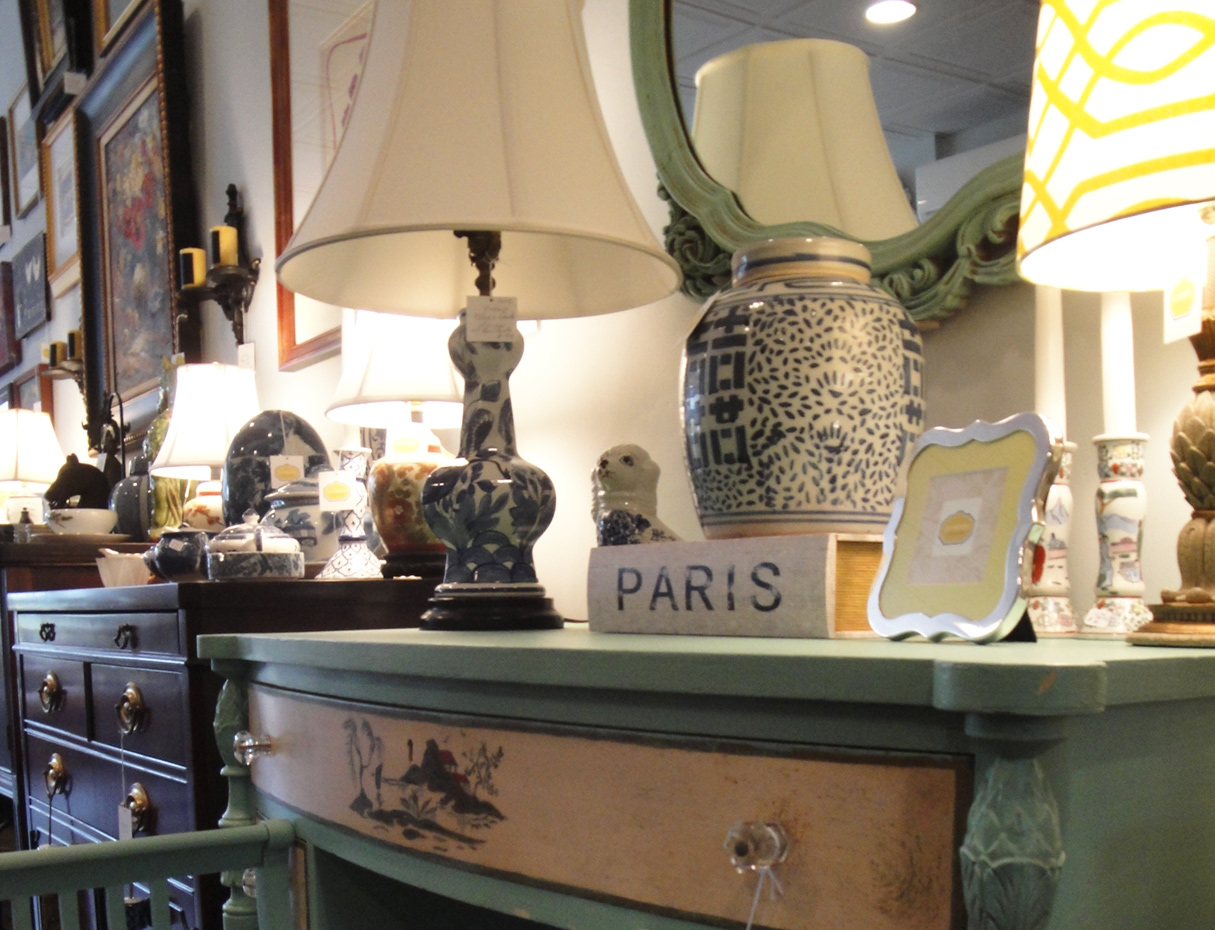 Jeeun Friel started this store with a focus on selling vintage and antique furniture she paints herself, and now she has her own line of the eco-friendly chalk paint she prefers to use. In less than two years, the furniture has become harder to find amid the proliferation of old and new accessories on display, including glassware, throw pillows, scented French candles, and funky jewelry. 3510 Lee Hwy.; 703-243-3590.
Heidelberg Pastry Shoppe
You'll find some of the area's best cakes, doughnuts, breads, and sweets such as delicate petits fours, elaborate marzipan creations, and house-made chocolates. The other side of the store is an ode to Germany with a grocery section, a deli, and on Saturdays in the fall and early spring, an outdoor cookout with wursts on crusty rolls served with warm potato salad and apple strudel. 2150 N. Culpeper St.; 703-527-8394.
Lebanese Taverna
"When we started, no one knew what hummus was," says Grace Abi-Najm Shea, one of the siblings who run the chain's 11 locations—35 years after their parents opened in Arlington. Favorites include chicken shawarma or grilled beef or lamb with pita bread. The Westover location—the original—still serves pizza, harking back to its origins as a pizza-and-sub joint. 5900 Washington Blvd., 703-241-8681; 1101 S. Joyce St., 703-415-8681; 4400 Old Dominion Dr., 703-276-8681 (Lebanese Taverna Market, with prepared foods).
Lemon Twist
"It's like a mini-department store," says sales associate Midge Lloyd. Women shop for statement jewelry and all manner of preppy-chic clothing here—notably the colorful cashmere wraps by Claudia Nichole and Renuar's tailored yet zipperless trousers. The shop also carries elegant baby clothes and hostess gifts; men come for the Vineyard Vines ties. 4518 Lee Hwy.; 703-524-4680.
One More Page Books
It's hard to find independent bookstores anymore, which makes this one stand out. "Customers who don't know each other will start talking" about selections, owner Eileen McGervey says. She eschews bestseller lists in favor of under-the-radar titles—popular genres include mysteries, teen fiction, and history. The store also sells wine, beer, and artisanal chocolates and holds free winetastings the first Friday of every month. 2200 N. Westmoreland St.; 703-300-9746.
Rus Uz
Ibrokhim Rakhmatullaev, an Uzbekistan native who runs this restaurant with his family, says his diplomat customers who have served in Eastern Europe consider an evening here the closest thing to going back to the region. Especially satisfying: the plov, a signature Uzbek rice dish with lamb or beef; myriad dumpling varieties; and the more familiar chicken Kiev and beef stroganoff. You can also sample ten flavors of house-infused vodka, such as cucumber-dill and Siberian habanero. 1000 N. Randolph St.; 571-312-4086.
Westover Beer Garden & Haus
It helps to have a pub and restaurant attached to a grocery store. Meats and cheeses come from the Westover Market's butcher and deli counters, and the bar's rotating beer menu mimics the market's selection inside. The beer garden has become a community draw with its live music, nearly year-round outdoor seating (thanks to the fire pits), and regular "tap takeovers" that highlight individual craft breweries. 5863 Washington Blvd.; 703-536-5040.
Yayla Bistro
Bold blue entry walls and Sputnik-like chandeliers set the tone for a Turkish and Mediterranean menu that caters to a contemporary, health-conscious crowd. The owners put a premium on fresh ingredients and reasonable portions, manager Azad Dersim says. Gluten- and dairy-free options, along with creative vegetarian dishes, mingle with traditional moussaka, lamb kebabs, and grilled seafood. 2201 N. Westmoreland St.; 703-533-5600.
Rosslyn/Courthouse/Clarendon/Ballston
Boccato Gelato & Espresso
This popular hangout is a coffee, gelato, or wine lounge, depending on time of day. "It's funky," says owner Cristian Velasco. Customers can settle in with his signature gelato (don't miss the pineapple-basil or Nutella) along with Stumptown coffee from Oregon, or relax with beer or wine after work. 2719 Wilson Blvd.; 703-869-6522.
Bakeshop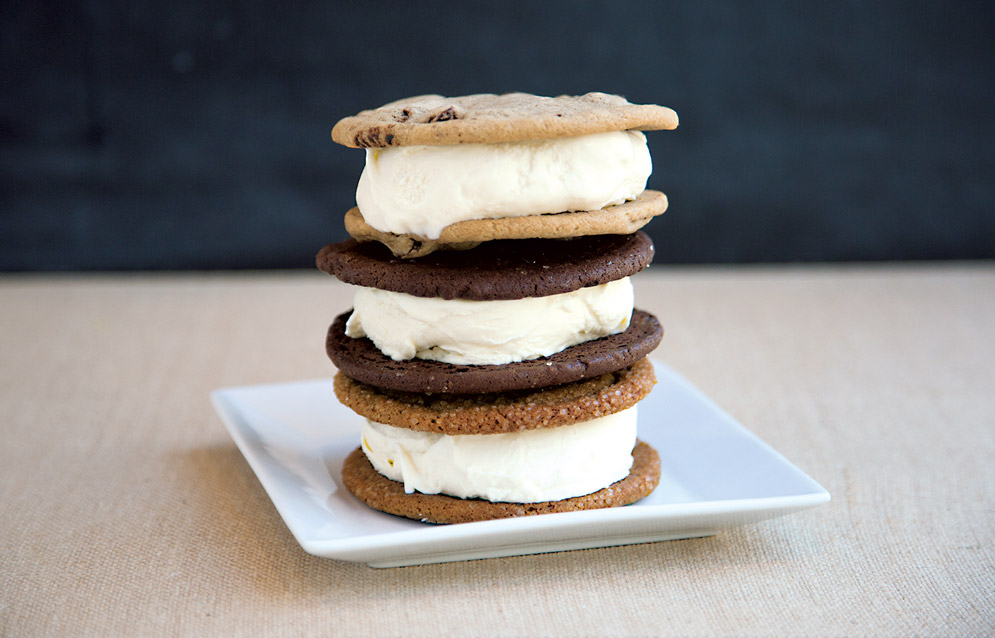 It started with cupcakes and a few cakes made by request, but the mother-and-son-run bakery has evolved significantly, developing a following for its Oreos stuffed inside chocolate-chip cookies, 15 kinds of French macarons, and chipwiches with house-made ice cream. The latest craze is for Justin Stegall's sweet iced Vietnamese coffee and mom Linda's banana pudding. There's an extensive menu of vegan treats, too. 1025 N. Fillmore St.; 571-970-6460.
CD Cellar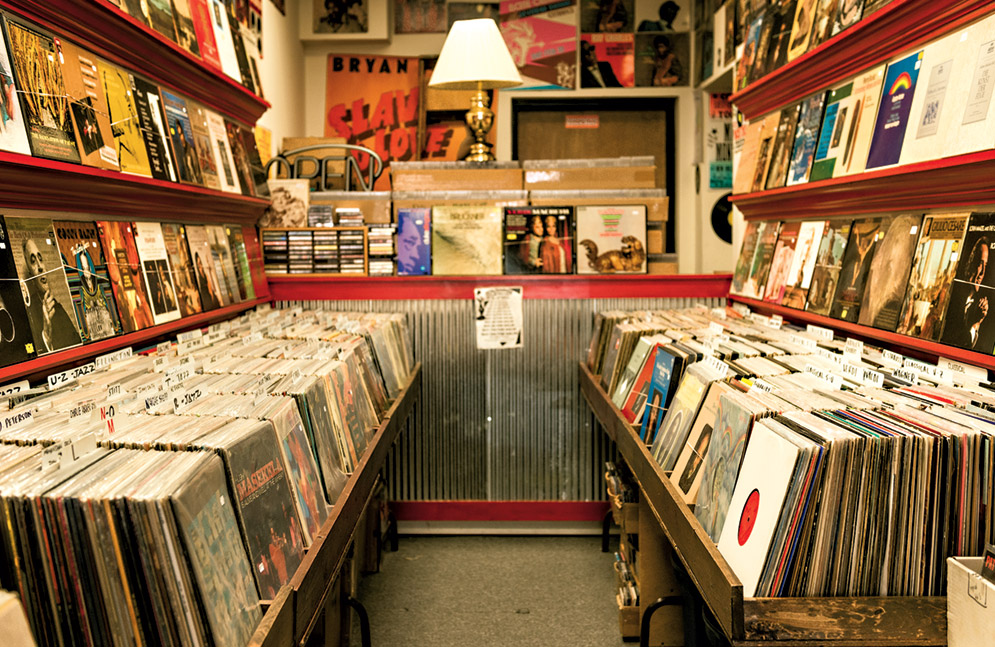 Despite its name, co-owner David Schlank says teens and boomers alike flock to the store for its selection of vinyl, which includes vintage rock, jazz, classical, and rap in addition to newly released records originally produced as CDs. The store sells record players, too, and hosts free concerts by local bands several times a month. 2607 Wilson Blvd.; 703-248-0635.
Earl's Sandwiches
You won't find cold cuts here—all the turkey, beef, and pork-loin offerings are roasted fresh every day. Owner Stephen Dugan also cuts his own French fries and makes chocolate-chip cookies from scratch. Other highlights include the pork-and-fries sandwich and the "early Thanksgiving"—turkey, stuffing, cranberry, and gravy on sourdough. Regulars know to ask for the off-menu favorite: a side of deep-fried sweet pickle chips with chipotle mayo. 2605 Wilson Blvd., 703-248-0150; 4215 N. Fairfax Dr., 703-647-9191.
East West Grill
Saeed Khan, the affable owner, will help you decide if your tastes are leaning west (burgers, fries) or east, closer to Khan's native Pakistan. Want lamb? He'll suggest a preparation while the meat is placed on a charcoal grill. Want to go vegetarian? He can put something together just for you, such as a crispy samosa topped with warm chickpeas. Open until 2 am on Friday and Saturday nights, it's also a prime spot for post-bar noshing. 2721 Wilson Blvd.; 703-312-4888.
Green Pig Bistro
Chef Pierre Saussy helms an updated menu that includes all manner of comfort food. You'll find pork-shank and duck-breast entrées as well as Kung Pao sweetbreads and raw-tuna appetizers. The perennially favorite pig tostada is still standard. Pastry chef Rory Kraus is back from a year away to serve up his chocolate stout cake and apple dumpling with cinnamon ice cream. Though reservations are recommended, a large communal table can sometimes accommodate walk-ins. 1025 N. Fillmore St.; 703-888-1920.
Knightsbridge Trading Co.
"This is the perfect gift store," a customer was overheard saying, and that's a fair assessment of the one-stop shopping here. Beyond high-end wrapping paper and cards, novelty items mingle with Michael Aram tableware. Children's games are stocked next to Crane stationery, and graphic-print totes and scarves by Spartina 449 live across from decorative candles and carrot-cake mix. 2871 Clarendon Blvd., 703-243-4404.
Pacers
The local chain of running stores founded by Arlington native Chris Farley carries a selection of big-name shoes and running wear along with smaller vendors such as Oiselle, geared toward women. Regular "fun runs" depart from the Clarendon location every Tuesday and Thursday at 5 am and 7 pm and Monday at 10:30 am—often with vendors such as Adidas or Gu there to give product demonstrations. 3100 Clarendon Blvd.; 703-248-6883. (Also in Pentagon Row, 1101 S. Joyce St.; 703-415-0277.)
Columbia Pike
Botanica Boricua
Banish evil, bring good luck, and placate the gods all in one place. This unusual shop is packed floor to ceiling with religious icons, laughing Buddhas, and warring Indians. Cases are full of evil eyes and good-luck charms, witches' cauldrons and horseshoes, and herbal remedies. Our favorite: aisles of candles to burn for any number of prayers—Steady Work; Don't Leave Me; Court Case. Remember to drop a coin in the bowl next to the life-size Jesus at the door—just in case. 2634 Columbia Pike; 703-271-1248.
William Jeffrey's Tavern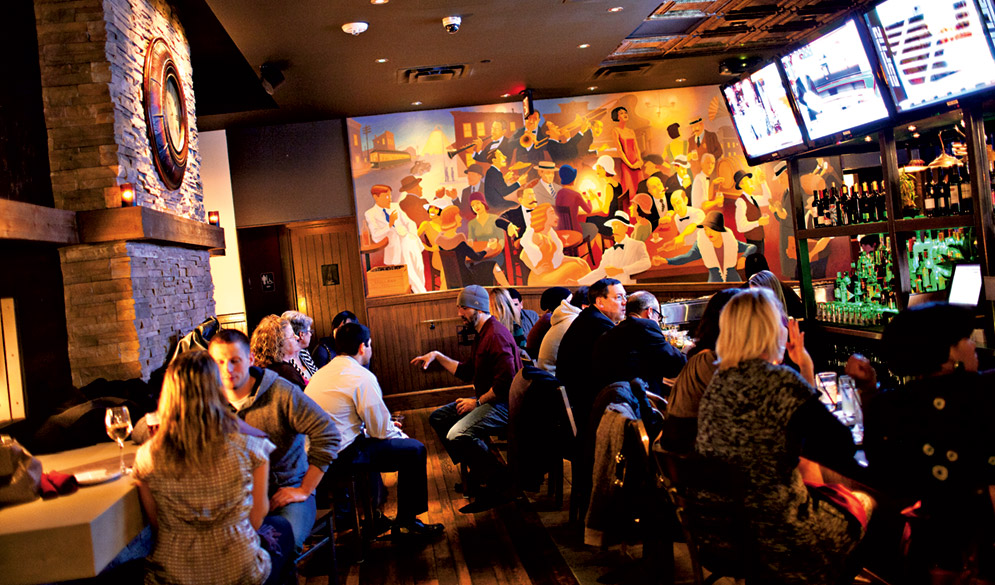 It's entirely legal to saunter into this local haunt and order a cocktail, but look around and you'll see that the murals depict a rollicking Prohibition-era speakeasy as it might have looked on Columbia Pike. A new patio overlooks today's Pike, and glass-enclosed fireplaces warm the clubby interior when it's cold. Of the bistro and pub fare, the Thomas Jefferson burger is a favorite—decked out with pâté, Brie, and a fried egg. 2301 Columbia Pike; 703-746-6333.
Mazagan
For Moroccan fare with a modern twist, take your pick of 15 types of kebabs, with varieties such as saffron chicken, New York strip, and calamari. Ingredients in daily tagines—stews cooked in conical clay pots—constantly change, and the bar serves custom cocktails. The restaurant's hookah lounge makes a nice destination after a show at the Arlington Cinema & Drafthouse next door. 2901 Columbia Pike; 703-566-4173.
Shirlington/Barcroft
Copperwood Tavern
If the cabin-style interior isn't enough to transport you to the mountains, maybe the bar's ten moonshine varieties and 24 bourbons will. Reese Gardner's take on the farm-to-table movement uses house-made rubs and sauces with exotic cuts of bison, venison, and fat-rich Ossabaw pork; the brown-ale butter chicken is made from the beer on tap. 4021 Campbell Ave.; 703-552-8010.
The Curious Grape
Food and wine are intertwined on the menu, where each seasonally driven starter and entrée is listed alongside a suggested type of wine. A cheese bar doubles as a coffee counter in the morning, where customers can order house-made pastries. Rather take it to go? There's a wine-and-cheese shop, too. 2900 S. Quincy St.; 703-671-8700.
Hardwood Artisans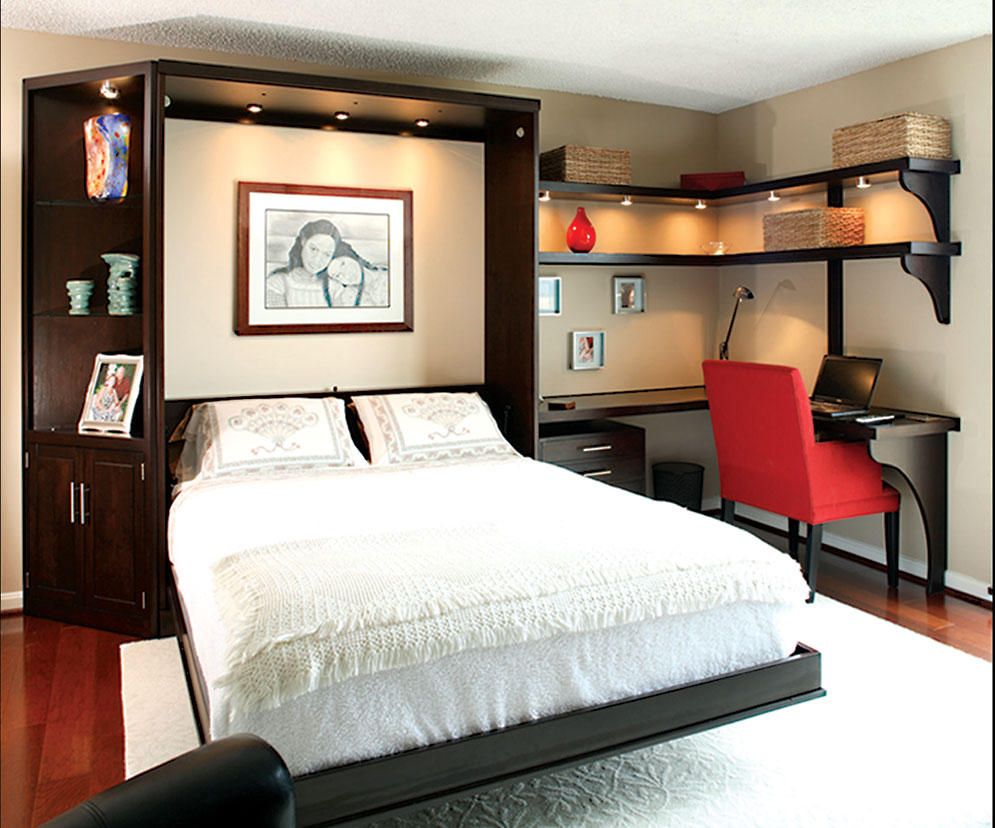 Craftspeople at this furniture company make everything by hand at a facility in the Blue Ridge foothills. The Shirlington showroom displays a beautiful sampling of richly grained furnishings, accessories, and storage, such as shelves that slide apart to reveal a Murphy bed or a TV screen, as well as custom kitchen cabinetry. You can also commission pieces. 2800 S. Randolph St.; 703-379-7299.
Margaret's Soul Food& Catering Services
Blink and you'll miss it if you're heading toward downtown Shirlington, but if you're hankering for genuine soul food or Jamaican fare, keep your eye out for this takeout gem. Notable dishes include Margaret Gardner's much raved-about jerk chicken, fried chicken, barbecue ribs, and pulled pork, with thick mac and cheese and collards on the side. Salmon cakes and shrimp 'n' grits are also available by request. 2534 S. Shirlington Rd.; 703-608-9226.
Local Resources in Arlington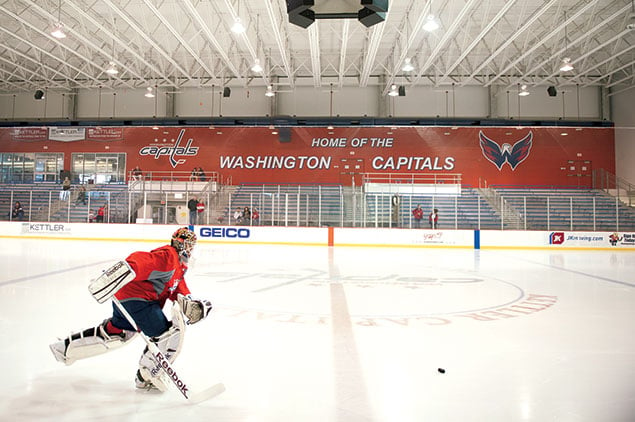 Beauty and Fitness
Mancini de Paris (salon, day spa), 2413 Columbia Pike; 703-920-4699.
Mind Your Body Oasis (yoga, Pilates), 1750 Crystal Dr.; 703-567-1290.
My Thrive Pilates, 2800 S. Randolph St., Suite 140; 1401 N. Adams St.; 703-371-0054.
Smitten Boutique Salon, 3000 Washington Blvd.; 571-527-0200.
Spark Yoga, 2201 N. Pershing Dr.; 703-248-9642.
Tranquil Space (yoga), 3528 Wilson Blvd.; 703-829-6428.
Entertainment and Activities
Arlington Cinema & Drafthouse, 2903 Columbia Pike; 703-486-2345.
Artisphere (arts center), 1101 Wilson Blvd.; 703-875-1100.
Galaxy Hut (live music), 2711 Wilson Blvd.; 703-525-8646.
Iota Club & Café (live music), 2832 Wilson Blvd.; 703-522-8340.
Kettler Capitals Iceplex, 627 N. Glebe Rd., Suite 800; 571-224-0555.
Signature Theatre, 4200 Campbell Ave.; 703-820-9771.
Synetic Theater, 1800 S. Bell St.; 866-811-4111.
Theatre on the Run, 3700 S. Four Mile Run Dr.; 703-228-1850.
Shops and Services
Ayers Variety & Hardware, 5853 Washington Blvd.; 703-538-5678.
Cherrydale Hardware, 3805 Lee Hwy.; 703-527-2100.
Japanese Auto Care, 4530 Washington Blvd.; 703-243-0550.
Millie's Tailoring & Dry Cleaning, 2222 N. Glebe Rd.; 703-527-7170.
Pete's Barber Shop, 5847 Washington Blvd.; 703-241-2340.
Phoenix Bikes, 4200 S. Four Mile Run Dr.; 703-575-7762.
Preston's Pharmacy, 5101 Lee Hwy.; 703-522-3412.
Rod and Reel Repair, 3612 N. Lee Hwy.; 703-528-3022.
Sam Torrey Shoe Service, 5267 Lee Hwy.; 703-532-4933.
Tops Cleaners, 5210 Lee Hwy.; 703-536-6977.
24 Hr Watch & Clockworks, 5150 Wilson Blvd.; 571-271-6212.
Woofs! Dog Training Center, 4160 S. Four Mile Run Dr., 703-536-7877; 4241-A N. Pershing Dr., 703-526-0218.
Specialty Food Stores
America Seafood, 4550 Lee Hwy.; 703-522-8080.
Arrowine & Cheese, 4508 Lee Hwy.; 703-525-0990.
Best Buns Bread Company, 4010 Campbell Ave.; 703-578-1500.
India A-1 Grocery, 4815 Lee Hwy.; 703-841-9626.
La Union Grocery, 4308 Lee Hwy.; 703-812-9484.
Apartments and Condos
Central Place, 1800 N. Lynn St.
Penrose Square, 2501 Ninth Rd. S.; 703-271-8009.
Pike 3400 (opening early 2015), 3400 Columbia Pike.
Sedona and Slate,1510 and 1530 Clarendon Blvd.; 703-566-9670.
220 Twentieth Street, 220 S. 20th St.
Parks
Barcroft Park, 4200 S. Four Mile Run Dr.
Bon Air Park, 850 N. Lexington St.
Potomac Overlook Regional Park, 2845 N. Marcey Rd.; 703-528-5406.
Powhatan Springs Skatepark, 6020 Wilson Blvd.
More Arlington neighborhood guides:
This article appears in the December 2014 issue of Washingtonian.