This page describes the contents of an issue of Washingtonian magazine. Subscribers get exclusive early access through our print and digital editions. Most of our feature stories are later published online and linked below.
Buy a Single Issue
Subscribe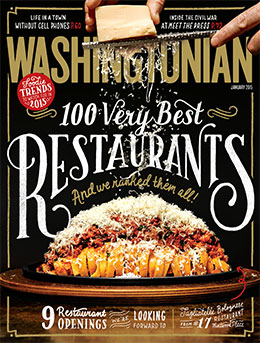 Volume 50, Number 4
Cover Story
100 Very Best Restaurants
Plus—9 restaurant openings we're looking forward to and foodie trends to watch for in 2015.
By Todd Kliman, Ann Limpert, Anna Spiegel, and Cynthia Hacinli.
Features
In Green Bank, West Virginia, federal rules forbid wi-fi networks, cell-phone towers, and anything else that could disrupt the government's most advanced radio telescope. For years, it has been a sleepy place. But recently, Green Bank has turned into a magnet for technophobes who believe electronic signals are making them sick. The locals aren't thrilled to have them. By Michael J. Gaynor.
Nine local heroes whose good works and generous spirits make Washington a great place to live. By Leslie Milk.
An inside look at how David Gregory lost his job—and what it says about the state of TV news. By Luke Mullins.
For members of a generation that's putting off adulthood longer than ever, losing a parent can feel especially devastating. By Emily Kaiser.