Attendees at Sunday's Washingtonian Bride & Groom Unveiled bridal showcase had the opportunity to have their lip prints analyzed by the only certified lipsologist on the East Coast, Ariana Lightningstorm. (And, no, that's not her real name—it's Anna Snodgrass.)
What's a lipsologist, you say? Funny—we asked the same thing.
After observing her read prints at Unveiled—she prescribed a spa vacation for one tired editor, who wasn't about to argue with "science"—I got in touch to find out how, exactly, Lightningstorm got her start in this bizarre corner of the entertainment industry, and how one becomes certified in something as slippery as lip print reading.
Lightningstorm, a Maryland Renaissance Festival veteran, has the right background for getting into lipsology: She says she's been fluent in palmistry and tarot cards for more than 30 years. But the real decision maker for her certification was Jilly Eddy, who birthed the lipsology technique and literally wrote the book on the topic. Eddy wasn't about to let just anybody follow in her footsteps; Lightningstorm filled out an information packet and questionnaire, spent 22 hours on the phone with Eddy, and participated in the one-on-one training program Eddy invented before passing the test to finally receive her certification.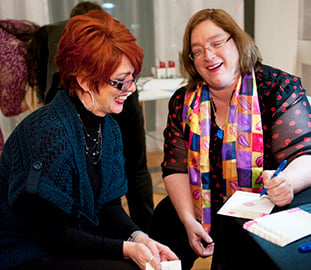 Eddy, who devoted 30 years to researching lipsology—until she was "satisfied that her understanding was correct," according to Lightningstorm—collected over 10,000 unique prints in the process. Eddy broken down the prints into 25 categories with upwards of 100 sub-categories. "What lipsologists look for are size, shape, color intensity, lines, or lack of color in spots or lines, and special characteristics in the lip prints," says Lightningstorm. "For instance, one of the more common shapes is a triangle. If you have a triangle shape lip print it means that you 'help others to succeed,' you 'lift others up in life,' and recognize others skills or talents and help them to recognize those skills in themselves."
To read your lip prints, Lightningstorm will have you kiss a card three times, numbering the card in the order that you kissed it. From those three prints, she says she's able to comment on your personality, physical pain, and how others respond to you, and even suggest remedies to whatever struggles she sees in your prints.
"One of the things folks ask is how to kiss the paper, and I tell them that this is where their personality shows up, so it's not for me to tell them," says Lightningstorm. "How hard someone presses lips to paper, how open or closed the print is and in what order that shows up, how dark or light the print is, and many other factors tell me a range of things about what is going on with someone in the moment."
Lightningstrom has entertained at bridal showers, bachelorette parties, wedding receptions, bat mitzvahs, birthday parties, and more. For now, her goal is to spread the word about lipsology.
"Jilly and I would like to see at least two lipsologists in every city, and I would love to travel to train folks inside and outside the United States," she says. "I would like to see lipsology be a worldwide phenomenon."