This page describes the contents of an issue of Washingtonian magazine. Subscribers get exclusive early access through our print and digital editions. Most of our feature stories are later published online and linked below.
Buy a Single Issue
Subscribe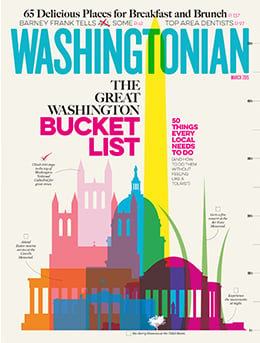 Volume 50, Number 6
Features
The new breakout star of hip-hop—he's got a record deal with Def Jam—is a biracial rapper from Gaithersburg. By Jeff Weiss.
A Georgetown branch of Serendipity 3, New York's fanciest ice-cream parlor, seemed like a great idea—until its owners started to quarrel. Here's the story of the implosion, complete with squabbling socialites, police transcripts, and unsold extravagant sundaes. By Emily Codik.
FDR's liberal wife and Teddy Roosevelt's conservative daughter were two of Washington's most prominent women. They were also first cousins. A look back at a family feud. By Marc Peyser and Timothy Dwyer.