Honorable and exciting as an activity it may be, being a bridesmaid certainly does not come cheap these days. Between throwing a shower, planning the bachelorette, and buying a gift, women of a certain age often find themselves putting the bulk of their paychecks towards other people's celebrations.
That's definitely been the case for Dupont Circle resident Katey Houck and Ohio-based Molly Porter. Altogether, the two friends have been bridesmaids in 18 weddings. That's 18 bachelorettes, 18 bridal showers, and, perhaps most significantly, 18 semi-formal to formal pastel dresses taking up space in their closets—and not getting much use after the first wear.
"No matter how beautiful a dress may be, you're still going to look like a bridesmaid," says Houck. "So you're probably not going to wear it again."
How, they started thinking, can we get some of that money back?
After coming up short while searching for satisfying answers online, the duo decided to create their own. With help from Houck's developer fiancé Ryan McBurney and Baltimore-based designer Emily Brannon, Forever the Bridesmaid debuted in early November of last year. Per the website, Houck and Porter describe their concept as "an online marketplace for sellers and buyers to either consign gently-used bridesmaid dresses or purchase them for less."
In other words: If you're hoping to buy a particular style for under the $200 to $300 retail price, chances are you can find it here. Looking to give a once-worn bridesmaid dress a new home? Here's your opportunity to earn some cash while doing it.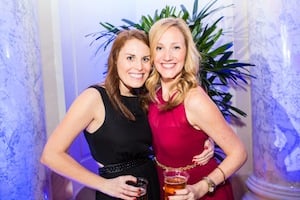 The processes for buying and selling are simple. Sellers create an account, then fill out an extensive form on the dress they're looking to consign. You'll answer questions about fabric, size, alterations, wear and tear, etc., and then upload pictures of the gown. It's free to upload a dress to the site, and Forever the Bridesmaid takes a 12% cut of the final selling price.
Want to increase your chances of selling? Houck suggests uploading large, high-quality pictures, writing a very specific title for your listing (include details such as brand, color, fabric, and size), and pricing the garment at 50 to 60 percent of what you originally paid for it.
Buyers do not need to create an account to browse options, but will need one to message sellers and make a final payment, which is exchanged through PayPal. Houck and Porter will be adding a "seek" function to their site soon, which will allow users to post requests for specific gowns and styles.
"Using this can really help alleviate the costs of being part of someone's special day," says Houck.
With costs sometimes stretching beyond $1,500 per wedding per bridesmaid (yikes!), we're definitely grateful for the option.