Q The name of your company, Sweet Root Village, suggests there's more to it than just floral decor for a wedding.
A Lauren: I have a love for all things floral, and Rachel studied graphic design and photography— we are both artistic. So it made sense five years ago to start a company that offers a few wedding services—photography, floral design, and day-of coordination—not just one. A lot of clients will book us for one service, but most will book us for two, if not all three.
Rachel: We get to be involved in more aspects of the wedding day, which we feel provides a more cohesive aesthetic to the event—and we have more opportunity to get to know the couple.
Q You're known for creating unique and nature-inspired bouquets and centerpieces.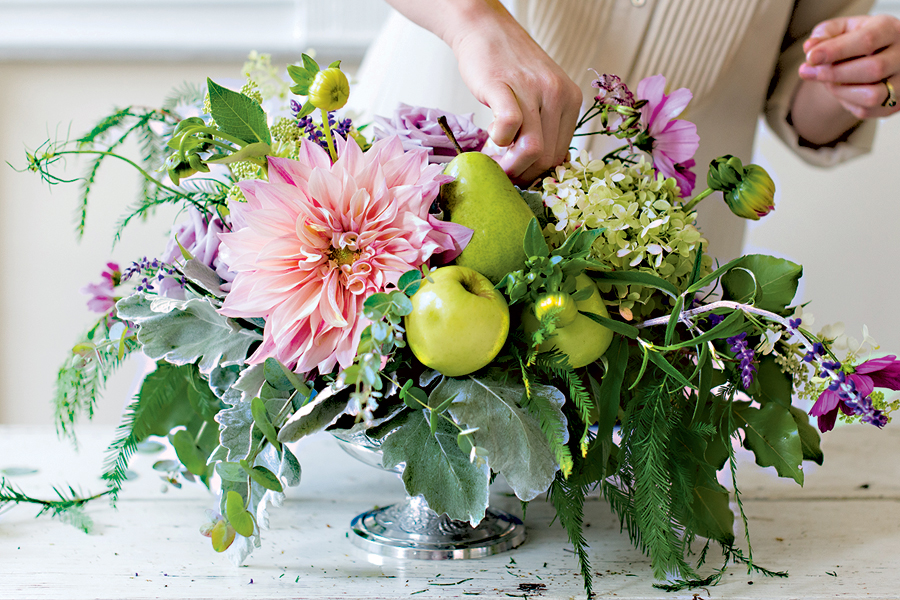 A Lauren: We are committed to sourcing local flowers. While there are amazing flowers we can get from all over the world, we have lots of farmers less than 100 miles from us who grow flowers with impeccable quality; they work tirelessly to nurture those blooms just for your wedding. There's something magical about holding a bouquet of flowers that were grown from seeds just for you.
Q What's the most important issue a couple should tackle in terms of creating an environment or theme for their wedding?
A Rachel: I would say the first thing would have to be the venue. Seems obvious, but the venue really dictates the true vision for the day; it's the canvas that you build the rest of the wedding upon. After that, I would suggest thinking about textures and colors. Tactile fabrics, patterns, color elements—those take designing the event to the next level. Deciding these elements early on will help a couple be more decisive as they move through the planning process.
Q With so many visuals to consider, how do you help clients narrow their focus?
A Rachel: We definitely use Pinterest, which is extremely helpful at times, but it can also cause issues when it comes to expectations. We love to be inspired by life, more than by other weddings, so we always work best face-to-face with a client. We find happiness in seeing what inspires them, and then we run with that to build a comprehensive concept.
Sweet Root Village:
571.206.8016
thevillage@sweetrootvillage.com