The tiniest, most utilitarian spot just might be the most visited room in your house. Think about it: Every dinner-party guest and child's playmate will inevitably go to the powder room. But it's precisely because of the small scale that this space offers a prime opportunity to showcase your style. A high-impact wallpaper, dramatic paint job, or intricate floor is much easier and cheaper to achieve than in a larger room. So, like the three powder rooms here, don't be afraid to go bold.
Different Dimension: Victorian ceiling medallions find a modern new home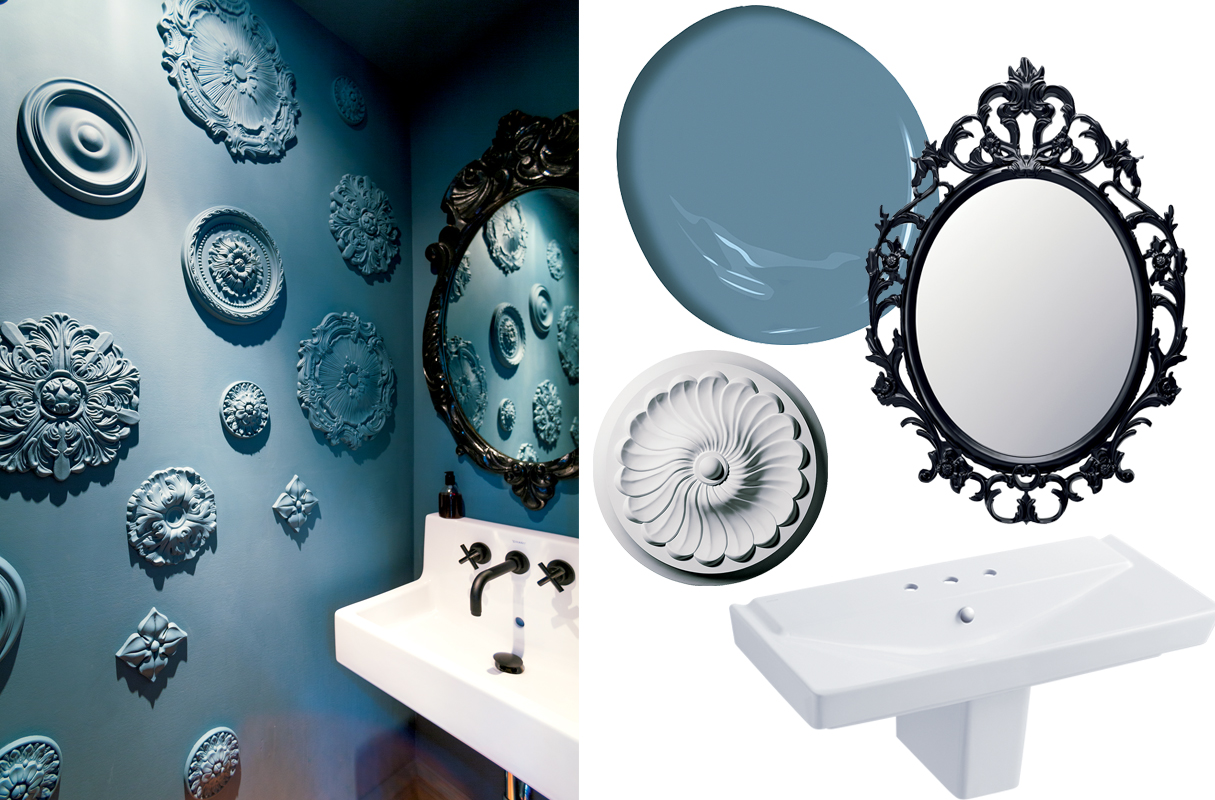 If you've ever stared at the minuscule wall in a powder room or guest bath and wondered what to hang, you're not alone. You don't want anything too domineering, but one lonely print can look sad. What to do?
This Kalorama space, designed for a young family by Carmel Greer, answers that question with a sense of playfulness and novelty. Greer took three-dimensional plaster medallions—which normally adorn the ceilings of Victorian parlors and dining rooms—and arranged them across the wall, coating each with Benjamin Moore's Normandy blue paint to unify the various patterns. The ornate oval mirror continues the theme.
What keeps the room looking fresh is the quick injection of mod in the form of a square sink. Its matte black faucet adds edge to the otherwise refined space.
Get the Look: Benjamin Moore Alfresco blue paint, $6.99 for a sample; "Ung Drill" mirror, $39.99 at Ikea; Flower-spiral ceiling medallion, $14.44 at Home Depot; "Rêve" semi-pedestal sink, $658.70.
Wall Flowers: Floral paper makes a stunning—but not too fussy—statement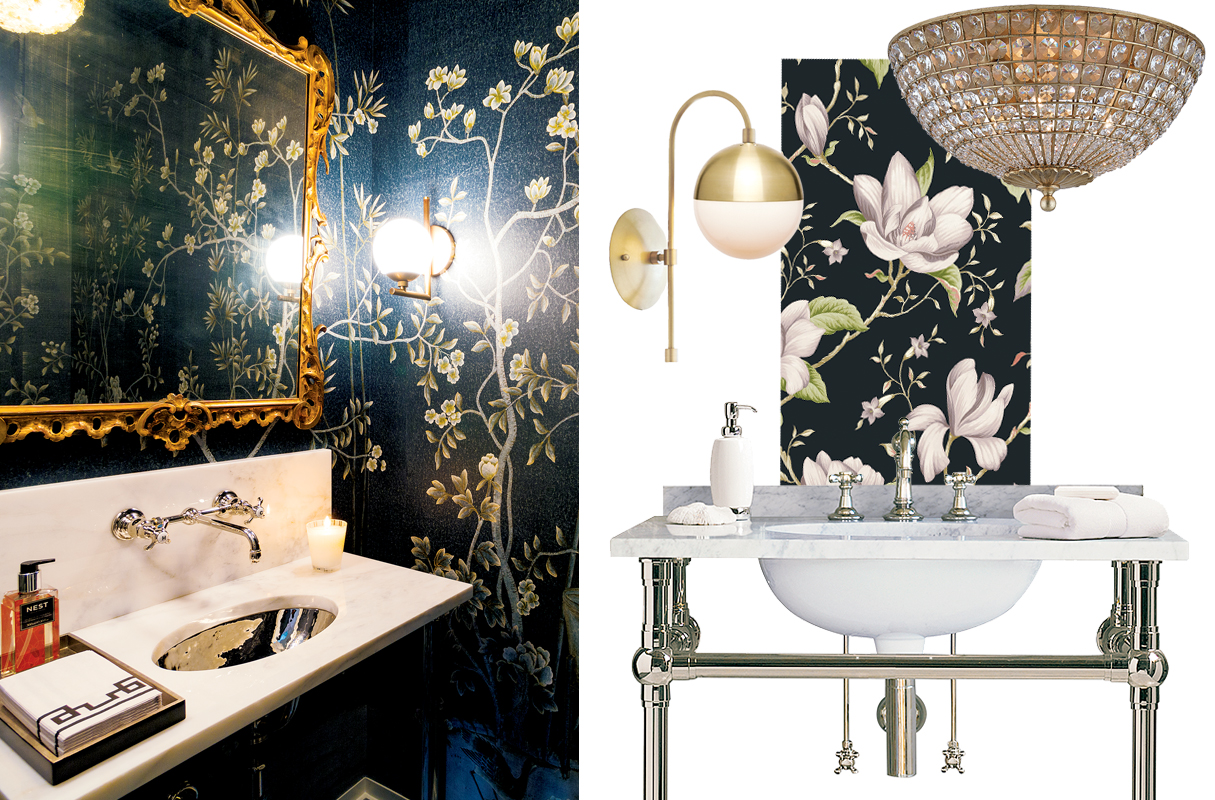 For this small nook of a family house in Northwest DC, decorator Lauren Liess wanted to play with "curvy and clean-lined elements"—her mission evidenced by the contrast between the custom marble washstand and the swirling wallpaper and antique gilt mirror.
A family of four lives in the house, and their love for entertaining drove the decision to incorporate, as Liess puts it, "something incredibly special that would spark conversation." That's how the owners settled on the midnight-blue Paul Montgomery wallpaper that envelops the room, with its vines creeping upward and leading your eye to the ceiling light. "Powder rooms," Liess says, "are often in a very public area, and the darkness makes it feel more private."
The result is a cocoon of luxury that keeps guests dawdling to examine every detail.
Get the Look: "Lilium" wallpaper, $71 per roll; brass sconce, $225; "Gramercy" washstand, $2,295 to $2,445 at Restoration Hardware; "Renwick" flush mount, $777 at Circa Lighting (Georgetown).
Bold Patch: Orange, aqua, and chartreuse are perfect in a small dose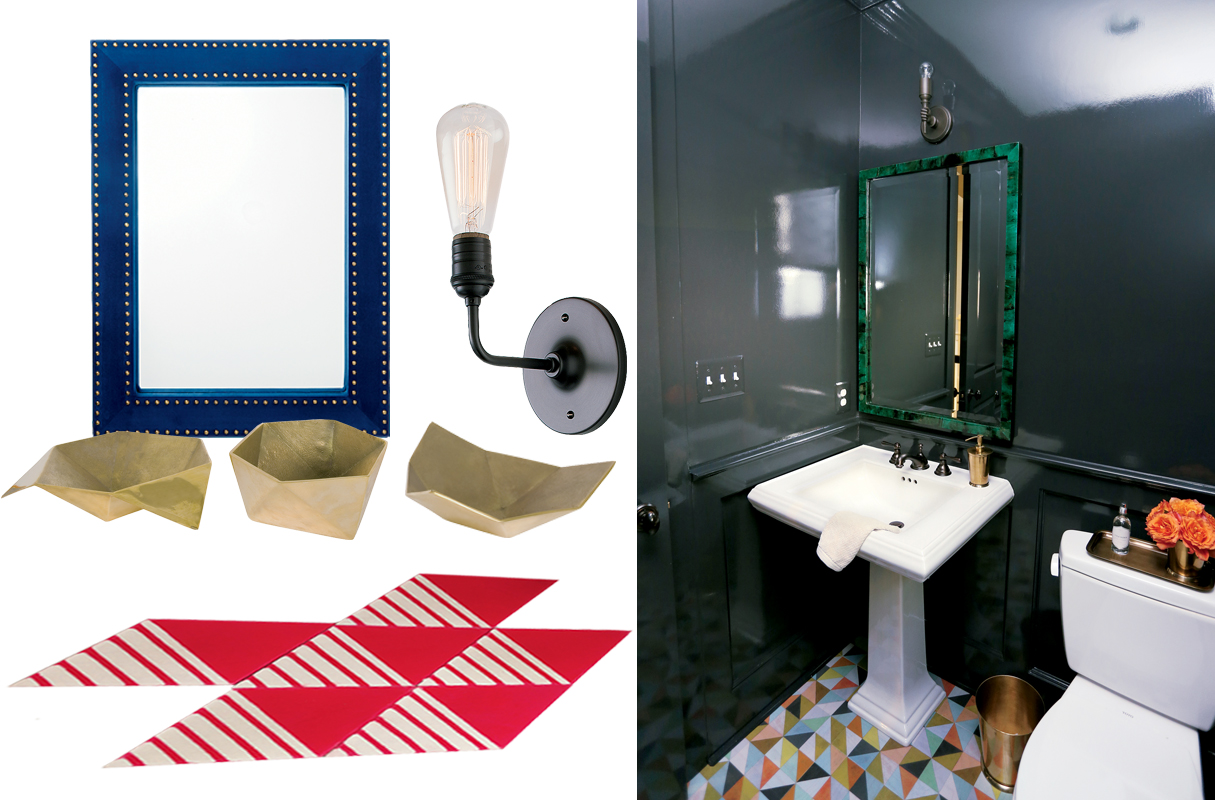 The first thing you notice when you step into the powder room of this Chevy Chase house is the Instagram-worthy hardwood floor, which interior decorator Zoe Feldman describes as "eclectic, bohemian, graphic, and casual." The floor feels like a modern American take on traditional Moroccan tile. Given the bold color scheme, it's the sort of brave leap in decorating that such a small space can make a little less scary.
You'd be forgiven for never looking up, but more smart decisions abound. High-gloss navy-blue paint bounces natural light through the room while balancing the peppy floor. Slim wooden details on the wall read like pared-back paneling—the type of treatment that appears expensive but can be mimicked on a modest budget. And unexpected touches such as the malachite mirror and brushed-brass trash can and tray prove that small additions can have a big payoff.
Get the Look: Upholstered mirror, $249 at West Elm; "Satellite" sconce, $125 to $135; "Shine" tile in raspberry and milk, price on request; brass origami bowls, $42 to $108.
Design and style editor Hillary Kelly can be reached at hkelly@washingtonian.com
This article appears in our November 2015 issue of Washingtonian.