Once you have the ring on your finger, you're going to want to start the hunt for your dream dress, especially since some gowns can take as long as six months to ship. Buying a wedding dress is no small task, however, nor is it a small purchase, so when you head to the bridal salons, you're going to want to go in informed. To help you in your search, we've asked Alexandria-native Monte Durham, fashion director of "Say Yes to the Dress: Atlanta," to share some of his best tips for buying your wedding gown. 
It's all about location, location, location. 
"For a destination wedding on the beach, think light weight fabrics; [for a] cathedral wedding think heavy satin; for the modern bride, an a symmetrical neck line, one shoulder, or peplum," says Durham. "Note to self: Lace is appropriate for all settings."
For your first bridal salon appointment, go alone. 
"The best way to start is an appointment with a bridal salon mid-week when most salons are not as busy," says Durham. "Go by yourself so you have time to try on different fabric styles and fits, without distractions—this is a great way to find what works best for your body type." 
To avoid looking outdated in your wedding photos in a few years, stay loose and simple.
"Brides should consider silhouettes that are figure flattering but not form fitting," says Durham. "Shy away from over-beaded, textured, and extreme designs.  Keep this trend in your accessories, hair, makeup, and veil. As Jacqueline Kennedy said, 'Pearls are always appropriate.'"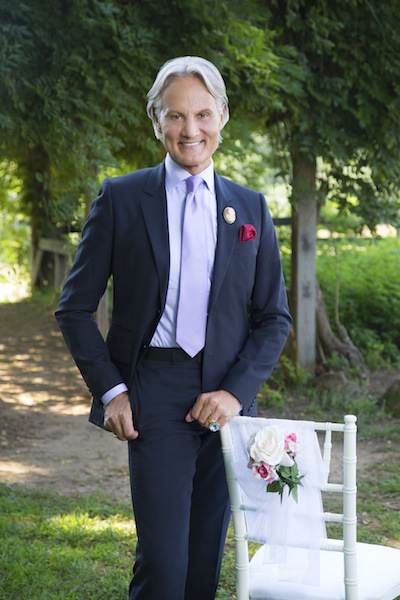 Certain silhouettes are flattering on everyone. 
"Most often a sweetheart neckline, natural waist, and A-line is the most flattering on all body types," says Durham. "However, there are exceptions to every rule, such as, a petite bride can look good in a mermaid and a busty bride can look good in a plunging V."
Try on all different dresses—even if they aren't the ones you think you'll like. 
"Be open to trying on different styles and fabrics," says Durham. "It seems to be the one they would never try on that ends up being their dream dress."
Consider what's currently on-trend. 
"Bridal trends in: coverage, lace, buttons, and sashes," says Durham. "Bridal trends out:  mermaids, heavy beading, and color." 
You've found "The One" when it adheres to "The Three F's." 
"I have a simple rule," says Durham. "The Three F's: Fashion, Fit, Fabric. Fashion—is the gown a current trend (i.e. sweetheart neckline, scoop neck, coverage, and long or cap sleeves)? Fit—is it an A-line, is it a mermaid, or is it a ball gown? Fabric—[is it] lace, satin, or organza?"
Go ahead and forget your "normal" dress size when it comes to fitting a wedding gown. 
"Wedding gown sizes are not only maddening for the bride but also for the consultant," says Durham. "Every designer has a different size chart that the consultant must go by when ordering a dress. Some are a one size difference than a regular dress size, others can be two to three sizes different. Remember: it is not the size, but the fit."
When buying a dress, select the size that fits you at the widest part of your body. 
"When fitting a wedding dress and knowing you will have alterations, it is always to best accommodate the largest part of the body and make size adjustments from there," says Durham. "Different styles of gowns have different fits—in a ball gown, one doesn't have to worry about their hips, just their bust, whereas in a mermaid, the bust, waist, and hip area must fit properly."