The Bjarke Ingels Group architecture firm has released more images of its design for a new stadium for the Washington NFL team. The infamous moat is still there—it's to be used as a wave pool in the summer and ice rink in the winter—but the newest renderings explain the moat's function a bit more, along with showing how people might park and tailgate at the stadium.
Oh, and the stadium could also apparently double as an amphitheater.
Instead of the traditional football-stadium model, in which the venue sits in a sea of asphalt surface parking, BIG's proposes a tiered parking structure that descends toward the stadium at the bottom of the surrounding park. The 25,000-vehicle garage would then be covered by reinforced grass, creating a green space that slopes down toward the stadium, which itself would be wrapped in a gold-tinted chain-link mesh.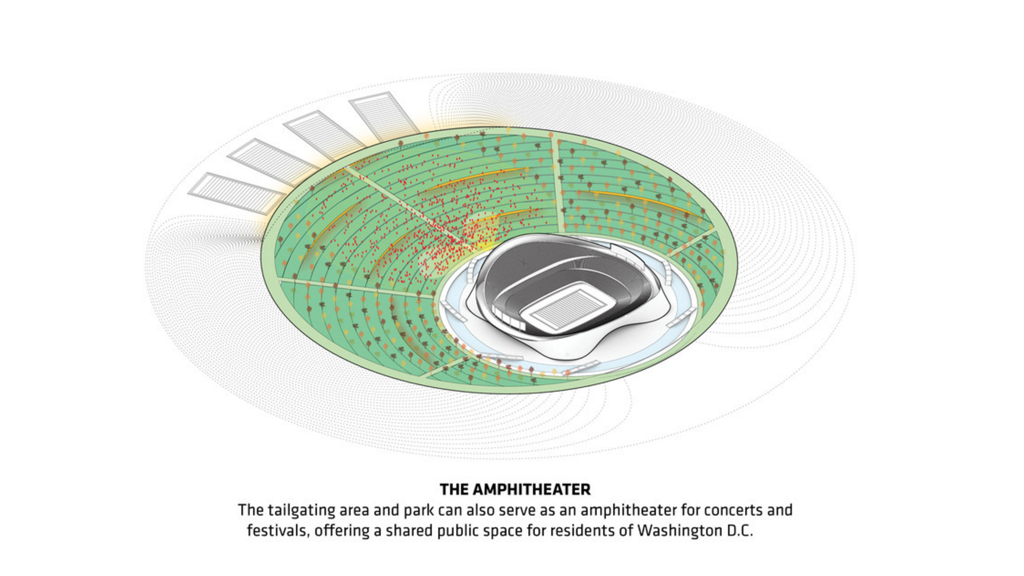 As more renderings show, with the stadium at the bottom of the hill, it could double as the backdrop for a venue hosting non-football events, like live concerts. On its website, BIG says the amphitheater could hold up to 100,000 spectators. (It's not specified how many people the stadium would seat.)
The mound rising from the stadium would also be large enough to house four full-sized training fields, offices for the Washington NFL team, and a 50,000 square foot museum dedicated to the franchise's history. Currently, the team's operations are rather spread out, with FedEx Field in Landover, practice facilities and team offices in Ashburn, and training camp in Richmond.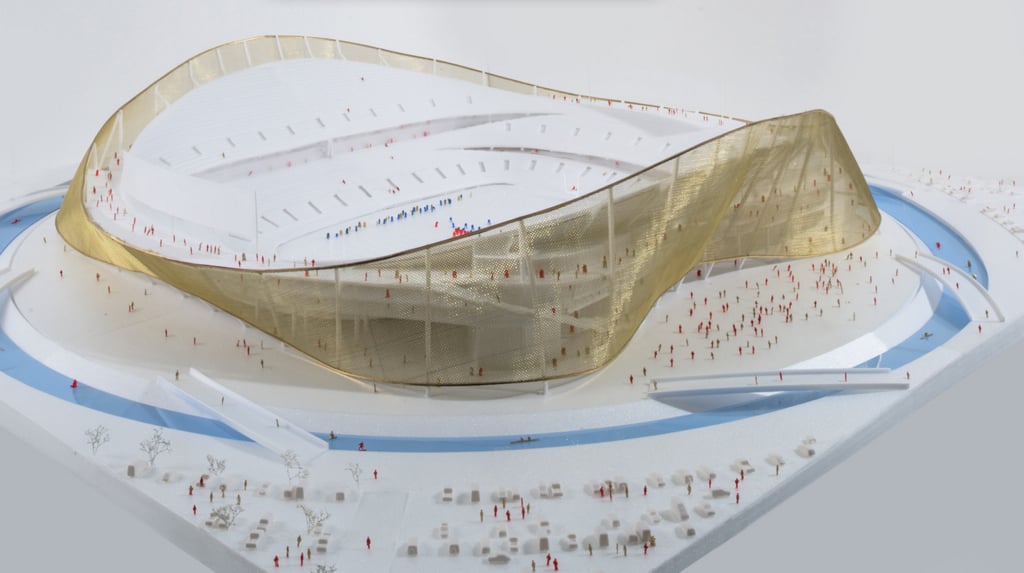 The moat also gets a bit more purpose in this update. While it remains easy to poke fun at the notion of swimmers and skaters doing loops around the stadium before and after games, BIG says the moat would actually "ease access to the stadium through a series of bridges that eliminate the need for standard fences or gates."
As with the previously release images, though, BIG's latest update since it was retained by Dan Snyder does not specify where the 1.4 million-square-foot project would actually be built. The competition between DC, Virginia, and Maryland to be the team's home is still unsettled. While it could be adjusted to fit on the site of Robert F. Kennedy Stadium, a sprawling, verdant campus like the one BIG is proposing almost screams for a wide-open space in the suburbs.