From our list of the 100 best cheap restaurants around DC, here are the 15 best budget-friendly restaurants in Falls Church:
Anyone mourning the disappearance of the white tablecloth should visit this grand Afghan banquet hall, decked out with crystal chandeliers and a smartly suited waitstaff. That's not to say you're in for a formal meal, but it'll be a feast nonetheless, starting with crusty ovals of freshly baked bread. It's tempting to order tender aushak dumplings—stuffed with scallions and sauced with ground beef, yogurt, and a shower of mint—as an entrée, but resist the urge. Both aushak and their meatier cousins, mantu, are available in small portions, as are stellar vegetarian options such as caramelized eggplant. Then you can round out a meal with charcoal-grilled kebabs—we're partial to smoky marinated chick-en thighs—and a massive qabili palow, featuring ten-der hunks of lamb buried beneath a heap of fragrant rice, carrots, and raisins.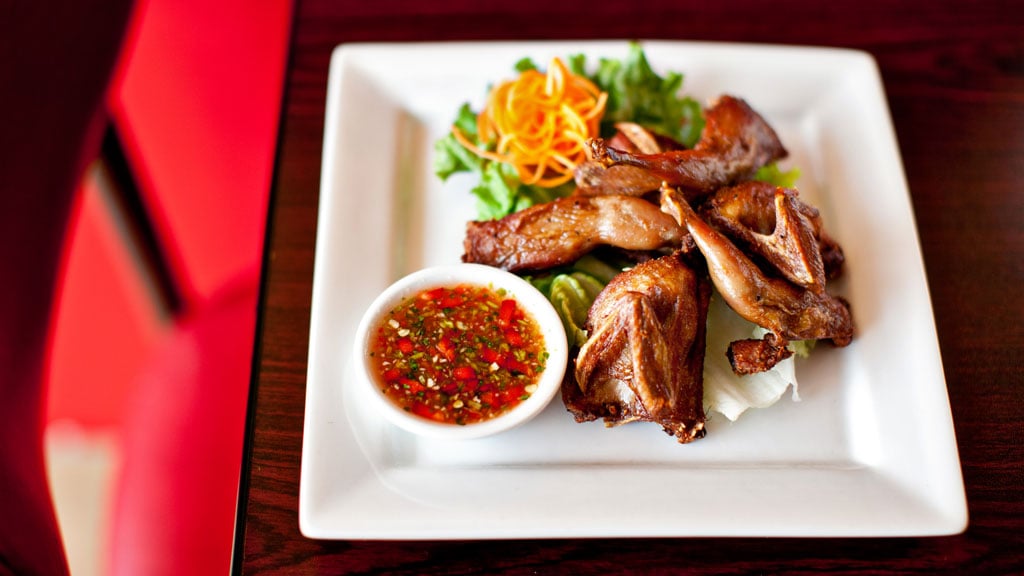 Years ago, diners had to request the "secret" Laotian menu to avoid ho-hum Thai fare at Bangkok Golden. Though chef Seng Luangrath's flagship restaurant still serves both, there's no need to be coy—the kitchen openly offers its fiery, herbaceous larbs (minced-meat salads), fragrant lemongrass-laced stews, and excellent fish steamed in banana leaves with chilies and dill. The lineup doesn't change as often as at sister restaurant Thip Khao, but keep an eye out for specials like spicy fried mackerel and sun-dried pork. Seeking heat? Insist on "Lao hot," as the menu says, and quell the fire with a cold Beerlao.
It's too bad there's no place to sit, because these sandwiches deserve to be lingered over—though just try not to down the whole thing in less than five minutes. The bánh mì, an ingenious mingling of East and West, takes as its starting point the baguettes and pâtés that are the basis of every French picnic, lightens them (the baguettes are made with rice flour, the pâtés thinly spread), and then piles on the ornamentation (cilantro for aromatics, pickled carrot and daikon for tang, chilies for heat). What makes these particular subs so good is that the baguette is as crunchy as it is light, and warmed before assembly. The embellishments are also unfailingly fresh and crisp.
What's that giant cauldron billowing steam in the kitchen? At these Korean places, it holds the house specialty, sul leung tang—a milky-white, cooked-for-hours ox-bone soup. Get it with brisket, then dress it up with scallions, garlic, and chilies from the condiments plate. Another pleasure: oxtail soup, which boasts a mahogany-hued broth and gargantuan hunks of meat. Liquid dinners aren't the only reason to visit. Bibim bap comes with a perfectly fried egg atop the mound of rice and vegetables. (Mix it all together with a dollop of the spicy-sweet chili sauce that comes on the side.) And the free bowls of panchan, the array of pickled and spicy embellishments, such as turnips, kimchee, and cucumbers, are more than an afterthought. Eat them solo or add them to pretty much anything.
With its looming flat-screen tuned to CNN and glaring fluorescents, this Vietnamese spot looks more like a mani-pedi joint than somewhere you'd want to have dinner. But bypass the place based on looks and you'll miss out on one of the best reasons to visit the restaurant-crammed Eden Center. Dishes arrive in rapid-fire succession, so you might find yourself juggling appetizers and entrées. Still, don't stint on either. This is a kitchen that handles so many things with skill—shattering-skinned spring rolls, tender nubs of shaky beef, a textbook bánh xèo crepe or gingery sauté of clams—that it'll likely take you as long to decide what to order as it will to eat.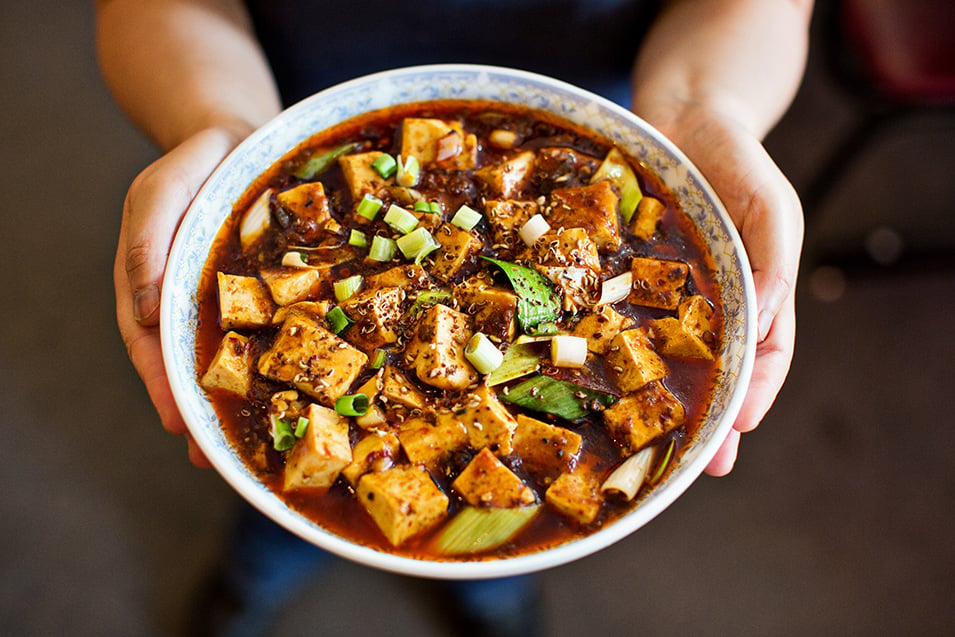 Restaurateur Liu Chaosheng (also behind Uncle Liu's and China Jade) continues to build his Szechuan empire—a high-end Tysons venture is expected this year—but we keep returning to this reminder of his humble beginnings. Little has changed in the plain strip-mall dining room, where plates of cumin lamb and dried chili-fried chicken remain bountiful—even by family-style standards—and specials are handwritten in Mandarin on the wall (ask the waitstaff to translate, for tasty results). Though dishes arrive in a haphazard order, don't miss appetizers such as wontons in fiery chili oil.
Diners crowd around the tables at this Eden Center storefront, even on weekdays. The reason? It's a place that does many things well—and the menu goes on for pages. Bánh xèo, the oversize crepe laced with shrimp and pork, is crispy and light. The lineup of caramelized meat, seafood, and poultry casseroles—we especially like the versions with pork and black pepper and with chicken, lemongrass, and chilies—doesn't lean too sugary. And we could linger for hours over the soups, whether a spicy Hue-style beef brew or a sweet-sour tureen of catfish in a tamarind-infused broth. House-made lemon soda is the drink of choice, and Vietnamese iced coffee, with its dollop of sweetened condensed milk, easily doubles as dessert.
It's been around long enough, and on this list long enough, that the fact that it fronts a seedy-looking motor lodge should no longer be pertinent. We linger on this not because we're preoccupied with appearances; it just makes it that much more incongruous and exciting for the first-timer to discover what's inside: a colorful, cozy bistro with warm, attentive service, good rum-laced cocktails, and some of the area's best South American cooking. The ideal strategy is to load up on soups (peanut or black bean, both richly creamy and superb) and maybe a salad, such as a lively one of corn, avocado, and greens. Then spring for multiple orders of excellent arepas—griddled, not fried, and stuffed with a variety of fillings, including the zesty (shredded beef, tomatoes, onions, and garlic) and the simple (a warm scrambled egg).
Hidden along a dim hallway in the maze-like Eden Center, this folksy Vietnamese cafe is worth taking the time to seek out. The kitchen excels across the board. Bánh xèo, the seafood-and-sprout-studded crepe, is lighter and crisper than most. Summer rolls of barbecue or shredded pork come overstuffed with mint and lettuce. Rice and rice-noodle dishes sport a variety of savory toppers such as lacquered quail and sweet-salty marinated pork. Soups are heady bowls—try the hu tieu with shrimp, barbecue pork, and egg noodles. To drink, there's fresh-squeezed lime soda—we like to get it unsweetened and add just a bit of sugar. When you're done, the herbal-medicine shop across the way makes for a fun detour. You can stock up on items like licorice root, said to be good for digestion.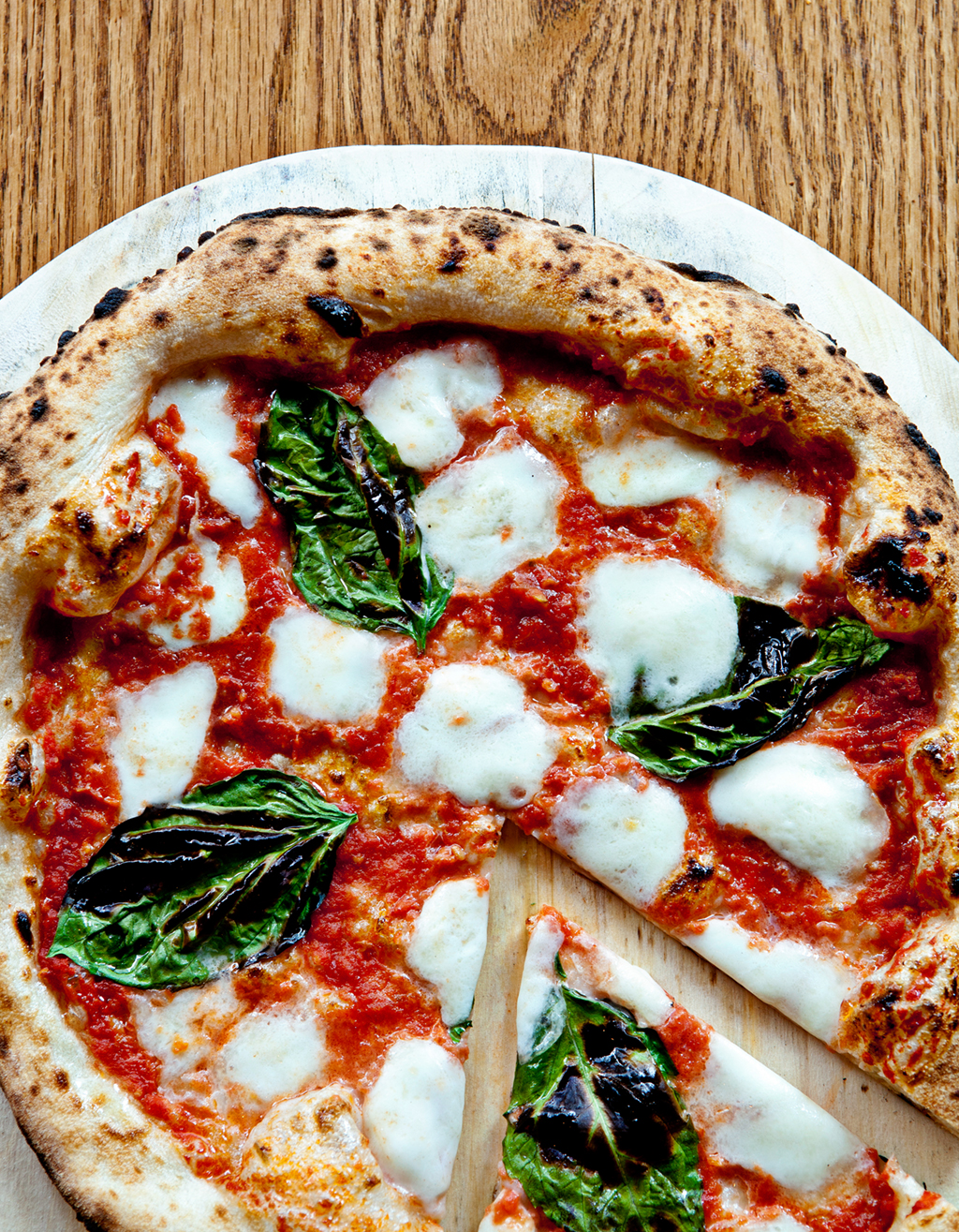 Neapolitan-style pies have all but taken over Washington's pizza scene, but few in our area bear the authoritative stamp of Verace Pizza Napoletana, the Naples-based organization whose mission is to protect the dish and the way it should be made. Pretty impressive, given that the chef who snagged the designation is Bertrand Chemel, a Frenchman who took up pizza-making two years ago. At this cheery, kid-friendly dining room, his rounds sport a crust that's sturdy enough not to disintegrate under the buffalo mozzarella and other high-quality toppings. (Just try not to pluck off all the nickel-size coins of piquant pepperoni while the pie is cooling.) And the other accoutrements—lovely desserts, brittle, olive-oily crostini—show the work of an accomplished chef who doesn't overlook the little things.
Washington is no Astoria, Queens, when it comes to Greek food. There are upscaled small plates, sure, and plenty of standard-issue late-night gyros, but in between? Not a whole lot of options. That's where these fast-casual spots come in. Both the Vienna original and its spiffier Falls Church sibling proffer the kind of soul-warming, grandmotherly roasts and casseroles that don't blow away your palate so much as recalibrate it. Pastitsio, with layers of nutmeg-spiced ground beef and béchamel, is almost lasagna-like in its gooey heartiness, while lemony roast chicken makes for a nice light dinner. To start, graze on a few of the dips—dilled tzatziki, the tangy feta-and-pepper spread called tyrokafteri—all served with warm pita.
The peeling-paint decor at Ed and Pookie Duangrat's Thai restaurant might be tired, but the cooking? Hardly. This is a menu full of energy and eccentricities, especially when it comes to the snacky side—we go for dumplings wrapped in lychee bulbs, buttery wok-roasted cashews, and a fiery dip of "Thai Bolognese." The kitchen is especially good with the fry basket. A winning salad features shards of crunchy catfish doused in lime juice and plenty of cilantro, while hunks of battered cod get treated to an addictive red-chili sauce.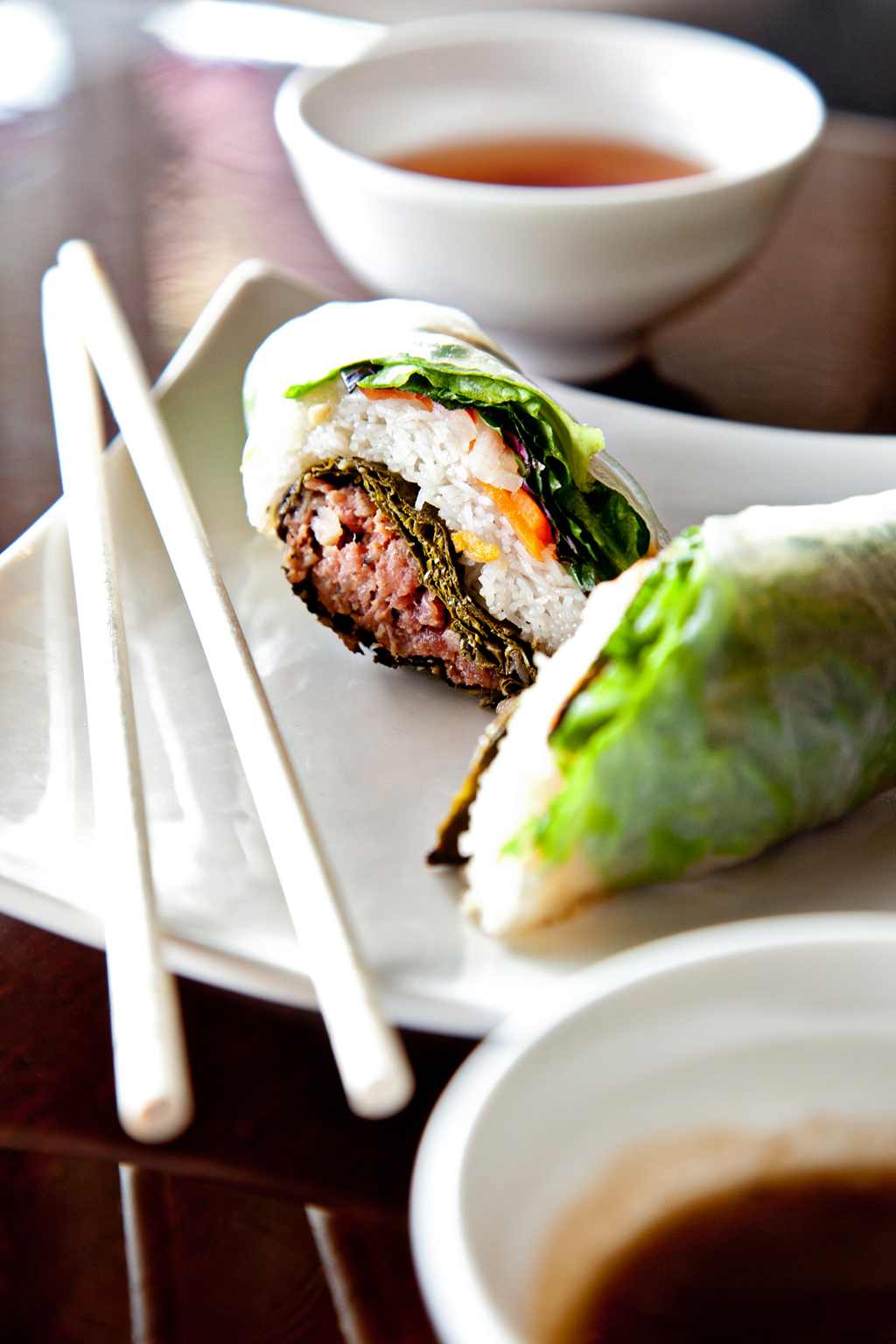 The truth is you could stand blindfolded in the Eden Center—a restaurant-rich shopping mall that amounts to a Little Vietnam for the region—point in any direction, and probably get a good meal. There are shops specializing in pho, bánh mì, bánh cuon, mock meat, bánh xèo, andbun bo Hue, to name just some of the staple dishes that define the extraordinarily diverse culinary culture of a country smaller than some US states. One of the great pleasures of Rice Paper is that it's a kind of mini–Eden Center, bringing together all those tastes under one attractive roof as well as an encyclopedic range of dishes from northern, southern, and central Vietnam. It's not just volume and breadth, though, that make the place great. It's the consistency of the cooking and the quality across the board—the bright, popping salads; the delicate, crunchy crepes; and the clay pots of meats and fishes that somehow manage to hit every pleasure center of your brain at once.
On a list teeming with all sorts of exciting possibilities for armchair travel, it hardly seems right to include a chain diner (local, but still) dedicated to the kinds of things you can make yourself: eggs and bacon, burgers, meatloaf. But Silver Diner isn't your average diner. The drinks list includes a number of local beers and wines, the quality of ingredients has spiked dramatically with the commitment in recent years to more local produce and meat, and the kitchens work with a surprisingly light hand. This is far from the greasy spoon you might have presumed—witness the excellent huevos rancheros with a spicy hash of ground bison. Yes, service can drag, and the ten-page menu has more than a few potholes (the misguided salmon sliders on oat buns, for one), but then you take a chance on an unexpectedly juicy bison burger with pesto, goat cheese, and red peppers and all (well, almost all) is forgiven.
Victor Albisu—who serves up $128 tomahawk rib eyes at Penn Quarter's Del Campo—is as passionate about feeding the little guy as he is about sating the AmEx black-card set. His often-packed taqueria, where you're lucky if you can nab one of the few barstools, puts out two kinds of tacos: tradicional and nuestro. In the former camp, there are the usual taco-truck meats: terrific lengua (beef tongue), crisp bits of carnitas, and slow-roasted brisket. The latter category is where Albisu lets himself have a little fun—who'd ever have guessed poutine and bacon worked so well inside a tortilla?
This article appears in our May 2016 issue of Washingtonian.