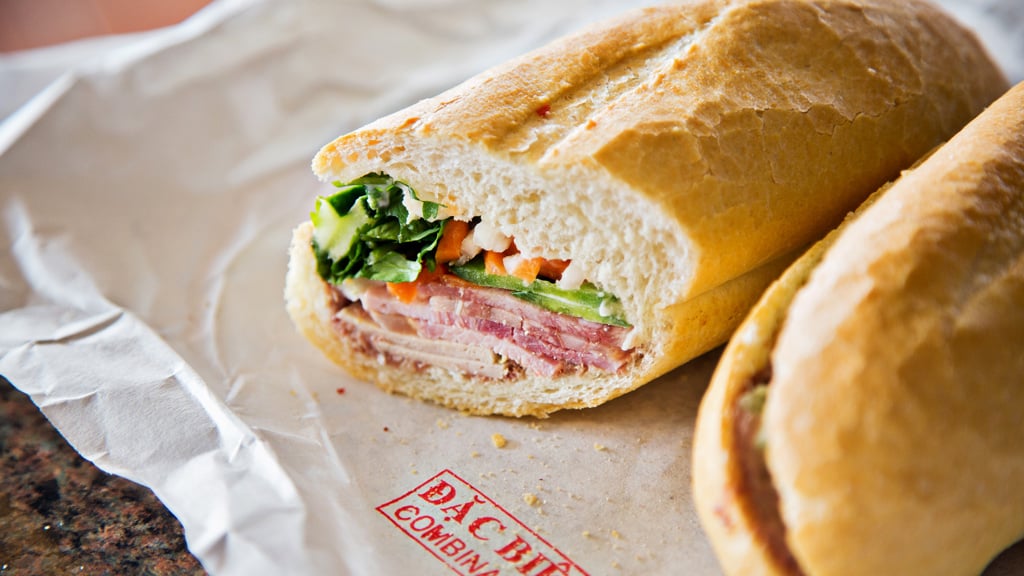 3103 Graham Rd., Falls Church; 703-205-9300
It's too bad there's no place to sit, because these sandwiches deserve to be lingered over—though just try not to down the whole thing in less than five minutes. The bánh mì, an ingenious mingling of East and West, takes as its starting point the baguettes and pâtés that are the basis of every French picnic, lightens them (the baguettes are made with rice flour, the pâtés thinly spread), and then piles on the ornamentation (cilantro for aromatics, pickled carrot and daikon for tang, chilies for heat). What makes these particular subs so good is that the baguette is as crunchy as it is light, and warmed before assembly. The embellishments are also unfailingly fresh and crisp.
Also good: Bánh mì #1 (cold cut); bánh mì #2 (roast pork).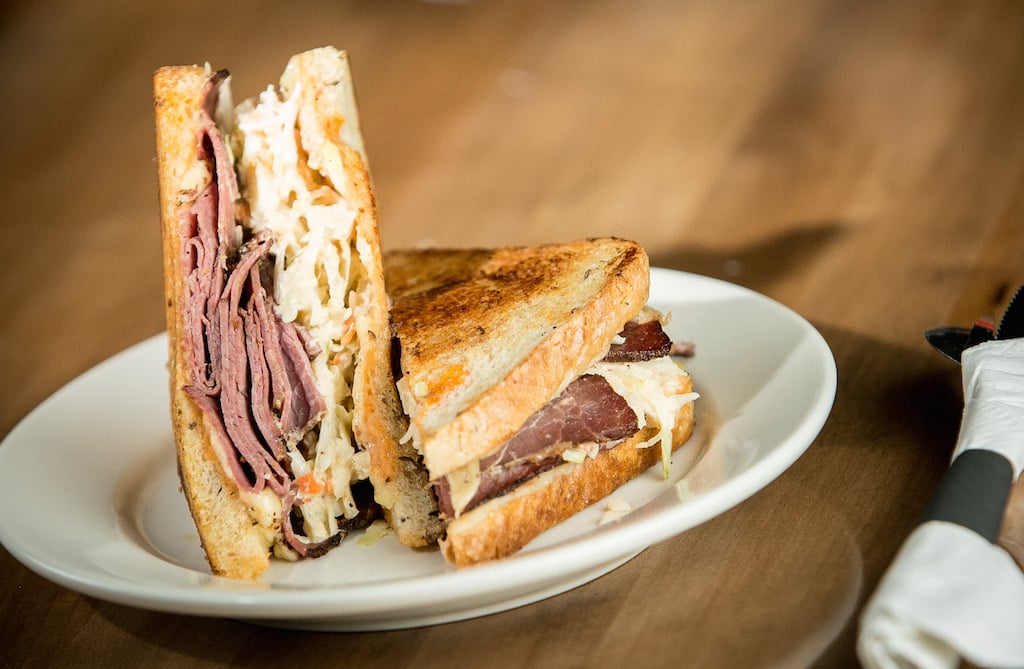 Union Market, 202-714-3292;14th Street, 202-747-2377;Pasadena, 410-360-1600;Easton, 410-690-3641
Ten years ago, Andrew Evans was creating inventive American tasting menus at the Inn at Easton, an endeavor that landed him a front-page profile in the New York Times food section. On the side, he traveled the country entering barbecue competitions. Now his passion project has become his main focus. At his BBQ Joint—whose four locations include a stall in Union Market and a collaboration with Eric Hilton on 14th Street—Evans doesn't stick to one regional style so much as showcase his own vision of barbecue. Texans might find the brisket a little light on the smoke, but we love it for its supreme butteriness. And the excellent ribs are meaty, tender, and glazed with spicy-sweet crimson sauce; at the 14th Street location, look for the red light, which signals they're at their peak, just after they've been pulled from the smoker and had time to rest.
Also good: Pulled-pork sandwich; sausage; Rachel's Hot Cousin sandwich, with pastrami and coleslaw; Cuban sandwich; coleslaw; baked beans.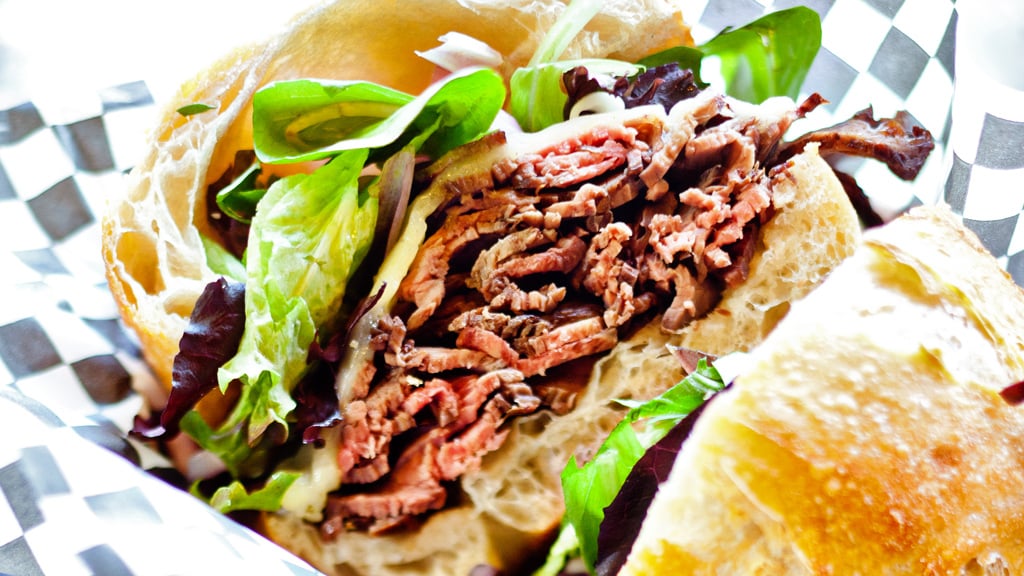 7000 Muirkirk Meadows Dr., Beltsville,301-210-3059;6945 Oakland Mills Rd.,Columbia,410-290-3434;10907 Guilford Rd.,Annapolis Junction,301-725-3012
From the outside, these casual, quick-serve shops appear to have all the charm of a Subway. But then you walk in and are hit with the marvelous whiff of yeast and baking bread—the same undeniable smell you pick up on at a patisserie in Paris. The owner, Gerald Koh, spent time there as well as at DC's Bread Line, under Mark Furstenberg, learning the verities of bread baking. Koh's loaves—warm, airy, crusty—are the foundation of every sandwich at Bon Fresco. Topped with melted Brie, a tangy sun-dried-tomato pesto, and caramelized onions or with slices of tender London broil and cheddar (to name just two of his smart arrangements), they make magic.
Also good: Tomato-saffron soup; spicy peanut soup; Genoa sandwich, with mortadella, soppresatta, and salami; Capri sandwich, with prosciutto, salami, and capicola; mozzarella-and-tomato sandwich; chicken-picante sandwich.
1815 M St., NW; 202-457-1111
When you unwrap the white paper from your sandwich, you'll likely spend at least 30 seconds studying it. No, not to find just the right photo angle—to figure out how you'll possibly manage to get the damn thing into your mouth. Philly-inspired hoagies, served on soft, squishy rolls and as stuffed as a clown car, are chef/co-owner Jonathan Taub's specialty. His Jewish version sounds dubious—it's decidedly unkosher, crammed with corned beef, roast turkey, and brisket, plus salami, Swiss, and a mess of creamy coleslaw and Thousand Island dressing—but we couldn't put the thing down. An Italian sub, done up with cold cuts, arugula, pecorino, and hoagie relish, is more manageable, and pretty terrific.
Also good: French onion dip with chips; house-made pickles; brisket sandwich with Gouda and apple-horseradish cream; Bulgarian feta sandwich with arugula, eggplant, and roasted and grilled vegetables; seasonal-fruit-flavored water ice.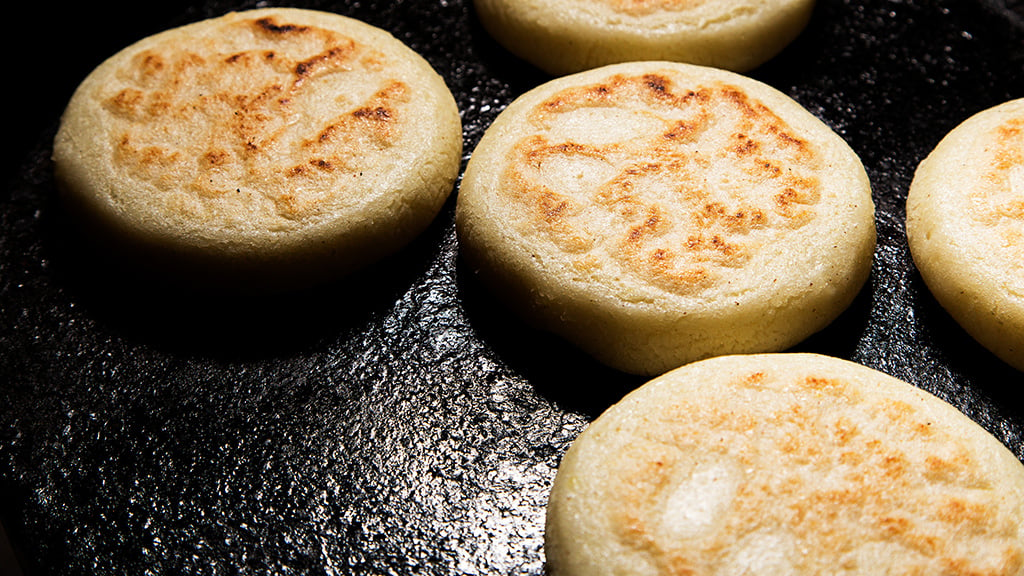 4423 Longfellow St., Hyattsville; 301-209-0049
For the uninitiated, an arepa is a handheld street snack popular in Venezuela. Imagine a palm-size pita made not with flour but with ground white corn, which is cooked on the griddle until the edges turn crispy, then stuffed with a variety of fillings. Arepas have caught on in DC over the past few years, from food trucks to three-star restaurants, and this tiny cafe, run by husband and wife Mickey Torrealba and Monica Serrano, arguably makes the best. The simplest version, with creamy black beans and a thick slice of queso de mano—which has the saltiness of feta but a richer character—is sublime.
Also good: Chicken-and-avocado arepa; beef-black-beans-and-cheese arepa; cachapas (savory pancakes) with queso de mano or queso and ham.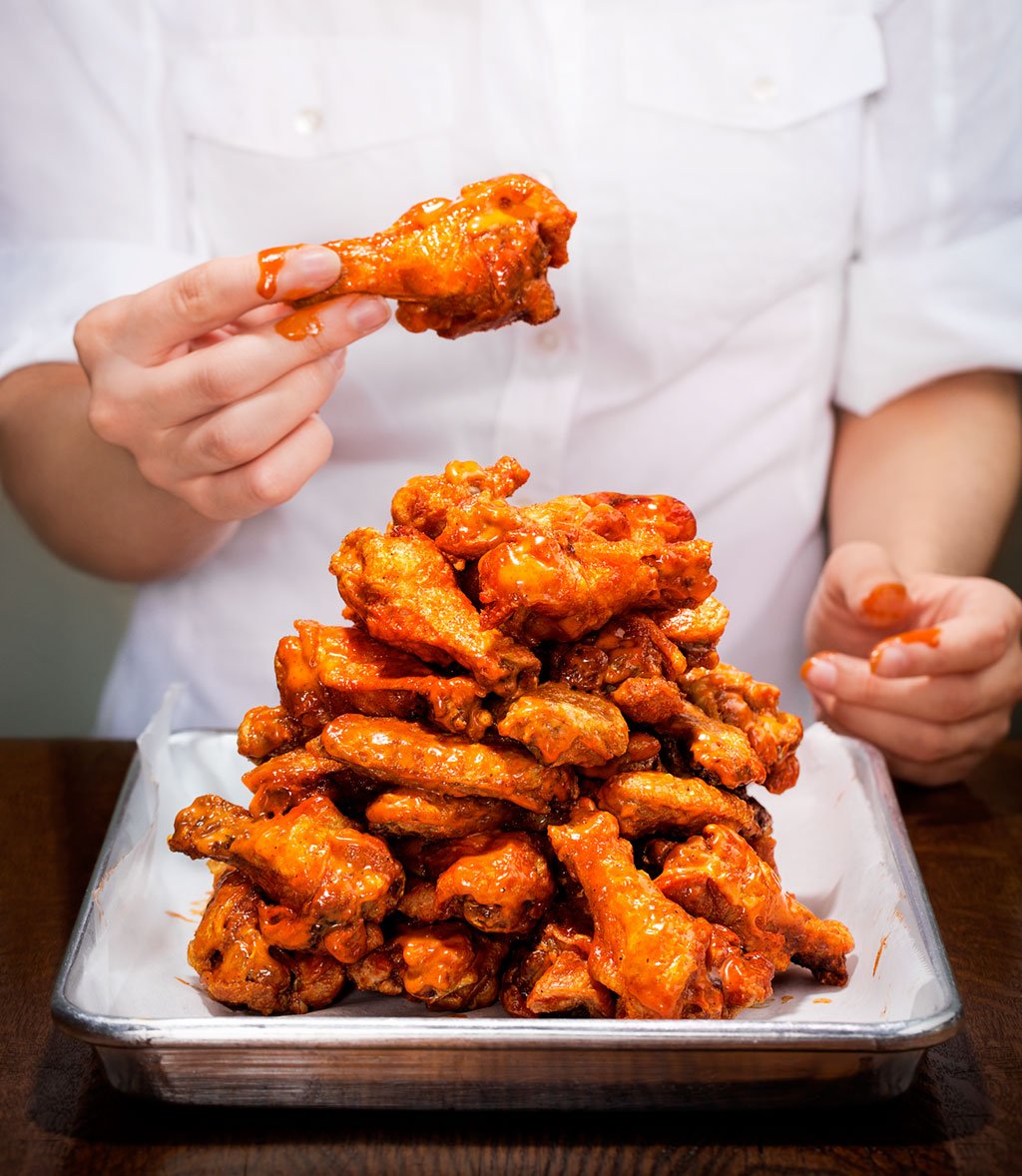 132 Church St., NW, Vienna; 703-865-7829
While some chefs focus a place tightly on one dish (say, kolaches or Korean tacos) or at least a cuisine, Tim Ma takes the broad view. His sandwich shop pings around the globe, with stops in places as diverse as Vietnam, for a messy pork-belly bánh mì, and Philly, for a fabulous riff on a cheesesteak. Ma manages to pull off his scattered vision, thanks to grounding elements like house-smoked meats and smartly whimsical accessories: A take on a Cuban sandwich gets its tangy sweetness from pickled apples and a swipe of lychee. The place doubles as a small market, where you can pick up local vinegars and Ma's pickles and kimchee, or sign up for a CSA.
Also good: Virginia Italian sub; pastrami sandwich with carrot sauerkraut; crème fraîche wings.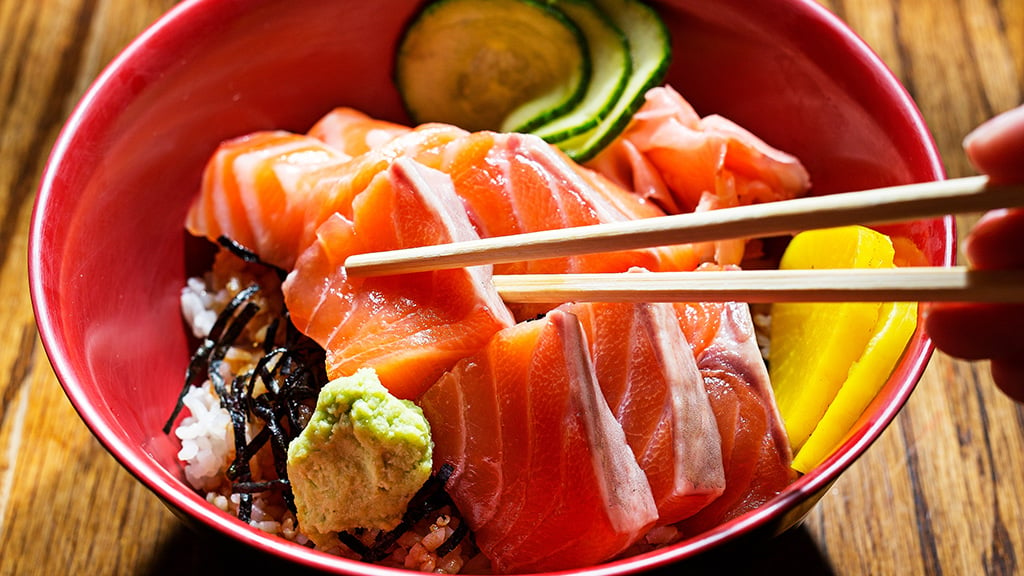 2438 18th St., NW; 202-629-1047
Few things are more satisfying than planting yourself at a restaurant counter, hunkering over a deep bowl, and scooping up every last morsel—and no, we're not talking about ramen. Donburi, Japan's lesser-known one-pot meal of rice and savory toppings, is the star of this tiny Adams Morgan restaurant. The space still boasts only 14 stools, but chef/owner James Jang has expanded the menu since opening, adding a section of braised meats—go for shaved brisket gyudon with a runny egg—and more varieties of fish, served sashimi-style over the toothsome grains. More traditional fried items like crispy pork cutlets are worth ordering for the curry sauce alone—a 40-hour brew of caramelized onions, ground beef, and spices, which in our opinion gives the best tonkatsu broth a run for its money.
Also good: Unagidon (barbecue eel with Japanese pickles); shiitakedon (braised mushrooms); lightly cured salmon sashimi with pickled ginger.
728 King St., Alexandria; 703-299-8384
This pubby Old Town spot is modeled after an Irish fish-and-chips shop—Guinness on tap, mushy peas, and all. But most important, the cooks here know their way around the fryer. Our top order is the Codwich—which tastes like a Filet-O-Fish that's been treated to a cheffy upgrade, thanks to beautifully battered (and sustainably sourced) cod, rich house-made tartar, and crisp coleslaw. Plump, sweet fried prawns make for a nice starter, especially paired with pink Marie Rose sauce. Tables are few, but whether you eat in or take out, your food will be served one way—in a paper bag.
Also good: Fried cod and chips; fried basa (a mild white fish); coleslaw.
2201 14th St., NW; 202-234-5015
There's perhaps no better partnership in Washington, at least when it comes to restaurants, as that between Kapnos, Mike Isabella's Greek small-plates house, and its neighboring sandwich shop, G. Inside Kapnos's kitchen, whole goats, lambs, and pigs are burnished on spits over a wood fire. Meanwhile, over at G, those succulent meats become the fillings for some of the area's best sandwiches. The star of the menu is the baby goat, its crispy, fatty shreds stuffed into a sesame roll with spicy harissa mayo, sweetly pickled onions, and a fistful of lemony roasted potatoes. Isabella's Jersey-Italian background gets a nod, too, in the form of excellent meatball-and-mozz and chicken-Parm subs.
Also good: Bangkok bánh mì, with pork and peanuts; spring-lamb sandwich with tzatziki; Italian hoagie; lamb chili.
2001 S St., NW, 202-588-5698; 1924 Eighth St., NW, 202-939-2839
Eating local and eating cheap rarely go hand in hand, which is why environmental lawyer turned grocer Danielle Vogel keeps prices modest for the prepared foods at her two markets. ("You can't spread the word if no one walks in the door.") Start at the bar, where craft drafts are always $4 and can be paired with superb sourdough-crust pizzas (Dupont location only) or ultra-gooey grilled cheeses and shared around tables inside and out. The health-minded will do well with seasonal salads—pick a heaping plate of four for $10—and Pennsylvania chickens, roasted over potatoes to catch the delicious drippings. The market acts as a showcase for other local purveyors, so look for guest stars such as Bullfrog Bagels sandwiches on weekend mornings.
Also good: No. 7 pizza (with salami, mushrooms, and Gordy's pickled jalapeños); smoked-salmon sandwich with dill-chèvre spread; mushroom Reuben; cheese pupusas; Lolla Rossa lettuce/chicken salad; kale salad with pepitas.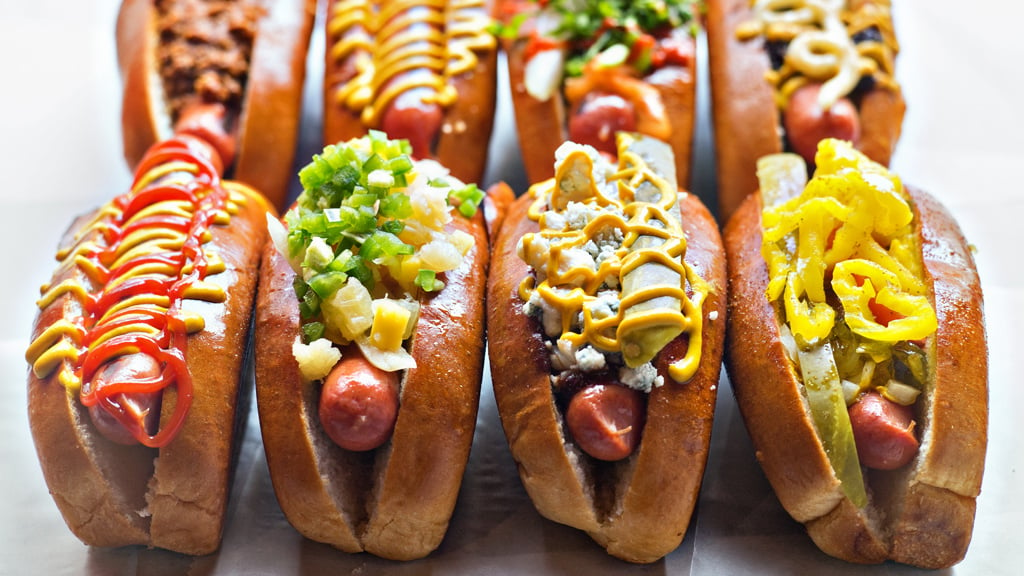 610 Montgomery St., Alexandria; 703-548-3891
If you have any doubts about just how special a hot dog can be, get yourself to this narrow Old Town shop and order a bánh mì dog. It takes the accessories that make the Vietnamese sub such a kaleidescope of flavor and texture (sliced jalapeños, matchsticks of carrot and cucumber, a zigzag of thick mayo) and transports them to a perfect canvas—a griddled all-beef frank on a toasty, liberally buttered bun. That and a wiener-style rethink of Peking duck are among the more creative offerings. But the straightforward renditions of regional specialties—say, a classic Chicago dog or a ground-beef-topped Coney Island dog—are just as tasty.
Also good: Fenway dog, with ketchup, mustard, relish, and onions; OBX dog, with chili, slaw, and yellow mustard; Bombshell dog, with sautéed onions, mango-pineapple relish, and jalapeños; baked beans.
15521 New Hampshire Ave., Silver Spring; 301-879-0044
Karahi is one of the culinary thrills of Pakistani cuisine: Tender chunks of meat glistening with chili oil and tossed with slivers of ginger and garlic are stir-fried in an iron wok and brought to the table still sizzling. And the fiery versions at this counter-service spot—especially the lamb, bone-in chicken, goat, and kofta (ground beef) karahis—are everything they should be. Scoop them up with a wedge of warm, blistered naan or embellish a forkful with a bit of basmati. Spice-rubbed kebabs cooked over an open flame—go for lamb chops or bone-in chicken—are less mouth-numbing but still wonderful. Besides the regular menu, a roster of daily specials is worth checking out—especially the kofta curry on Wednesdays.
Also good: Chat samosa; lamb curry (Mon-days only).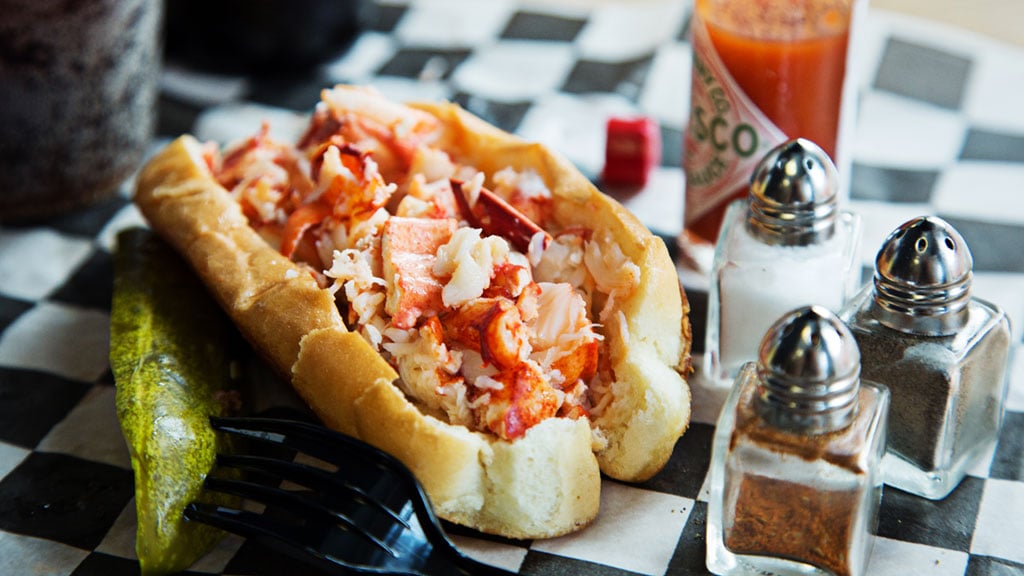 188 Main St., Annapolis; 410-280-2254
Now is the time to hit this tiny sandwich shop, before winter returns and owner Dan Beck is forced to rely on frozen lobster. Until then, he's sourcing much of his titular product from a small outfit in Maine that claims to be able to trace every large-clawed crustacean back to the boat where it was harvested. In a stew made with a dozen ingredients, that dedication to freshness of course counts, but it's also less obvious. In a lobster roll, where the star is made to stand alone—just a buttered, griddled roll and a little mayo (not too much!) to keep the tail meat moist—Beck's mania for sourcing matters more. Anything fresher and you'd have to move to Maine. Would it be nice to have more on the menu than just a chowder and a bisque and some chips to go with your lobster roll? Yes, it would. But we'll take Beck's singular focus and pursuit of the highest quality possible over a halfhearted attempt to be more things for more people.
Also good: Connecticut-style lobster roll (with butter, not mayo).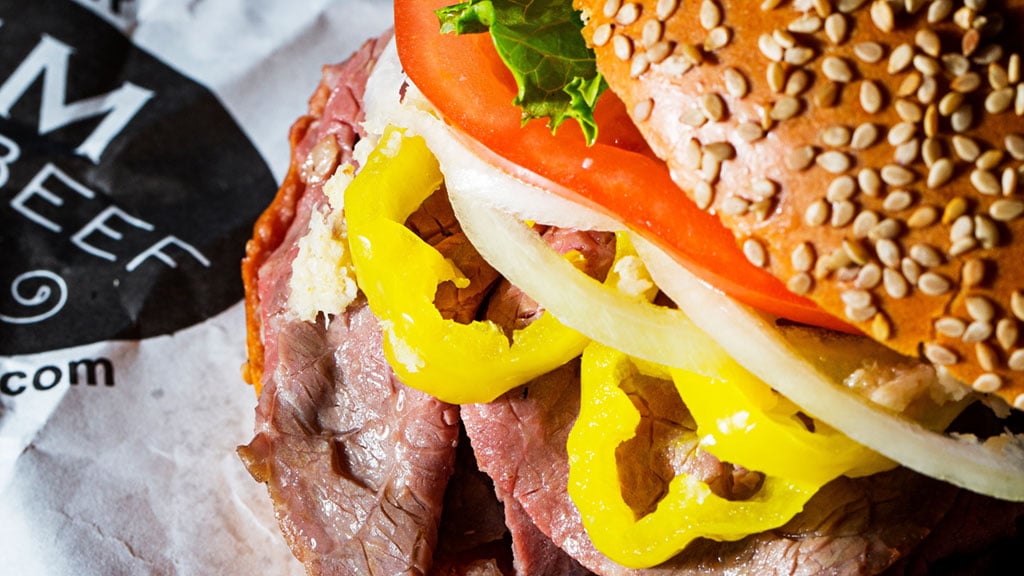 905 Brentwood Rd., NE; 202-248-0389
This glorified lunch counter in industrial Northeast serves sandwiches with no pretensions of being "gourmet." And that's a great thing in a city where too many people equate "upscale" with "quality." This is an order-at-the-counter operation, but unlike the chain sandwich shops, the meats (baked ham, roast beef, smoked turkey, and brisket) are not presliced but showcased, glisteningly, under heat lamps. It's hard not to ogle them as you stand in line, filling out your order slip to customize your creation. The accessories are no-frills and decidedly unfashionable (no Peppa-dew peppers or fancy mayos), and the sandwiches are the better for it. Roast beef is the titular item, but we gravitate to the brisket and ham, with the excellent onion rolls our bread of choice.
Also good: Roast beef with cheddar; brisket with coleslaw and barbecue sauce on an onion roll.
7313 Baltimore Ave., College Park; 240-714-4473
It's well established that there are legions of eaters who chase spicy food as if it were on the black market. Chili-heads, they're sometimes called, for their pursuit of the addictive high found in scorching renditions of Thai, Indian, or Szechuan cooking. To fully appreciate Hua Wang's little thing of a place, you need to be a tang-head. You need, that is, to love vinegar—specifically the complex depth of Shaanxi vinegar, a dark, earthy, faintly smoky liquid that punches up, for instance, her sour soup with tiny pork dumplings (a marvel, and only $6) as well as her "cold skin noodles," a plate of noodles, cucumbers, peanuts, and tofu that's so much more than just its core elements. For those who can't take that much brightness, there are also excellent burgers (with ground meats stuffed inside house-made rice-flour buns) and big, rewarding hand-cut-noodle bowls.
Also good: Boiled peanuts; spicy potato noodles; stewed pork burger; spicy lamb burger.
10478 Baltimore Ave., Beltsville; 301-931-8128
If you haven't eaten a lot of pho, the broth in a bowl of the Vietnamese soup might appear to be not so different from place to place. It's a subtle thing, but take a closer taste and you'll see that some broths are watery or thinly extracted, some are strong with hits of cinnamon and star anise, some are almost consommé-like in their lightness. This one's rich—the most fortified and full-bodied we've come across, testament both to the quality of the oxtails that give up their flavor and fat and to the care of the kitchen in tending the elixir over the many hours it takes to simmer on the stove. It's an addicting bowl, no matter what meats, garnishes, or condiments you customize it with.
Also good: Pho with gau (fatty brisket) and gan (tendon); pho with chin (well-done steak) and nam (flank).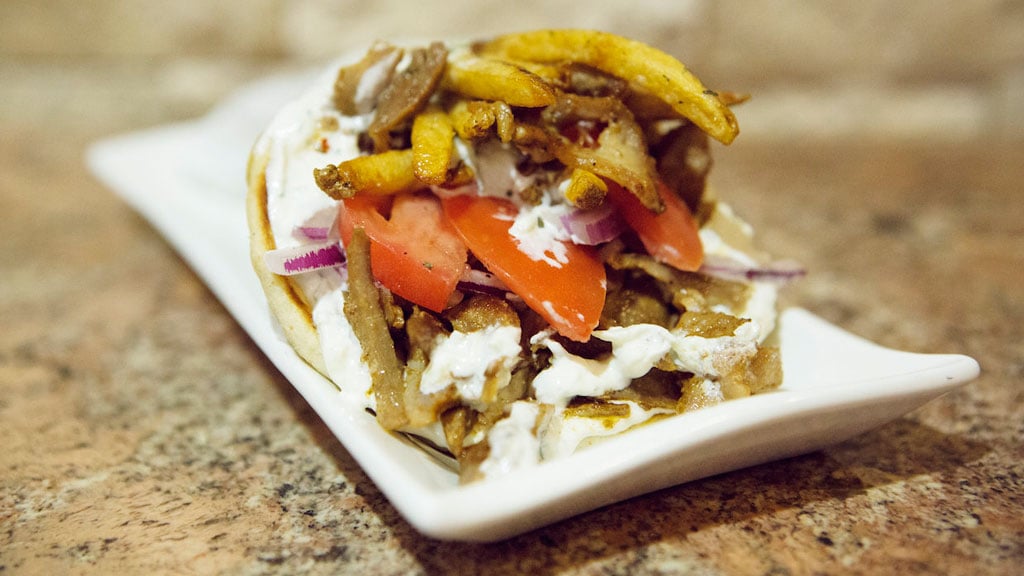 110 Lawyers Rd., NW, Vienna,703-319-3131; 513 W. Broad St.,Falls Church, 703-639-0161
Washington is no Astoria, Queens, when it comes to Greek food. There are upscaled small plates, sure, and plenty of standard-issue late-night gyros, but in between? Not a whole lot of options. That's where these fast-casual spots come in. Both the Vienna original and its spiffier Falls Church sibling proffer the kind of soul-warming, grandmotherly roasts and casseroles that don't blow away your palate so much as recalibrate it. Pastitsio, with layers of nutmeg-spiced ground beef and béchamel, is almost lasagna-like in its gooey heartiness, while lemony roast chicken makes for a nice light dinner. To start, graze on a few of the dips—dilled tzatziki, the tangy feta-and-pepper spread called tyrokafteri—all served with warm pita.
Also good: Tyropites (feta pastries); roast-pork gyro; mixed grill; rice pudding.
47 State Cir., Annapolis;410-267-0902
The same principle that under-lies all the best barbecue places and pizzerias underlies this tiny shop. It specializes in baked potatoes. Yep, a side dish—ordinarily. The wisdom of this venture is to know that, done right—from sourcing the highest-quality, most mineral varieties to cooking them at just the right temperature and for just the right time—a baked potato is a beautiful, satisfying thing. The simple option—a hot, sliced spud topped with cheddar and butter—is divine, but so are any of the more tricked-out varieties, including one that looks on paper to be disastrous (onions, mango, lime, and garlic butter) but is among the best fast-food plates we've ever eaten.
Also good: Jamaican hot sauce with cheddar, greens, and roasted onions; spinach, feta, and roasted garlic; Cuban chicken; Texas salsa with cheddar.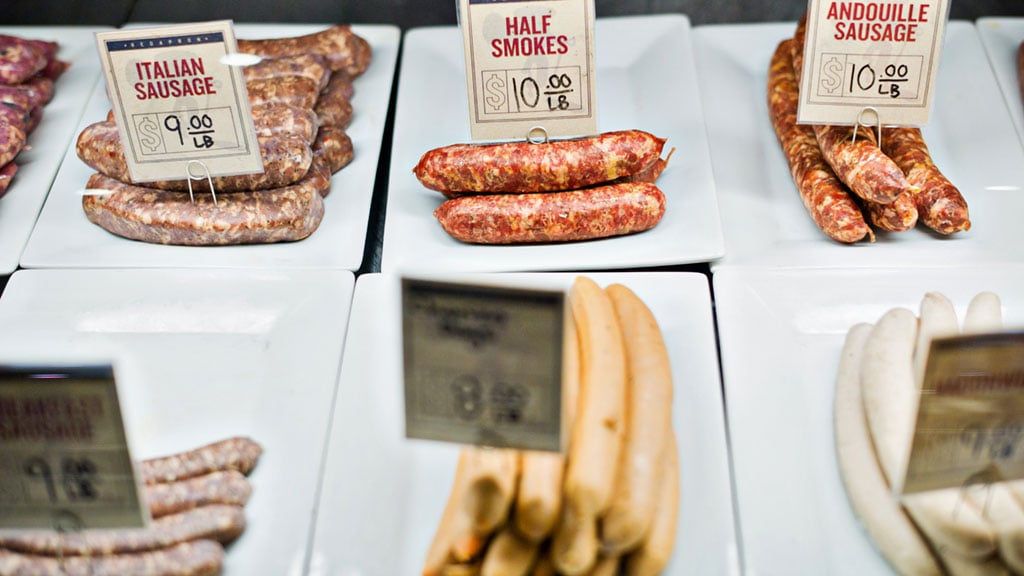 709 D St., NW, 202-524-5244; 1309; Fifth St., NE, 202-524-6807; 8298 ; Glass Alley, Fairfax, 703-676-3550
You likely know the Neighborhood Restaurant Group's trio of butcher shops for their humanely raised meats, vast array of house-made charcuterie, and gut-busting sandwiches. All good things. But Red Apron should get just as much attention for its fried chicken—even at a time when chefs all around town are obsessing over crispy birds. What makes the chickens so flavorful? They're brined, given a turn in the rotisserie, and fried in beef fat, which imparts a thin, brittle crust (terrific when dunked in hot-sauced honey). The sandwiches are still superb—the Italian sub, for instance, is packed with translucent slices of cured meats, aged provolone, crunchy iceberg, and pickled peppers.
Also good: Roast-beef-and-cheddar sandwich with ranch; cheeseburger; meatball sub; beef-fat fries.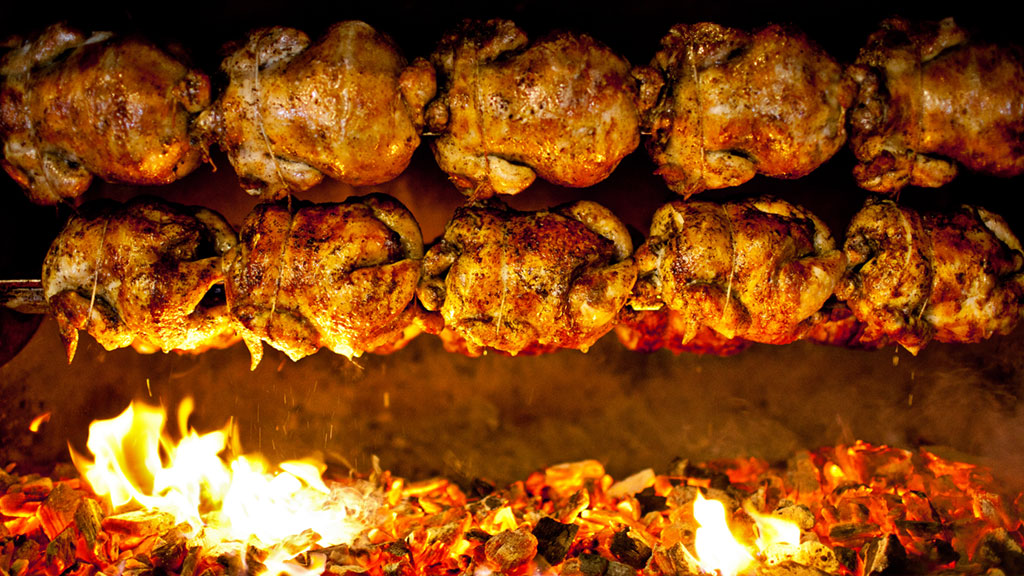 Multiple Maryland and Virginia locations
A busy restaurant isn't always a sign that a restaurant is good. In the case of pollo a la brasa, however, the surest indication that you're in for a terrific meal is a line stretching to the door. What that high volume ensures is that the chickens don't have time to sit in warming ovens, becoming dry. You can be sure Sardi's will be swarmed when you arrive, no matter the time of day, which means you can also be sure that a bird will be plucked off the spit while you wait, hot and dripping with juice and carved to order in front of you. Hard as it is to resist pinching off a taste or three as you move down the cafeteria-style line, getting your plate accessorized with sides (beans, rice, slaw, plantains), there's always the marvelous scent of that dark, pepper-rubbed skin to console you. At the Gaithersburg location, you can get a beer, too.
Also good: pollo parriello (butterflied grilled chicken); ceviche.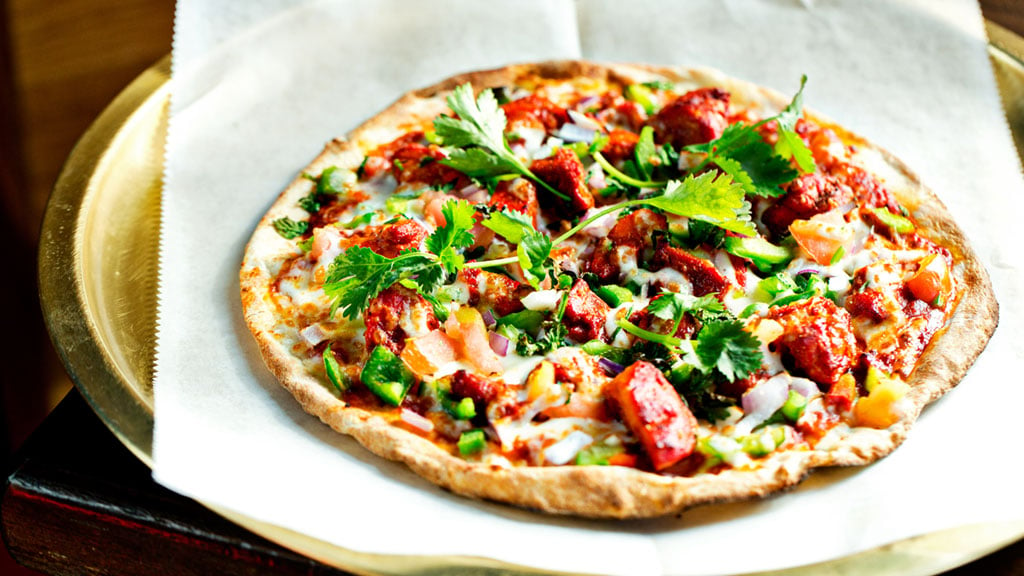 5501 Baltimore Ave., Hyattsville; 301-209-0080
You've been here before even if you haven't—you choose your rice and then your protein, moving down the line of sauces and condiments until you've customized your bowl. The difference between this and Chipotle? It's Indian, not Tex-Mex, and done with an authenticity and punch that the mammoth chain's many outlets can't match. The gravies in particular (including an aromatic kadai, a creamy korma, and a vibrant spinach) show real care and elevate these humble bowls beyond the base pleasures of fast food. The naan pizzas (topped, most memorably, with tender cubes of lamb, tikka masala gravy, grated cheese, and bell peppers) are an even bigger surprise, an East-West merger that doesn't feel gimmicky.
Also good: Vegetarian bowl with chickpeas, brown rice, and either korma or spinach gravy.
2190 Pimmit Dr., Falls Church; 703-639-0505
Victor Albisu—who serves up $128 tomahawk rib eyes at Penn Quarter's Del Campo—is as passionate about feeding the little guy as he is about sating the AmEx black-card set. His often-packed taqueria, where you're lucky if you can nab one of the few barstools, puts out two kinds of tacos: tradicional and nuestro. In the former camp, there are the usual taco-truck meats: terrific lengua (beef tongue), crisp bits ofcarnitas, and slow-roasted brisket. The latter category is where Albisu lets himself have a little fun—who'd ever have guessed poutine and bacon worked so well inside a tortilla?
Also good: Arabe taco, with chicken and chipotle yogurt; sopes with carnitas; green pork tamale; corn on the cob with mayo and cotija cheese; torta Cubana, with carnitas, ham, cheese, and jalapeños.
5020 Edmonston Rd., Hyattsville; 301-277-4477
If your notion of a taco is the ground-beef-stuffed vehicle long associated with taco night, then you're in for an awakening. These fillings are not for the faint of stomach. Pig cheeks and ears are just some of the more chewy and/or gelatinous possibilities. More trepid souls should stick to the pork leg and chorizo, neither of which will feel like a comedown on the authenticity scale, while also providing you with one of the juiciest, richest tacos you'll find in the area. If your Spanish can handle it, ask to have the tortillas griddled before serving. And go light on the salsa roja, a scorcher—though if you can tolerate the heat, by all means go ahead and spoon this marvelously complex sauce over every delicious bite.
Also good: Tacos al pastor (ask for the pineapple), tacos lengua (tongue).
7304 Georgia Ave., NW; 202-882-6488
More than 12 bucks for a chicken roti might seem steep at a no-frills counter-service joint, especially if you've ever grabbed one of the wraps from a roadside stand in the Caribbean. Then the dish arrives like a mega-burrito—a seeming pound of tender, bone-in chicken and potatoes in a warmly spiced yellow curry, all wrapped in a delicate flatbread. Such are the home-style portions at Teddy's, where diners get a taste of Trinidad and the island's strong South Asian influence. (Curries and griddled breads abound.) A whiteboard menu offers two styles of roti—layered "buss up shut" (translation: bust-up shirt) for the heartiest eaters and a thicker, pancake-like sada roti—all with a choice of fillings such as chickpeas and spinach or goat. The latter is a must, stewed on island time so it's falling off the bone.
Also good: Jerk chicken with peas and rice; doubles (flatbreads filled with curried chickpeas); fried plantains; callaloo.
See what other restaurants made our 2016 Cheap Eats list. This article appears in our May 2016 issue of Washingtonian.