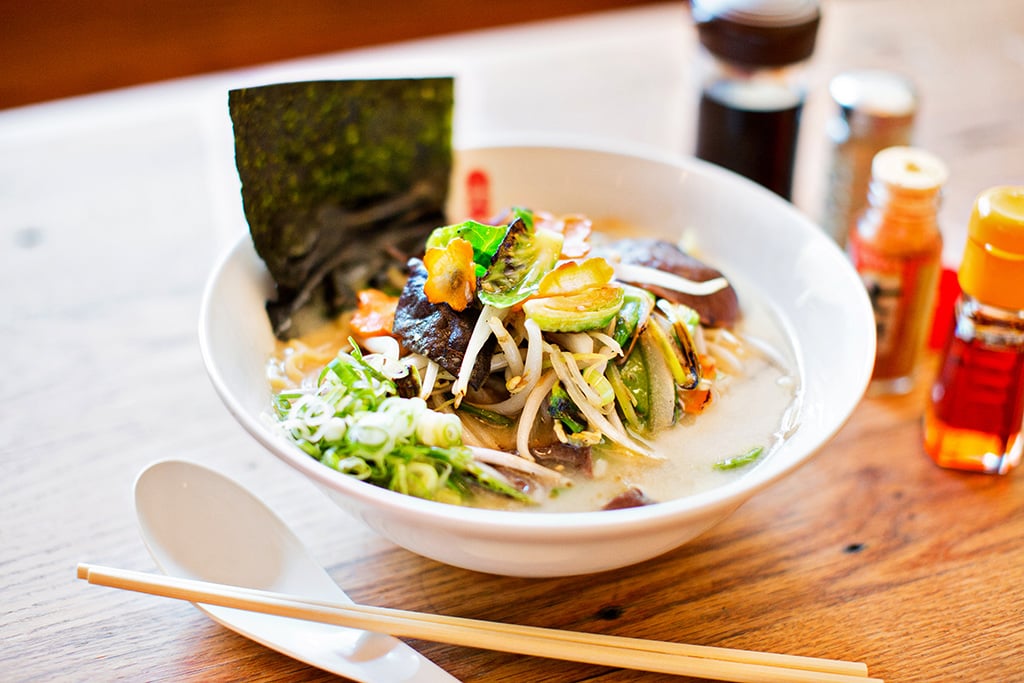 705 Sixth St., NW; 202-589-1600
A line is usually snaking out of this cubby-size Penn Quarter ramen shop, where you might wait for two hours to balance on a wooden stool and slurp a bowl for 20 minutes to the tune of Wham and the Spice Girls. Here's why it's worth the hassle: the restorative Sapporo-style broths, conjured from a stock made of pork, beef, and chicken bones that have been simmered for 18 hours. And the noodles, beautifully bouncy and slightly curly. And the finishing flourish—the practice of sloshing toppings (Brussels sprouts, wood-ear mushrooms, crumbles of pork) in a wok for an extra kick of smokiness. The elements all come together to create the best bowls of ramen in the city, no matter which of the five broths you go for. While you wait, hit the upstairsizakaya for standout cocktails and happy-hour beer specials.
Also good: Mugi-miso broth (with peanuts); shoyu (soy) broth; vegan broth; pork dumplings.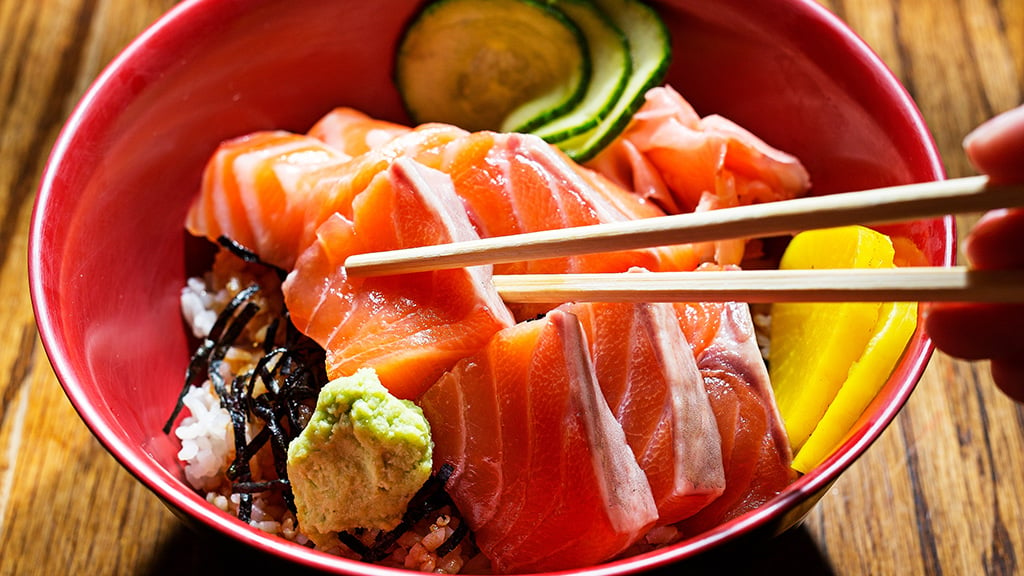 2438 18th St., NW; 202-629-1047
Few things are more satisfying than planting yourself at a restaurant counter, hunkering over a deep bowl, and scooping up every last morsel—and no, we're not talking about ramen. Donburi, Japan's lesser-known one-pot meal of rice and savory toppings, is the star of this tiny Adams Morgan restaurant. The space still boasts only 14 stools, but chef/owner James Jang has expanded the menu since opening, adding a section of braised meats—go for shaved brisket gyudon with a runny egg—and more varieties of fish, served sashimi-style over the toothsome grains. More traditional fried items like crispy pork cutlets are worth ordering for the curry sauce alone—a 40-hour brew of caramelized onions, ground beef, and spices, which in our opinion gives the best tonkatsu broth a run for its money.
Also good: Unagidon (barbecue eel with Japanese pickles); shiitakedon (braised mushrooms); lightly cured salmon sashimi with pickled ginger.
9440 Main St., Fairfax; 703-425-7555
Japanese izakayas are becoming the faux speakeasies of our time—hipper, pricier versions of neighborhood pubs—but you won't find $14 cocktails and one-bite snacks at this lantern-lit dining room. The food speaks for itself, though sometimes it doesn't—ask your server to translate the many specials handwritten in Japanese, which might yield a crunchy, umami-packed salmon-skin salad or ichiya-boshi, cured and grilled squid. The sushi menu also holds unusual finds—abalone, sea eel—though there's nothing wrong with sticking to more familiar staples: miso-marinated cod, ramen packed with toothsome noodles, and sushi and sashimi plates that are artfully arranged like flower bouquets, and just as colorful.
Also good: Unagidon (eel over rice); shrimp sushi; toro taku (toro-and-pickled-radish roll).
101 Church St., NW, Vienna; 703-242-1350
A massive tuna loin sits on the sushi bar, waiting to be carved by the skillful chefs. It's just one of many promising signs at this corner Japanese restaurant. (Another: Reservations are advised, even at lunch.) Though the ambience is that of a neighborhood joint, the menu reads like an ambitious izakaya, serving excellent small plates such as takoyaki (octopus-studded croquettes), squid with mountain vegetables, and lightly charred flounder fin. It's tempting—and rewarding—to cobble together a meal from those little dishes, but they can add up, and the menu is worth exploring in full. Sushi and chirashi boast perfectly seasoned rice, tempura is cloud-light, and noodle soups are eminently comforting.
Also good: Crispy squid; pork gyoza; Center St. Roll (shrimp tempura, eel, asparagus); Costa Rica Roll (yellowtail, jalapeño, mango).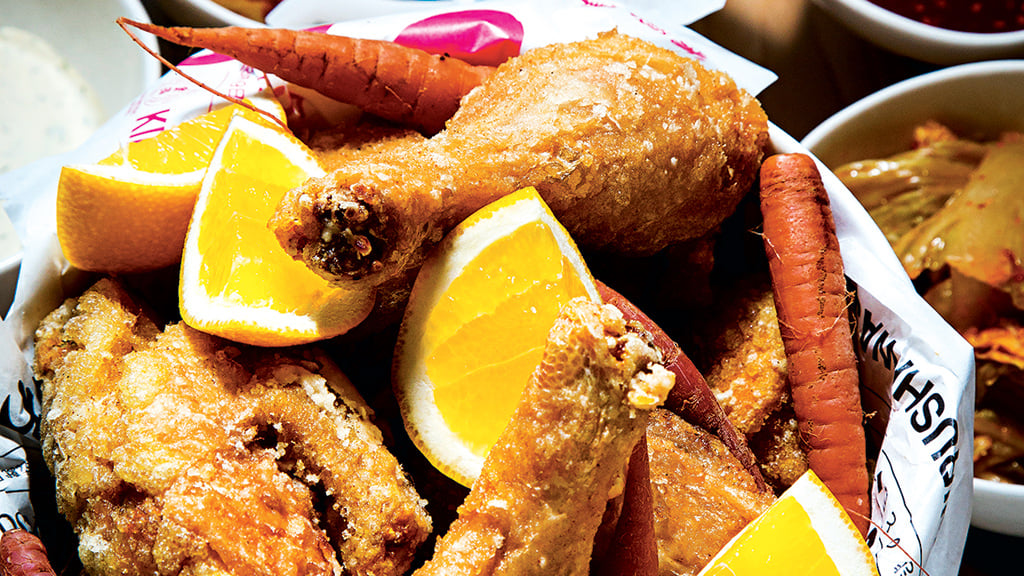 4000 Wilson Blvd., Arlington; 703-465-1100
The long, blond-wood communal tables at this Ballston noodle bar look straight out of any 21st-century ramen shop. And while chef/owner Jonah Kim's noodle soups here are satisfying enough, it's the bar snacks and shareable salads that keep us nudging our way into the narrow space. How in the world do Kim's Brussels sprouts stay so crisp? Turns out the chef took a cue from Outback Steakhouse's "bloomin' onion" and scores the bulbs to their quicks before frying them. A chili-flecked bean-sprout salad gets another dose of crunch from a scattering of Marcona almonds. And a small waffle, topped with luscious uni, pops with briny flavor thanks to pearls of salmon roe. Not feeling small-plates? If it's Sunday, go for a communal platter of soy-brined fried chicken served with biscuits and kimchee.
Also good: Tuna poke; oxtail steamed buns; ja-jang noodles with pork belly and squid.
See what other restaurants made our 2016 Cheap Eats list. This article appears in our May 2016 issue of Washingtonian.