Visiting DC or hanging at home for the July 4th holiday? You're in for a good time. Restaurants and bars have parties planned all weekend long, plus you'll find a number of places offering picnic baskets for watching the fireworks with a feast. Don't forget brunch–because nothing says a holiday weekend like Monday mimosas.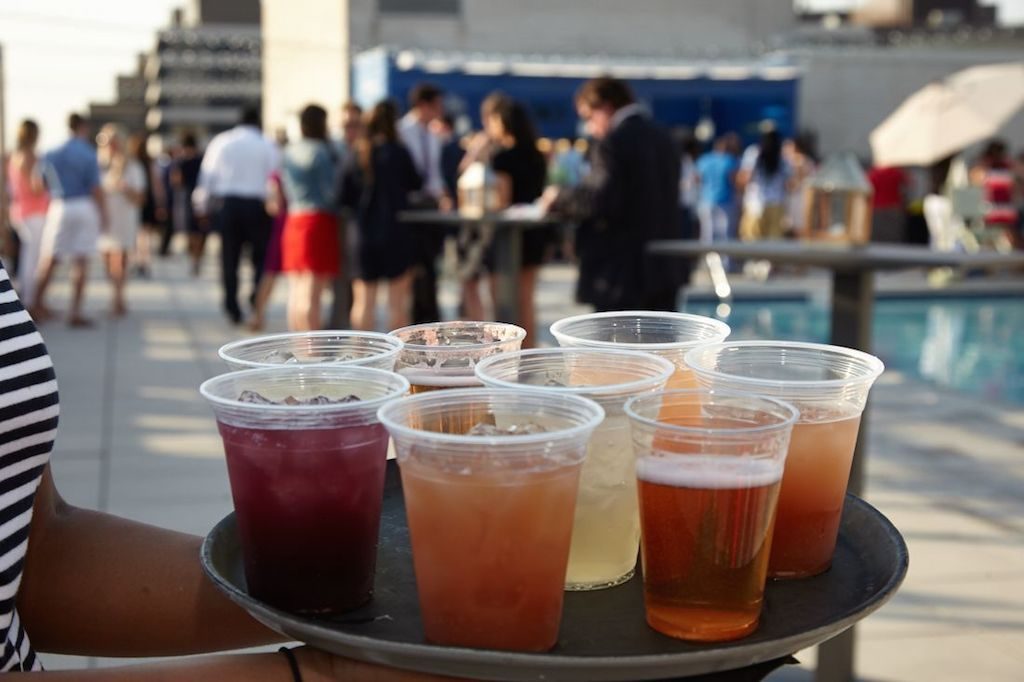 PARTIES, BARBECUES & FIREWORKS
Poolside barbecue at the Liaison Capitol Hill
415 New Jersey Ave., NW
Fancy a dip? The Liaison Capitol Hill throws a rooftop pool party from 8am to 11pm on July 4th. Tickets ($50) get you all-day access to the hotel pool and a limited view of the fireworks. Groups can even rent poolside cabanas, ranging from $300-$400 for the day. Food and drinks are priced individually.
AmeriCan Drink Dependence Day at Jack Rose
2007 18th St., NW
Nothing says freedom like inexpensive canned beer, and you'll find plenty of it during Jack Rose's rooftop party. Starting at 2 pm, they'll be serving $4 canned brews and half-priced bites like fried chicken skins and pork belly skewers. Catch the fireworks from the saloon's open-air rooftop terrace, the front balcony, or its back Tiki Bar.
Boom With a View at the W Hotel
515 15th Street, NW
Watch the light show in style atop the W Hotel, which has stellar views of the White House in addition to the big show. Get there at 6:30 pm to enjoy drinks, food and a D.J before firework celebrations start at 9:15. Tickets are $265 a person.
Independence Day Party at Rosebar
125 Connecticut Avenue, NW
If celebrating on a Monday night doesn't fit in your schedule, Rosebar has you covered. The venue is hosting an Independence Day Bash on Sunday from 3 pm to 9 pm with music by Jerome Baker III. Get there before 4pm for complimentary admission.
Red White Blue July 4th Pool Party at the Embassy Row Hotel
2015 Massachusetts Avenue, NW
Pack your bathing suit to ring in the Fourth at the Embassy Row Hotel from noon to 5 pm.You can dance the afternoon away while sipping a cocktail and enjoying panoramic city views. Tickets start at $20.
Sunday Roast at the DNV Rooftop
1155 14th Street, NW
DNV's second Sunday Roast of the summer falls on the day before Independence Day. The party will feature a pig roast, pool access and music by DJ-$crilla from 5 pm to 10p m. Tickets are $40.
Independence Day Party at Lincoln
1110 Vermont Avenue, NW
Lincoln is your place for presidentially-themed fare before, during, and after the fireworks. The downtown restaurant will have an all-you-can-eat buffet with the likes of ribs and corn, and live music from 2 pm to 11 pm. Tickets are $35 for adults and $17 for ages 12 & under.
Independence Day Cruises
Odyssey: 600 Water Street, NW; Spirit: Pier 4, Water Street, NW
Catch the fireworks without the hustle and bustle on the Mall aboard the Odyssey or the Spirit. Both boat rides include drinks, food, and music. Tickets are $209.90 per person for the Odyssey; 169.90 per person for the Spirit.
3rd Annual Freedom Fest at Republic
6539 Laurel Avenue, Takoma Park, MD
Republic's annual Independence Day bash will feature over two dozen local beers on tap, including Denizens, Jailbreak, and The Brewer's Art. While you're drinking, enjoy bbq and live music from Rock-a-Sonics and Johnny Grave & The Tombstones on an outdoor stage. Access to an afternoon (11 am to 3 pm) or evening (3 pm 7 pm) of "free flowing" beer and a BBQ meal is $40. The whole day is $60.
Salamander Resort celebration and fireworks 
500 North Pendleton Street, Middleburg, VA
If you're opting for less crowded holiday festivities this year, head to Middleburg in Virginia's hunt and wine country for a more personal firework celebration. Enjoy BBQ, live music and family activities to keep the kids busy. Tickets are $65 per person.
Lakefront fireworks at Clyde's of Columbia  
10221 Wincopin Circle, Columbia, MD
Take a year off from the hectic fireworks at the Mall and head to Clyde's, which is setting off fireworks over Lake Kittamaqundi on July 4th. For $75 per adult, $40 per young adult (12 to 20 years old), and $20 per child, enjoy unlimited food, beer, and wine at the restaurant's pavilion between 5 and 10 p.m. Fireworks are scheduled to begin at 9:15 p.m.
Patio pig roast at 701
701 Pennsylvania Avenue, NW
If you're looking for something to do in between the parade on Constitution Avenue and the fireworks over the National Mall, the 701 patio is the place to go. Starting at 2 pm, you can pig out on a whole hog BBQ, served with classic sides such as loaded potato salad, cole slaw, baked beans, cornbread and more. All dishes are sold a la carte and range in price from $5 to $20.
Fourth of July Experience at Teddy & The Bully Bar
1200 19th Street
Wash down all-you-can-eat hot dogs, ribs and pulled pork with $5 Heavy Seas IPA and $8 cocktails at Teddy & The Bully from 2p m to 11 pm. Tickets are $35 for adults and $17 for 12 and under.
Hotdogs and hamburgers at Cafe Du Parc
1401 Pennsylvania Avenue, NW
Keep the Fourth simple with hotdogs and hamburgers from Cafe du Parc from noon to 8 pm. If you're on the move, opt for their $15 carry-out lunches, which include a grilled entree, coleslaw, chips and water. Those in need of a sweet treat can also pick up popsicles and homemade lemonade for $4.
Roof-deck barbecue at 1905
1905 Ninth St., NW
Hit the deck at this Shaw bistro and bar for an outdoor bash featuring local sausages, grilled portobellos, and a host of side dishes. Tickets are a flat $20 at the door, and include three items. Additional tickets will be available for extra beers and food.
Beer and BBQ at City Tap
901 9th Street, NW
Combine beer and barbecue at City Tap's third annual BeerBQ Battle. City Tap, 3 Stars Brewing, Evolution Brewing, and Three Notch'd Brewing will compete to see which brewery has the best cooking skills (according to guests). Tickets to the event are $20 and beers and cocktails are $5 each. If you want to take competition up a notch, enroll in the cornhole tournament. Winners will receive a City Tap giftcard and a swag bag. Up to 32 teams can sign-up between 11am and 1pm.
Wine coolers at Bar Dupont
1500 New Hampshire Avenue, NW
If you're craving wine for the Fourth, head to Bar Dupont for an array of "summer sparklers"– a refreshing mix of American bubbly and tropical fruit. Try the Sunset Beach, made from pineapple shrub and lilikoi juice, or the Baia de Sancho, with raspberry-infused pisco and cane sugar. The bar is also debuting $14 Gin Mare glass chillers to keep your drinks extra frosty.
Capitol City Brewing Company brews and 'cue
4001 Campbell Avenue, Arlington, VA; 1100 New York Avenue, NW, DC
Both of Capitol City's locations will be rolling out their kegs of Red Wheat and Blue, their signature American wheat ale made with raspberries and blueberries. The DC location offers $5 appetizers, and the Arlington location will be serving up barbecue ribs for adults and $1 hot dogs and burgers for kids. Members of the military receive 20 percent off.
Rooftop Party at The Observatory
1057 Jefferson Street, NW, DC
Independence Day (or rather, night) at the Observatory atop the Graham Georgetown is sure to be posh. The rooftop party will include hot dogs, snow cones, noisemakers, and Uncle Sam hats, as well as a prime place for firework watching. Tickets are $100 and the event goes from 7 pm to midnight.
Industry Night at Bar Deco
717 6th Street, NW
Head to the rooftop for dinner and drinks at Bar Deco. The venue is partnering with Closed Session to bring guests craft drinks, VIP bartenders, giveaways and free food from 5pm to 12am. Don't forget to take some time to notice the fireworks while you're partying.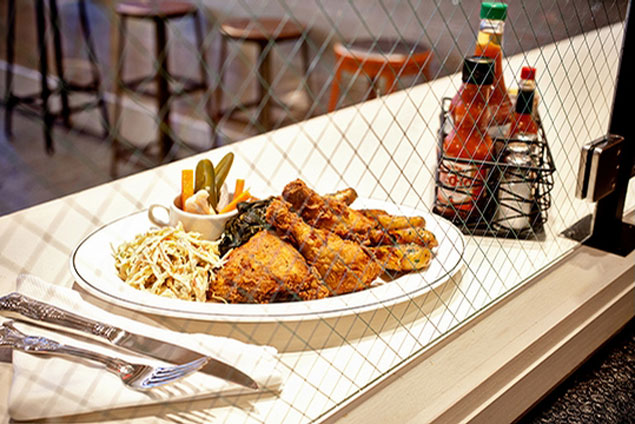 PICNIC BASKETS
Whether you're planning a feast to watch the fireworks on the Mall, or just spreading a blanket somewhere peaceful, restaurants offer picnics to-go all weekend long.
706 6th Street, NW
Don't go hungry while staking out a place to watch fireworks on the Mall. Order a picnic for two by July 3rd at 4 pm from Penn Commons. The meal includes fried chicken, potato salad, sweet corn chow-chow and a sweet dessert in the form of a peach pie. Baskets are $17.76 a pop and can be picked up from 11 am to 9 pm on the Fourth.
277 S. Washington St., Alexandria
Society's Fair BBQ bag for four ($55) comes with cookout essentials like barbecue chicken, buttermilk biscuits, potato salad, and lemonade. Reserve online or call for availability. Bags can be picked up at the Alexandria store from starting Friday, July 1 after noon.
3222 M St., NW
Stop by this Georgetown bocce and bowling restaurant for a game and some takeout before watching the fireworks from the waterfront. The Italian fare includes sandwiches and party platters like Italian grinders and a truffle mac and cheese.
414 H St., NE
Take your Fourth of July feast to go with a fried-chicken bucket ($40) from Boundary Road. The picnic-ready package includes eight pieces of fried chicken, watermelon salad, potato salad, and cookies for four. Call 202-450-3265 to place your order, then pick up at the restaurant on the Fourth.
1308  G St., NW; 7511 Leesburg Pike #103, Falls Church, VA
Stay patriotic with Astro Doughnuts' picnic basket. The bundle includes a half dozen red-white-and-blue doughnuts, eight pieces of fried chicken, and two orders of tater tots and coleslaw ($45). Orders must be placed by the end of the day on July 3rd and baskets can be picked up from 11am to 5pm on G Street, and 11am to 7 pm in Falls Church.
1612 14th Street, NW
Baskets at Pearl Dive include six pieces fried chicken, three jalapeno-corn muffins, spicy slaw, potato salad, three blueberry hand pies, and patriotic cookies. Each basket is $35.
963 Palmer Alley, NW
Not a picnic basket per se, but RareSweets chef Meredith Tomason is preparing several First Lady-themed desserts for Independence Day. The lineup includes Lady Bird Johnson's lemon bars, Mamie Eisenhower's chocolate fudge, and Hillary Clinton's oatmeal chocolate chip cookies. Place your orders by June 28 at 5pm, and keep in mind that the bakery will be closed on the Fourth.
Jumbo sandwiches Carmine's
425 7th St., NW
Get more bang for your buck at Carmine's this Fourth. For $10, you can get a sandwich big enough for two and a water bottle at the Italian restaurant. Pick one up on your way to the Mall between 11 am and 10 pm.
Asado at Del Campo
777 I St., NW
Asado to go is available at Del Campo throughout the summer. Packaged options serve up to four, but you can order a la carte, too. Make sure to call 24 hours in advance, and pick up Fourth of July orders between 9 and 11 am.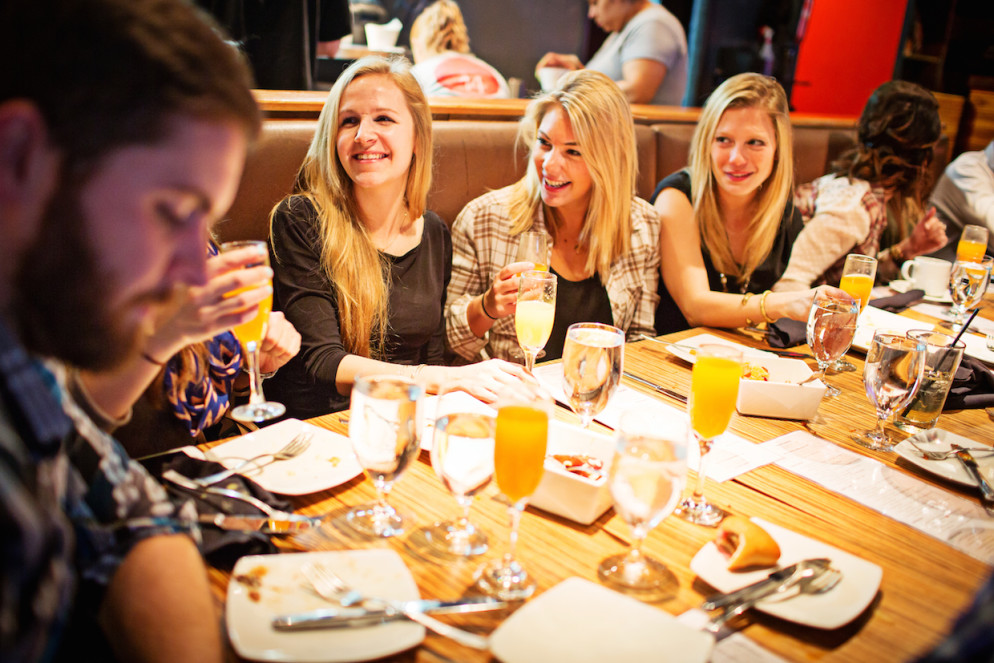 BRUNCHES
Nothings says "holiday weekend" like Monday mimosas. All of these restaurants are serving brunch on Monday, July 4th in addition to the regular weekend lineup.
1926 14th St., NW
Start celebrating early with Tico's Latin-infused disco brunch from
10 am to 3 pm
. You can sip  $25 bottomless mimosas and bloody Marys while enjoying the best tunes from the seventies.
Various locations
All five of EatWell DC's restaurants serve brunch on July 4, including The Pig, Commissary, Logan Tavern, and Grillfish. Offers vary by location, from the $35 brunch package at Grillfish (appetizer, entrée, dessert, and choice of a mimosa or bloody mary) to a swine-centric barbecue menu at The Pig.
Various locations
Each of Richard Sandoval's DC establishments offer unlimited brunch for patriotic patrons, including Masa 14, both El Centro D.F. 14th Street and Georgetown, Toro Toro, and Zengo. The $39 feast ($35 at El Centro's locations) includes all-you-can-drink cocktails, wine, and beer, and never-ending dishes. Flavors vary by eatery, from Latin-Asian-style drinks and eats at Masa to Pan-Latin fare at Toro Toro.
1622 14th Street NW; 3310 Wisconsin Avenue NW
Mix the best of the U.S. and Spain with a tapas brunch at Barcelona from 11 am to 4 pm. The menu includes pulled pork, fried chicken and mushroom fideos. Make it boozy with sangria and negronis.
Patriotic sangria at Boqueria
1837 M St.,, NW
Bottomless sangria brunch gets an Independence Day makeover at Boqueria. Enjoy pitchers of the red, white, and blue drinks while feasting on unlimited tapas and other brunch specials.