Erin McKenzie and Kristen Downs' wedding was packed with personality, from the sweet expressions on their faces to their mural portraits to the dinosaur cake toppers. Take a peak at their fun pop-up wedding below in the photos by Maggie Gaudaen of Pop! Wed Co.
Like B&G on Facebook | Follow B&G on Instagram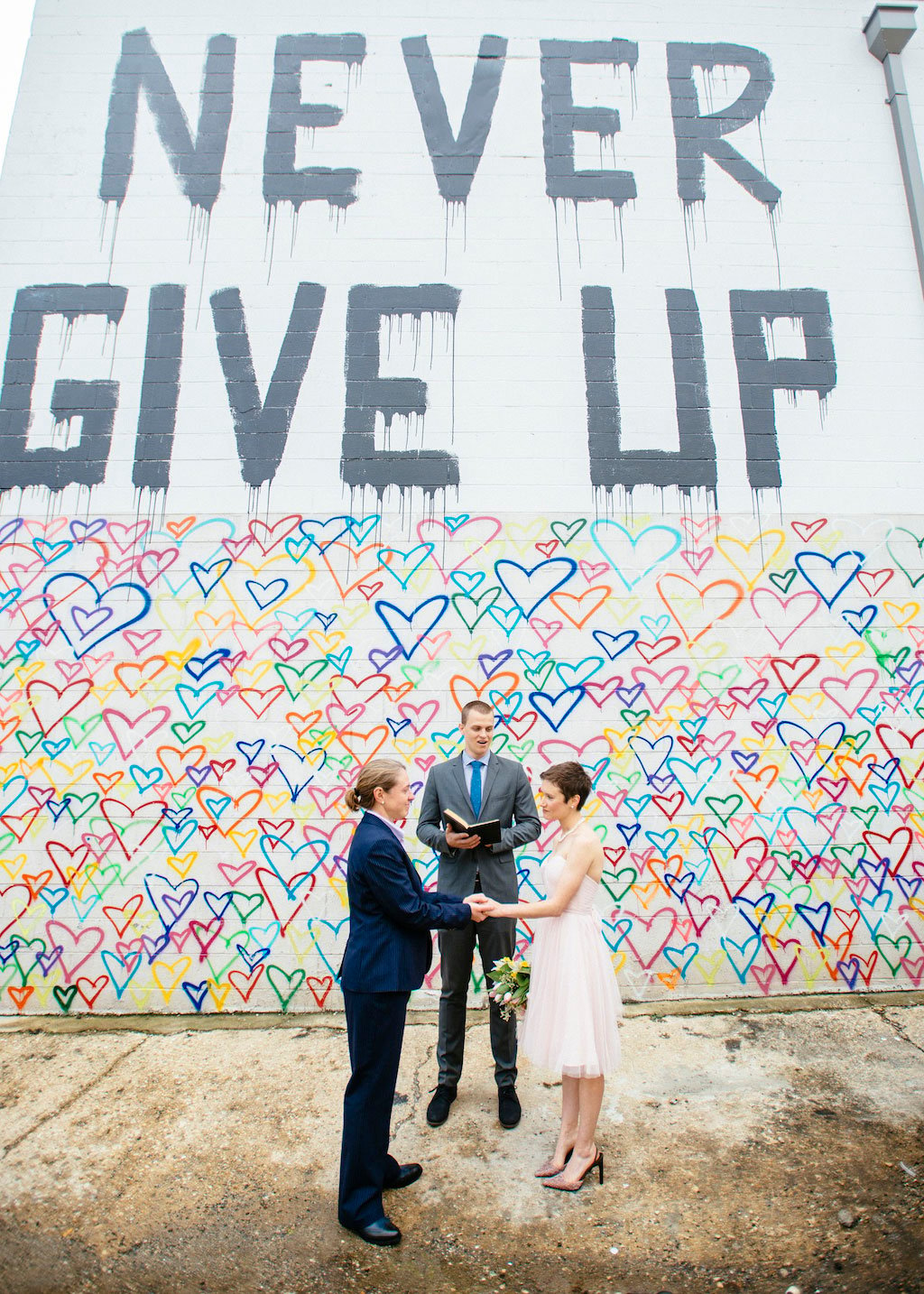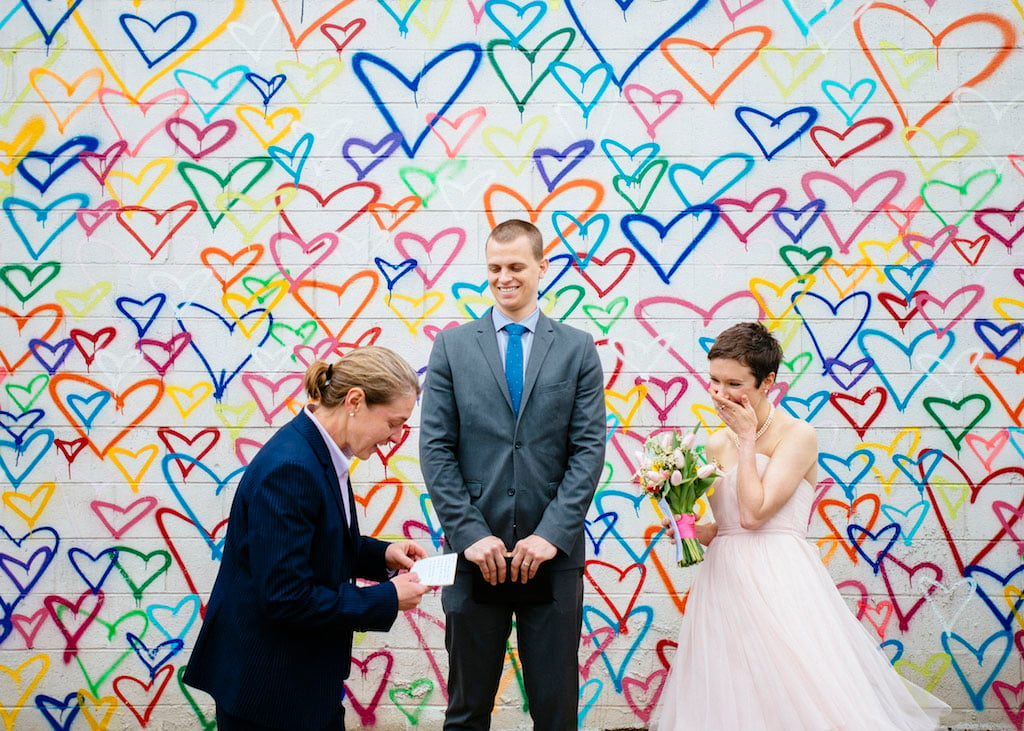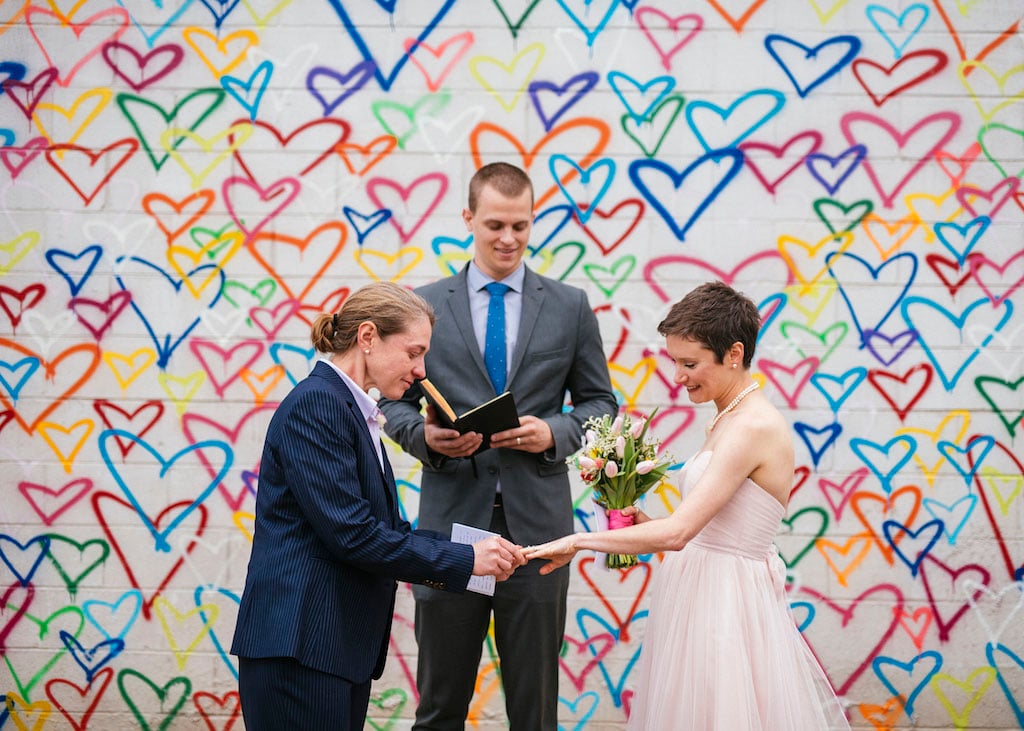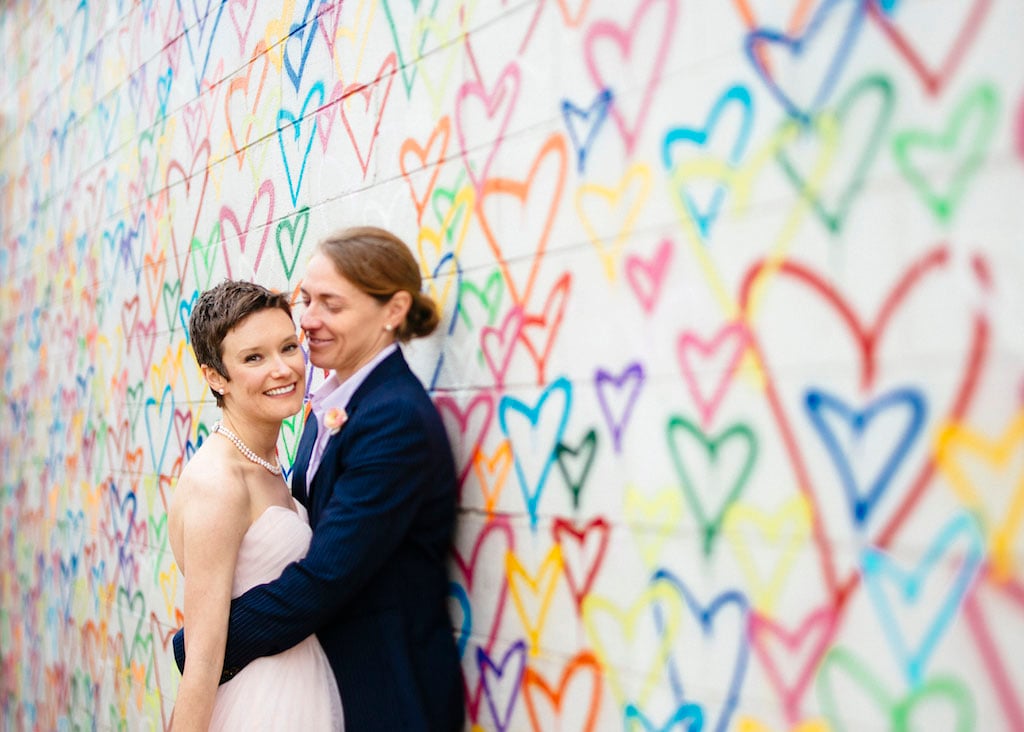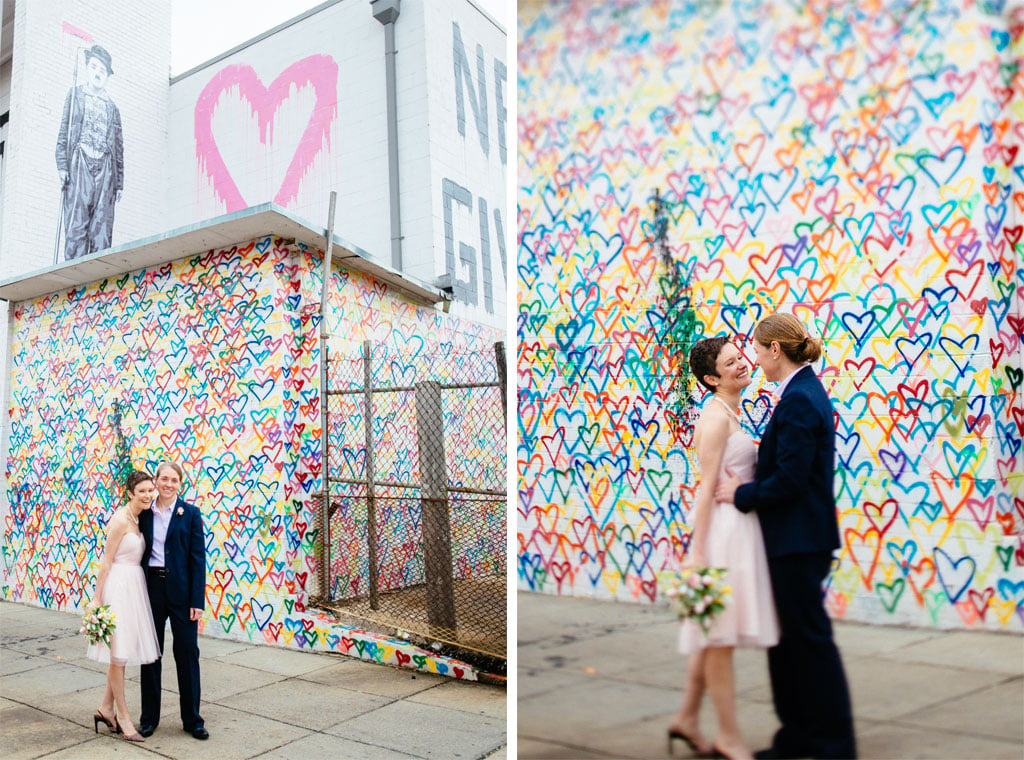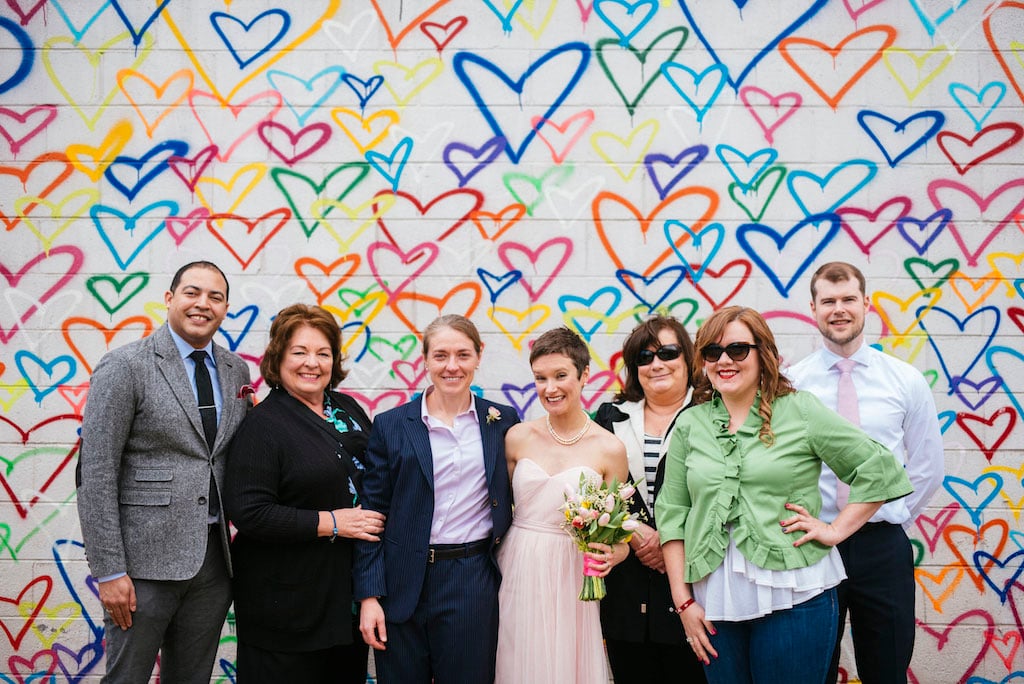 Kristen and Erin's first interaction wasn't over the happiest of topics. When they first met, they were discussing a homicide. Kristen, a police sergeant, brought the homicide case to Erin, a felony prosecutor, and said, "This is the worst case I've ever put together. I won't talk badly about you when you have to settle it." But when Erin started looked through the case, she saw how dedicated Kristen had been to solving it. "She wasn't just really, really good at her job. She had this unbelievable tenacity about her and this brain that never quit," says Erin. "I thought she was the best cop I'd ever met. Several years later, I still think that." For her part, Kristen was equally impressed with Erin: "Her brain and heart filled the room. I was blown away by how much of a bulldog she was," says Kristen. "She also had some killer legs."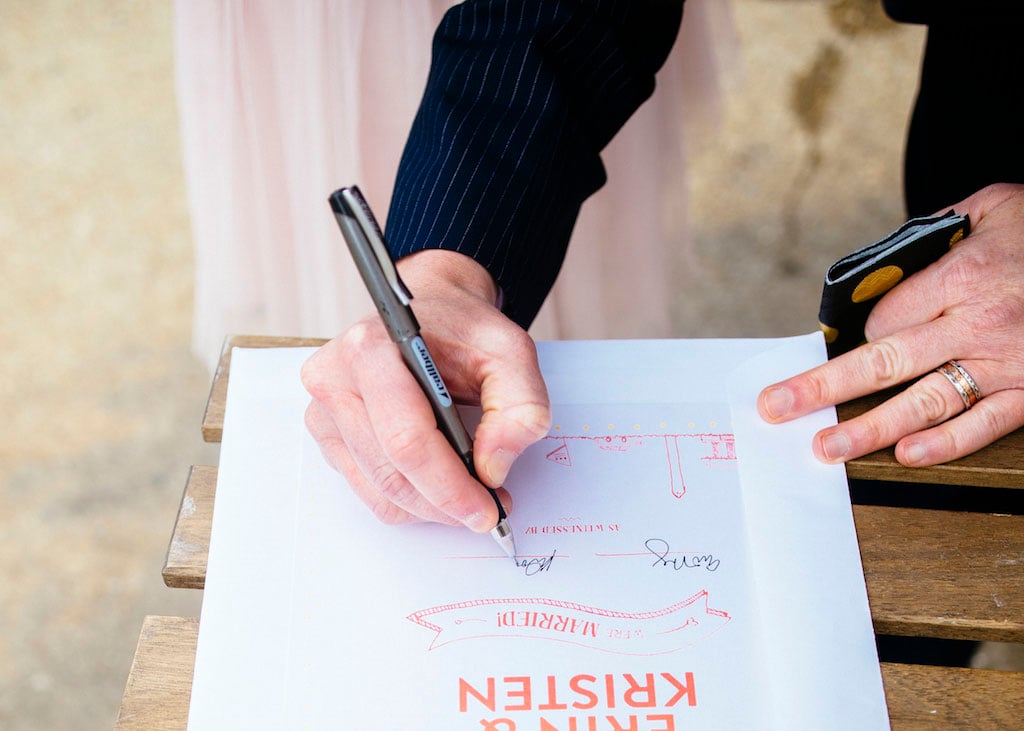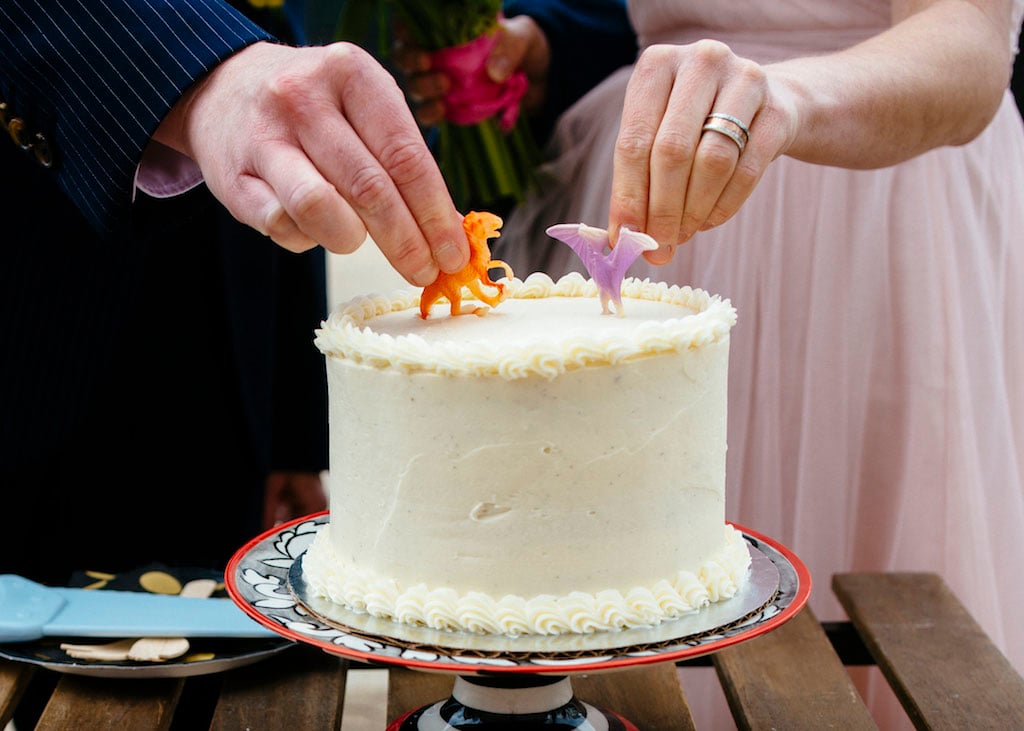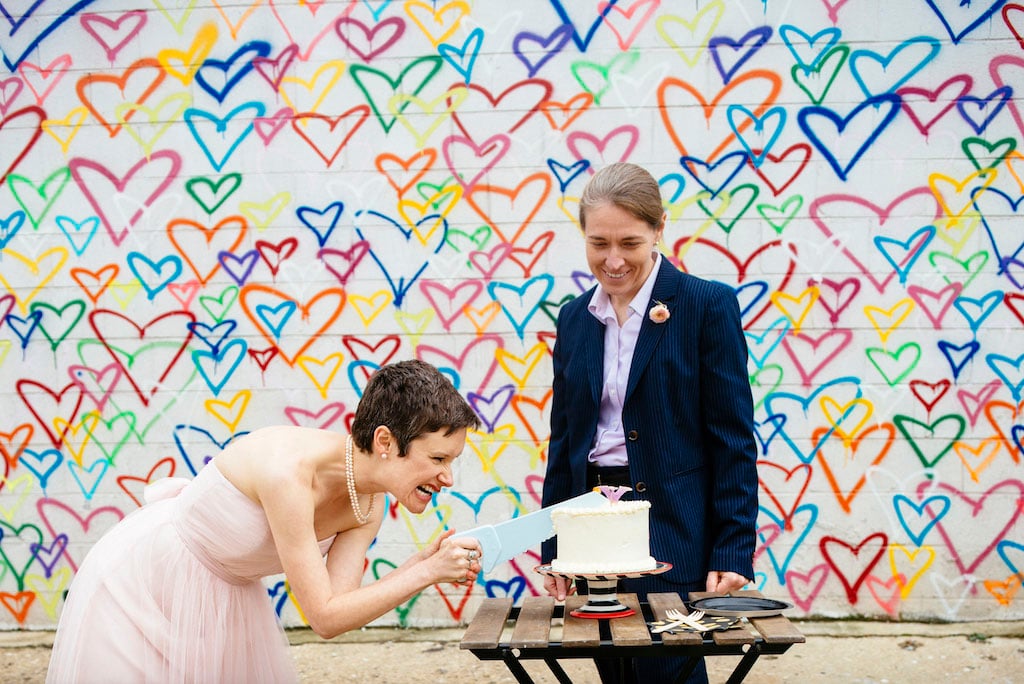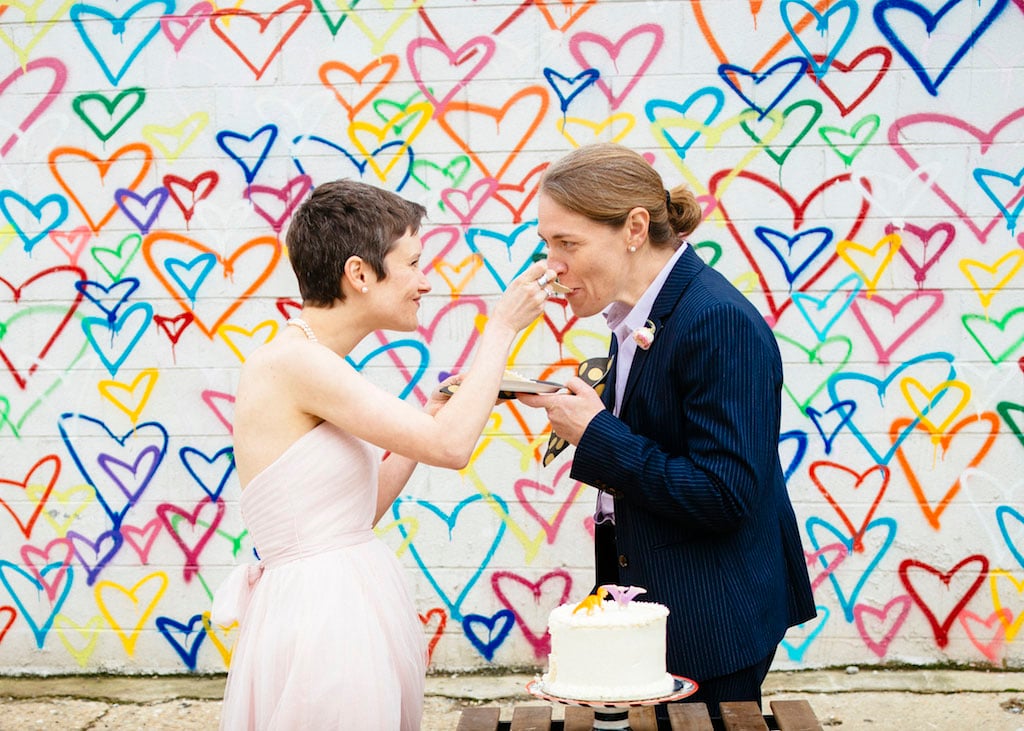 As the feelings of affection grew between them, so did the possibility of marriage. Rather than a formal proposal, Erin says they approached the subject "more like a lengthy (year-long) negotiation." A little over eight months later, they planned a pop-up wedding with the help of Maggie Gaudean of Pop! Wed Co.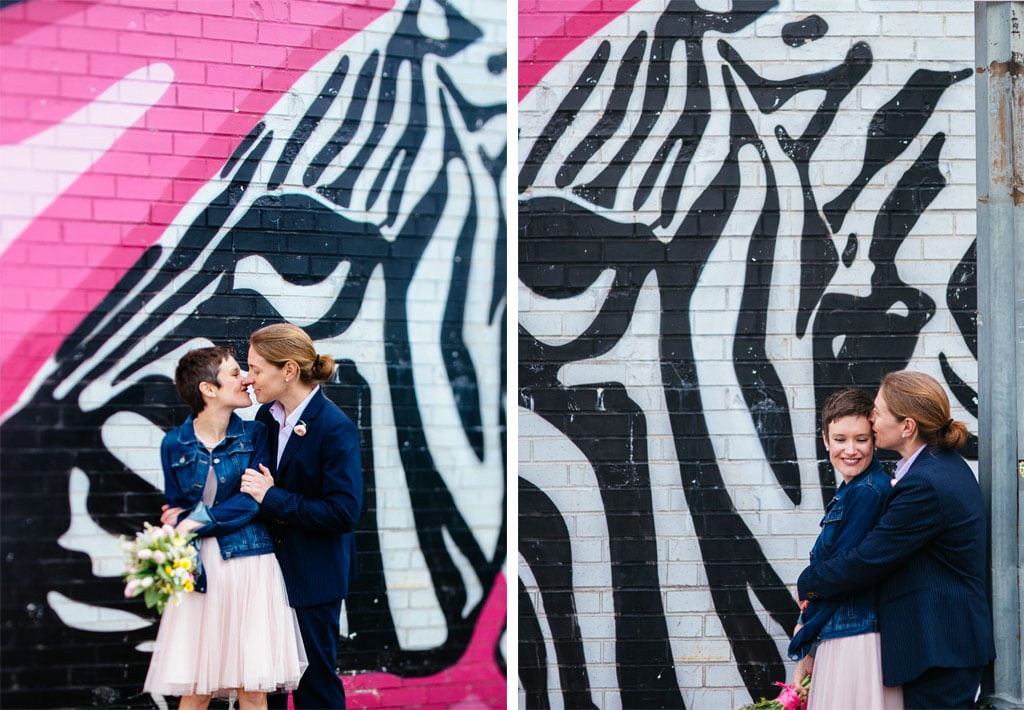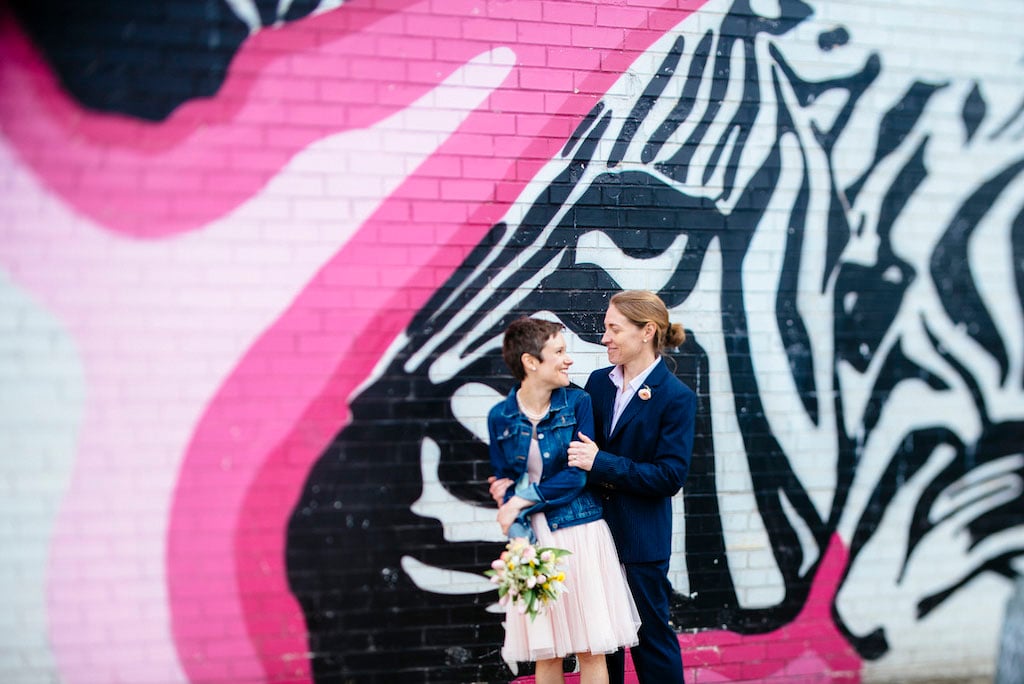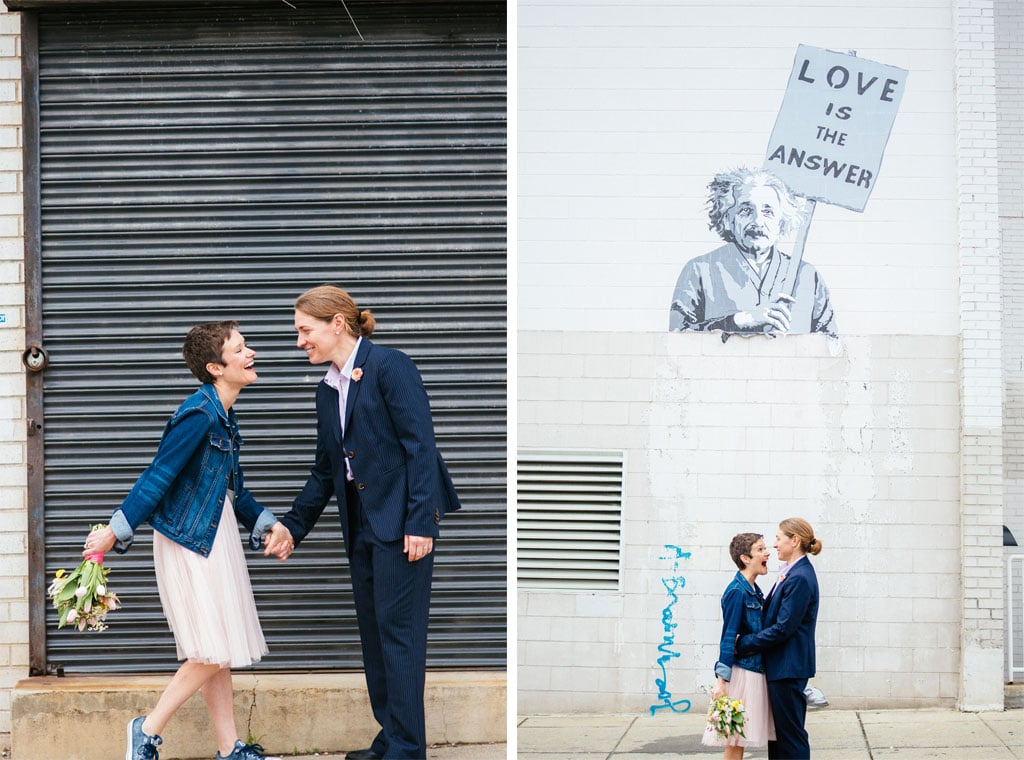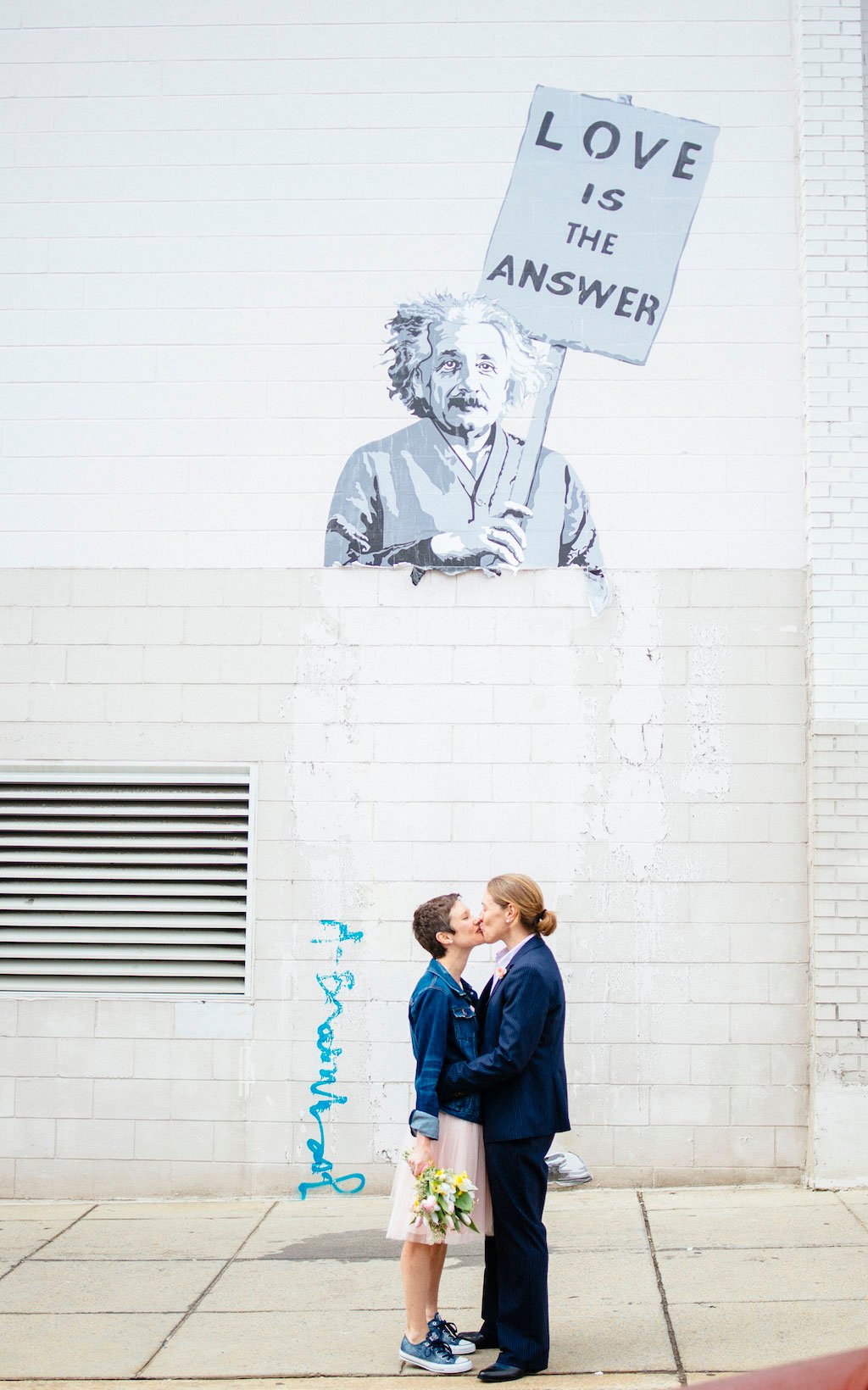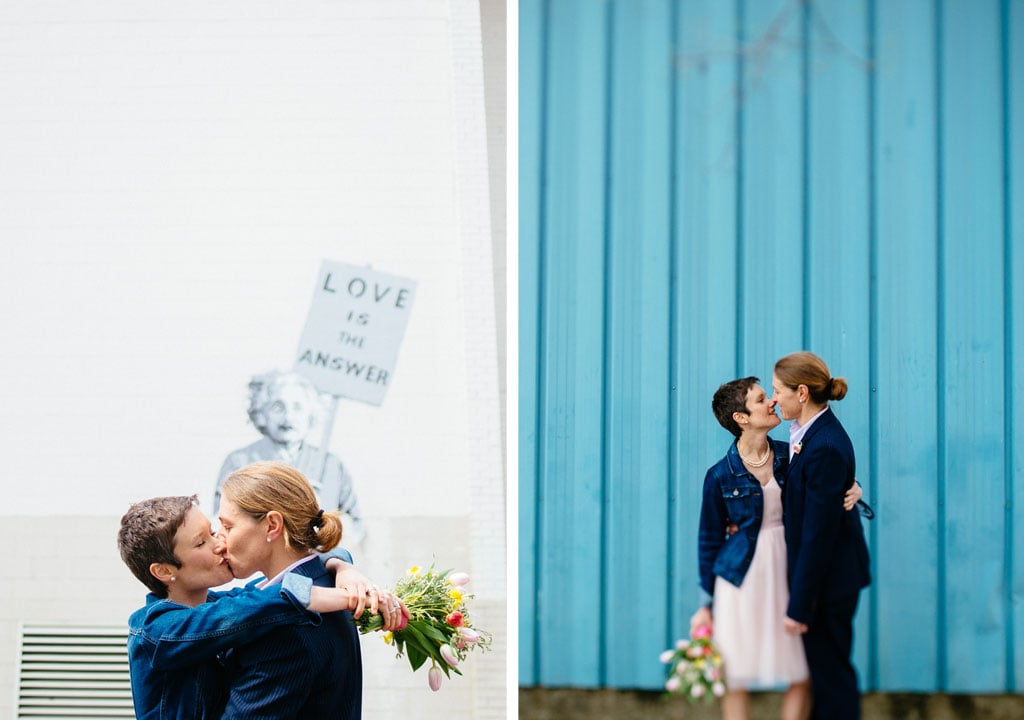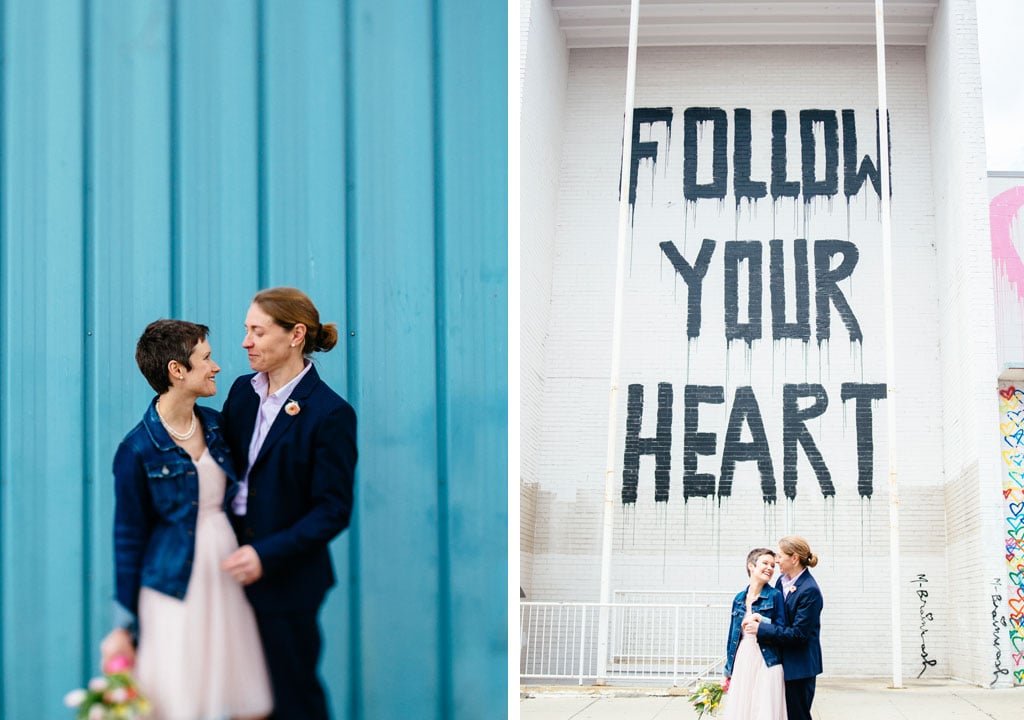 Their intimate ceremony took place in front of the multi-colored "Never Give Up" heart mural outside Union Market. After exchanging vows, the pair cut into a dinosaur-topped cake, with a pterodactyl for Erin and a tyrannosaurus rex for Kristen.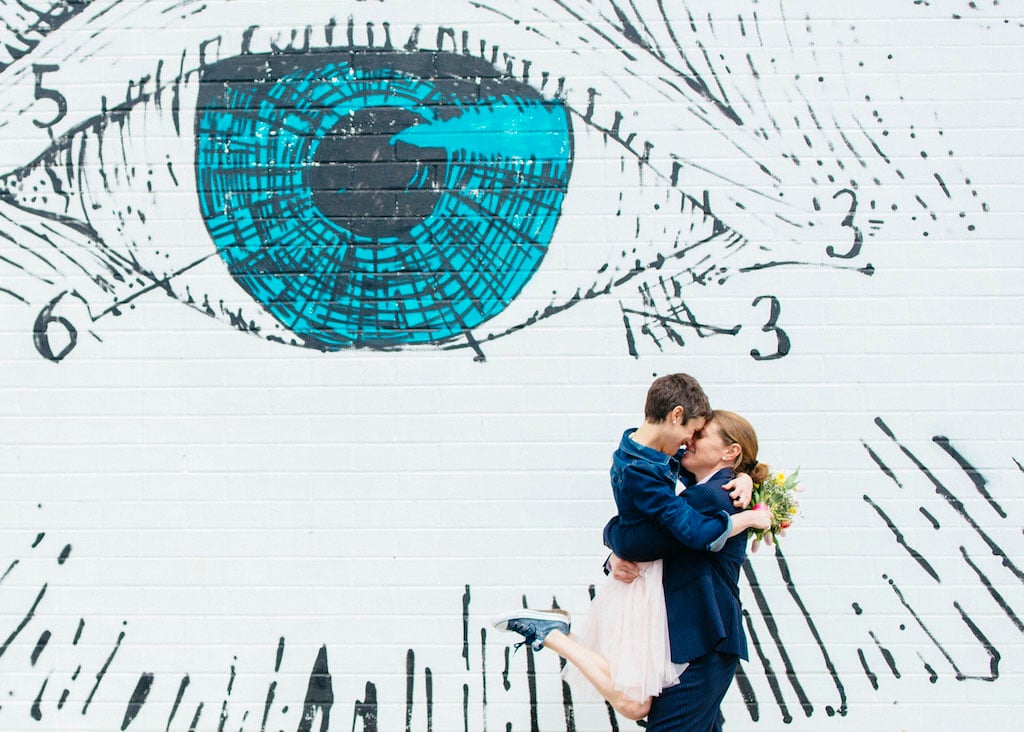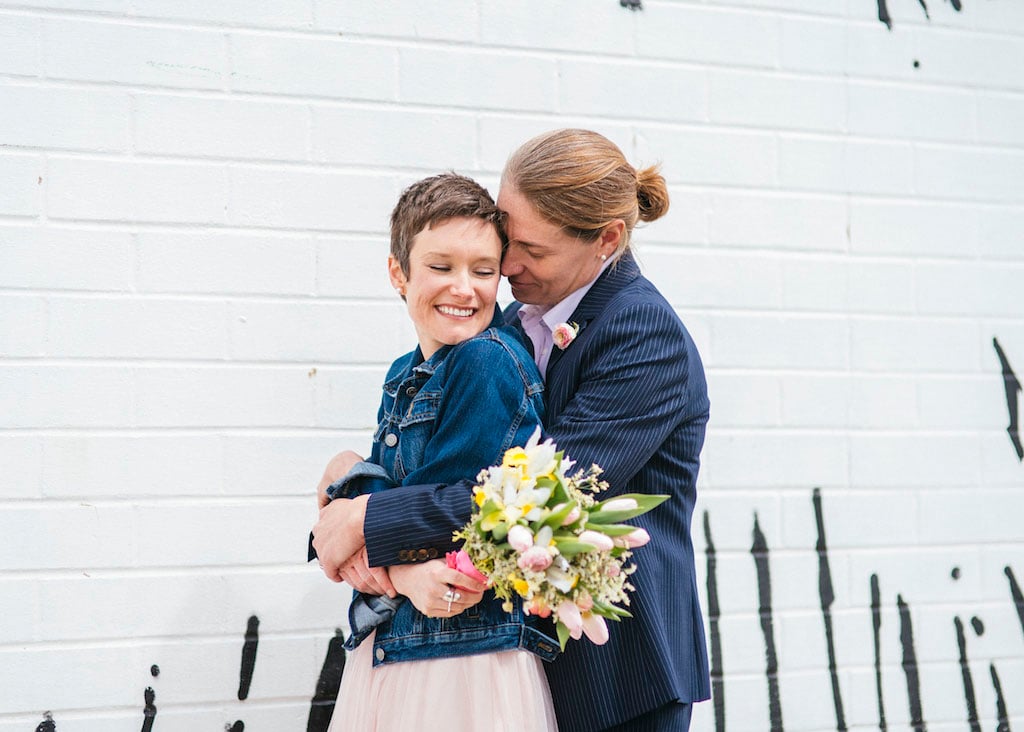 They posed for photos in front other fun murals, then the pair went out for Cuban food and spent the night at the Melrose Hotel. After telling the hotel the occasion of their visit, the newlyweds returned to their room to find it stocked with strawberries, macaroons, and a bottle of Champagne to celebrate their marriage.
VENDORS
Ceremony Location: Union Market | Photographer: Maggie Gaudaen of Pop! Wed Co. | Officiant: Steven Gaudaen of Pop! Wed Co. | Erin's Dress: Jenny Yoo, BHLDN | Kristen's Suit: Brooks Brothers | Makeup Artist: Erin's sister Morgan | Florist: Erin's friend Ryan | Transportation: Uber
Looking for a photographer to capture your big day? Here's a link to the area's best wedding photographers.