Music City
Although country music is in the air, all kinds of music are written, recorded, and performed in Nashville, where there's a collaborative |spirit—and a lack of pretense—that we can only wish existed in Washington.
Among the more than 150 options for live mu-sic are dozens of honky-tonks that pipe the mu-sic out front. Walk Lower Broadway and its side streets, listen for a bit, and decide where to pop in. Stay five minutes or all evening—there are no cover charges. Most are open 10 am to 3 am and serve food, making live music a lunchtime option. The Nashville Convention & Visitors Corp. has a free app with live music searchable by date, genre, and neighborhood.
Garth Brooks and Taylor Swift are two of the many singer/songwriters who have been discovered at the Bluebird Café (4104 Hillsboro Pike; 615-383-1461), in a nondescript strip mall on the outskirts of town. Available only a week ahead, tickets are tough to come by, but on Sundays and Mondays the 90 seats are first come, first served. For just as authentic an experience without the stress, try the Listening Room (217 Second Ave. S.; 615-259-3600), 3rd and Lindsley (818 Third Ave. S.; 615-259-9891), or the Station Inn (402 12th Ave. S.; 615-255-3307).
Every year, hundreds of thousands fill the pews at the Ryman Auditorium (116 Fifth Ave. N.; 615-889-3060). Built in 1892, this for-mer tabernacle is called the mother church of country music, thanks to its history and renowned acoustics. The Grand Ole Opry is one of about 200 annual performances. Amy Grant and Vince Gill are on the current calendar.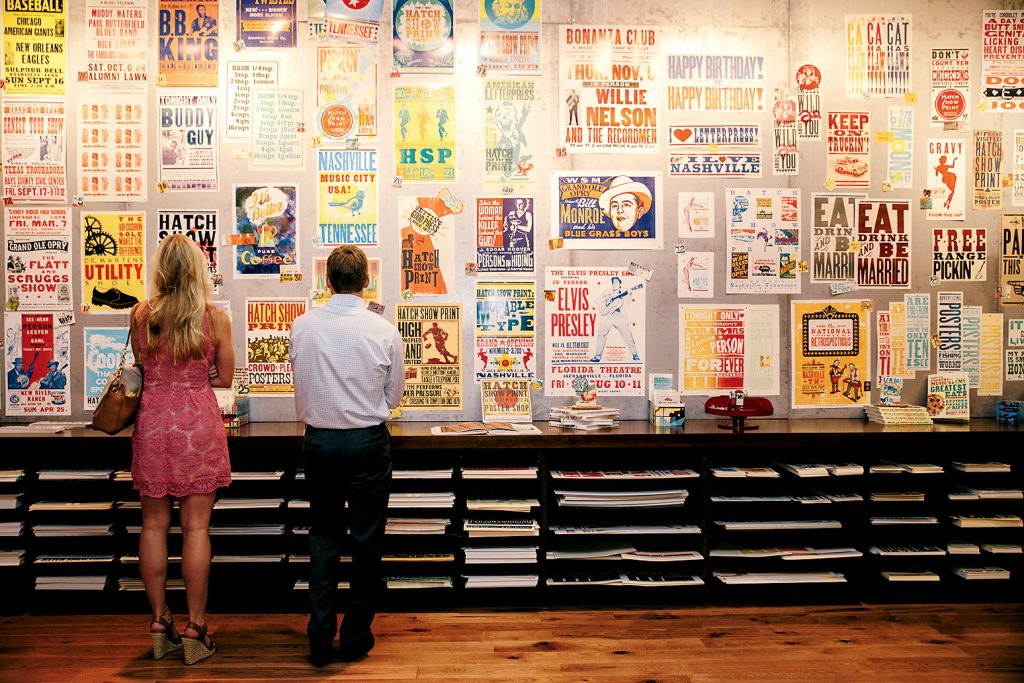 All-American Retail
Just as Washington isn't just about politics, Nashville isn't entirely about music. Yet creativity begets creativity. Evidence can be found in the non-chain shops clustered in the 12South neighborhood (Gale to Wedgewood and 8th to 12th aves. S.), which is a little bit Georgetown, a little bit Adams Morgan. Draper James (2608 12th Ave. S.; 615-997-3601), a new store from Reese Witherspoon—who was raised in Nashville and owns a house there—graces wardrobe and home with sweet Southern style. Browse White's Mercantile (2908 12th Ave. S.; 615-750-5379), a general store owned by Hank Williams Jr.'s singer/songwriter daughter Holly. Gwyneth Paltrow and Sheryl Crow are fans of the jeans at Imogene & Willie (2601 12th Ave. S.; 615-292-5005). Often spotted in films and TV shows, Judith Bright Jewelry (2307 12th Ave. S.; 615-269-5600) is handmade with semiprecious stones, sandalwood beads, and various metals.
About two miles away on the same street, Two Old Hippies (401 12th Ave. S.; 615-254-7999) has 8,000 square feet of cool apparel, accessories, rock 'n' roll memorabilia, and guitars. The co-owner developed his own boutique guitar brand, Bedell, as a teen in the mid-'60s. Because this is Nashville, they host live music five nights a week.
Music and advertising merge at Hatch Show Print (224 Fifth Ave. S.; 615-256-2805), a letterpress shop founded in 1879. Posters are still made by hand with more than a century's worth of wooden block letters and images.
Dine Upscale or Down-Home
Margot McCormack, called the Alice Waters of Nashville by Time magazine, gets much of the credit for Music City's food scene. One of her two restaurants, Marché Artisan Foods (1000 Main St.; 615-262-1111), is repeatedly voted best brunch in town. Acclaimed chef Sean Brock opened his first Husk outside Charleston. Husk Nashville (37 Rutledge St.; 615-256-6565) is true to the original's modern Southern cuisine and has an antique-bourbon program. Rustic Italian meets the South at City House (1222 Fourth Ave. N.; 615-736-5838), whose chef/owner, Tandy Wilson, won the James Beard Award for Best Chef of the Southeast this year.
Along with DC's Rose's Luxury, the Catbird Seat (1711 Division St.; 615-810-8200) is among the 13 hardest reservations to land in America, according to Vogue. It's worth the trouble for the Asian-influenced, seafood-dominated multi-course experience—set to a disco-funk playlist that sharpens the synergy between the 22 diners and charismatic chef Ryan Poli and his talented team inside the U-shaped bar.
"Meat and three," featuring Nashville hot chicken and the ubiquitous biscuit, is unapologetic comfort food. For decades, people have lined up outside Arnold's Country Kitchen (605 Eighth Ave. S.; 615-256-4455), a James Beard Award winner, for meat—or fish—and three sides. For buttermilk-soaked, cayenne-rubbed, deep-fried Nashville hot chicken, choose among a range from "Southern" (no heat) to "shut the cluck up!" at Hattie B's (112 19th Ave. S.; 615-678-4794). To skip the Georgetown Cupcake–length lines, order carryout and picnic elsewhere. Also expect lines at Biscuit Love (316 11th Ave. S.; 615-490-9584), a nominee for Bon Appétit's Best New Restaurants of 2015. It started as a food truck.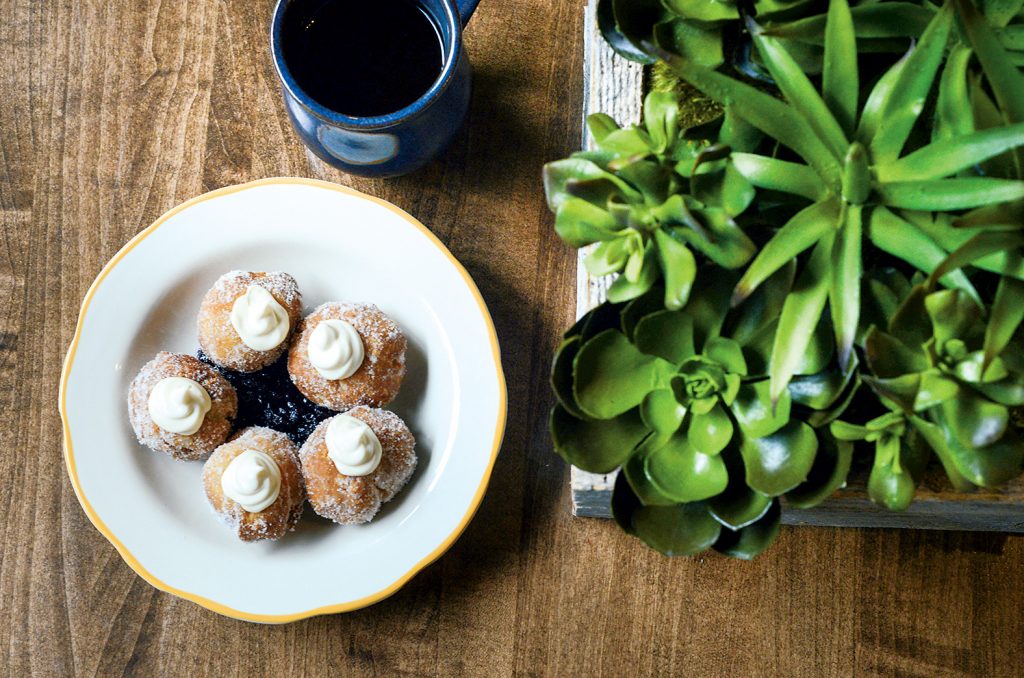 Museums With a Soundtrack
The Country Music Hall of Fame and Museum (222 Fifth Ave. S.; 615-416-2001) is a Smithsonian-quality enterprise, educating visitors about the influence of country on other musical genres. The permanent exhibit "Sing Me Back Home" journeys from country's pre-commercial roots to today's songs and stars. Weekend mornings, hear songwriters perform and instruments demonstrated. Through this museum, you can book a visit to Music Row's Historic RCA Studio B (1611 Roy Acuff Pl.; 615-416-2001), where Elvis, Dolly, and scores of others recorded hits.
Also downtown are the reflective Johnny Cash Museum (119 3rd Ave. S.; 615-256-1777) and fun George Jones Museum (128 Second Ave. N.; 615-818-0128).
Man on the $20 Bill
Whatever their opinion of his administration, presidential scholars would tell you Andrew Jackson was a badass. He lived with a bullet near his heart—and chronic pain—for almost four decades after killing a noted marksman in a duel sparked when a rival horse breeder insulted Jackson's beloved wife. Jackson's Hermitage (4580 Rachel's La.; 615-889-2941) was home from 1804 until his death in 1845. Check for evening tours by lantern light.