Sophia Lalani and Ali Cumber met as kids at summer camp. Decades later, they reconnected while working abroad in Asia and the Middle East, eventually moving back to the US and settling in DC where Ali is an executive at KPMG and Sophia works as a Defense and Foreign Policy Advisor to U.S. Senator Cory Booker. The couple's wedding was a beautiful two-day affair, kicking off with a bright, lavish Sangeet followed by a classic Nikah ceremony beneath cherry blossoms. Check out the pictures below, shot by Michael Connor, Andrew Harnick, and Lawrence Jackson of Connor Studios.
Like B&G on Facebook | Follow B&G on Instagram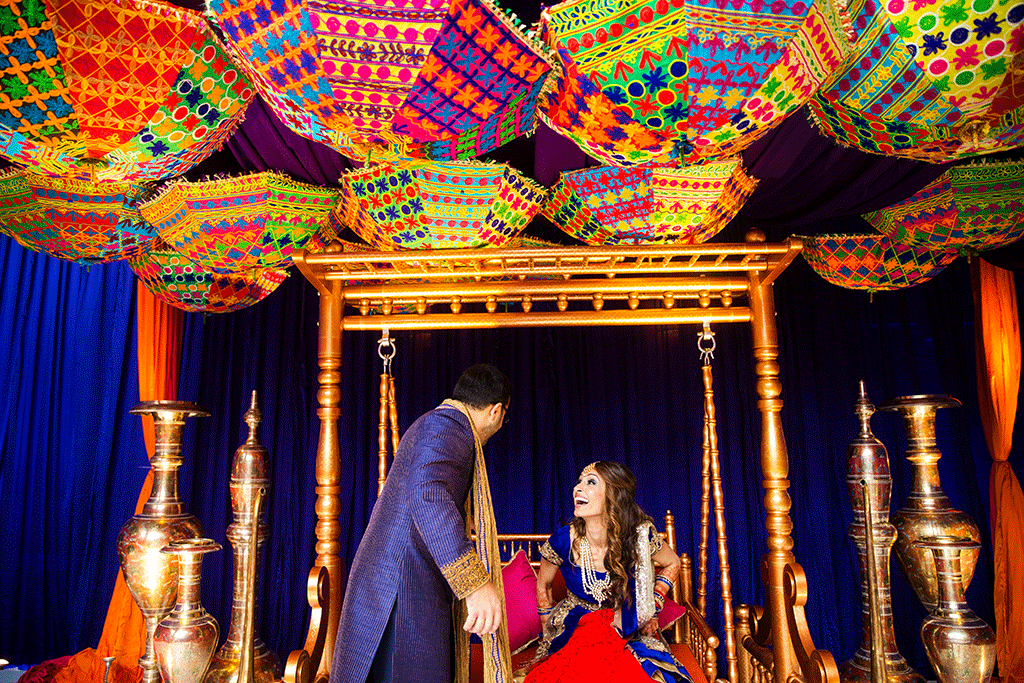 Ali's and Sophia's story began in 1995 when they were just 10 and 11. They met at a sleepaway summer camp and quickly became each other's best friend and confidante. After camp ended, they stayed in touch for years as pen pals, but eventually lost touch. Years later, fate brought them together: Sophia was on spring break visiting a cousin in Dubai, where Ali was living and working at the time, and they met for brunch to catch up. When Sophia eventually graduated and began working in Pakistan, she would take regular trips to Dubai. The two began exploring a relationship. For their first date, they met up in Doha, Qatar, where they walked the city's open-air market Souq Waqif and ate long, leisurely meals in local restaurants.
When Ali began planning his proposal, he knew he had to do something over-the-top. With Sophia's love for maps and urban planning in mind, he arranged an elaborate tactic to lure her into the Map Room at the Carnegie Library without raising any suspicions. A friend of Ali's worked at Bloomberg News. She put him in touch with Bloomberg's Director of Special Events, Megan, who quickly got on board with the plan. Megan arranged to send a fake invitation for a Bloomberg Policy Roundtable to Senator Booker's Chief of Staff (and Sophia's supervisor) Matt. Matt, also in on the gambit, proceeded to forward the invitation to Sophia, asking her to attend on his behalf. The ploy paid off: Sophia showed up to the Map Room expecting an in-depth policy discussion. Instead she found her partner Ali, down on one knee and surrounded by 19 photographs of the two of them together in different stages of their life and relationship.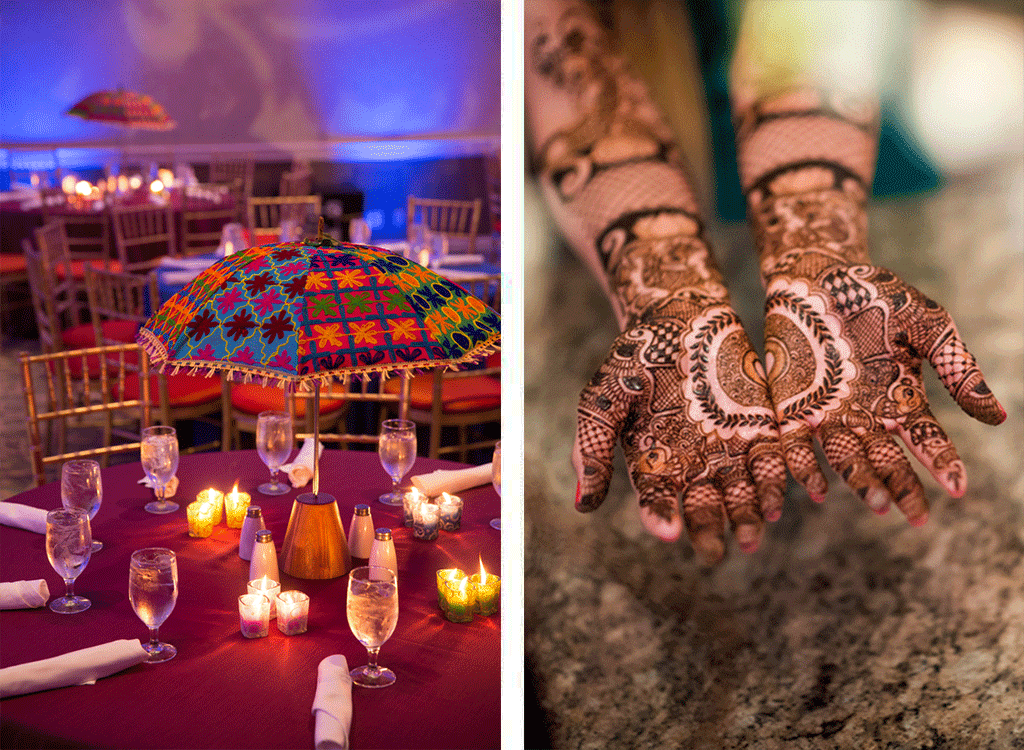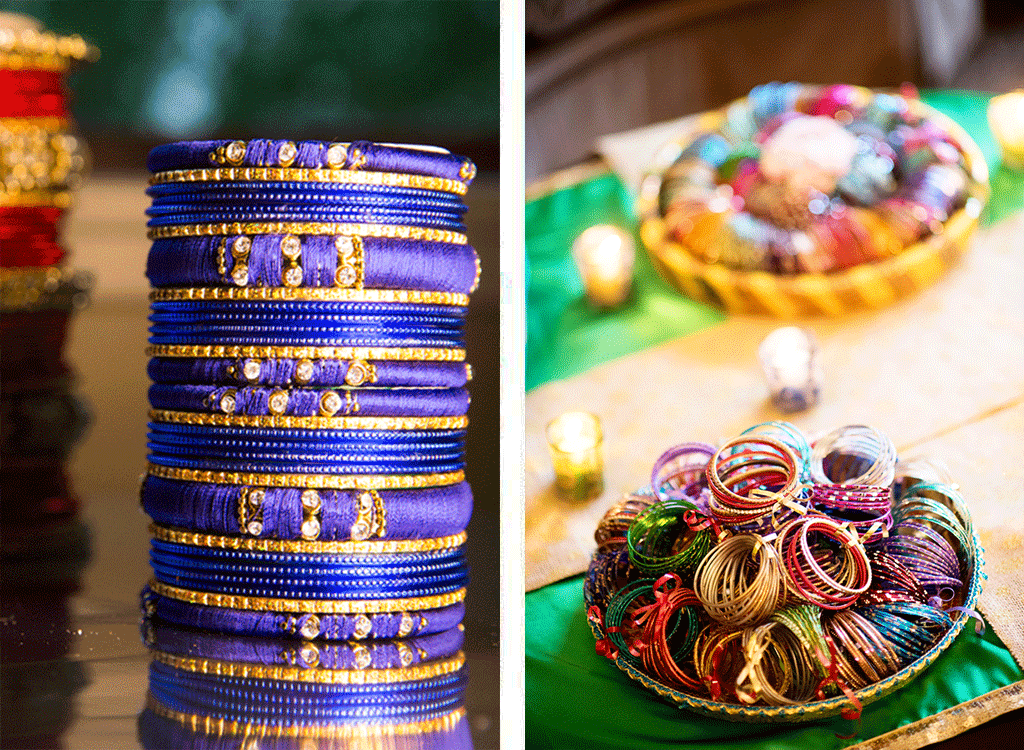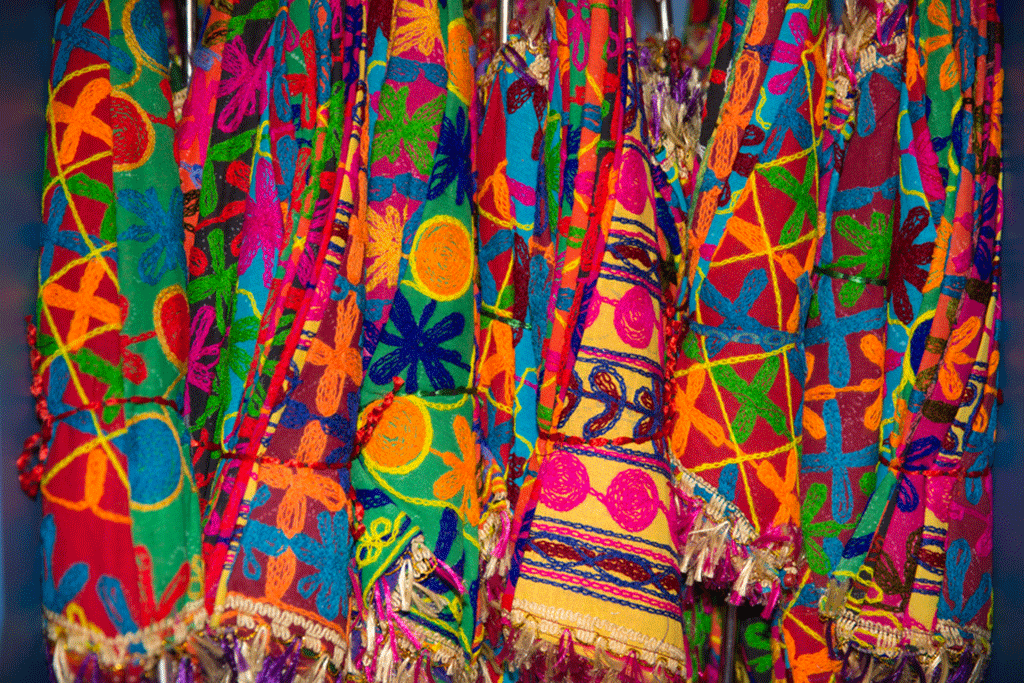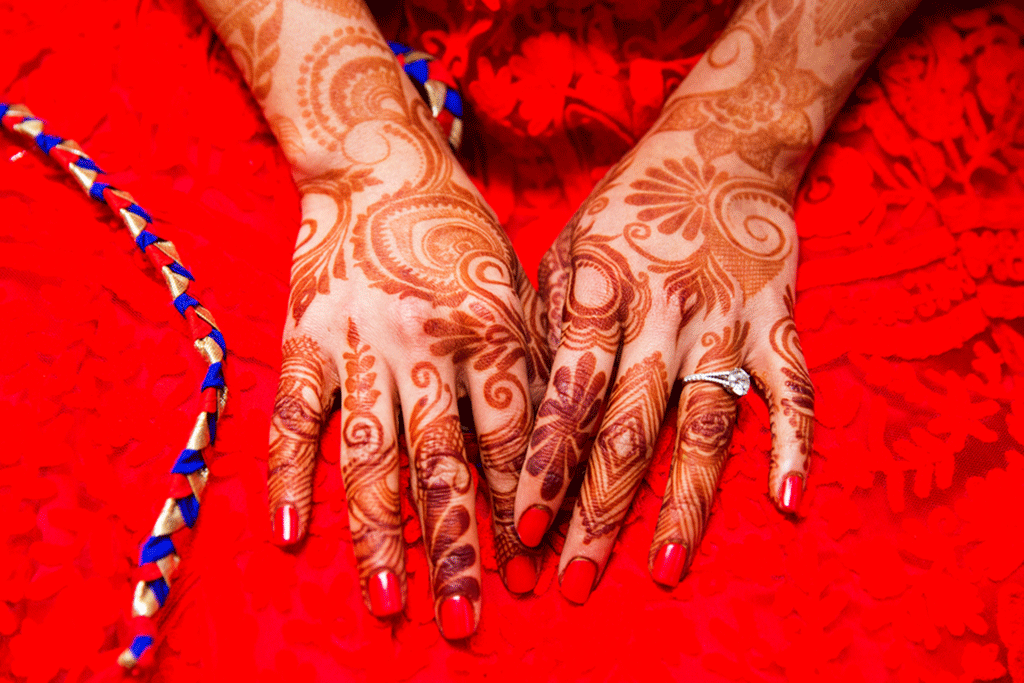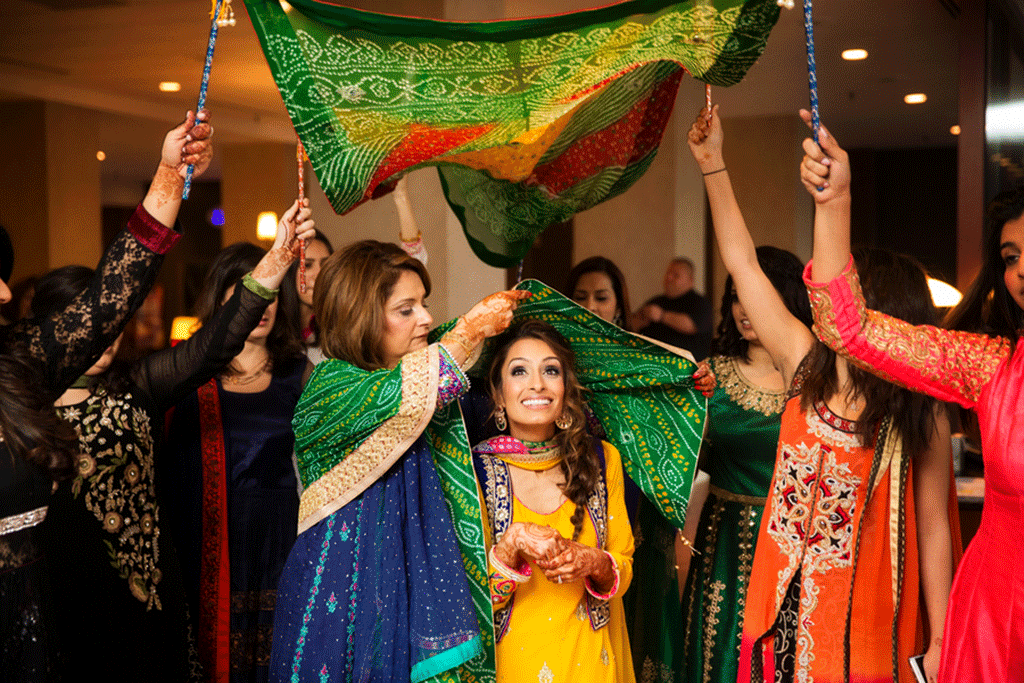 For the wedding, Sophia and Ali threw a colorful Friday-night Sangeet at the Omni Hotel in Charlottesville, a celebration marked by over a hundred intricately decorated umbrellas that came all the way from India. Sophia had beautiful henna designs done along her hands, arms, and feet and the couple watched the celebration from a golden bench swing, stationed beneath a canopy of neon umbrellas.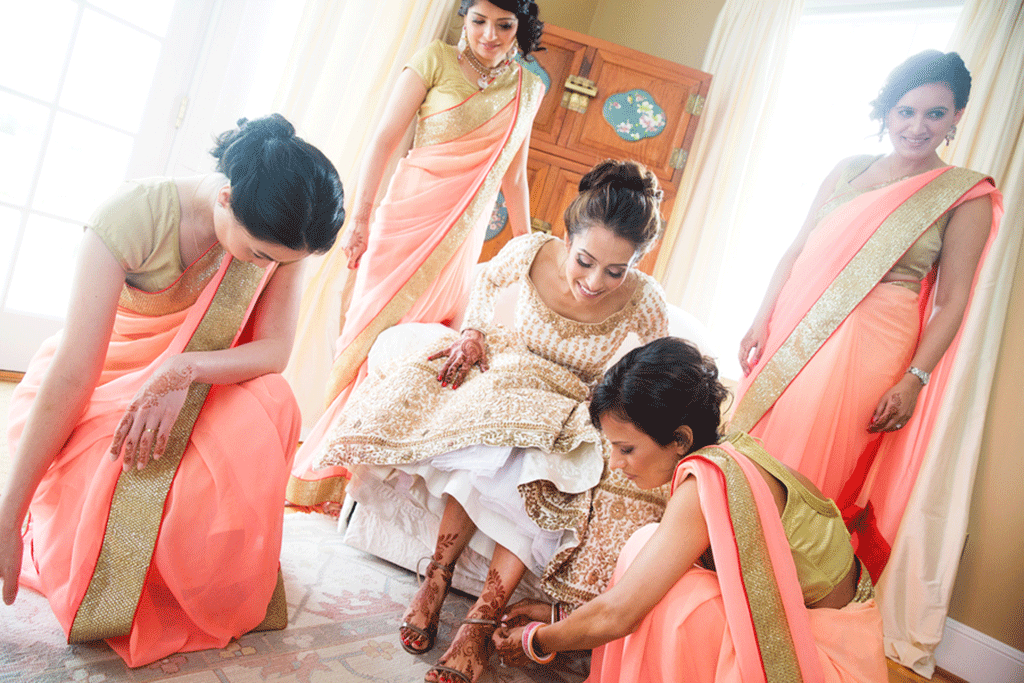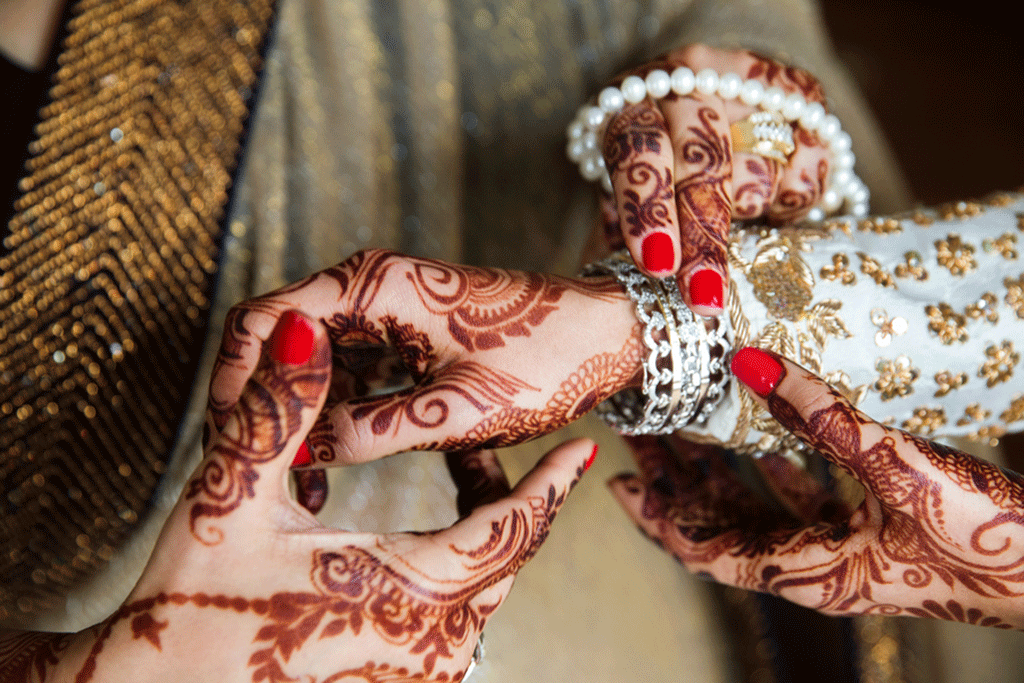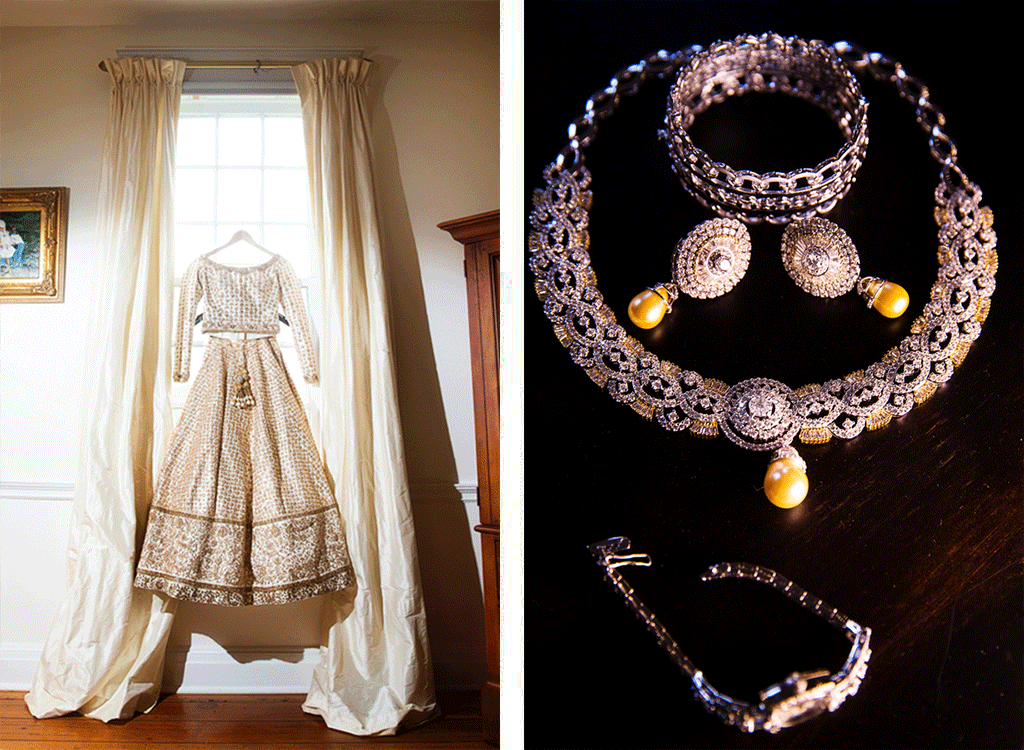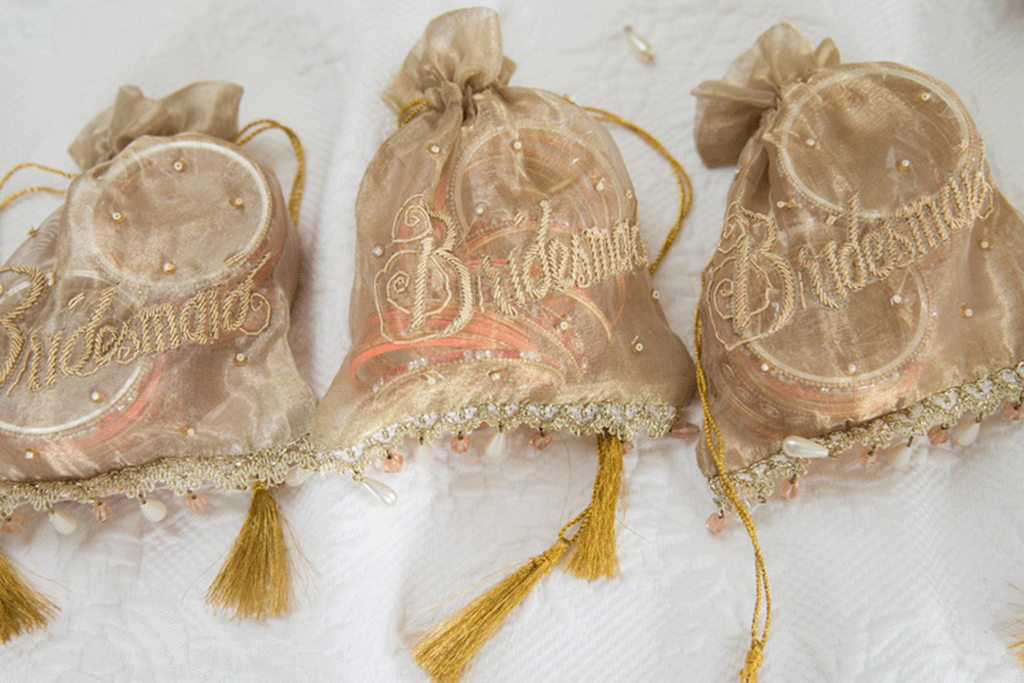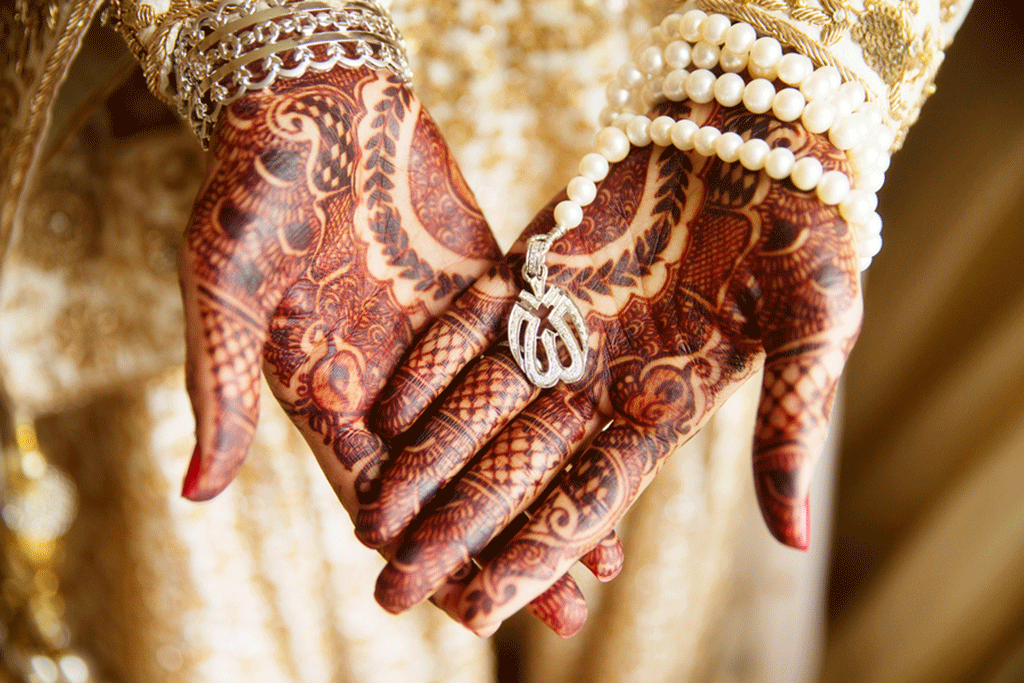 The ceremony was held that weekend at Mount Ida Farm & Vineyard in Scottsville, Virginia. Sophia wore a beaded custom gown of white and gold, while her bridesmaids wore gold and coral tones that accented the floral arrangements of garden roses, peonies, tulips, sweet peas, and the cherry blossoms branches woven throughout the ceremony and reception. The couple even exchanged vows in a pergola under an arch of the iconic DC blooms.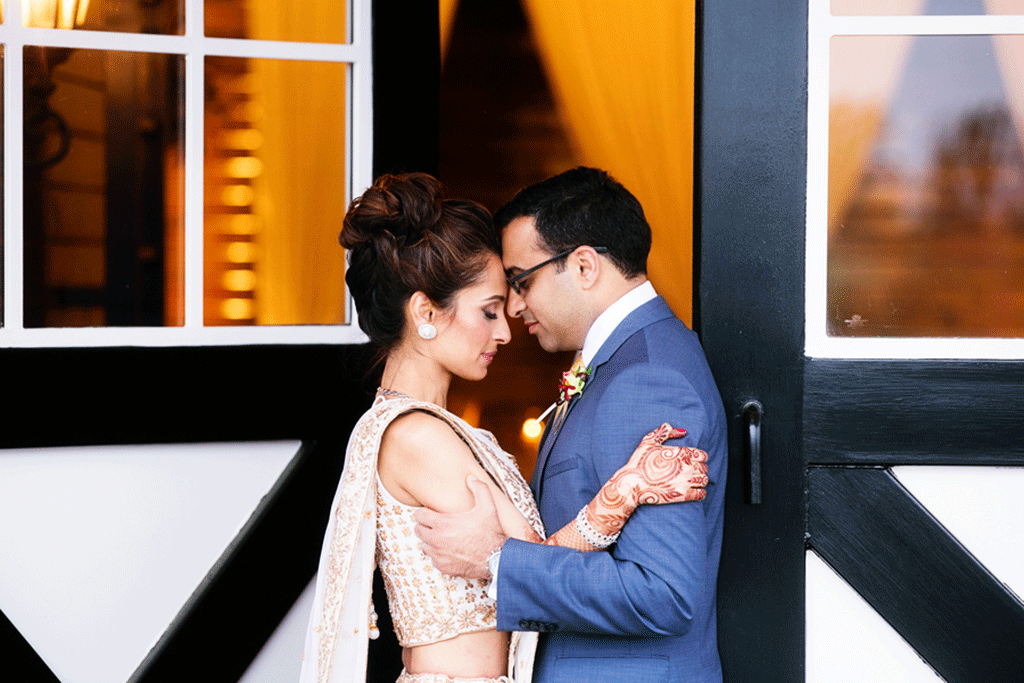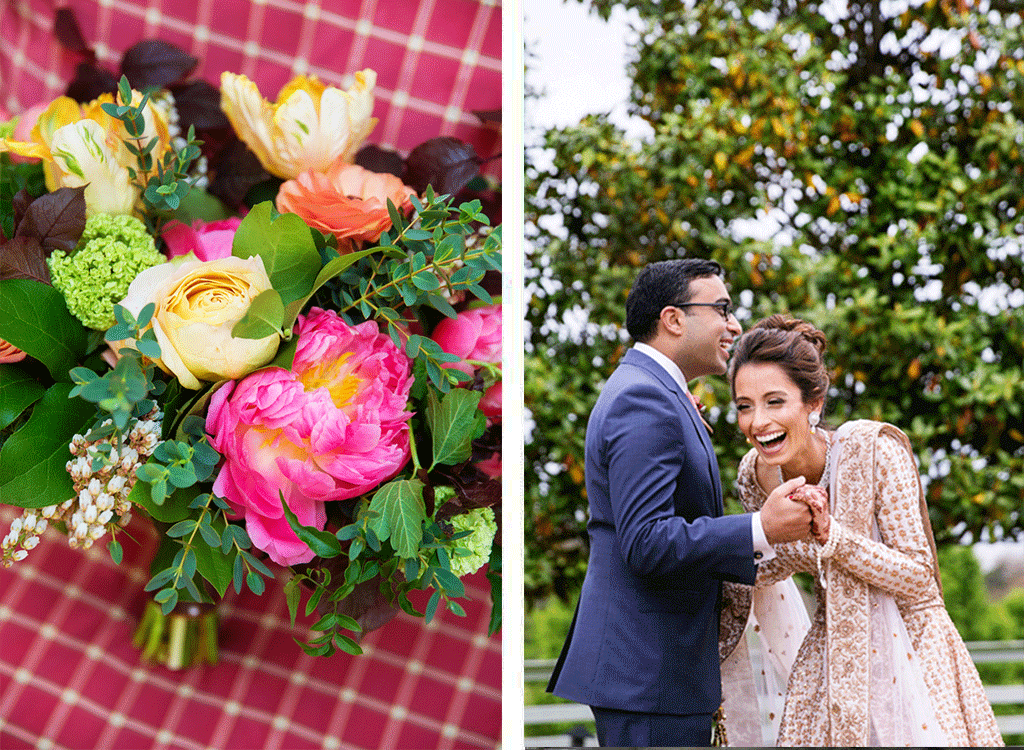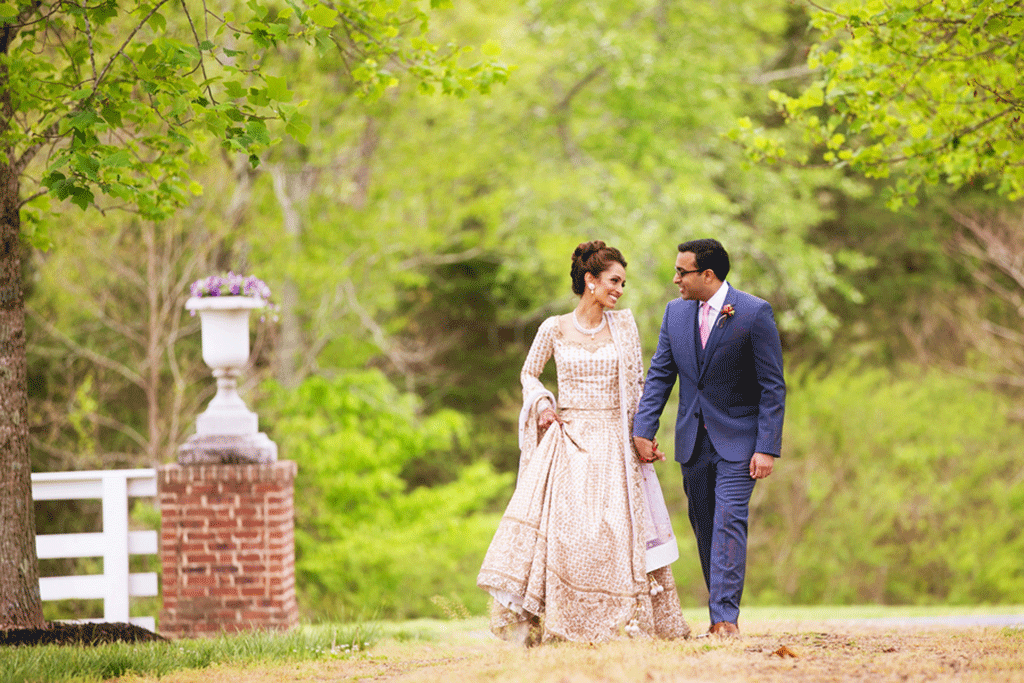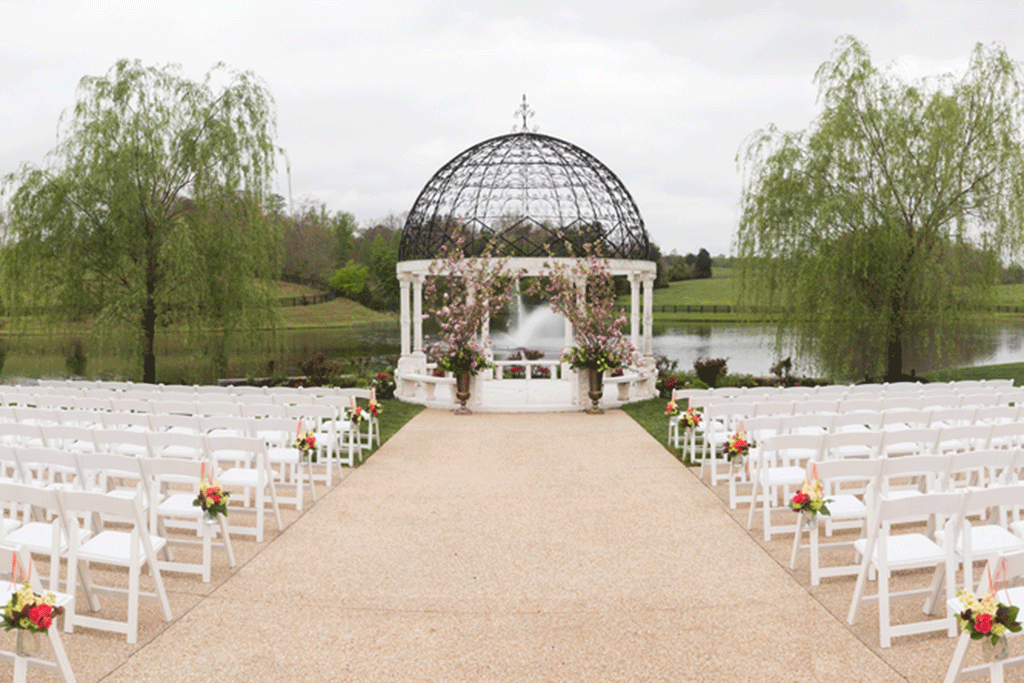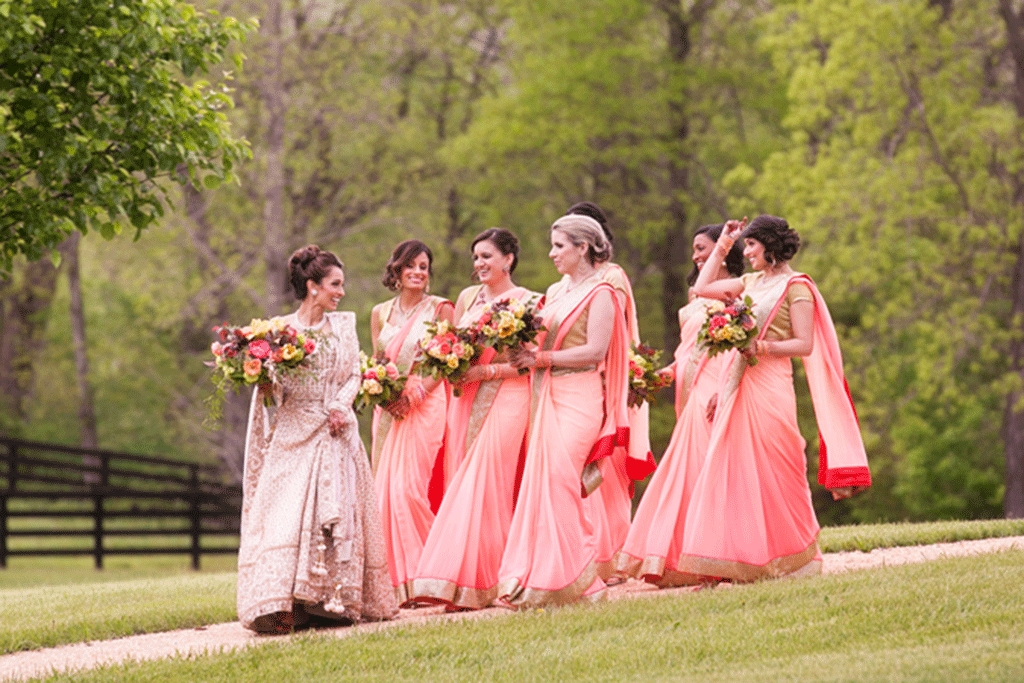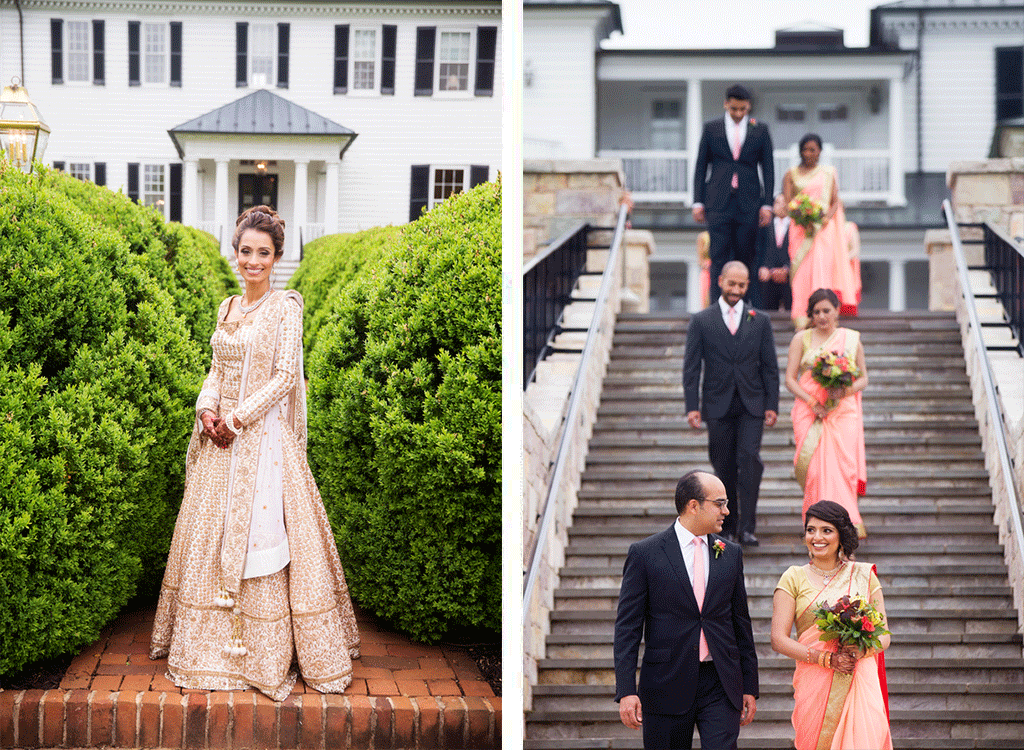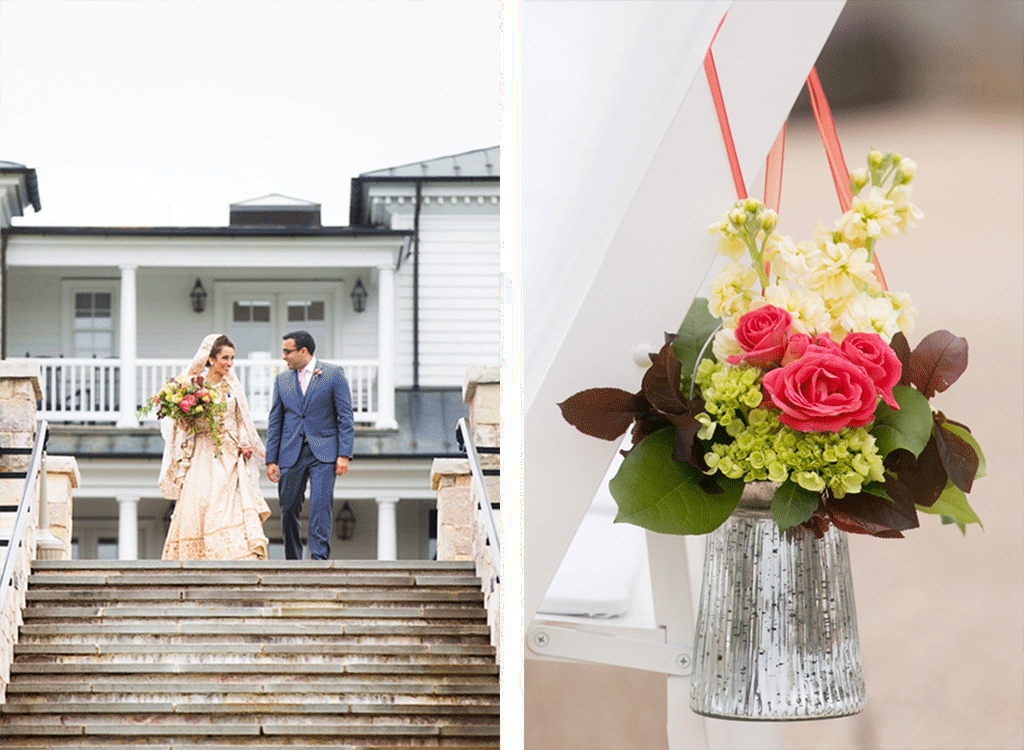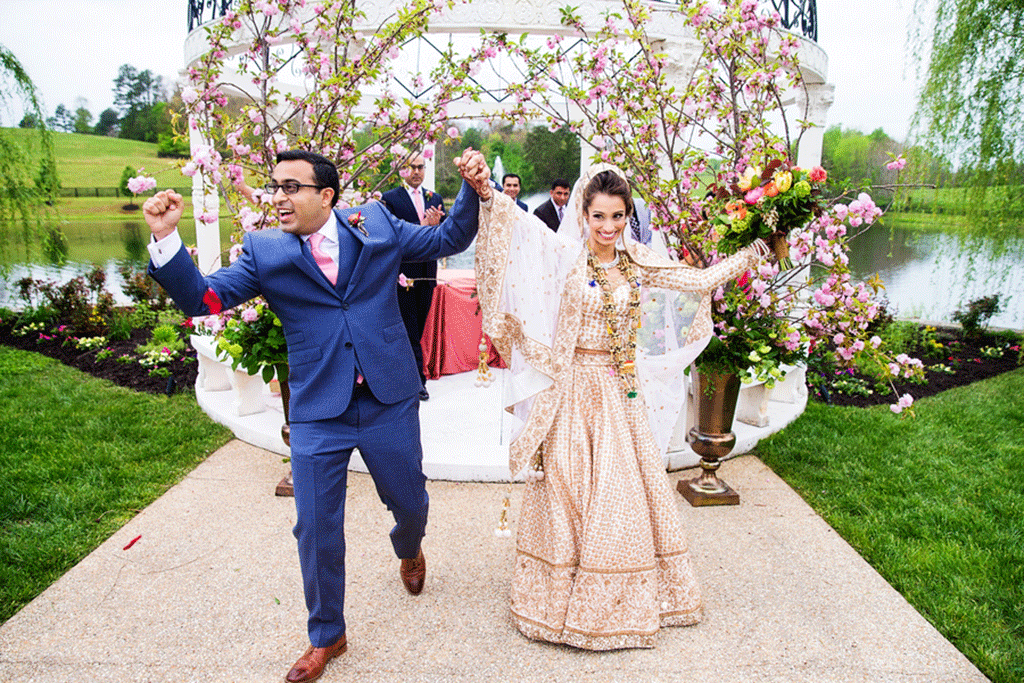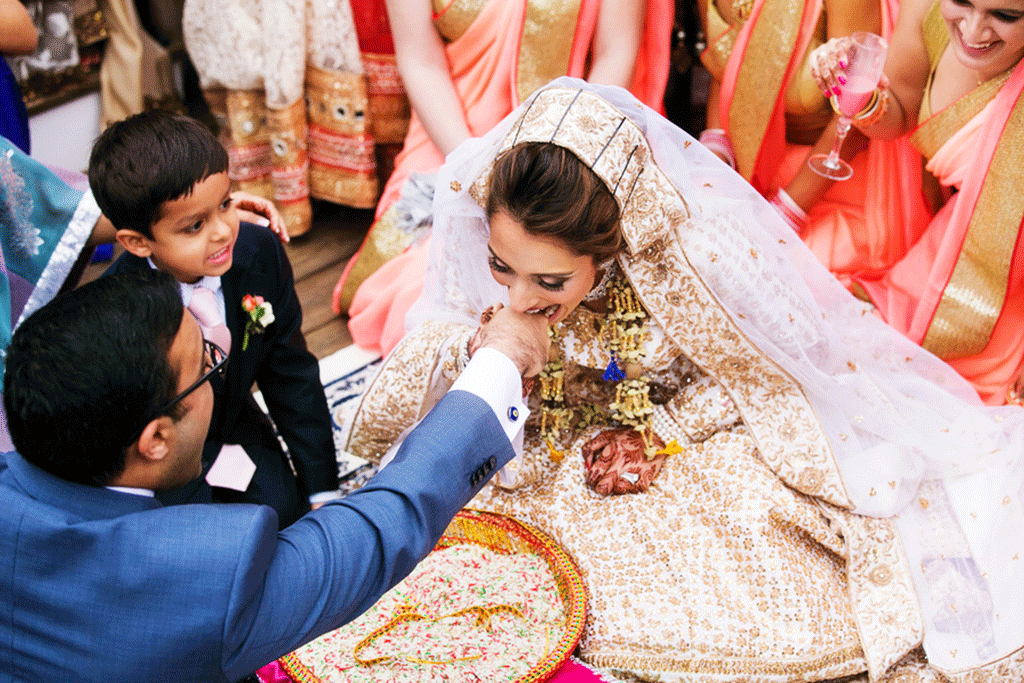 At the reception, guests were given seating assignments by year—each year marking an important date in the couples lives. "The table numbers were important years to both of us, from our parents' weddings in 1977 and 1982, to our meeting at camp in 1995, to reconnecting in 2009," explains Sophia, "Each table had a picture of the important event from that year." As a special surprise, Sophia put together an album with all the letters Ali had sent her when they were kids. She had held onto them for over twenty years.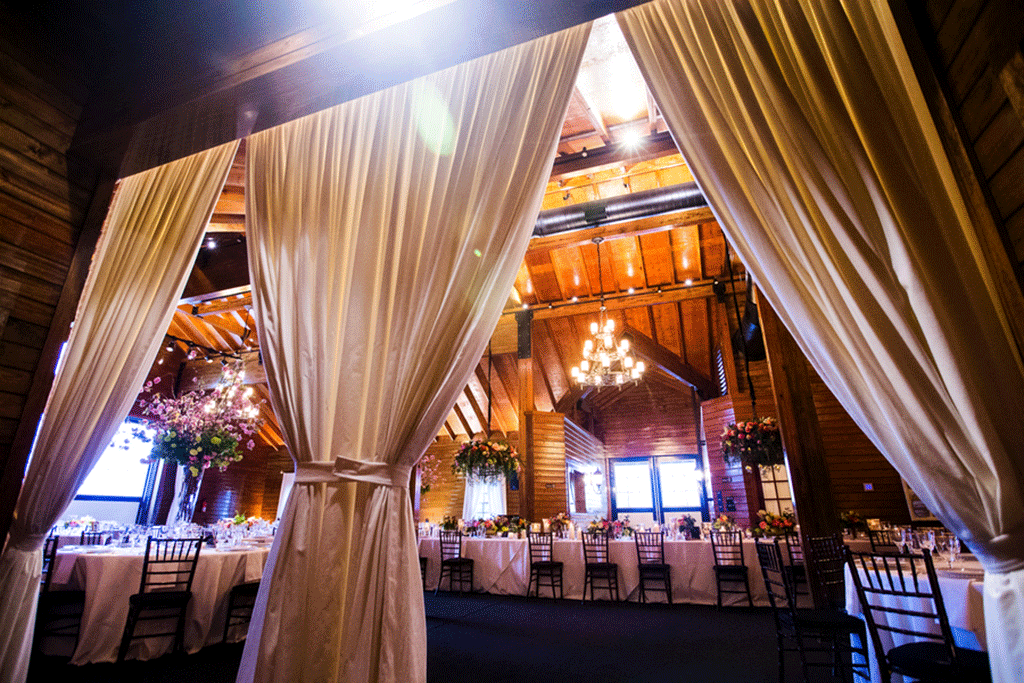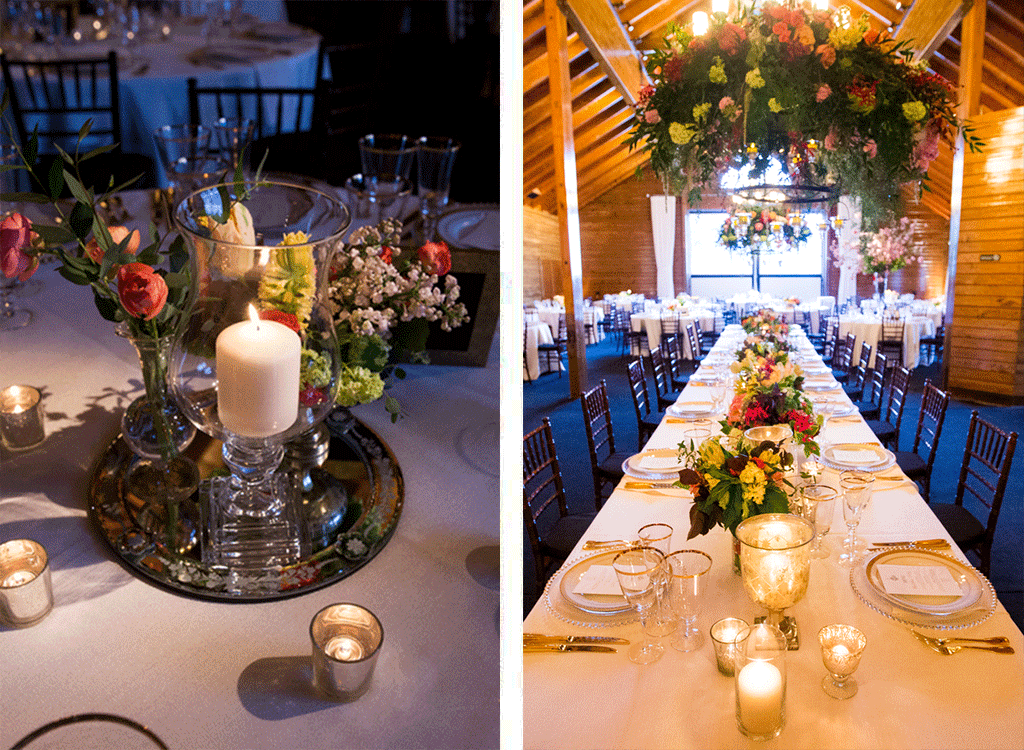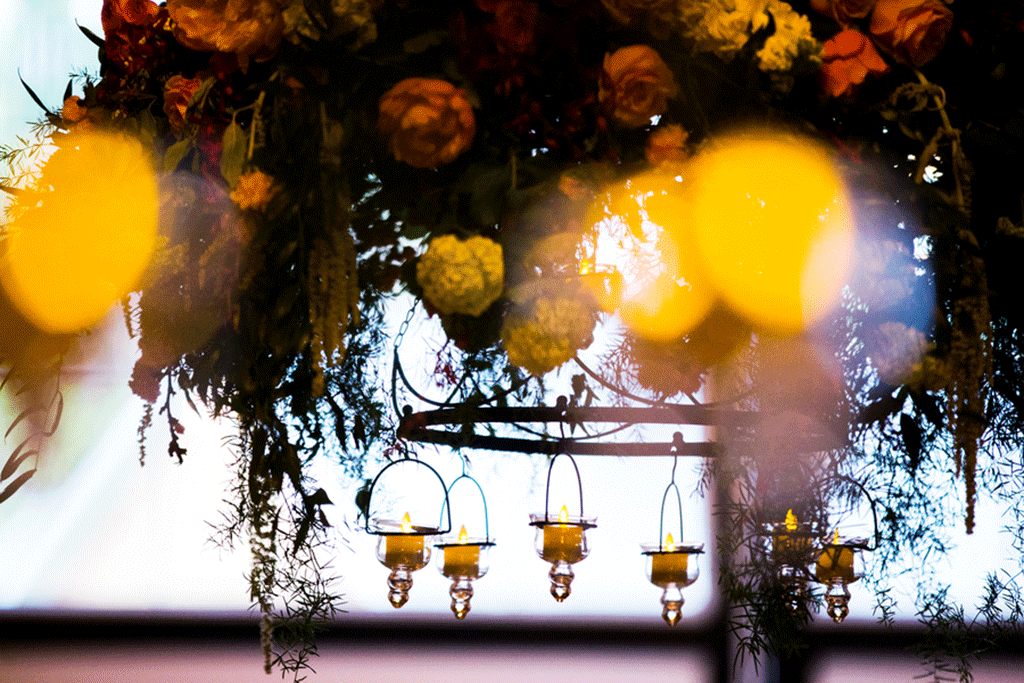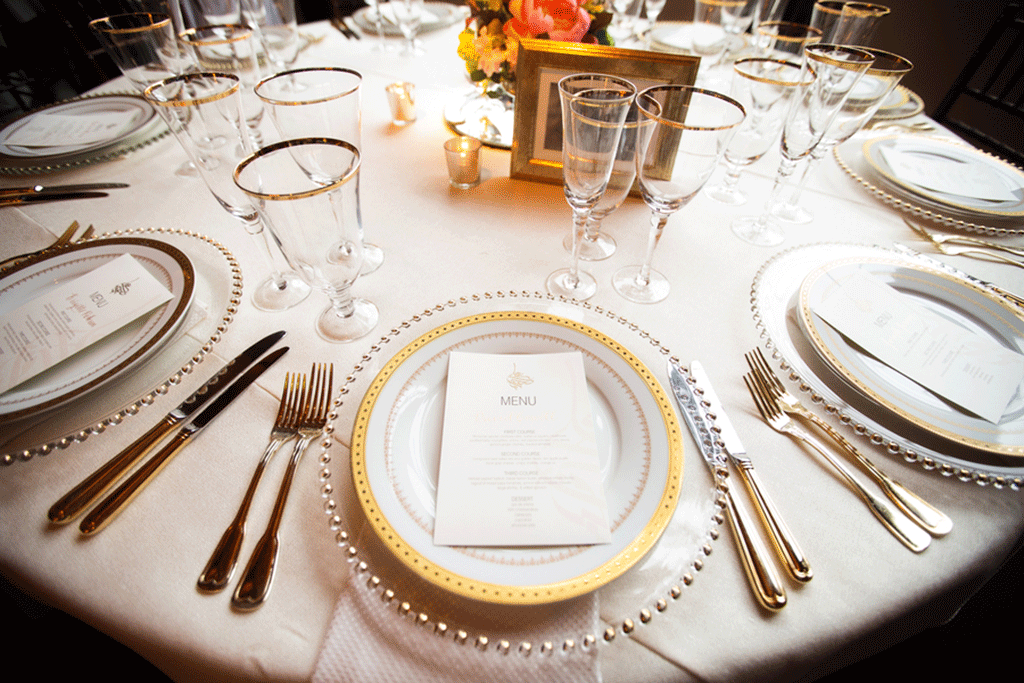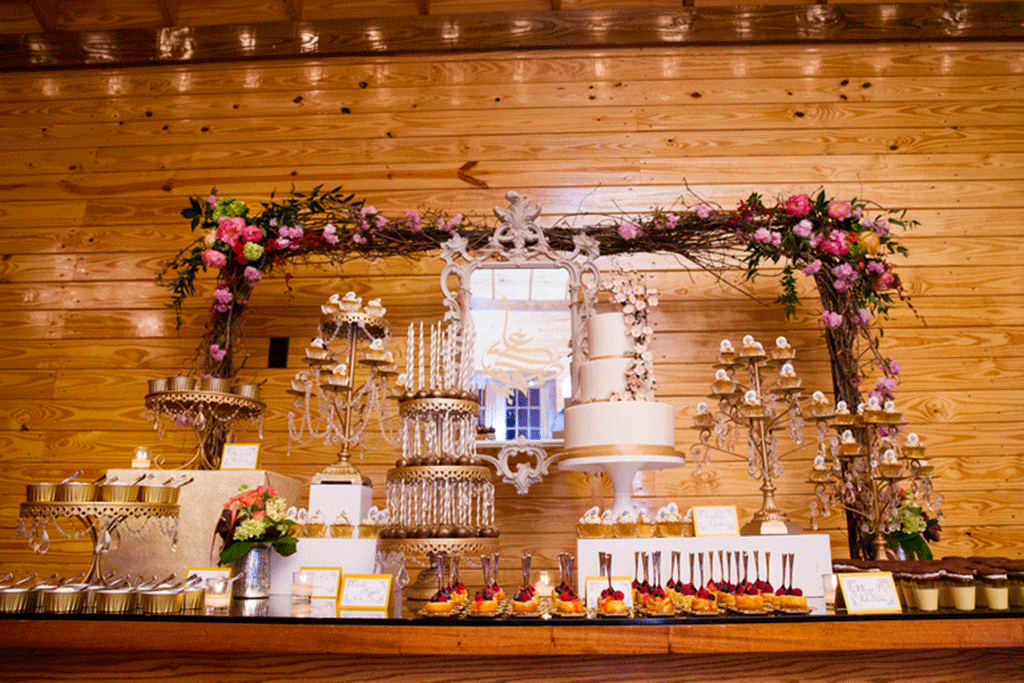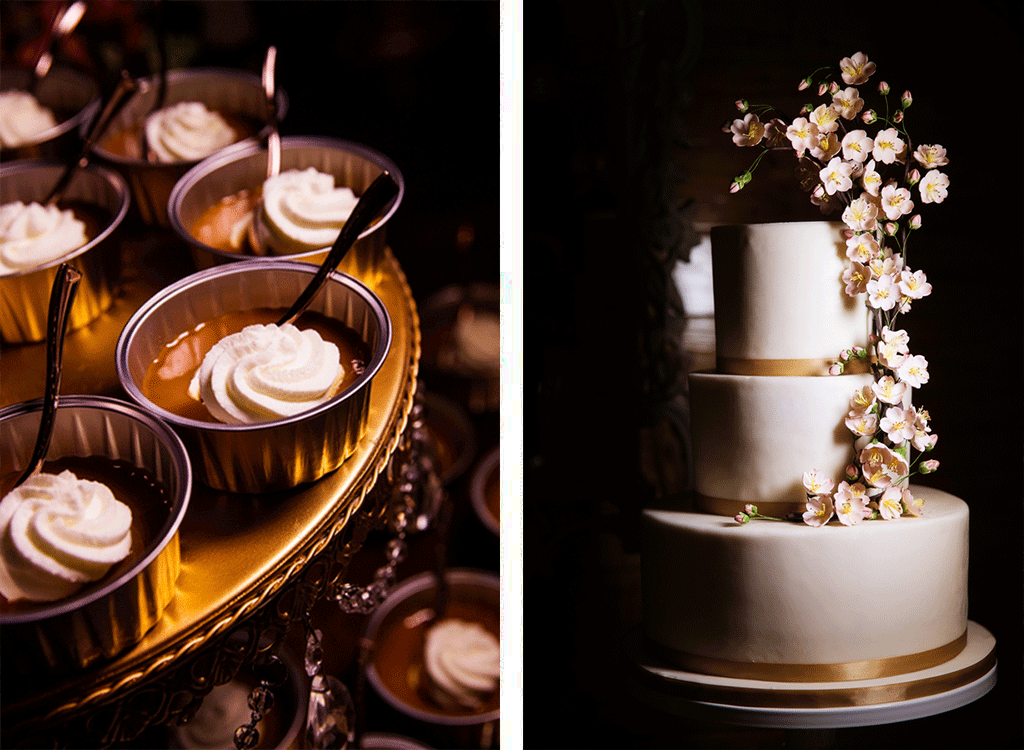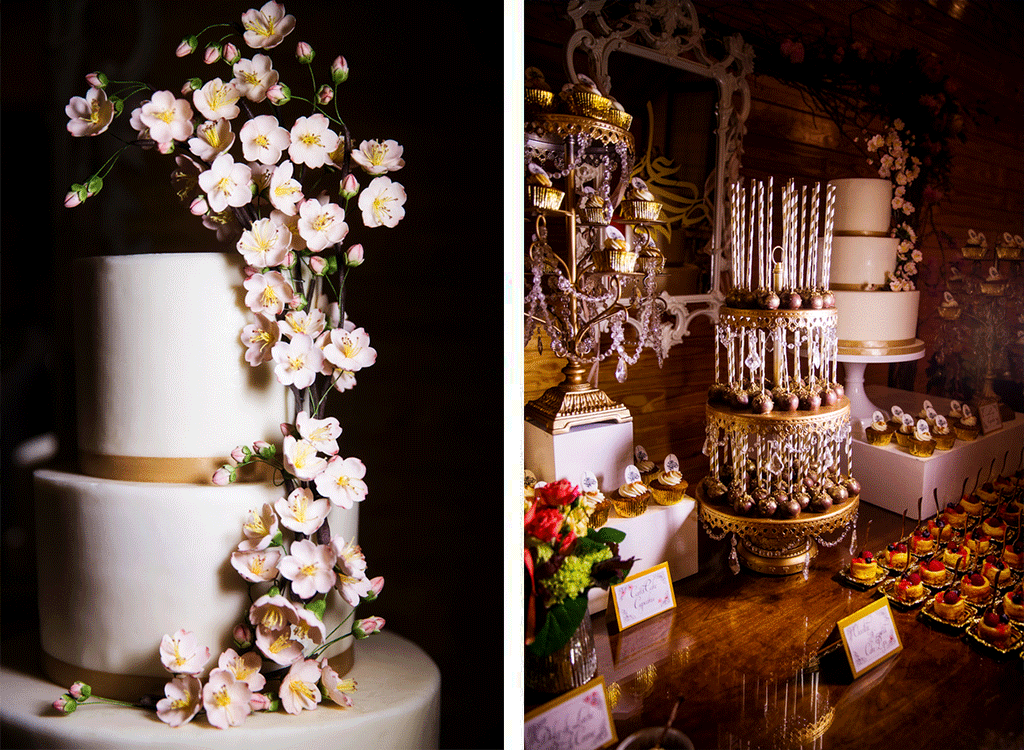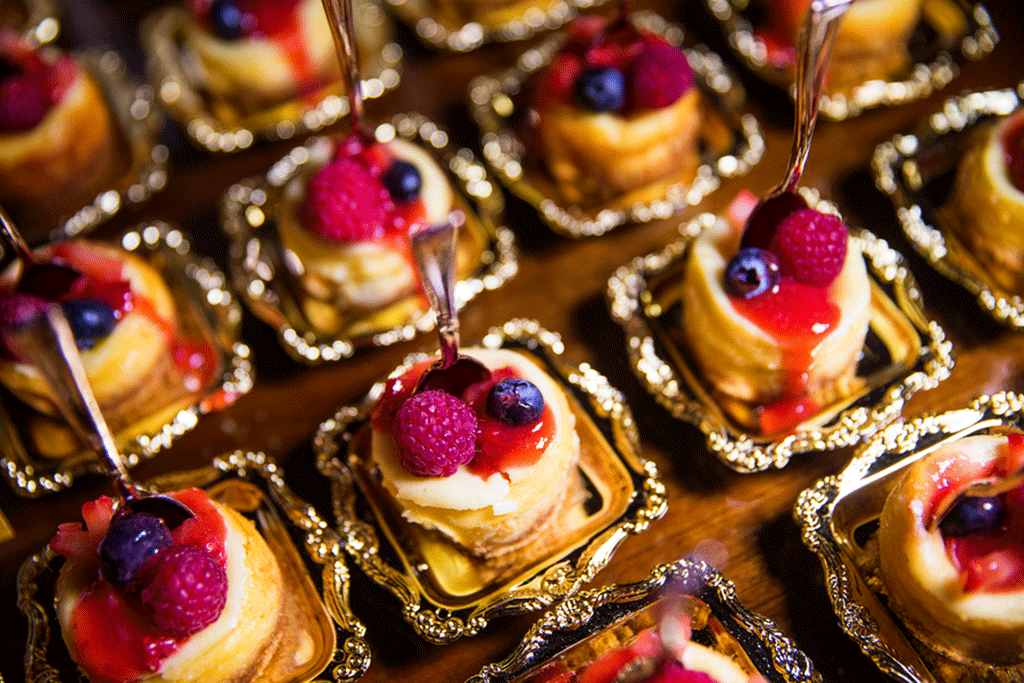 The couple shared their first dance to "Save Room" by John Legend, and guests were treated to a variety of cakes ranging from cheesecake to carrot cake, including a gorgeous tiered wedding cake adorned with cherry blossoms. For takeaway gifts, Ali had commissioned a calligrapher who had studied in Yemen, Turkey, Jordan, and Israel to join together each of their names in a logo. Guests received silver bookmarks of the logo to commemorate the union. After the wedding, Sophia and Ali headed off on a whirlwind honeymoon that took them from Dubai, to the Indian Ocean island of Mauritius, and the Virunga Mountain Range in Rwanda, where they hiked to get a glimpse of one of the last remaining wild populations of Silverback Mountain Gorillas.
VENDORS
Mehndi and Sangeet Venue: Omni Hotel Charlottesville | Ceremony and Reception Venue: Mount Ida Farm & Vineyard | Photographers: Michael Connor, Andrew Harnick, and Lawrence Jackson of Connor Studios | Event Planner: Meghan Streit of Shindig Weddings & Events | Bride's Gown: Custom Design | Bride's Shoes: Jimmy Choo | Groom's Attire: Bloomingdale's and Hugo Boss | Hair Dresser: Erica Haskins of Top Knot Studio | Makeup Artist: Gohar Beaver of Gohar Makeup | Mehndi/Henna: Bhavna's Henna & Arts | Cake & Dessert Bar: Maliha Creations | Florist: Southern Blooms by Pat's Floral Designs | Sangeet Caterers: Milan Indian Cuisine | Reception Caterers: The Catering Outfit | Transportation: James River Transportation | Videographer: Caleb Lee of East West Production | Music/Entertainment: Silk Events | Calligrapher: Josh Berer