Congrats! You're engaged! Good for you for clicking on this article, because a venue is the first major decision to make when it comes to wedding planning. Our recommended venue list is a great place to explore ball rooms, historic buildings, and other Washingtonian favorites. If you're looking for something a little more unusual, consider one of these seventeen spots instead.
Like B&G on Facebook | Follow B&G on Instagram
A Bowling Alley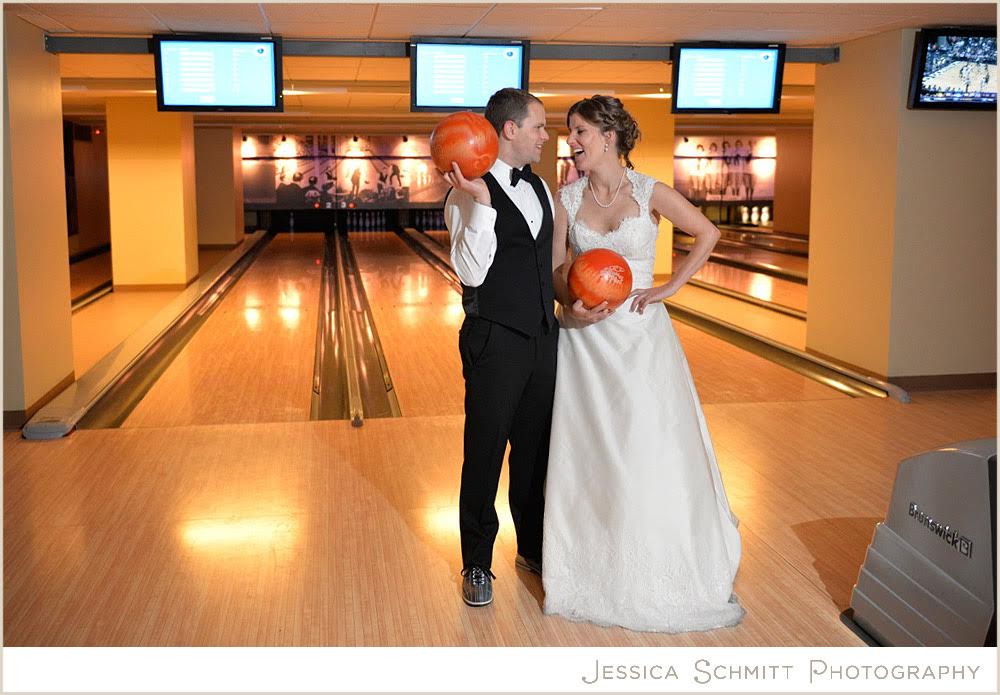 Pinstripes in Georgetown can hold up to 240 guests, and takes care of all catering in-house. Photo by Jessica Schmitt Photography. 
Nationals Stadium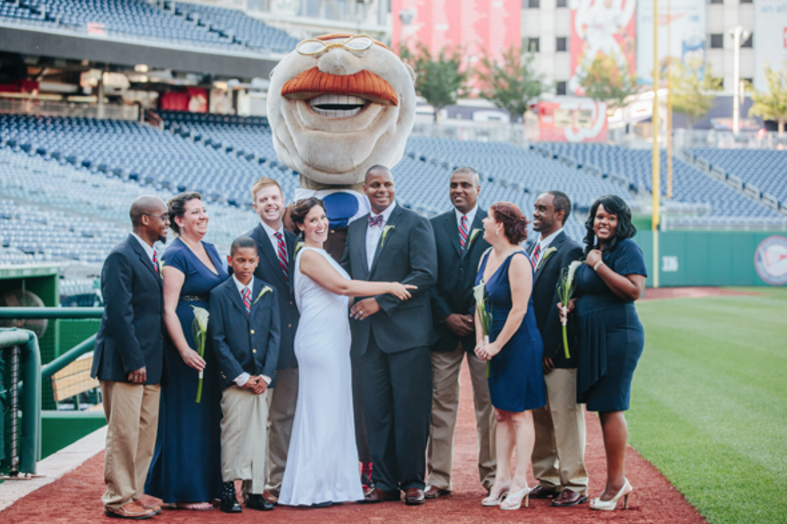 Your reception can be in a private club, one of the locker rooms, or even right on the field. All of the Racing Presidents are available for appearances (here's how to book them if your event is not on-site), and an add-on indoor batting practice session is also an option. Photo by Love Life Images. 
A Victorian-Era Boarding School With No Roof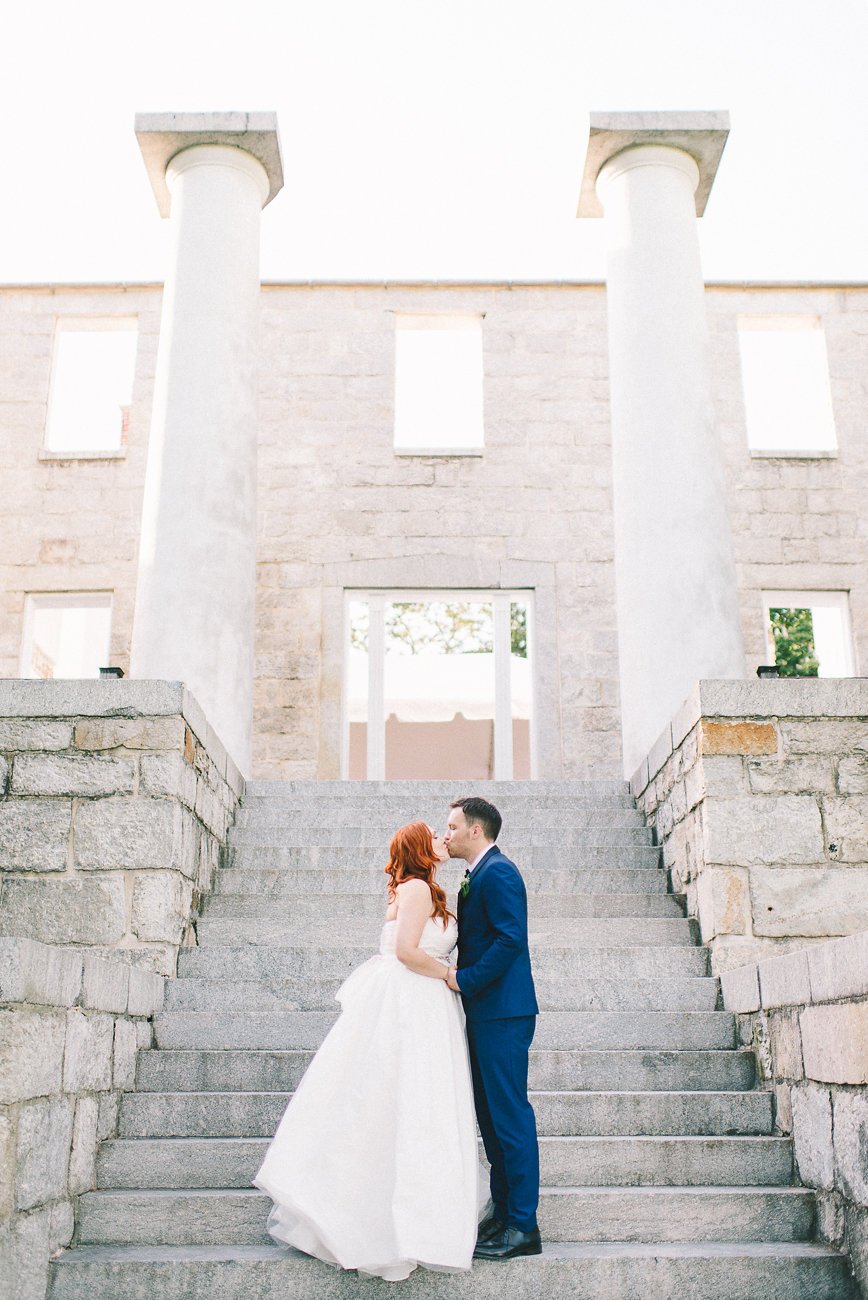 The Patapsco Female Institute in Ellicott City, Maryland has been many things throughout its 180-year history: a girl's boarding school, a private home, a theater, even a hospital. Today, the open-air Greek Revivalist structure makes a pretty stunning setting for an outdoor wedding. Photo by Elizabeth Fogarty Photography. 
A Beauty-and-the-Beast-Worthy Library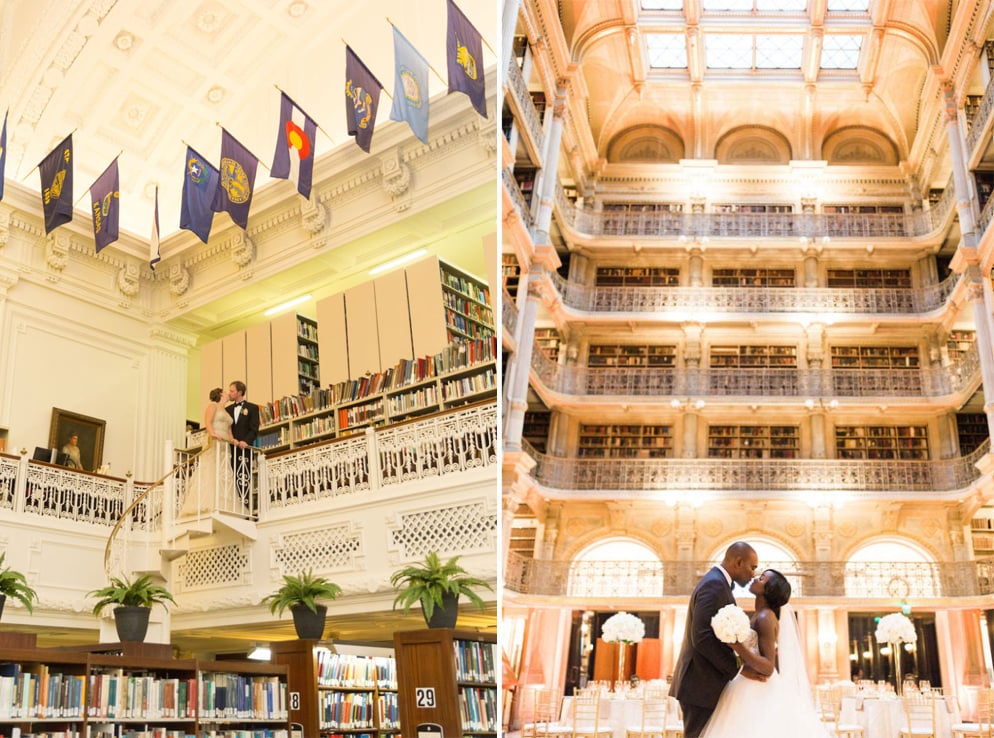 Two are within reach for Washington-area couples: the 225,000-volume genealogical library at Daughters of the American Revolution (left), and the historic George Peabody Library (right), which makes frequent appearances on Brides' Best Venues in America list. Photos by Brett Denfeld Photography and Andy Li for Sincereli. 
An Old Church Covered in a Rainbow Mural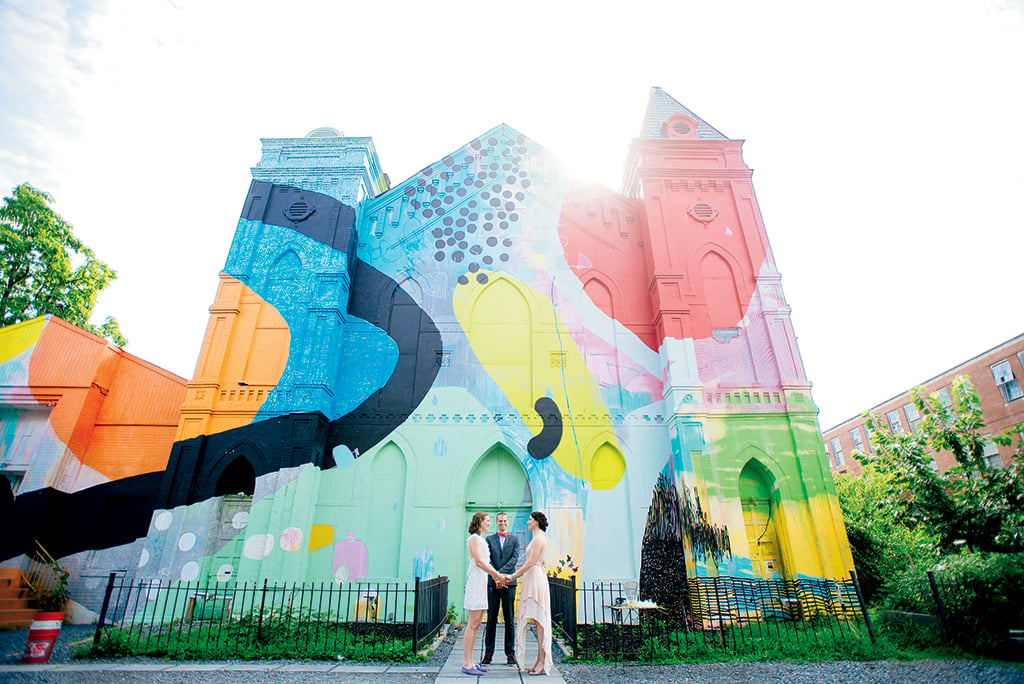 Profits from private events at Blind Whino in Southwest DC support community art projects. Photo by Pop! Wed Co. 
Behind Union Market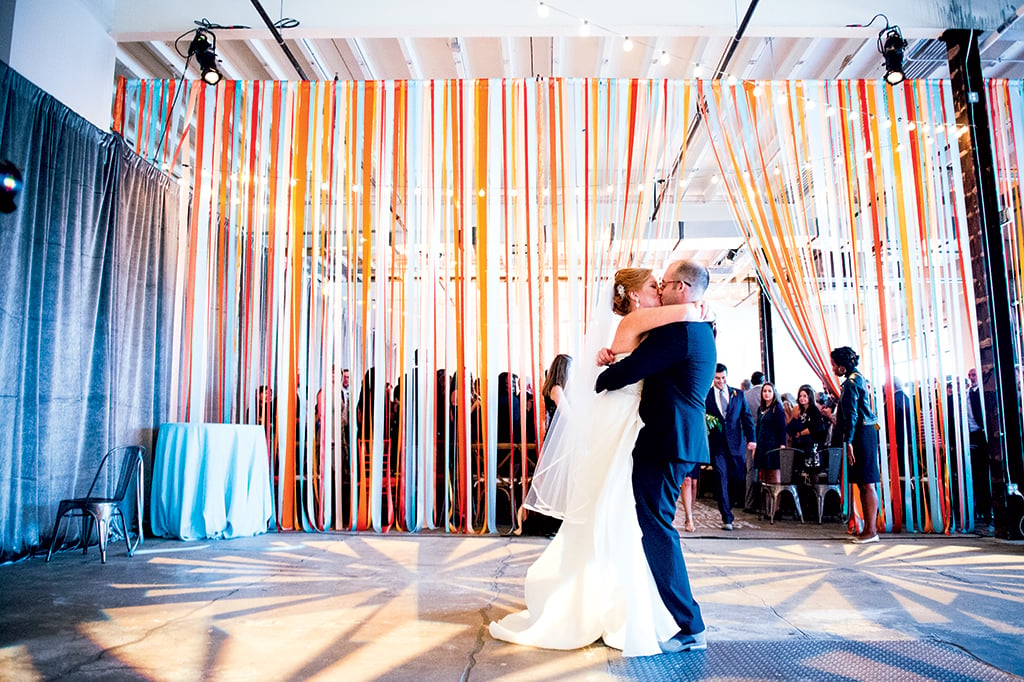 Not many spaces in DC have a raw, industrial vibe and a maximum capacity of 1,000. With 22′ high ceilings and glass garage doors you can open or close depending on the season, Dock 5 is a blank canvas ready for a modern wedding. Check out Carlie and Simon's colorful celebration (complete with beer pong at the reception) for proof. Photo by Andrew Harnik of Avow.
A Pilates Studio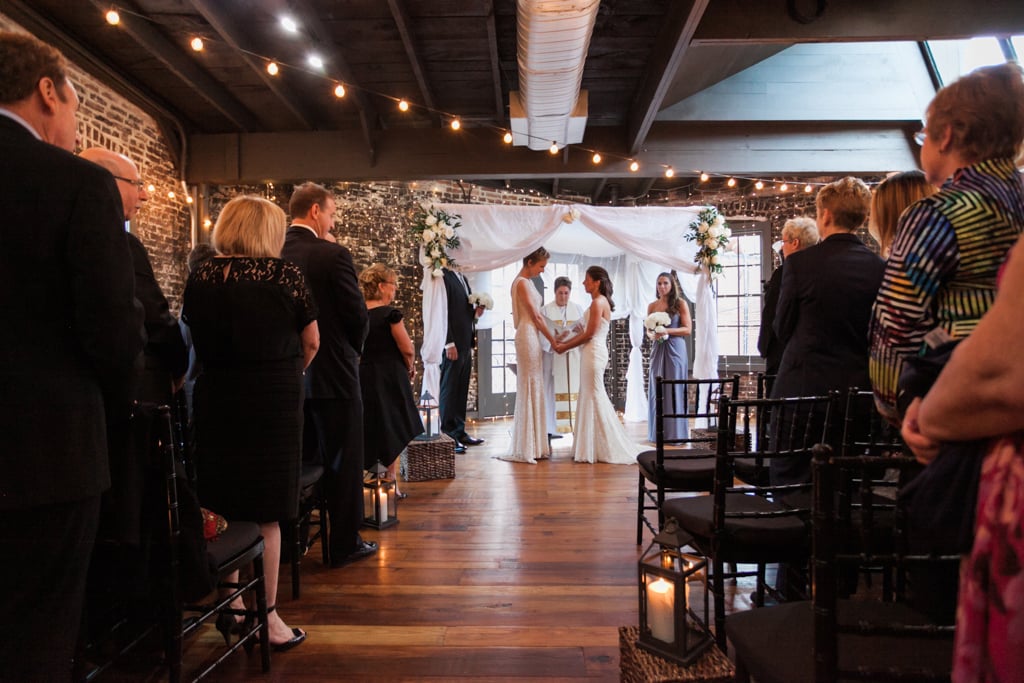 Located a few blocks north of Dupont Circle, the cozy brick Toolbox Pilates Art Studio can do a seated dinner for 140 guests. Photo by Tracey Salazar Photography. 
In a Vegas-Style Chapel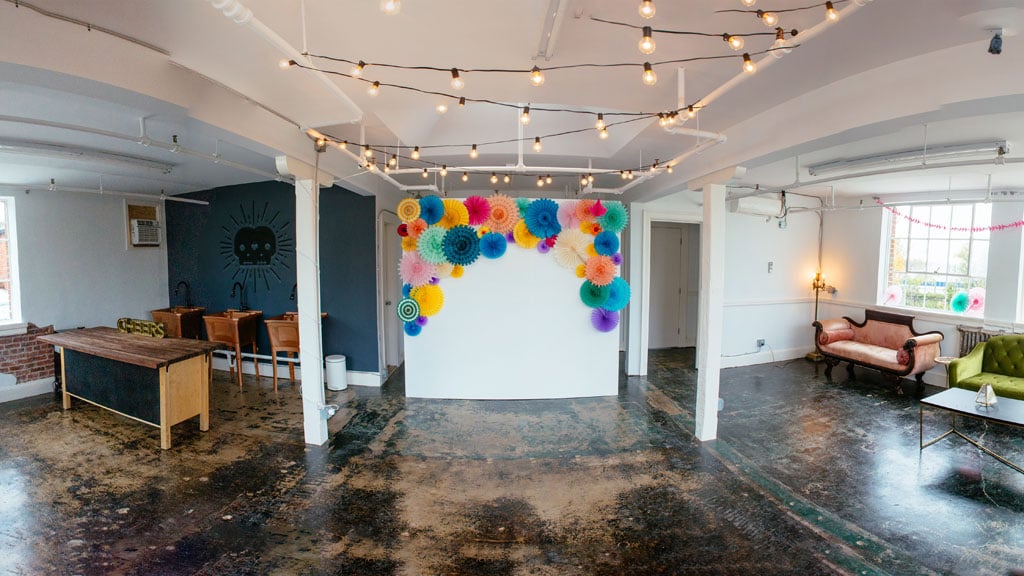 Looking to do something more impromptu? The Pop! Wed Co. team recently opened a secular "chapel" in the Off the Beaten Track Warehouse in Northeast DC. Couples can book an appointment for a Humanist service, and bring up to 20 of their loved ones along for the fun. Photo by Pop! Wed Co. 
At a Hipster Coffee Shop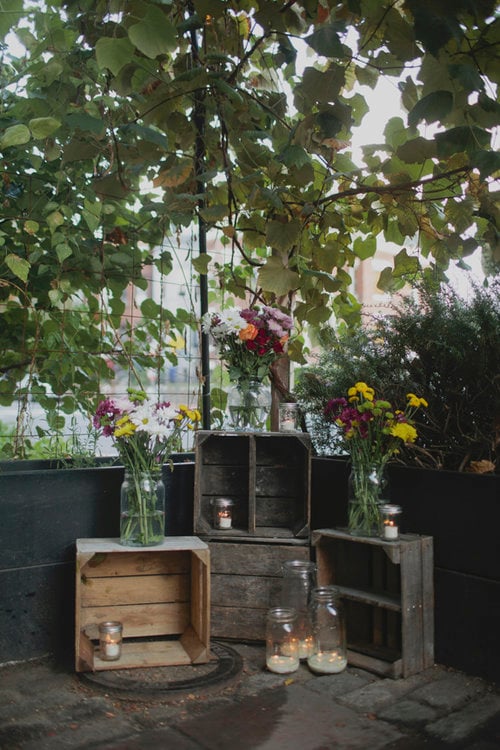 Nestled on busy city block with a patio almost completely enclosed in greenery, Big Bear Cafe in DC's Bloomingdale neighborhood is the best of both worlds. Host 55 to 100 guests for a candle-lit, seasonal dinner, then take a quick walk to Showtime or Boundary Stone for the after party. Photo by Sarah Gormley via Big Bear Cafe's website. 
In a Glass Blowing Studio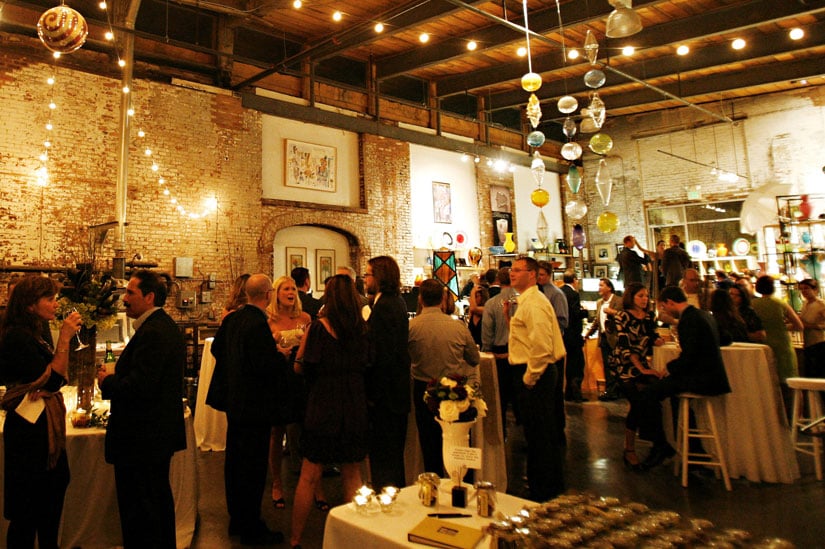 We loving the hanging orbs, brick walls, and built-in elevated stage at Corradetti Glass Blowing Studio in nearby Baltimore. Photo via Corradetti website. 
In One of Arlington's Most Popular Bars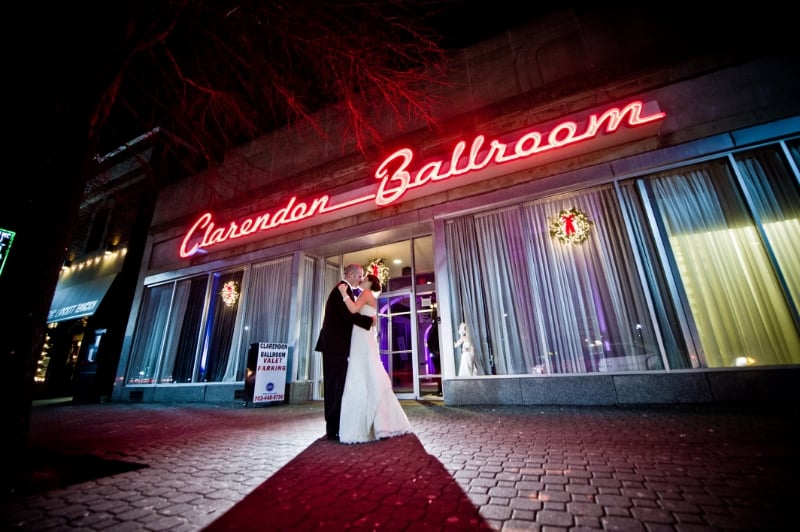 Clarendon Ballroom, site of perhaps some of your less-than-stellar late-night decisions in your 20s, is a terrific place for a wedding. With a seated dinner and a dance floor, the indoor space can hold up to 220 guests. Added bonus: the rooftop bar is the perfect spot for cocktail hour. Photo by Eli Turner Studios. 
In a Medieval-Style Castle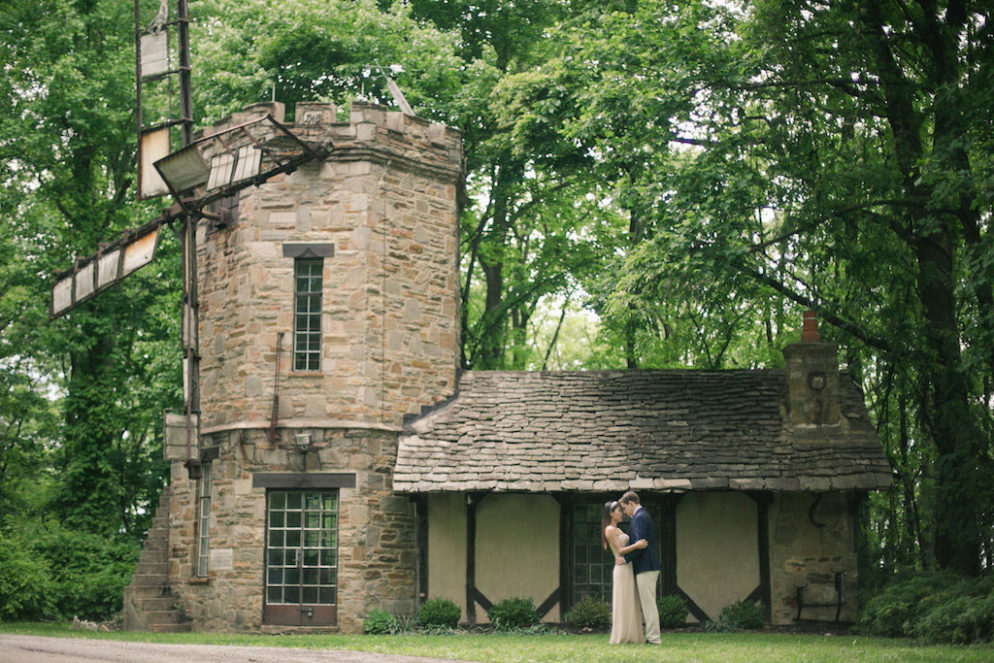 Cloisters Castle in Lutherville, Maryland is filled with spiraling staircases and historic artifacts. Will Smith and Jada Pinkett married here on New Year's Eve in 1997. Photo by Susie & Becky Photography.
At the Maryland Zoo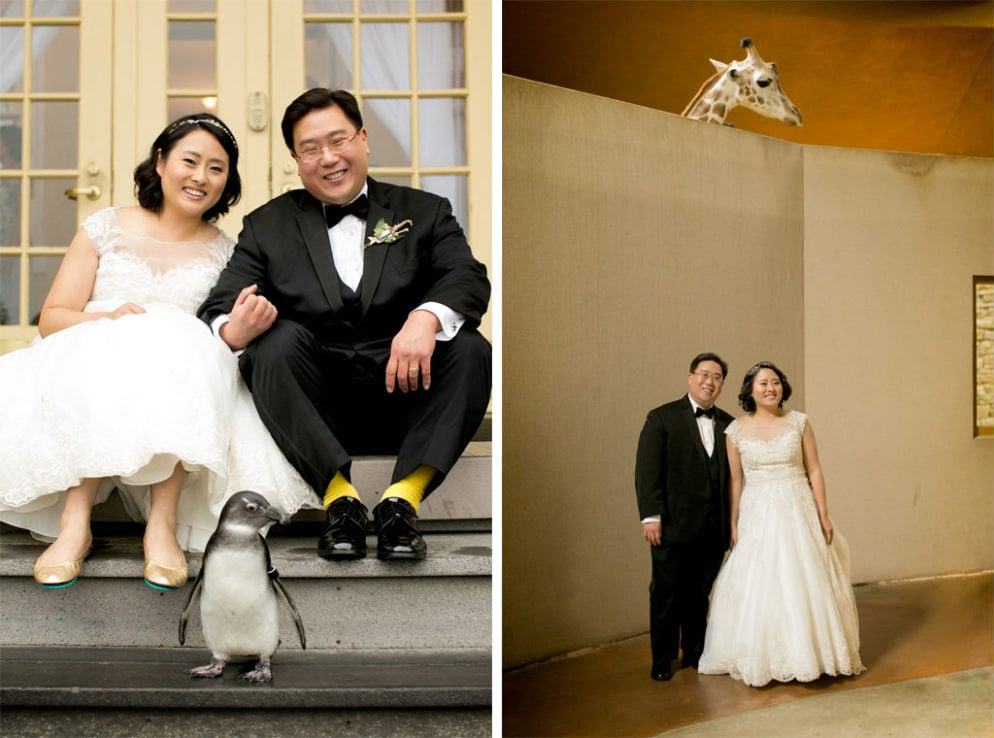 Who wouldn't want wedding-day pictures with penguins and giraffes? Make like Jess and Gene and choose this animal sanctuary for your big day. Photos by Ethan Yang Photography.
At This Pretty-Much-Made-for-Instagram Structure
Two hours south in Mechanicsville, Virginia, the historic Polegreen Church burned down during the Civil War. Today, an open-air structure complete with faux windows sits on the church's original foundation site. Singer Jason Mraz (a Mechanicsville native) married Christina Carano there in 2015.
At a Culinary Incubator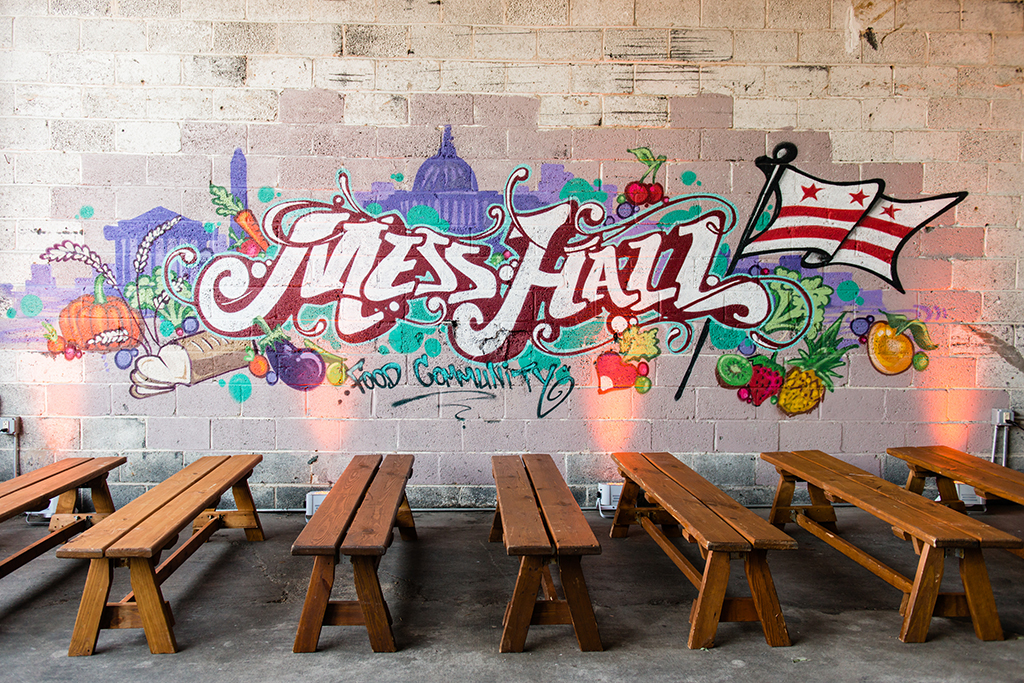 By day, Mess Hall provides commercial kitchen space for food entrepreneurs. By night, the wall murals and 2,000-square-feet of event space make for a pretty rad party spot. Photo by Lisa Boggs Photography.