A lot of kids can say they've milked a cow, but two years after our stay at Olde Fogie Farm, mine are still bragging that they milked a goat. Make that multiple goats.
Olde Fogie may be a working organic beef, sheep, and goat farm, but owners Tom and Biz Fogie (yes, that's really their name) and their daughter, Vicki Newman, have added whimsical touches to the 20-acre property, with lush gardens, hidden gazebos, and a treehouse. What really makes this stay at a farm so different from others in Lancaster County, Pennsylvania, is a gorgeous pond stocked with koi, which guests are encouraged to feed or join for a dip. My kids giggled nonstop as the fish nibbled at their feet in the shallows before they swam out to deeper waters, where the fish left them alone.
Besides swimming with the fishes and helping with farm chores—gathering eggs, feeding the pot-bellied pig—the most memorable thing about our stay might have been the Fogies themselves. Like the good grandparents they are, Biz and Tom doted on our children and regaled us with stories about farming and the characters of Lancaster County. Seventy-eight-year-old Biz, who earned her nickname because she was always "busy" as a young girl, remains a whirlwind of activity, whipping up filling farm breakfasts that, as she says, "will stick to your ribs—and probably your derrière."
For a somewhat more upscale farm stay, try Rocky Acre Farm Bed & Breakfast, on a dairy farm with a nearby creek where guests can kayak. To see how an Old Order Amish farm operates, book the cottage at Beacon Hollow Farm in Gordonville, Pennsylvania. Just keep in mind there's no wi-fi, no TV, and no breakfast on Sunday.
Olde Fogie Farm, 106 Stackstown Rd., Marietta, Pa.; 717-426-3992. Rates start at $110 a night. Rocky Acre Farm Bed & Breakfast, 1020 Pinkerton Rd., Mount Joy, Pa.; 717-653-4449. Rates start at $139. Beacon Hollow Farm, 130 Centerville Rd., Gordonville, Pa.; 717-768-8218. Rates start at $95.
Three More Options:
Where cell and wi-fi service is spotty—or nonexistent
You've no choice but to unplug here—cell transmissions are prohibited due to the nearby Green Bank Telescope. The 19th-century farmhouse has friendly farm animals and a night sky so dark that stargazing is heavenly. 303 Mountain Quest La., Marlinton, W. Va.; 304-799-7267. Rates start at $129 a night.
Surrounded by 4,700 acres of woodlands, this all-inclusive mountain resort—family-owned since 1932—offers time-honored fun such as golf, fishing, campfires, and bingo. 3818 Capon Springs Rd., Capon Springs, W. Va.; 304-874-3695. Rates start at $93 a person per night.
At this mountain resort—where only AT&T cell service is reliable—ride a chairlift or hike to panoramic views. Still stressed? Try whacking golf balls or shooting at clay pigeons. 230 Main Lodge Rd., Davis, W. Va.; 800-622-4121. Lodge rates start at $139 in summer/fall prime time.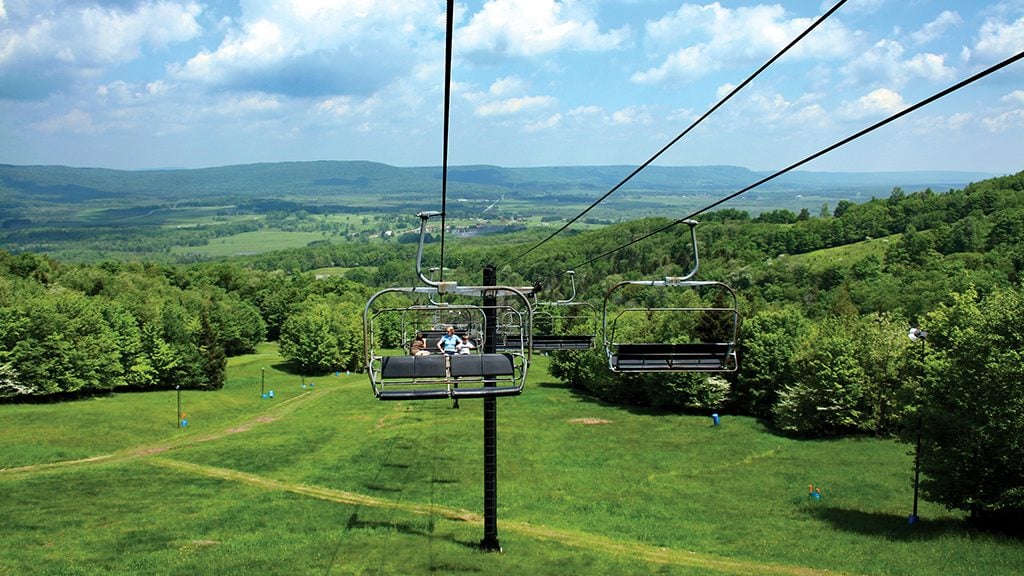 This article appears in the August 2017 issue of Washingtonian.