To see the rest of our Explore the Shenandoah package, including scenic drives, panoramic hikes, and fun museums, click here.
Where in the Valley to ride a bike, paddle a canoe, sip good wine and beer, or snuggle a baby goat.
Wheel Fun
More than 700 cyclists are expected to descend in and around Staunton, October 20 through 22, for the 27th annual Shenandoah Fall Foliage Bike Festival. Saturday and Sun-day, riders can choose among nine supported routes—from an easy family loop to a hilly century—that wind past farms, Civil War battle-fields, and town and mountain views. The $90 adult registration includes street parties both Friday and Saturday, lunch on Saturday, and brunch on Sunday.
What's Brewing
It's no surprise that a region with a long history of growing grain would be turning some of it into beer. Shenandoah Beerwerks Trail maps out the breweries—including notable names such as Devils Backbone and Brothers Craft Brewing—between Harrisonburg and Natural Bridge, suggesting things to do and places to stay along the way.
Wine Down
Into wine? Glen Manor Vineyards (2244 Browntown Rd., Front Royal; 540-635-6324; tastings $10) crafts some of the best in the Valley, says Nancy Bauer, who has visited more than 180 wineries for her Virginia Wine in My Pocket app. She likes Glen Manor's Bordeaux-style reds, its Sauvignon Blanc, and its Morales Rosé. To find more wineries—as well as cideries and meaderies—in the Valley, go to vawineinmypocket.com, click on "wineries," and filter for "Shenandoah Valley."
Lavender Fields Forever
Eight miles from downtown Harrisonburg, acres of purple blooms stretch across the terraced landscape of White Oak Lavender Farm (2644 Cross Keys Rd., Harrisonburg; 540-421-6345), a family-owned farm and vineyard. While lavender high season is June and July, the flowers are in bloom through September. You also can see farm animals such as alpacas and miniature horses, shop for soaps and lotions, or settle into one of the seating areas for views of the Blue Ridge while sampling lavender-infused wines and ice cream.
Single Track
Harrisonburg has become a mecca for mountain biking. On the west side of town, the George Washington National Forest features hard-core single-track rides with rock gardens, steep climbs, and fast, serpentine downhill drops. There are also miles of relatively flat dirt paths for beginners. On the east side, Massanutten Resort (1822 Resort Dr., Massanutten; 540-289-9441) includes 32 miles of trails, rated from beginner to expert. In the heart of the city, Hillandale Park is home to Rocktown Trails—14 twisting, single-track paths for riders of all abilities. Fuel up for your ride at Grilled Cheese Mania (1321 S. High St., Harrisonburg; 540-746-7515), where the restaurant's name says it all. For more information on the biking trails, visit harrisonburgva.gov/attractions.
Down on a Farm
Snuggle with baby goats. Pick your own apples. Gather morning eggs. The Valley is home to hundreds of farms, some of which have been in the same family for generations. Fields of Gold lists farm-friendly activities and businesses. You can search by locality or interest, including farm stands, Christmas-tree farms, farm lodging, breweries and wineries, and farm-to-table restaurants.
Float a Boat
One of the most gorgeous sections of the Shenandoah River is near Luray, and it's easy to enjoy it in a kayak, a canoe, or—during warmer weather—a tube. Shenandoah River Outfitters (6502 S. Page Valley Rd., Luray; 540-743-4159) offers customizable trips that range from a couple of hours to multiple days. What makes this stretch of river so lovely? You can see herons and eagles, tackle a few small rapids, and float past rocky cliffs and forested mountain ridges painted with autumn colors.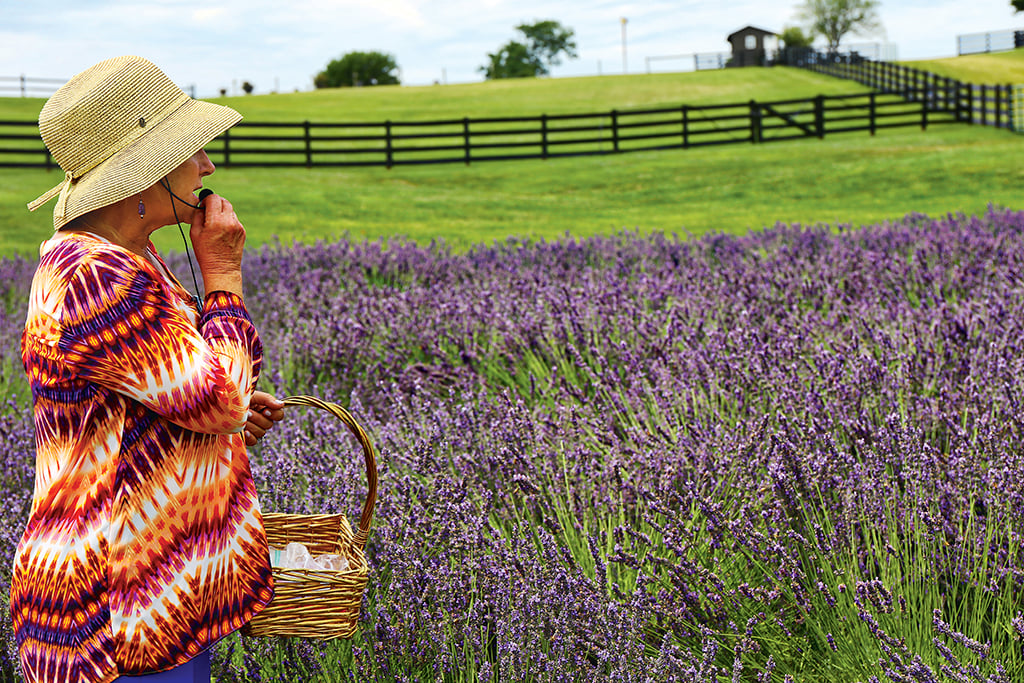 This article appears in the October 2017 issue of Washingtonian.