The temperature has finally dropped, and you know what that means: it's time to get cozy with a blanket and hot cocktail for some outdoor fun. Just because summer is gone doesn't mean you have to imbibe inside. These restaurants and bars are heating their patios and rooftops, stoking their fire pits, and mulling hot beverages to keep you outdoors, all fall and winter long.
606 Florida Ave., NW
Shaw's "adult treehouse" is becoming even more treehouse-esque with the addition of a cathedral-style tent over the rooftop that'll keep things toasty. Co-owner Louie Hankins fashioned some birch lattice and basket lanterns for an island vibe, while patrons can warm up with blankets, space heaters, hot-buttered rum, and churros with warm chocolate sauce. Note: the tent will likely launch later in November when the temperature permanently drops.
301 Water St., SE #115
We loved the summertime rosé garden at this Navy Yard seafood spot, so we're excited to check out what it has in store for winter. The 20-seat cold weather patio/lounge opens Friday with fire pits and blankets (and there's also a new rum cart inside). Grab a few friends and try the shareable hot cocktail served in a camping thermos that's mixed with rum, fresh-pressed cider, pomegranate, and ginger (serves three-to-four). Outdoor eats include bacon-spiked oyster stew, s'mores, and warm hush puppies. Check out the full menu here.
50 Blagden Alley, NW
This new bar/restaurant in Blagden Alley is meant to feel like a backyard party—regardless of the season. When the temps go down, heaters and blankets come out. The kitchen keeps things hot with mugs of soup, while warm "crockpot cocktails" are planned for the bar.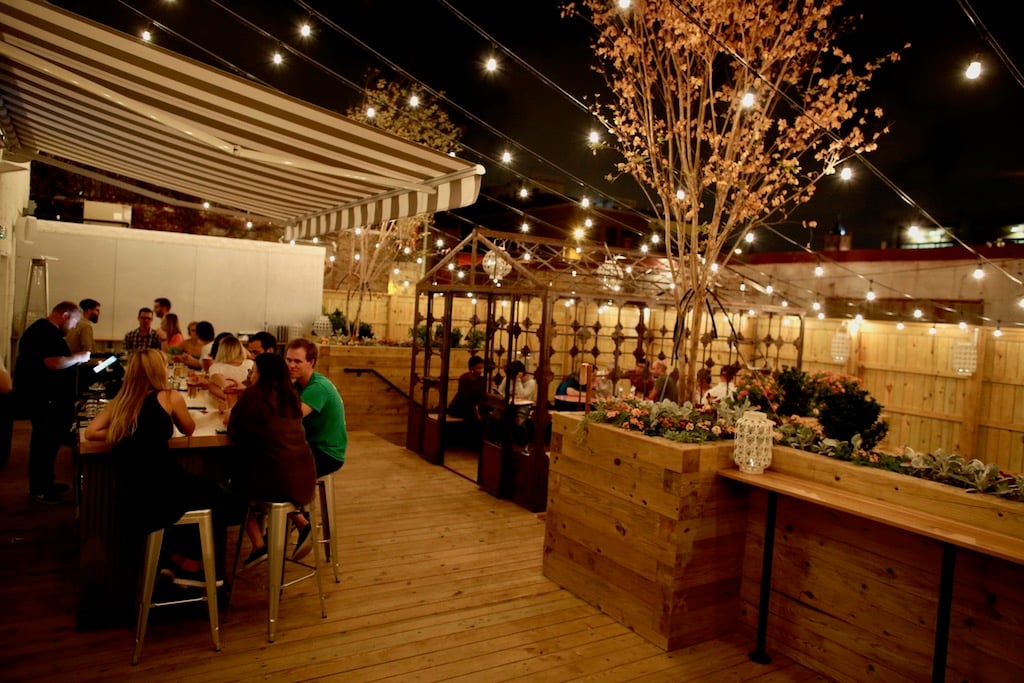 1622 14th St., NW
People-watch from Barcelona's cozy perch on 14th Street, warmed by an outdoor fire place, heaters, and blankets for guests. Happy hour runs from 4 to 6 PM with wine, cocktail, sangria, and food specials. If you're chilly, ask the bar to spike a hot chocolate or tea toddy.
1101 First St., NE
Noma beer garden Wunder Garden is going all-out for their Winterfest celebration, which will run from December 1 through December 17. The holiday event will feature a market with local vendors, a Christmas tree lot, live music, food from local spots like Timber Pizza and Caliburger, mulled wine, spiked cocktails, and more. Can't wait? The beer garden already has heat lamps, a tented beer hall, and a fire pit for roasting marshmallows.
808 V St., NW
Gather around this Shaw restaurant's "fire tables" for drinks or dinner and a show of flames. The restaurant also offers thick blankets and standing heaters to keep patrons warm. Hot dishes include gnocchi with zesty kimchi-pork ragu and sticky-crunchy ribs.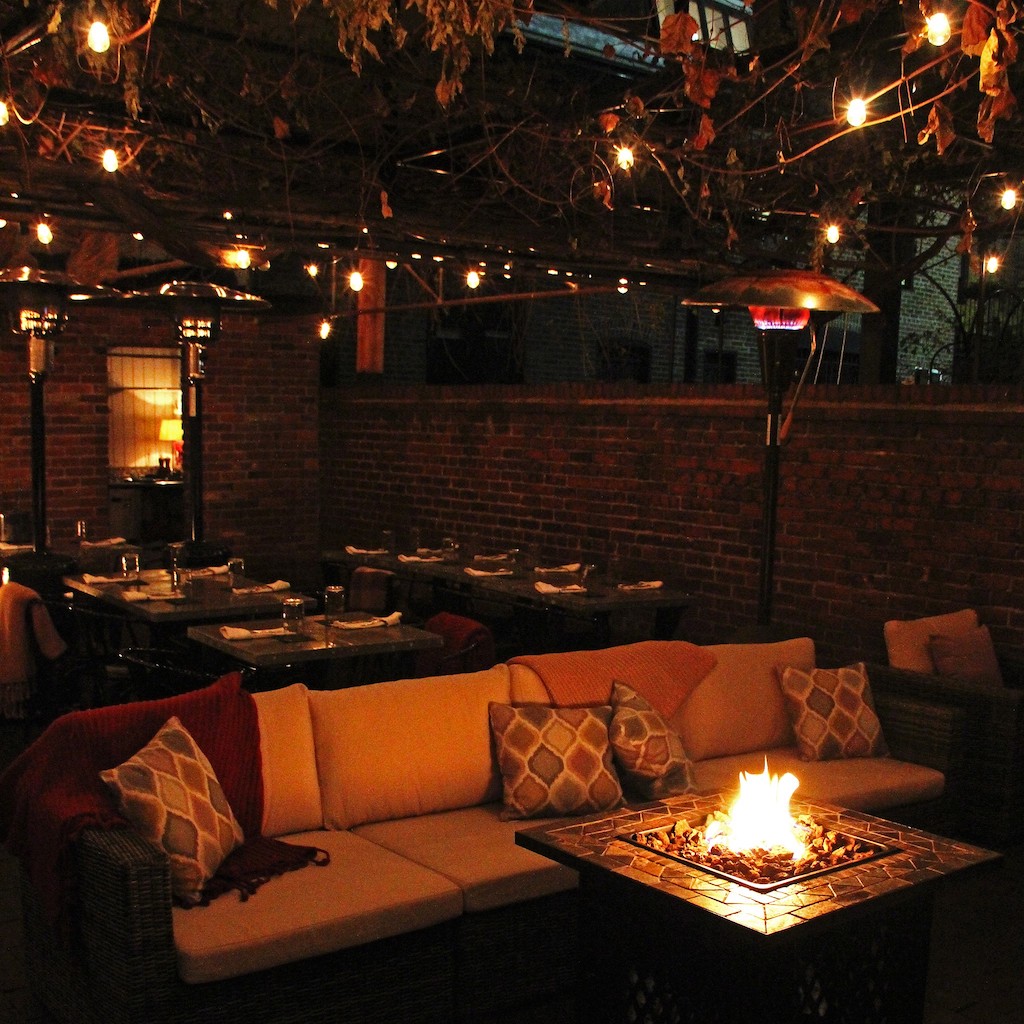 1734 N St., NW
One of DC's most atmospheric winter patios is now back for another season. Guests can huddle under the century-old wisteria lit with string lights thanks to soft blankets, fire pits, and ample heaters. If those don't do the trick, Greek spirits will.
1600 7th St., NW
Hot bourbon cider, blankets, and heat lamps keep things toasty at the Shaw beer garden. Pad the stomach with pots of mussels, melty mac n' cheese, and beer-braised goat poutine.
2650 Virginia Ave., NW
The iconic hotel's rooftop bar goes from Top of the Gate to "Top of the Skate" for winter, equipped with a synthetic ice rink for skating. Take in the views with hot cocktails like mulled wine and spiked cocoa, and hearty dishes like strombolis and s'mores. At the Next Whiskey Bar below, groups of two-to-eight can reserve private outdoor igloos (yes, igloos) for "luxurious igloo experiences" like afternoon tea ($55) or whiskey/burger/cigar pairings ($75).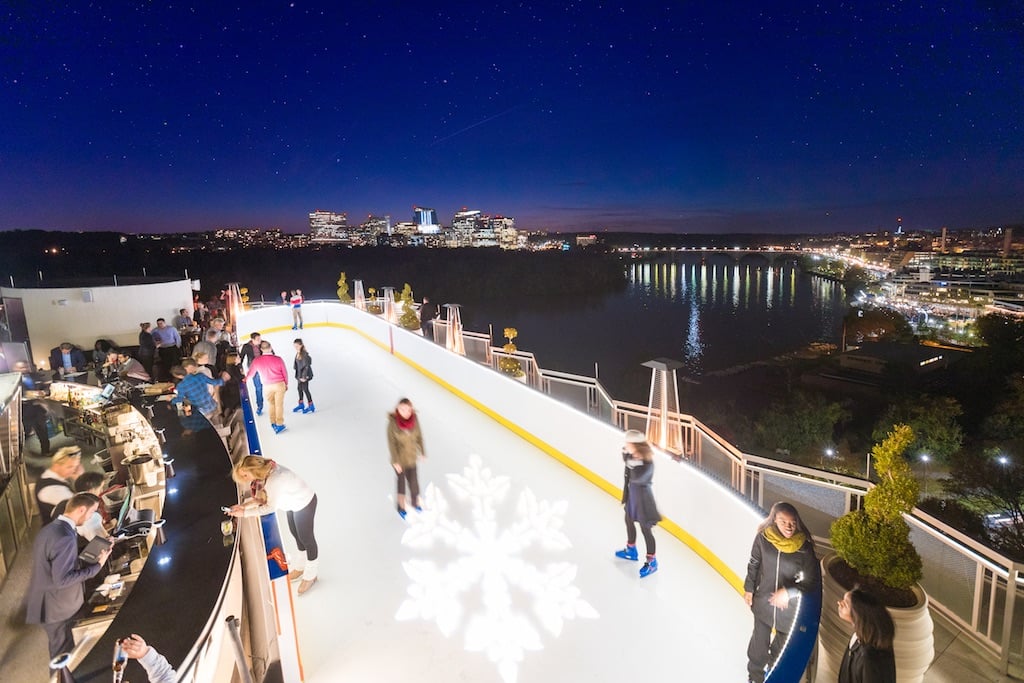 715 Florida Ave., NW
Climb to the rooftop of this Shaw bar/restaurant, which has turned the semi-enclosed space into a winter bar with gas heaters, blankets, and cocktails designed to fight the chill like hot toddies mixed with homemade brown sugar syrup. Even warmer: five-cheese skillet mac (add bacon, trust us).
79 Potomac Ave., SE
Chef Kyle Bailey's new Navy Yard spot is embracing its first cold weather season with fire pit tables and hot cocktails served in thermoses. Head out to the patio overlooking the river for fancy hot toddies spiked with Woodford Reserve and madeira; Irish coffees using local Swings roasts; and mulled cider.