"Kingdom of Colors" Artechouse's newest exhibit opening Friday night, may look familiar: Thomas Blanchard and Anton Oilhack, the artists behind the lava-lamp-like display, are also responsible for Apple's commercials for the iPhone X, which feature vibrant hues swirling around the phone's buttonless screen.
To create "Kingdom of Colors," the self-taught artists from Lyon, France, used oil, water, soap, and paint over flowers, marbles, and other surfaces. Up-close videography captures the fluid reactions, which at Artechouse are blown up to a 270-degree projection spread across three sides of the room. Bean bag chairs are placed around the floor so visitors can fully engulf themselves in the vibes of the hypnotizing environment.
Blanchard, who has a background in filmmaking, says the initial inspiration behind the project came from the "Star Gate" sequence in 2001: A Space Odyssey, which similarly combined mixed media with videography. He hopes the exhibit will give viewers an escape from reality and a therapeutic experience, similar to a 2015 work commissioned by the Sydney Children's Hospital in Australia. His talents are complementary to Oilhack's, which focus on textural art. Throughout November, Oilhack will do live demonstrations at Artechouse using the same materials from the installation.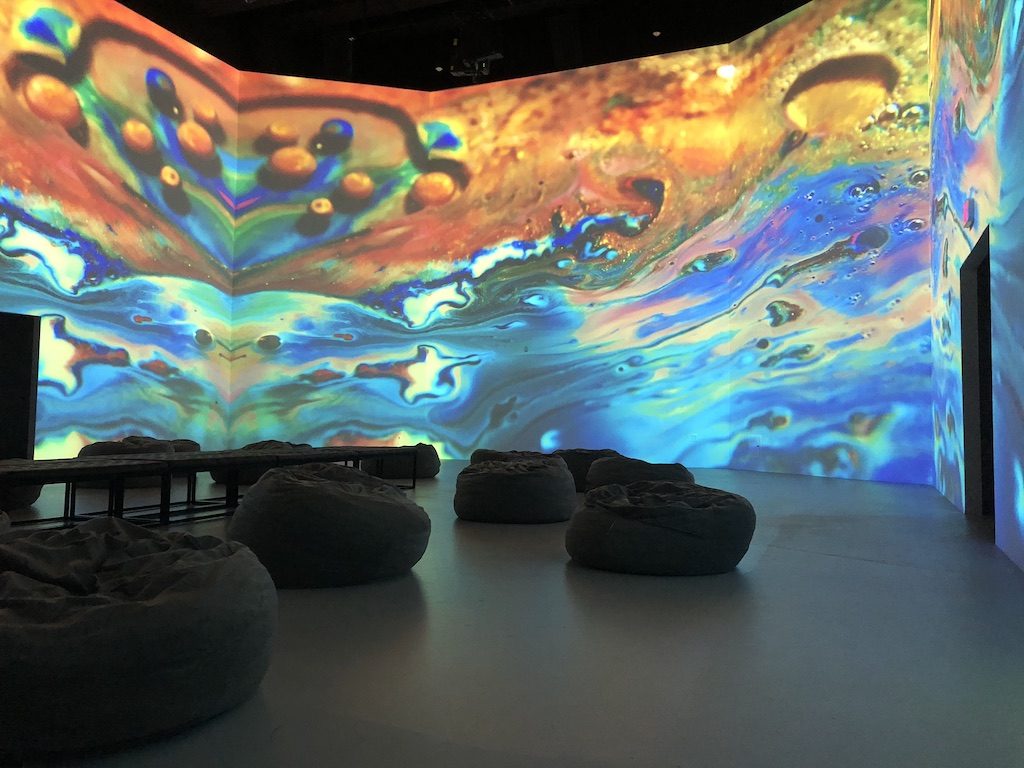 As for Apple, the tech giant was drawn to Blanchard and Oilhack through their previous work for Sony and their art collective WeAreColorful. The Artechouse show will be the first time they've displayed their work in an immersive environment.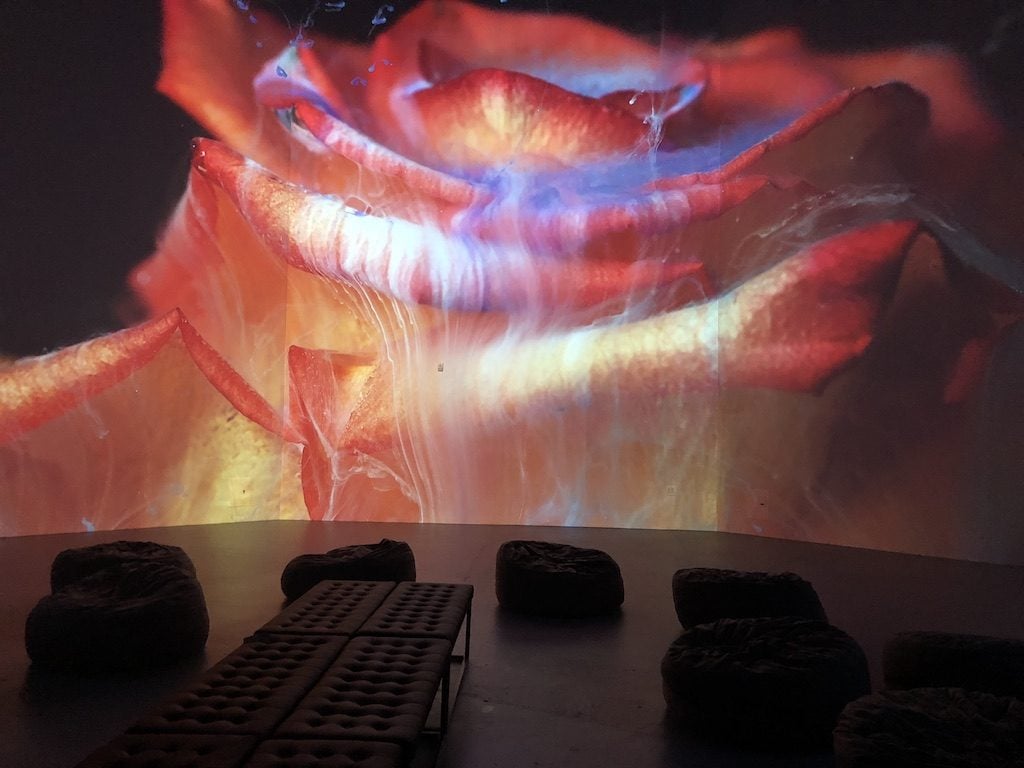 The mesmerizing visuals aren't the only reason to visit Artechouse this month. The gallery's mixologists have concocted several drinks that look—and taste—like the exhibit. The thick, paint-like consistency of the "Kingdom of Colors" cocktail will give patrons the feeling of consuming the art through their eyes and their tastebuds. The drink is made with rum, pineapple, and coconut, and thickened with xanthan gum. What's more, Artechouse's augmented reality app reacts to the cocktails with animations of bubbles or lightning, depending on the drink. Other cocktails include concoctions with names like "Violet Fizz," "Blue Duchess," and "the Red Queen."
The exhibit's back room features three "Space Palettes," large installations from artist Tim Thompson that look like they belong in an arcade. By placing your hands in different holes or by using touchpads, you can manipulate sound and visuals on the screens like a futuristic DJ. Thompson previously brought the Space Palettes to the Burning Man festival in Nevada, and the desert dust still clings to their metal fixtures.
"Kingdom of Colors" will be on view through November 26. Visitors 21 and over will be able to visit in the evening daily—and down those psychedelic cocktails. Children from age 6 upward are allowed in during daytime hours on weekends.
Tickets are $15 for adults; $8 for children.