With a catchphrase like, "Where a gentleman stores his valuables," the recently-opened Trunk & Drawer has a very target niche: namely, consumer-savvy men with a taste for the finer things in life. That makes sense when you consider founder Nathan Lacey, a Fredericksburg, Virginia, native with a law degree from Georgetown. After working as an administrator for a local nonprofit, followed by a stint in real estate development, Lacey decided he wanted to work for himself. Spotting what he believed to be a gap in the men's underwear market, Lacey envisioned a store that would offer branded underwear with better design and fit, as well as men's grooming and hygiene products.
If industry trends are any predictor, the mix of modern luxury intimates and self-care products is perfectly timed to fill a burgeoning niche. According to Coresight Research, the market for male grooming products is projected to reach $60.7 billion dollars by 2020. Perhaps more tellingly, approximately 80 percent of those sales still come from brick-and-mortar locations, a statistic that bodes well for the Trunk & Drawer, whose modern storefront is located down a set of stairs at 3109 M Street Northwest in Georgetown. The store opened this past November, just in time for the holiday shopping rush.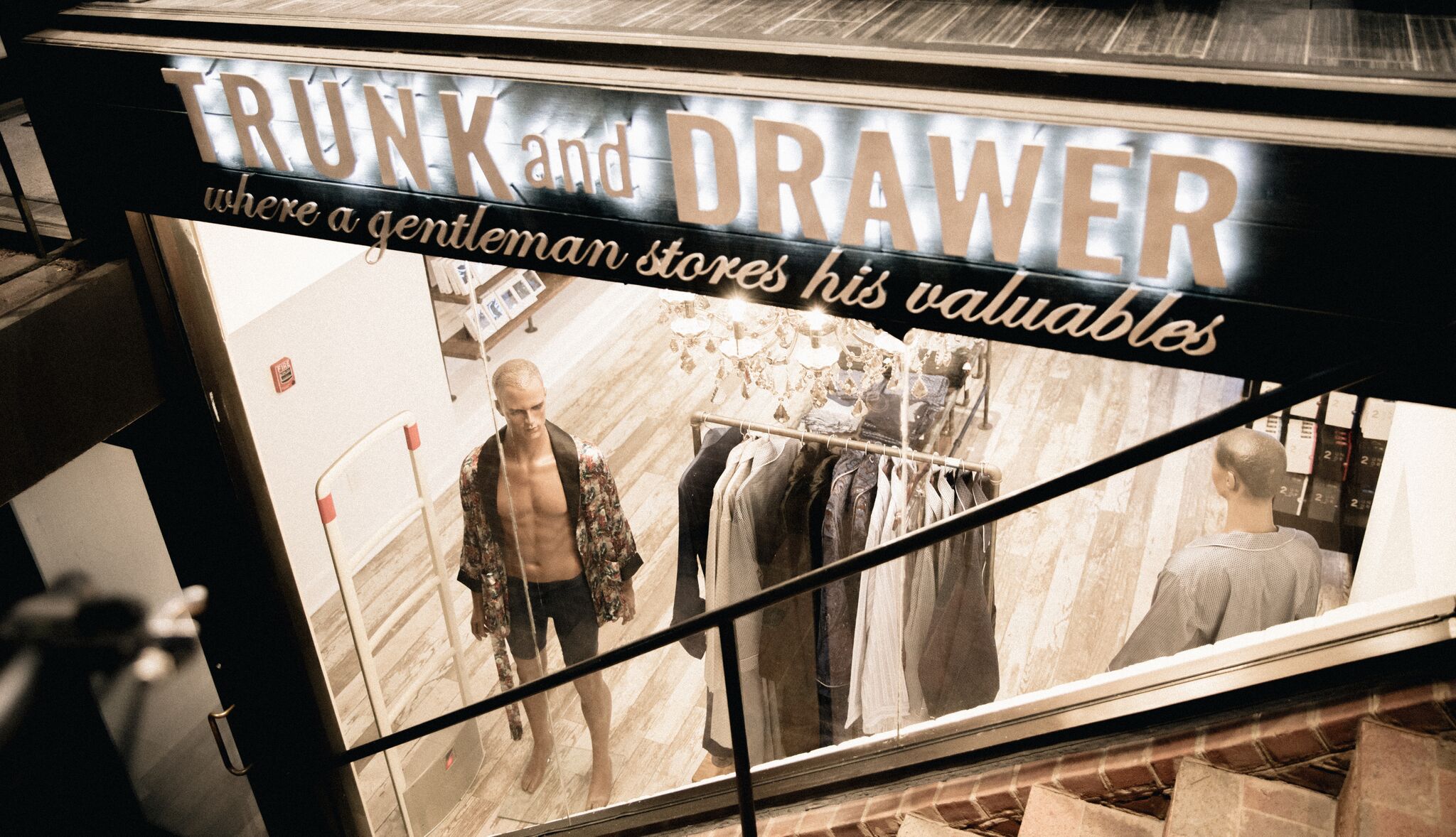 The 850 ft retail space is designed to feel like a modern lounge—or a very sophisticated man cave—and will sell not only trunks and drawers, but socks, men's cosmetic products, loungewear, and travel accessories. Sleek exposed shelves juxtapose crystal chandeliers for an aesthetic that hits the mark between industrial and chic. Vintage sports apparel and equipment, including boxing gloves and an old boxing bag, herald back to a nostalgic (if stale), concept of masculinity. Rounding out the airy minimalist space is a lounge chair over which trendy yellow neon lettering reads "If you know, you know…" What do you know exactly? Perhaps just how comfortable well-designed undergarments can be: "It's one of those things that, once experienced," says Lacey, "men never go back from."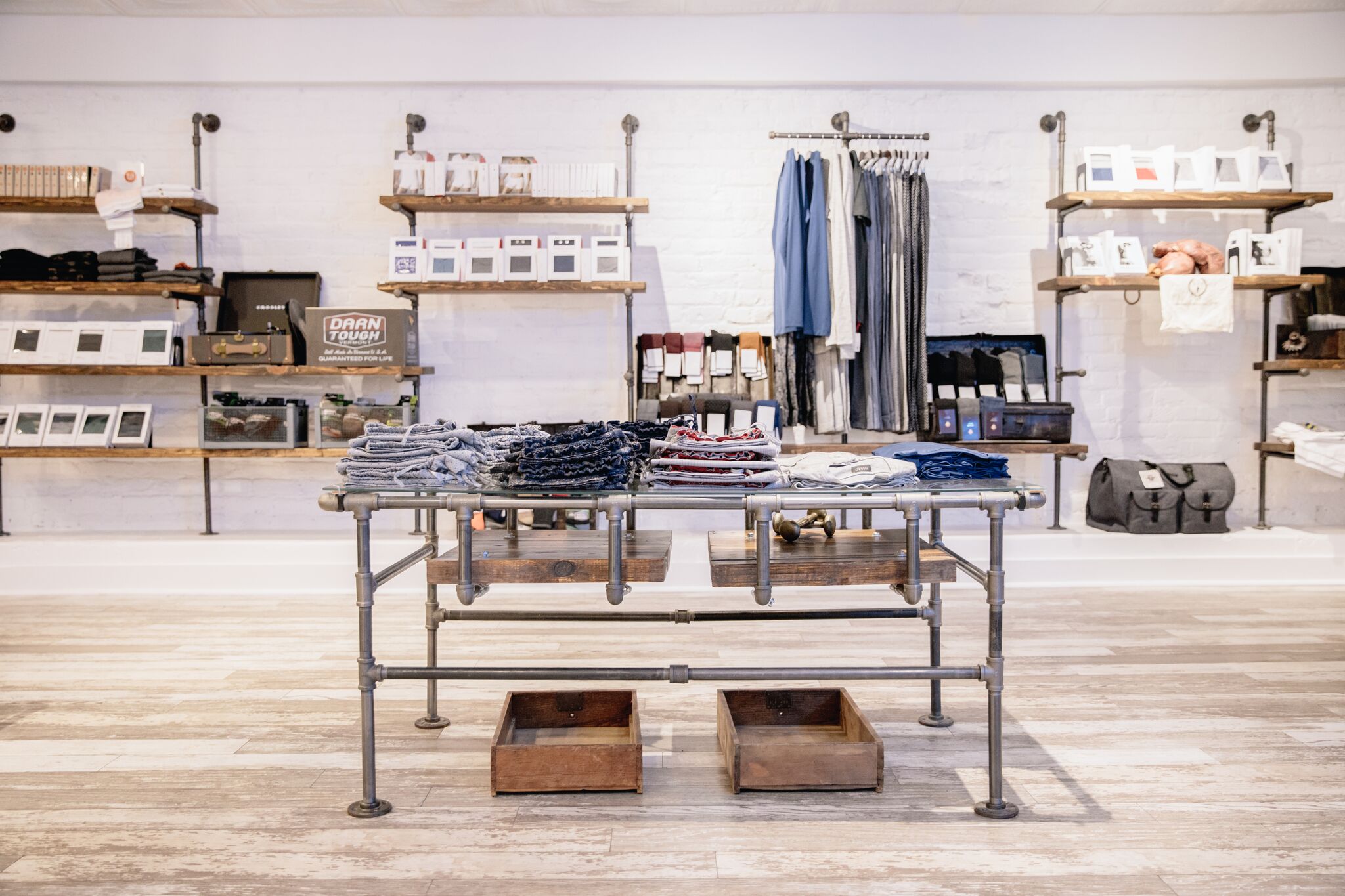 But it's not just men's grooming product that has skyrocketed in popularity in the past few years, the men's underwear market is also seeing a renaissance of sorts. Between 2013 and June of 2016, the price of men's undergarments grew 34 percent, according to a report from First Insight outlined in Forbes. The report pins men's underwear as the only one out of the nine male clothing markets they tested during that period to be experiencing growth, pointing to boxer-briefs specifically, the hybrid garment introduced by Calvin Klein in the early-90s. Lacey corroborates that boxer-briefs are Washingtonian's preference, followed by 'trunks' (shorter boxer-briefs, then briefs, with boxers coming in last in popularity. The types of brands capitalizing on the growth are exactly those that Lacey stocks his shelves: high-end labels with an emphasis on design, quality, and sleek marketing such as Tommy John, HOM, Derek Rose, and Falke.
"For the first time in recent history, men are buying the majority of their underwear, as opposed to women buying it," says Lacey. "Culture is shifting in a way that allows men to pay attention to things they have traditionally given less focus to."
Trunk & Drawer isn't the only place in town to sells men's undergarments and grooming supplies, but it may be the only local boutique to cater to those niches exclusively. Other men's boutiques, like Federal, Frank & Oak, and Avenue Jack, have tried unsuccessfully to capture the attention of the local affluent young professional menswear market. Still, the hyper-specific focus of Trunk & Drawer follows a few of the core tenets of successful modern retail: starting small and owning your niche. Now if only it had launched an online shop first, we'd be truly convinced.