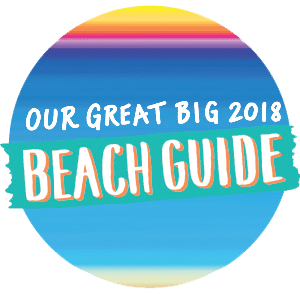 This is part of our great big guide to the DC area's best beaches. From the surf scene in Virginia Beach to Ocean City's expansive boardwalk, we found the best bites and activities (yes, even in Jersey) that'll make this summer by the shore your best one yet. Water you waiting for? Dive in.
The case for: Virginia Beach, a year-round home to nearly a half million people, has a vibe more akin to a Southern California city than a Delaware beach town, with a surf scene and, according to Guinness World Records, one of the world's longest stretches of pleasure beach, at 35 miles.
The case against: While there are fascinating tours at nearby Naval Station Norfolk (the world's largest naval base), at times those cool-looking Navy jets zip loudly across the sky, abruptly ending a good beach nap.
Also known for: Numerous outdoor festivals and events, including the Rock 'n' Roll Half Marathon every Labor Day weekend.
Highlights: While most known for its three-mile, boardwalk-lined beach dotted with volleyball nets and kiddie playgrounds, there are also the quieter, residential beaches of the North End, as well as Sandbridge, roughly a half hour drive south. Chic's Beach, where the Chesapeake meets the Atlantic, is a favorite for windsurfers, skimboarders, and families with young children who appreciate the gentle surf. Take the kids to visit more than 10,000 animals—including sea turtles and sharks—at Virginia Aquarium Don waders, sip wine, and taste fresh oysters on a Pleasure House Oysters boat tour with oyster farmer Chris Ludford. Explore scenic parks—including First Landing State Park and Back Bay National Wildlife Refuge, home to hiking and biking trails—as well as waterways to kayak for beautiful vistas of cypress swamps, marshes, and maritime forests.
Eat: Swanky Becca Restaurant & Garden is the area's hot new spot for brunch and dinner, with a hillside garden setting overlooking the Atlantic. Commune is a farm-to-table local favorite, while pub-style Pizza Chapel is popular for its pies, wings, and salads, plus church pews that serve as seating. In Sandbridge, Baja Restaurant cooks up surf-and-turf fare and flatbreads, with live music and friendly Tuesday-night dodge ball on the lawn.
Rent: A charming five-bedroom updated 1930s beach cottage in the North End, four houses from the ocean, rents for $2,500 a week. A four-bedroom house with a pool and channel views in Sandbridge costs about $6,600 a week in July.
Check in: Reopened in March after an $85-million restoration, the 91-year-old Cavalier Hotel has its own distillery, spa, and private beach club. A few blocks south, Hilton Garden Inn's indoor/outdoor pool and spacious rooms are great for families.
How to Get a Taste of Virginia Beach's Surf Culture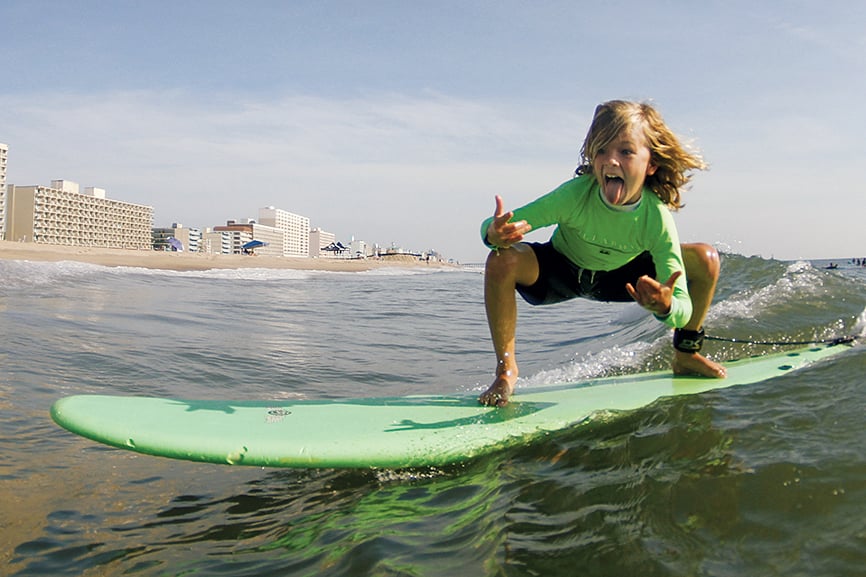 1. Go to Surf School
Founded by 2016 East Coast Surfing Hall of Fame inductee Jason Borte, Billabong Surf Camp offers one-to-five-day sessions.
2. Watch the Pros
See famous surfers and up-and-coming groms ride the waves—and catch a surf documentary—at the 56th annual East Coast Surfing Championships, August 19 through 26.
3. Change Up the Board
If you want to start slow, try paddleboarding on the calmer Chesapeake Bay tributaries, where you might spot ospreys and herons.
This article appeared in the July 2018 issue of Washingtonian.